Estimated Read Time: 14-19 minutes
It's relatively easy to explain what the universe is made of. All you have to do is look at the elements of the universe and see what you find in common.
It's also still relatively easy to explain how the universe works. All you have to do is also look at the elements of the universe and see how they interact with each other.
Butwhy? Why was the universe made? What's the purpose of all this? How are you supposed to answer that?
I know I've used some "scientific elements" in the past few posts to try to explain things (you might call it pseudoscience). But the Principle isn't really meant to be scientific. Remember when I said thatit's probably not a good ideato use science to explain religion, or religion to explain science? Yeah.
But still, religion shouldn't contradict science (and vice-versa), either. Religion and science have their own roles—religion to overcome internal truth, science to overcome external truth, and I feel like we need both (internal and external truth) to truly be happy. So they should have some kind of complementary effect, without interfering with each other.
So the Divine Principle won't try to explain science (I promise). Science will explain science. The Principle, though, will try its best to be logical and rational.
Still, some things might sound crazy. But I'm trying.
_____
Why was the universe created?
You could say that the Big Bang happened and then energy turned into particles of matter and antimatter, where the matter won out because there was a little more of it, and that created the stars, galaxies, and planets that we see today, upon an expanding universe.
An oversimplification, I know. But that's basically what happened.
Yes, that's a (simplified) scientific explanation. And yes, this explainswhathappened andhowit happened. And it probably even explains why the universe happened.
But let's try something else.
From now on, you're free to think of everything as a story. Then, you can think to yourself,does this make sense? See where your thoughts go from there.
Ready?
_____
Before the creation of the universe...
God was all by Himself (or Herself, or Itself, or whatever pronoun you want to use).
(No, God does not actually look like this. At least I don't think so.)
I've explained before that God is aharmonious union of dual characteristics. So let's go with that. God is like a mixture of everything (yin/yang, internal/external).
He put so much detail and effort to create the universe. God designed every single principle (law) carefully, then stayed consistent with them after the creation of the universe.
He could have made everything like Himself, harmonious mixtures of everything and all. But He didn't. (I don't even know what that would look like). Why? Because that would be boring (but that's just my opinion). (Actually, there are other reasons for this, but that's for the next post.)
So instead, He split us into dual aspects (dual characteristics of yang and yin). When we (or the universe) put these dual characteristics back together, that union will resemble God most.
(*Give and Take Action)
Okay fine. I'll get straight to the point and answer the purpose of creation (the universe) in one word:
Joy.
More specifically, the purpose of creation is to "return joy to God." (p. 33)
Wait, what? Why would God care about joy?
Short Answer: Because God loves us.
Long Answer: Let's talk about joy.
_____
Joy
How is joy produced? The Divine Principle gives an interesting answer: "Joy arises when we have an
Object Partner
in which our internal nature and external form are reflected and developed." (p. 33)
Interesting. So because this
Object
partner is a reflection or development of us in some way (who we are, what we like; internal/external), it stimulates us. This object partner can be intangible or substantial. (p. 33)
For example, let's use an artist again. An artist's object partner could be an idea in his(/her) head, or a finished work, like a painting or sculpture. That idea or finished work is some reflection of the artist's internal nature/external form, so the artist feels joy or satisfaction from it.
But a finished work is so much more profound and stimulating than an idea. (p. 33) You could be mesmerized from some awesome idea you have in your head, but I'd imagine you'd feel a lot better when you're actually beholding the finished product.
That being said, it might be a little crazy, but what if God feels the same way? What if God wanted to feel joy, and his object partner to feel joy through is the universe?
If this is the case, then God would feel joy when his object partner resembles Him the most, because that would be a reflection of His nature.
_____
How can we return joy to God?
Actually, the question really is, how can we resemble God the most so we can return joy to God?
Well, the description I gave about joy is awfully similar to the FPF (Four Position Foundation). In this case, though, the subject partner givessomething, and object partner returnssomething(some kind of stimulation?), and the union seems like a joy-filled bond of the subject and object. But more on what those somethings are later.
All I'm saying is that joy is a major product of the FPF. When we fulfill some kind of FPF, we feel joy. Also, fulfilling an FPF is how you resemble God—that's what ODU (Origin-Division-Union Action) is all about (The union resembles the origin more than the subject and object do individually). So everyone, just fulfill a FPF and you're good.
If only it were that easy.
I could say that establishing a FPF brings joy, but where would you even start? We would need to have some kind of roadmap, no? So here's a roadmap: The Three Blessings (or, the Three FPFs).
The Three Blessings is nothing new. It comes straight from the Bible. For those of you who don't read or care about the Bible, that's fine—I'm going to use the Bible from time to time, not to take things literally, but because it can teach us some important lessons.
The Three Blessings is very simple:
-Be fruitful(be mature).
-Multiply(unite with someone, have children).
-Have Dominionover the earth (take care of the earth, and perhaps even more).
To fulfill each blessing, we need to establish a FPF. Let's dive into each blessing to see if I can explain this any better.
_____
First Blessing: Be Fruitful
The key to this first blessing is achieve full maturity. This is referred to as "perfection of individual character" in the Principle. (p. 34) But if perfection is too scary of a word for you, you can just use "full maturity."
So the first FPF to establish is between your mind and your body. By uniting your mind and your body, you achieve full maturity. This is referred to asmind-body unity. So that's all you have to do.
Nah, of course that's much easier said than done. What does a mind-body FPF even mean?
Well, a human being has two aspects: a mind and body. The Principle calls them "discrete projections and object partners of God's dual characteristics." (p. 34) Interesting.
The Principle brings up another interesting point: "…every entity has dual centers of movement, one of internal nature and another of external form. These centers pursue corresponding purposes—for the sake of the whole and for the sake of the individual—whose relationship is the same as that between internal nature and external form." (p. 33)
So let's take the rotation-revolution metaphor again. Let's say you are the object partner and you are revolving around a subject partner (God in this case). At the same time, you are also rotating on your own axis.
(To make things clearer, let's make God the Sun and you the earth in this metaphor.)
Revolving around the object partner is a metaphor for "living for the sake of the whole." This is the function of the "mind." I'm not talking about the mind itself as we know it, but rather the aspect of your mind that can think greater than just the needs of yourself (i.e., the needs of others, imagining greater things, etc.). We will call this the "mind" for now.
Rotating on your own axis is a metaphor for "living for the sake of the individual." This is the function of the "body." I'm not actually talking about the physical body, but rather the aspect of your mind that thinks about the needs of yourself (i.e., food, water, physical comforts, etc.). We will call this the "body" for now.
You need both rotation and revolution to survive. In this metaphor, if you only rotate, then you will collapse under "gravity" and perish.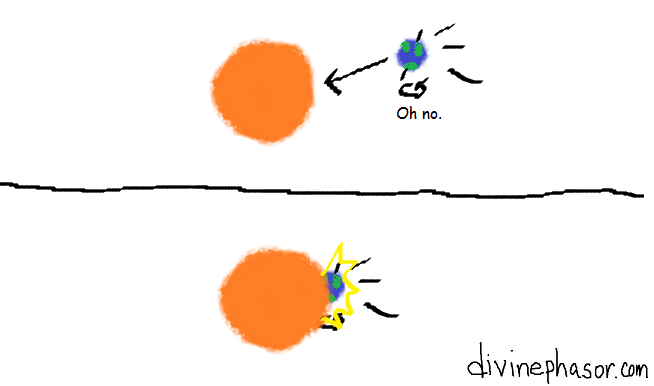 This is equivalent to living only for the sake of the individual (yourself). If you live this way, however hard it is to deny, it's hard to really go far in life.
But, if you only revolve, then you will create extremes in your environment (one side will be too hot and the other too cold).
This is equivalent to living only for the sake of others. Ultimately, in the end, you do need to take care of yourself to survive.
So there needs to be a balance between living for the sake of the whole (others) and living for the sake of the individual (yourself).
How can we achieve this balance?
Discipline works, to an extent. And it can be useful. By suppressing the desires of the "body," you can achieve pretty impressive results. But it can only go so far. Some might even argue that discipline doesn'ttrulymake you happy, at least not for everybody.
So let's try something else. We'll call thistrue love.This is probably not the kind of true love you're thinking about.
_____
Sidetracking to Love
But before we talk about "true love," let's sidetrack a bit and talk about love.
God created us because he wanted an object partner to love. But here's the interesting part—he is fully invested living for others (us). In fact, He wants us to beeven better than Him. God cannot be truly happy until we are happy.
Just something to think about.
_____
But now let's talk about "true love" in the context of uniting "mind" and "body." We're going to define true love asliving for the sake of others.
Let's take a simple example to explain what this really means. If I'm living for the sake of others, then this means what makesmehappy isyoubeing happy. In other words, until you aretruly happy, I cannottrulybe happy. It's a simple concept, but even I can't admit that I regularly live that way.
So let's apply true love as thecommon purpose, or common motivation, for the "mind" and "body". In this case, both the "mind" and "body" will be living for and serving the other while working towards living for the sake of others.
Like God, this means putting other people's happiness before your happiness, and even wanting others to be better than you.Because we want to. Because we care.
But how can the "body," who lives for the sake of the individual, live for others? It's simple (kind of). You have the mindset that you are taking care of yourselffor the purpose oftaking care of others.
This is how the "mind" and the "body" can operate at full capacity. This topic will be expanded on future posts, but this is also something to think about for now. It's a mind-blowingly simple concept, but I don't think many people can say they've truly lived this way. Because it sounds so counterintuitive. But imagine if everyone lived like this, wanting to serve others.
_____
After achieving mind-body unity, you have formed a FPF within yourself. The FPF looks something like this:
When this is done, people like this would live as the "substantial object partner to [their] mind." And since the center of their mind is God, these people would also live as the "substantial object partner to God." (p. 34) Not only that, "they experience the Heart of God as if it were their own." (p. 34) Whoa.
But it's not enough to resemble God (through the FPF). You need toresonatewith God. In other words, don't liveforGod—livewithGod.
God isn't some being that's out there, sitting on some throne, unreachable, unattainable. At least I don't think so. God wants to livewithyou and livewithinyou. Just think about that.
_____
Second Blessing: Multiply
So, once someone has fulfilled the first blessing and united their mind and body, what next?
I'd think naturally, you'd have to look at a FPF on a bigger scale than just the individual. But why does God want us to multiply? What does he want to multiply?
God wants to multiply Himself. He wants everyone to (eventually) resemble and resonate with Him. And what better way to multiply than to have children.
But you can't just meet someone and get along with them. You need tounitewith them. How do you do that? Here's a suggestion: see Godinandbehindthem (and all people, really— you can also read this as "see the good in and behind everyone"). This, along with the principles of mind-body unity and living for the sake of others, is essential in unity.
This is the FPF in the family.
To go with the theme of love, in the family FPF, there are 12 dimensions of love:
God wants to experience every one of those dimensions of love. If you take any of the positions out, you'll automatically remove 6 dimensions.
This is why God needs us (and the universe); without us, he can't experience all dimensions of love.
By uniting the family, we fulfill the second FPF, and we can resemble God on a larger scale.
Once families become united, it'll be easier to go on an even larger scale, so communities, societies, nations, and the world can be united. But it all starts in the family (which starts with the individual).
_____
Third Blessing: Have Dominion
Once we have achieved the second blessing, what's next? Well, we can't just leave everything else on earth (and in the universe) out.
We need to unite with all of creation (by loving it). Having "dominion over creation" does not mean to forcefully dominate it, but rather to lovingly care for it.
But having dominion doesn't only mean taking care of the earth. We need to have dominion over other things, too.
We need to have dominion over ourtime. This means not giving the excuse "I don't have time," and instead, making time for it if it's truly important.
We need to have dominion overmoney. This does not mean to be driven by money, but properly using money as a resource to further our goals. If you truly want to do something that requires money that is important, you can't use the excuse "I don't have money"—find any way to make the money you need.
We need to have dominion over ourcircumstances. For example, let's say you need copies of a report for a presentation at work. Let's also say that the copier machine at your office broke or doesn't work. You can't use that as an excuse—you need to find any possible way to get those copies.
There are many other things, but basically, you need to have dominion overeverything.
Once we have taken care of all of creation (and ourselves), we can fulfill the third FPF and the universe as a whole can resemble God and become the ultimate object partner to God. We can call this theKingdom of Heaven. What an awesome name.
But keep in mind that this was (and still is) theideal(the goal). Obviously, this didn't all come to happen. Eventually, we'll find out why.
_____
Original Value
Now let's talk about the value of things.
Well, how do we determine the value of something? I know, it sounds like a really silly question, but the Principle gives an interesting answer:
"The value of an entity may be determined by the relationship between its purpose of existence and the desire that a human being has for it." (p. 36) Interesting.
This value isn't an inherent attribute, though. The Principle says that something finds its true value when it "participates as an object partner in a God-centered [FPF] by relating with a person through [GTA] and by their union becoming a third object partner to God." (p. 36)
So, among a million of other things, the FPF also helps determine something's value.
Then, the Principle continues with interesting logic:
- Original value is determined in a God-centered FPF.
- God is at the center (top) of the FPF.
- Therefore, God sets the standard for the value.
- God is also absolute.
- The original value must also be absolute.
Hmm… okay.
So let's take an example of a rose. How would we determine a rose's original value? The value is a combination of the purpose of the flower, and human's ability to appreciate and bring out its beauty.
So when we achieve joy through the FPF, the object's original value can be realized. In these contexts, this makes sense—we determine the value of an object only when we interact with the object by its intended purpose.
_____
The Somethings
Remember thesomethingsthat I was being very vague about? Let's get to the point:
The emotional force that the subject gives to the object islove; the emotional force that the object returns to the subject isbeauty. The Principle says that "the force of love is active, and the stimulation of beauty is passive." (p. 38)
But once the subject and object become established (and united), as said before, they become interchangeable, and therefore, love is found in beauty and beauty is found in love.
But beauty can take on different forms. When a subordinate returns "beauty" to their superior, it is calledloyalty. When a child returns "beauty" to their parents, it is calledfilial piety. "Beauty" that you would return to your husband/wife is calledfidelity.
_____
Some Random Points:
"The purpose of love and beauty is to enable two wholesome beings, springing forth from God, to establish the [FPF] and realize the purpose of creation." (p. 38) In other words, love and beauty is a driving force that helps establish unity in the FPF.
Let's look at the family again: there are three kinds of original love that you see. These areparental love,conjugal love, andchildren's love(first, second, and third object partner).
(There's actually a fourth kind of original love:sibling's love. These four loves in combination are called theFour Realms of Heart.)
By fulfilling each of these loves, you can complete the TOP (Three Object Purpose) and the FPF.
God's love is the underlying force that "breathes life into the [FPF]." (p. 39) The FPF is the "vessel of perfect beauty through which we can receive and enjoy the fullness of God's love."
The human mind has three faculties, according to the Principle. They areemotion,intellect, andwill. Everybody's mind is made up of these three characteristics, albeit in different ratios. In its most original sense, emotion pursuesbeauty; intellect pursuestruth; and will pursuesgoodness.
The wordgood, according to the Principle at least, is when an act fulfills God's purpose of creation (the Three Blessings). Righteousness is the quality in someone to do good. At a later time, we'll discuss the wordevil, a much trickier task.
_____
Recap
Thepurpose of creation is joy, or more specifically, toreturn joy to God.
Joy can be fulfilled byestablishing a FPF, or rather, for us, three FPFs:The Three Blessings.
The first is tobe fruitful (mature). We can do this through mind-body unity. We can do that through true love, or living for the sake of others.
The second is tomultiply (unite, have children).
The third is tohave dominion (loving care of the earth and beyond).
An object'soriginal value is determined through a God-centered FPF(intended purpose + desire of human beings).
_____
I know there was so much covered in this post, and some of it was vaguely brushed over. Don't worry—there's a lot more to expand on, and a lot more to come. I just hope I have explained what I could well enough.
For our next post, we'll be talking about two different things: the process of the creation of the universe, and the process of our growth (among all the things I said I would explain in my next post).
As always, thank you for reading, and see you next post!
UPDATE:Here's thenext post.
_____________________
P.S. The revolution-rotation concept isn't my idea. Some of it comes from the Principle, but the rest comes from DP-Outreach. You should check out their website atdp-outreach.com.
P.P.S. Many of the things I explained (mostly the mind-body unity, but others too) aren't originally my ideas, either—they come from Deeper DP. You should check out their website atdeeperdp.com. Special thanks to Deeper DP—I couldn't have done this post without them.
If you liked this post, feel free to share it.
Also, if you liked this post, please subscribe to our email list below! Keep yourself updated whenever a new post comes. We'll only send 2-4 emails a month.
And also, while you're doing that, you can alsolike us on Facebook, because really, why not.
If you want to find the full list of ways to support us, check out oursupport mechanisms.
And lastly, if you have any general questions about us or inquiries, or just want to say hi, feel free
[email protected]