Performing classical editing options on a PDF file can be quite troublesome because of their read-only nature, and one of them is definitely the rotation of the entire document, or just specific pages of the document. The reasons to Rotate Pdf Files can be numerous, ranging from either the need to fit a specific screen type, or rotating only the pages that have images (or graphics) on them, while preserving the original outlay of all the other pages. We shouldn't focus too much on possible intentions for rotating PDFs, because each individual has their own unique requirement to do it, depending on the file in question, instead we should concentrate on how to overcome this distinctive, but fairly simple issue- to rotate PDF files.
Rotate PDF Files by using PDF Converter Elite
Download the free trial version of the software here, and once you've installed it on your computer, open the PDF you require to be edited. This is achieved by selecting the Open icon found on the upper left part of your monitor.

Once the file is selected, the next thing needed to be done is to open the Edit window, which is also found in the upper left corner.

The Edit subsection offers multiple choices, and to rotate your PDF, click on the Rotate Pages button.
Here you can determine the starting and finishing page you desire rotated, and the angle of the rotation itself. You can choose from 90° clockwise, 90° counterclockwise, and 180°. If you require to rotate multiple pages that don't go in a row, just repeat this step again.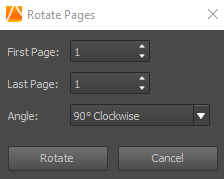 So there you have it, hopefully this short tutorial will aid you once you have the need to edit your PDF file in this somewhat unusual, but very useful way. For more PDF tips visit our PDF knowledgebase here.
The post How to Rotate PDF Files appeared first on PCE Blog.