It is not surprising that many people confuse inspections and audits. While there are a few similarities between the two, many factors outline the difference between audits and inspections. Let's check these out:
1 – Purpose
Inspections assess if the Safety processes effectively ensure the health and safety of the organization's team members.
The ISO 9000:2015 definition states an inspection as "'determination of conformity to specified requirements' (3.11.7)."
An audit is a more in-depth examination of how the company manages team members' health and safety.
The same ISO standards define an audit as "'the systematic, independent and documented process for obtaining objective evidence and evaluating it objectively to determine the extent to which audit criteria are fulfilled' (3.13.1)."
2 – Example
For example, a person needs to inspect equipment (either wholly or a part of it) twice every week. This work is termed as inspection. It is done based on a checklist that typically has 'Yes' / 'No' responses.
For audit, an example is this. The organization may carry out an annual audit to ensure 100% compliance with the requirement to inspect the equipment.
So, while an inspection is a simple 'what,' audits go many levels deeper to uncover the 'why.'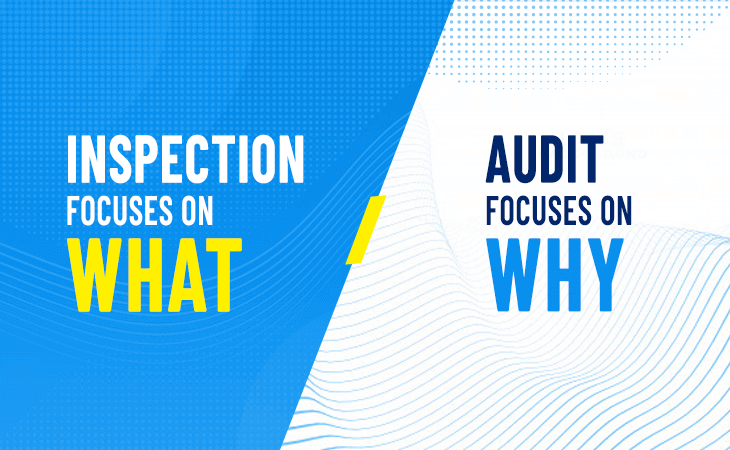 3 – The structure
An inspection may be a simple examination of the presence or lack of compliance. An audit will check compliances over a longer duration and examine if there is any deviation from expectations.
The answer to an inspection is typically a 'yes' / 'no' format.
But for an audit, the process involves many layers and multiple touchpoints. It can cover risk assessment, documentation, and training details. It also covers maintenance details of the various parts of the equipment (and more such equipment) across different sites.
4 – Action vs. Process
An inspection will be at a single point in time. So the action of an EHS inspector checking mechanical equipment to conform with health and safety standards is termed as an inspection.
On the other hand, an audit will be a thorough check of the organization's safety and health protocols and processes. So this process will uncover insights on two key points
Does the organization comply with current safety regulations?
What are the vulnerabilities to complying with health and safety processes?
5 – Area of focus
Inspections focus on safety hazards in the work environment. An audit will focus on the processes employed by an organization to prevent these safety hazards and address worker safety issues.
6 – Level of complexity
In general, inspections are prone to be simpler in nature. The person may simply tick off a safety point against a checklist to complete the inspection work.
An audit is more complex and has involvement from multiple teams to get the work done. It uses various data sources (including inspection data and exploratory surveys), policies, and documentation. These data sources assist the auditors in doing a department-wide audit and identifying potential risks and improvement areas. Such elaborate steps help strengthen the safety process in the work environment.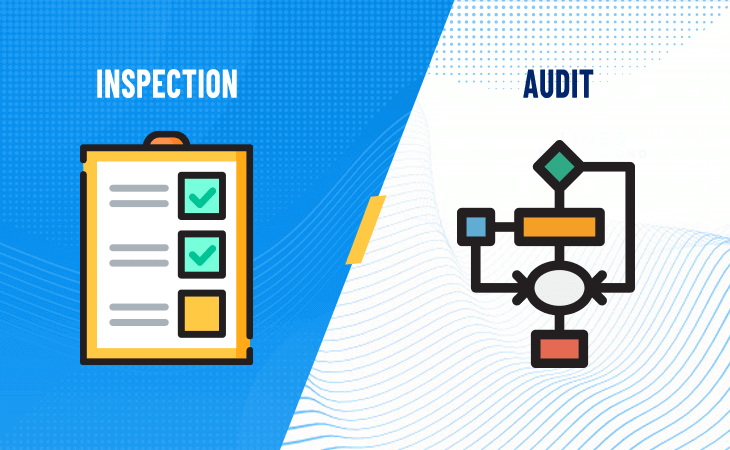 7 – The outcomes
The end result of both processes is vastly different. An inspection will result in uncovering safety hazards or health risks. So if there is no adequate lighting for a particular machinery operation, the inspection will show that there needs to be more bulbs installed to improve working conditions and worker safety.
But an audit will be more detailed. It will chart out why the area had less than adequate lighting. It also outlined the safety vulnerabilities in such situations. It ends with recommendations on how this issue can be addressed so that there is no risk from such vulnerabilities. Such audit reports give actionable decision-making assistance to the management.
To sign off
This post took a look at the difference between audits and inspections. While both are markedly different, they are a vital part of the overall safety management process.
There is one more thread that joins the two steps in the process. It is the use of technology to ensure that the organization's work, tools, and operations work as per safety protocols and laws.
A safety audit software like Safetymint presents streamlined data about safety regulations to the auditors. The insightful data and key findings presented by the software drives actionable decision making in safety management.