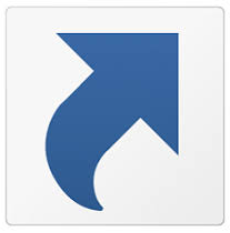 Basically lnk file is a shortcut used by Microsoft operating system as a reference to an original file, software or folder similar to an location alias on the Macintosh platform. this file use for target location and filename that's you want to open like shortcut. you can easily create this file by right-clicking a software logo and folder or executable program and then just need to select create shortcut.
Open lnk File Extension Information
Lnk file use same icon as their target software file and folder, just you can see small arrow icon to indicate this is a shortcut. After create shortcut lnk file, when you double click on file the shortcut act exactly and run or open same application and folder.
Open "Registry Editor" by typing "regedit" in the taskbar search box and selecting the program.
Navigate to the

Computer\HKEY_CLASSES_ROOT\lnkfile

location in the program.
Create a backup of the key by right-clicking "lnkfile" and selecting
(you can use this to restore your key in case of an error).
Select the "NeverShowExt" property and delete it.
Restart Windows.
How to open Lnk file
First of all you need to know about your operating system for select lnk file opener software. i hope you know already about it. so here i share all software for Microsoft windows, MacOS, and Linux for open lnk shortcut file.
This all software for MS Windows OS.
Flint LinkInfo
TZWorks lp
lnkedit
HxD
This all software for MacOS Windows OS.
CodeWeavers CrossOver
TZWorks lp
About .Lnk file Extension
Our Team goal is to help our users for understand about .lnk suffix is and how to open it.
The post Open lnk File | 100% Solution appeared first on AtoZsofts.com.