Has anyone ever told you that you're 'overthinking' something? Or by contrast, have you ever navigated a vague situation in work or life and were desperate for clarity, certainty?
If you've ever overthought anything or been accused of over thinking, obsessing, analyzing prodding, or diving deeper into any subject matter, from a piece of dust to geopolitical points of interest then welcome to Product Discovery. A place where obsession is welcome and even encouraged and where problems, possible solutions and predicted outcomes find themselves prioritized.
This post will explore what this key part of defining your product's strategy is, and more importantly how to do it successfully. We'll start with a short Freshman class for newbies, or a refresher for seasoned product people and evolve into more nuanced advice and analysis of phases and processes in the following order: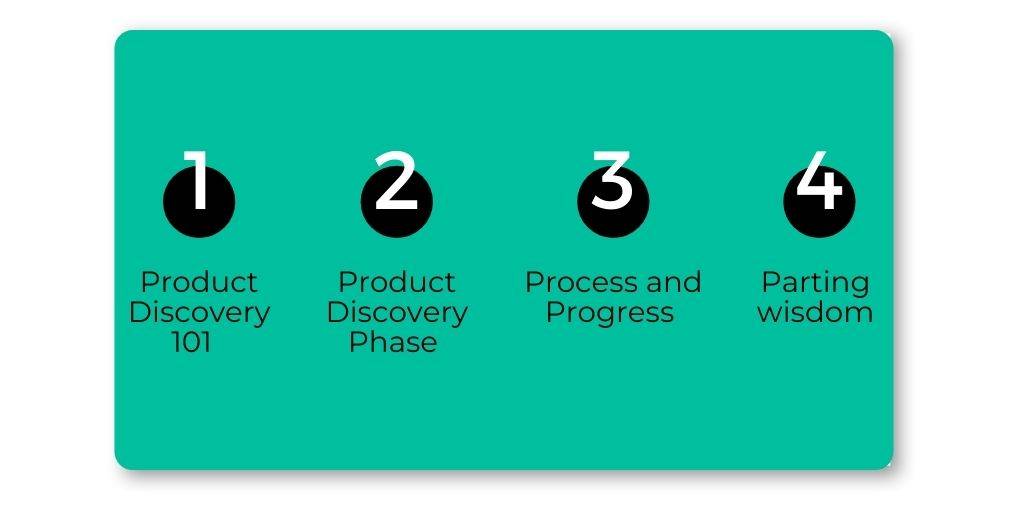 Product Discovery 101
Back to basics
Product discovery is a process that seeks to minimize uncertainty around a problem and reduce variables concerning an idea to ensure that the exact right product is built for the exact right audience. It's the bullseye on the dartboard. It provides teams with the assurance that they are investing time, energy, talent and resources in the right place and creates the foundation from which successful implementations and launches are made.
"Product Discovery" is the moment prior to the development process where together with the client we explore questions such as: What is the product? What is the main goal of the product? What purpose does the product serve? Who is the target audience? How will they interact with the product? How can we make it usable? How can we profit from it? What are the functionalities? What are the foreseen challenges? Is there a roadmap? Are there other considerations to keep in mind? And so on and so forth.
Product Teams work within this problem space, or by extension in the solution space, either still trying to understand a problem's existence, relevance, depth and breadth or alternatively focused on executing a solution. As a Product Team, this is the sphere that you work within so you know it well. As a user focused company, you are constantly gathering feedback and disseminating valuable customer insights as quickly as possible, informing your work and leading to new revelations in user needs.
If you're familiar with Dual-Track Agile then you may have a visual in your mind of two parallel roads or lines that represent the duality of agile principles and iterative improvements. But our experience is much more of a Jackson Pollock painting than a geometric image from grade school. Delivery and Discovery need to, should and do overlap and intersect and both are ongoing. The players involved? Everyone. We recommend an inclusive, collaborative space though the degree to which each stakeholder will be Involved will vary and depends on the company and project size and the way you involve various teams and individuals. It's best to clearly communicate who needs to be involved from the onset to create rhythms early on.
Ultimately, the number of people you need during your discovery depends on the size of your company but you should always be certain about the Participation of Product, Design and Engineering teams so that everyone understands the various levels of involvement and how these will ebb and flow throughout the duration of any Product Discovery.
There are many benefits in involving teams across departments that impact the sharing of outcomes and insights from research and validation processes, the maintenance of balance, the equitable distribution of ownership, the pace and the maximization of expertise.
Product Discovery Phase
Know your priorities
The Product Discovery phase is critical to enabling us to better focus on the outcome of the development process. It means that at the end of the activity, we should and will have a better sense of what is the LEAST we could do in terms of effort, resources and time to market that could also enable us to obtain the MOST out of the product.
This is why it's important that everyone on the Agile team fully grasp the concept and meaning of "prioritization"; being able to identify which set of functionalities should be developed first in order to maximize the outcome.
A Product Discovery phase can last anywhere between a couple of days to weeks. At UruIT, we let the tried-and-true activities that have the most value lead the way. Here's how we do it, by:
Uncovering the purpose
Ask questions, dig deeper, involve the client, challenge the stakeholders and gather all the info.
Business Overview
A discussion about the business model via questions and gaining context from the business.
Identifying metrics
Define metrics that will help the team measure the success of the developed product, identify milestones and criteria to assess the app's success and use these as an input for defining OKRs.
Understanding constraints
Know what they are from your point of view and the client's and then prioritize.
Ranking risks
Some are worth your energy, time and worry and others aren't. Knowing the difference will save you some sleepless nights.
Taking users into account
Understanding the users and their needs is key to really know if a product can be a success.
Working agreements
Review with the client the software development process.
Build a story map
Through this visual we can prioritize with the client which functionalities are relevant enough to go into the MVP and which ones should be considered for a future release.
Once you have prioritized and navigated all the activities planned in your Discovery session, you can really begin to organize the schedule, consider daily activities and document results.
Process and Progress
Participation and planning
We talked earlier about the importance of approaching Alignment, Research, and Ideation in the spirit of collaboration and inviting clients, team members across disciplines and various stakeholders in, but there also has to be enough lead time to make sure that participation happens. Blocking calendars early on is essential as is communicating expectations. Remember that setting up interviews with participants can take weeks and collecting results of quantitative experiments that provide useful data and not just anecdotal one off's also takes time. It's well worth it to be thoughtful from the beginning and anticipate steps, needs and even setbacks. Broad participation will enhance the perspectives, process and results so make a point to make a timeline early and stick to it.
Envision a two month or even six-week window as a starting point for your timeline. This would involve thoughtful execution of scheduling, gathering information and creating the right opportunities for stakeholders and teams to review and evaluate insights. This fosters an inclusive and participatory clarity concerning timeline and actual progress and measures the depth of insight versus checking-off task lists.
Provide an honest account of where things stand and always prepare those involved to make decisions and move the needle. This way, you're creating transparency and clarity about the actual progress of Product Discovery, which should not be measured by the number of completed activities, but by the number of insights revealed and decisions made.
Parting wisdom
Onward to development
You've asked the questions from different angles and in various forms, have involved stakeholders and gathered user feedback, you've planned well so that wide participation was possible and exefcuted the many phases with thoughtfulness, precision and depth. Be sure to remain curious; always finding ways to improve whether in timeline or content or execution. Move on to Product Development with confidence and the clarity in knowing that this is the exact right product for the exact right user. Bullseye.