Stylish mobile applications for creating and editing music tracks are no less functional than their computer colleagues. The lack some settings is easily compensated by convenient controls. And complex multi-level compositions created in ten moves will be ready just in a few minutes thanks to an intuitive assistant. So, we have selected the best applications for making your own music on Android in this post. Have a look!
Music Maker JAM
Music Maker JAM is one of the best tools for creating your own music! Do you want to join the users of the revolutionary software to create and share Music tracks? Download the app right now!
It already has thousands of ready loops and samples, with which you can create your own masterpieces of music with a few touches, share them with your listeners and friends around the world. This is your chance to reach a new level in creating music, to develop and perhaps become a famous musician or DJ. 10 free music collections are already available in the app store.
You can choose from over 200 music collections that include hip-hop, rock, dubstep, funk, techno, jazz and even music from popular movies. Mix ready samples and get your own unique tracks. Become a musician and create live music thanks to a professional remote control with 8 channels. Use thousands of loops of high quality. There is everything – from the synthesizer to bass and vocals.
Easy controls allow you to quickly adjust the tempo and sound of music, as well as add effects to it in real time. The most interesting is to create mixes by simply turning the device!
You can record your own voice, save music in SoundCloud, share it with your friends on Facebook, WhatsApp, and other social networks. Downloading Music Maker JAM you will become a full member of the community and will be able to show the results of your work to friends, fans, producers and DJs from around the world.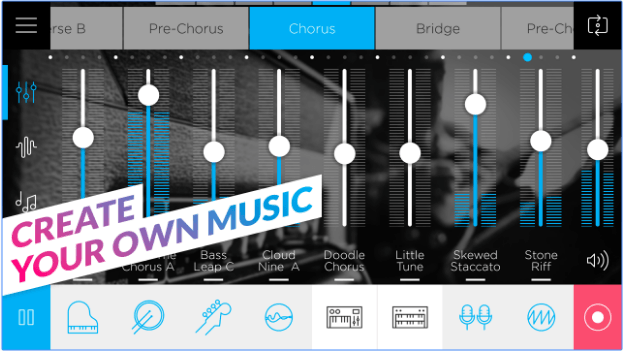 Downloads: 414 900 +
Customers rating:
(4.5 / 5)

You can also check: Add music to your video apps for Android (9 Best apps)
FL Studio Mobile
FL Studio Mobile is the only professional Application for creating music on Android, designed to compose songs of varying complexity – from a primitive melody to a real hit. The program allows you to create multi-channel projects on your smartphone and tablet, process tracks and save ready-made songs in WAV and AAC formats (you need to use a third-party converter to transfer to MP3). In addition, in FL Studio Mobile, you can import an unfinished project from the desktop version of the sequencer to modify the composition.
To create tracks, you can select sounds from the library. There you will find stylish hip-hop, rock, jazz, dubstep, trance, disco, electro, drums, guitar, piano, and others. Each ready-made sound can be adjusted. You can change the volume of the sound and select in which speaker it will sound, in the left or right.
The following functions are available by default for users:
133 built-in instruments for composing music.
Ready bass and drum parts.
Plug-ins for frequency and dynamic processing (equalizers, compressors, limiters).
Metronome.
A status bar with which you can listen to an unfinished project.
FL Studio Mobile works with all screen resolutions and economically consumes battery power. However, there are some difficulties while using the app:
Complexity. It will be easy to master the mobile version of FL Studio only for those who previously dealt with a computer sequencer. Beginners cannot avoid viewing the tutorials.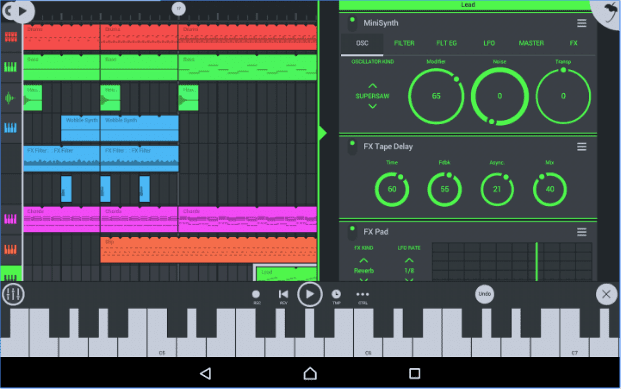 Downloads: 12 500 +
Customers rating:
(4.2 / 5)

Walk Band
Walk Band is your pocket orchestra, which opens unlimited possibilities in mastering musical instruments of different classes and directions. Due to the amazing sound, you can connect the device to high-quality acoustics, having arranged a real concert, together with friends. For convenience, various options and control schemes, sound calibration, key size, game structure are used.
You can try any musical instrument. In the Walk Band application on Android, there are different types of sounds. Play the guitar, keyboard instruments, drums, drum machine, use a multi-channel recording to save your work, experiment with sounds, attract friends to your occupation, share music with others, record beautiful melodies, combine instruments, adjust the tonality.
In your hands, a whole studio, with instruments that can be tuned, sounds that have several degrees of filtration and unlimited opportunities of adding effects. You will be able to write your own, unique music, play on different instruments, exchange achievements. You can even connect an external keyboard for more accurate playing, control the volume. Use 11 special plug-ins and absolute freedom in musical tastes.
Absolutely all instruments have a very realistic, close to studio sound. The experienced user will be able to play any melody, and the beginner will easily learn using the training mode.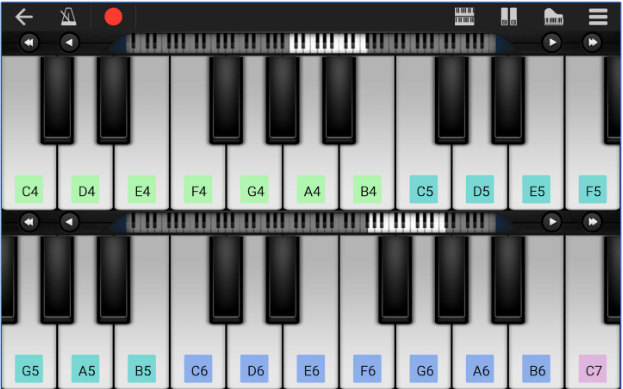 Downloads: 531 200 +
Customers rating:
(4.3 / 5)

Caustic 3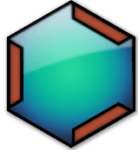 Caustic 3 is a non-standard virtual synthesizer that will appeal to both beginners and professional musicians and DJs. Bright design, large fonts, clear interface, as well as powerful functionality make this utility so popular.
Immediately after the launch, we are offered to read the manual and watch the training videos on YouTube. You should click the button in the lower left corner of the screen if you want to go directly to the utility itself. Next, we indicate any free slot and select a synthesizer: 11 types are offered to our attention. The modular synthesizer, organ, and beatbox are the most attractive. The selected machine appears in the slot menu. Click on it and get to the main menu of tool management. Each of the synthesizers has its own settings and can be used to create music of a certain genre or style. Learning how to use them is easy thanks to a simple intuitive interface.
In addition, the program contains a sequencer, a mixer, a mastering editor and a separate effect menu that can be used for active synthesizers. That is, the version for PC and for Android almost does not differ in features. However, the desktop software has no limitations, unlike a mobile application. The only drawback is that there is no support.
Of course, you can not compare the functionality of this program and powerful studio software. However, for training and quick start, Caustic 3 looks like one of the best options among similar music programs. The paid and free version differs. In paid one, it is possible to save the created tracks to a memory card and to download them in WAV, OGG, and MIDI format.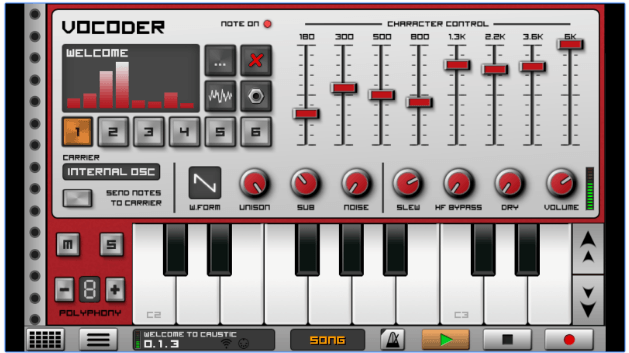 Downloads: 33 100 +
Customers rating:
(4.3 / 5)

FM Synthesizer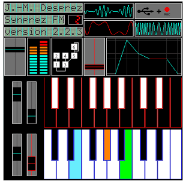 FM Synthesizer is a versatile synthesizer for Android, allowing you to easily create harmonic sounds by easily converting sounds. To do this, you have all kinds of mixer tone controls that affect the sounds differently. So, you have a tool for creating the most amazing sounds. Unlike a smartphone, on the screen of which there is only one keyboard, there will be two on the tablet.
This program will allow you to create your own instrumental tracks that you can record and show to your friends. In general, the program is simple in use and very exciting. You will learn how to use it, even if you previously did not play keyboard instruments. Built-in settings allow you to create your own sound, which will decorate your song, and create a recognizable style. The convenient location of all the settings will also please you. The built-in tutorial will speed up the learning of the use of this program. Try yourself in the music!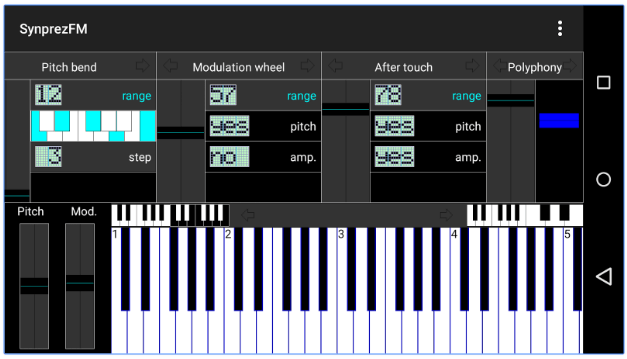 Downloads: 7 100 +
Customers rating:
(4.0 / 5)

Groove Mixer
GrooveMixer for Android is a new free application that allows you to make music compositions in the style of hip-hop, house or dubstep anytime and anywhere where inspiration comes to you.
GrooveMixer can be used to create both small sketches for future compositions and full-fledged breakbeat tracks. The program is equipped with 256 patterns that convey melodic samples and the sounds of percussion instruments. In this case, each pattern is 8 channels, which can be mixed with each other. The resulting composition can be saved or exported to a WAV file for further finalization in a professional music editor. In addition to the preset patterns, you can download your own samples from the SD card into the program.
The application is characterized by an intuitive interface in the style of FL Studio, which allows you to create rhythms. Even a novice rapper, who does not know the music notation will easily learn how to use it. To sketch a song, just select the sounds you want and make the rhythm on the step sequencer with your finger.
The project is dynamically developing, and the developer plans to realize the ability to set the volume for each note and add effects – filters, compressor, and echo.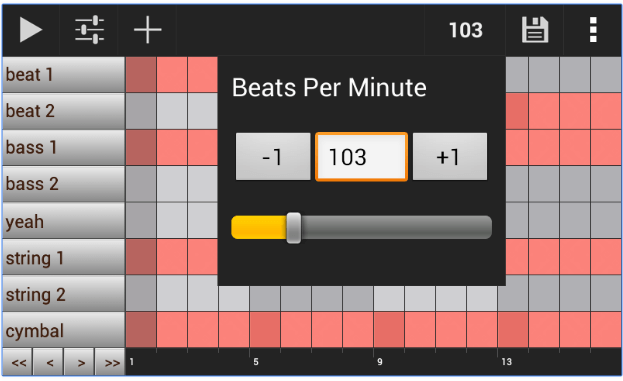 Downloads: 23 900 +
Customers rating:
(3.9 / 5)

G-Stomper Studio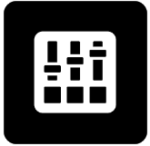 The G-Stomper Studio application is a drum machine for live performance with studio quality. This program is designed for professional musicians and those who want to start making electronic music of high quality anywhere and anytime using their smartphone or tablet, which has an operating system Android 4.0 or later. It is enough to press the keys and you will have your own music with a certain rhythm. So, you can try it right now!
Drum Machine/Groovebox, a Sampler, a Virtual Analog Performance Synthesizer (VA-Beast), a polyphonic + a monophonic Step Sequencer for melodies, a Track Grid Sequencer for Beats, a Piano Keyboard, 24 Drum Pads, an Effect Rack, a Master Section, a Line Mixer and a Live Pattern/Song Arranger. Wherever you are, take the mobile device and immediately start creating your own music.
G-Stomper Studio is a music creation tool, highly optimized for making electronic live performances in studio quality.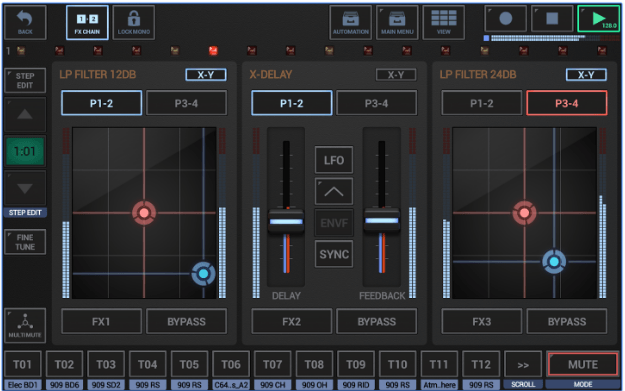 Downloads: 14 100 +
Customers rating:
(4.2 / 5)

Recording Studio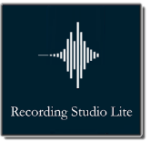 The real recording studio is in your pocket now. Using this program, you can easily record your own song and create a musical accompaniment for it. The application allows you to record several tracks, select tools or insert your tracks from the hard disk, for further simple editing in the form of cutting and adding some effects. The resulting track can be saved in popular formats WAV, MP3, and WMA.
In the Lite version, only the piano is available and there is the ability to create two audio tracks. By purchasing the full version, you get access to creating up to 24 soundtracks and unlock additional instruments (drums, acoustic guitar, bass guitar, organ, harpsichord, organ pipes, violin and electric guitar). In addition to this, some functionality will be opened too.
Of course, you need to understand that this application hasn't the status of professional music software. It can be used as entertainment.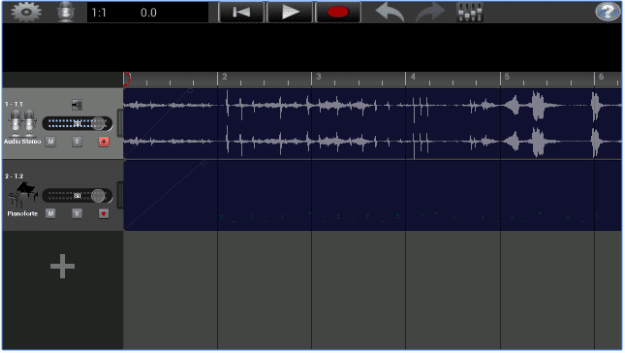 Downloads: 12 700 +
Customers rating:
(3.8 / 5)

Oscilab
Now you can create music on your Android phone using the electronic groovebox – Oscilab. It is an amazing music application that will open you the talent of an electronic musician. So, start creating music using rhythm. Just select one of the many musical instruments, set the rhythm, select the frequency and adjust the waveform graph. You can connect several musical instruments with a certain tact and you will have a wonderful composition that you can share with your friends.
Oscilab is a software sequencer for Android. Program your music from the finished waveforms or create your own by tuning the frequency and applying the cutoff filters. In addition, you can use drums and electro-guitar for programming by buttons.
All in all, the app interface is intuitive and simple! The whole process is based on the fact that you do not have to do anything manually, everything is created with the help of gestures! This application is able to create music from simple sounds. All that is needed for this is a little knowledge of musical instruments and a lot of desire to create some kind of music. So, do not delay! Start now!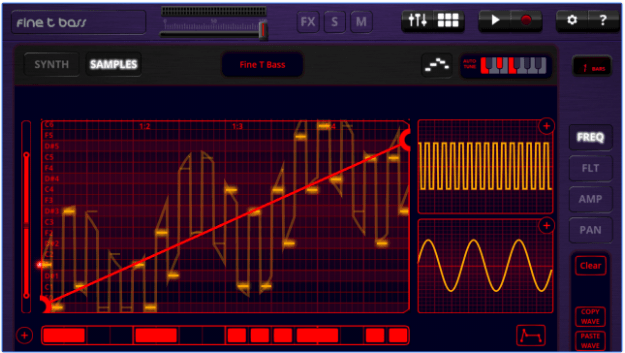 Downloads: 3 600 +
Customers rating:
(4.2 / 5)

RD3 – Groovebox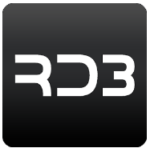 RD3 is a drum/groove machine, which can be useful in the company of friends, and will help you to relax, experimenting with creating a track. Such software is rarely free and RD3 is not that rare case. But there is also a free demo version, which you can safely download from the Market. There are some differences from the full version:
Every 5 minutes 10-second window with an offer to buy the full version appears. A set of percussion is limited to one set. In the full version, there are 8. Copying and saving of presets is also a privilege of the paid version.
After installing the application you will go the setup menu of the track. Here you can set the bass line, drums, you can select the tempo and one of the saved bass or drum presets. Next, you can go to the bass or drum track creation window.
The main features of the application:
Turn-based sequencer in real time;
virtual analog synthesizer;
high-quality filters;
mode for powerful devices;
multi-touch control;
drum machine with 8 drum kits: 808, 909, 606, CR-78, Lynn, KR55, RZ1, DMX-4 models;
3 game modes: solo, loop or random;
App2SD audio export of loops;
download / save sessions;
cut / copy / paste template.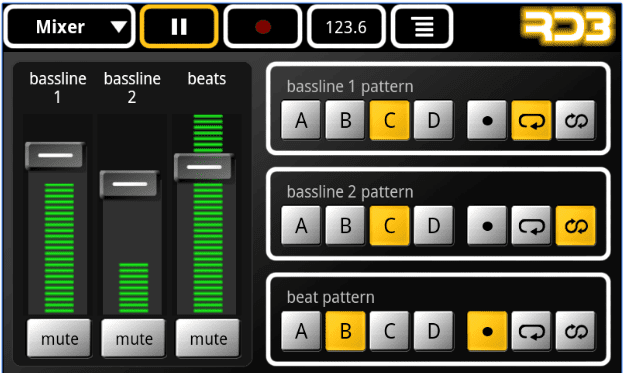 Downloads: 720 +
Customers rating:
(4.4 / 5)

J4T Multitrack Recorder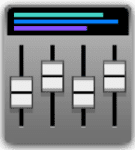 Are you professionally engaged in music, or just like to create something new? If your answer is YES then the program is just for you! J4T Multitrack Recorder is a miniature but functional program for creating music.
With this utility, anyone who wants to create music will be able to make professional tracks. You can feel like a real composer, applying various effects to songs, joining several tracks into one (up to 4 different tracks), etc. Editing tracks with standard functions is available – cut / copy / paste. You can also turn on the Loop function – repeating the track after it finishes.
The program has high functionality. It allows you to work with any types of audio tracks, process them with the desired effects and save the result. In the application, there are 4 recorder lines. Here you can import audio tracks or record your own tracks to get a unique mix.
The program works both for importing and exporting audio files. You can save the result in mp3 and wav formats. The finished works can be sent using SoundCloud, Google Drive, Gmail, DropBox.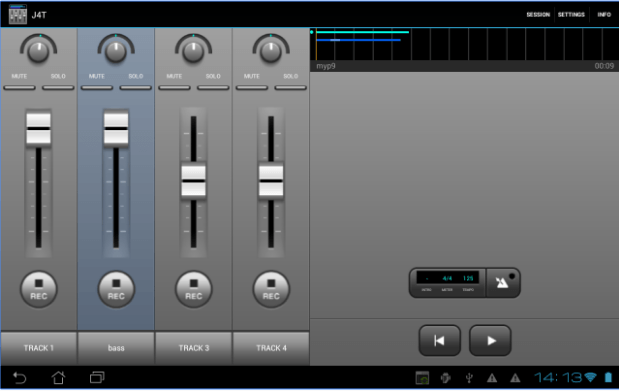 Downloads: 1 500 +
Customers rating:
(4.1 / 5)

MorphWiz-Play
MorphWiz-Play is a very interesting application, with which you can use your phone as a rather unusual musical instrument. The application has ample opportunities. Of course, its purpose is more entertaining than musical. But with the proper level of ingenuity, you can create a completely original and unusual track.
The interface of the program is simple – you are given a field. Its area is almost the entire display. To get a sound – just touch anywhere on the screen. Depending on where you touched, the pitch of the sound will change. And if you move your finger across the surface of the display or use all the other fingers (yes – "multitouch" here is not only available but also fully welcomed), you can achieve interesting effects. The program has about thirty built-in presets. Choose any of them and you will hear absolutely unusual sounds and will be able to create an original bit.
You can just have fun with this application alone. Or you can try to use it in your audio recording for your music group. You can generally try to create your own musical style. There is only one limitation in the use of MorphWiz-Play – the program is paid, but the cost is not so high.
This application provides the highest possible quality of your sound and visual effects, and its multifunctionality is very enthusiastic. The interface of the program is beautifully designed and simple enough for everyday use.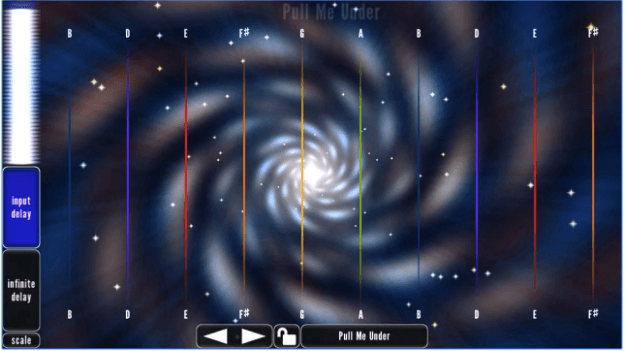 Downloads: 1 200 +
Customers rating:
(4.7 / 5)

Songify by Smule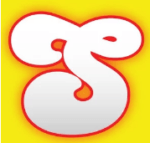 Songify is one of the best apps for those who like to sing. With the help of a small program from the studio Smule's developers, owners of Android-devices will be able to quickly record a unique song. It is noteworthy that you do not even need to sing for this. The application can convert even a simple text into the song.
The process of recording a new track is extremely simple. Users need to select a musical composition and record the text of the future song by clicking on the large button in the center of the screen. After the end of the recording, the text will automatically be superimposed on the music.
In the Songify settings, authors can choose the "basis" for the future song. There are a lot of popular tunes in the program database, but only a few are available free of charge. The rest will need to be purchased separately.
By the way, ready-made songs can be shared with friends in social networks or sent by mail. The application downloads a track to its service itself, where later people from all over the world will be able to listen to your creativity and put a "like" to it. Also, you can go to a special section and see the top best folk singers there. Undoubtedly it is necessary to choose an avatar from the gallery, then your face will become famous all over the world and everyone will recognize a favorite label.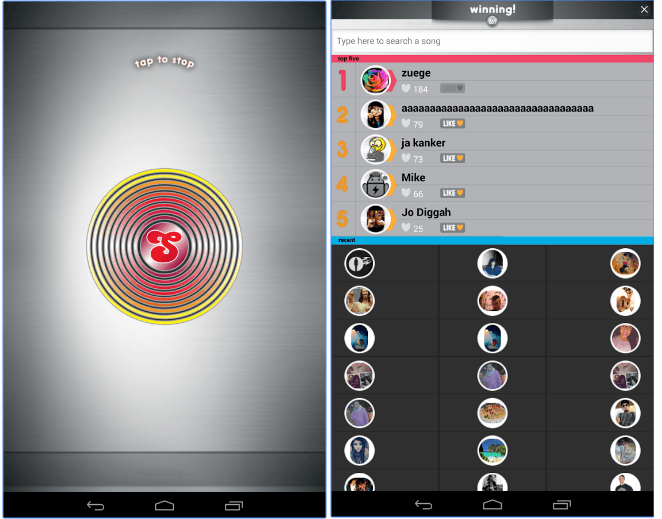 Downloads: 65 800 +
Customers rating:
(3.8 / 5)

NodeBeat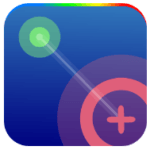 NodeBeat is a minimalistic yet fully functional mobile tool for creating electronic music. The authors of the studio AffinityBlue took the technology created in the Institute of Audiovisual Technologies in Barcelona as a basis (at least a project called reacTable has a similar mechanism for creating tracks).
If we talk about the process of creating melodies, then NodeBeat does not require any knowledge of the owners of smartphones and tablets. And for the creation, you do not need to know the notes at all. So, both children and adults who can not have any musical education will be able to use it.
In the application, there are 2 main types of elements – notes (responsible for tonality) and generators (responsible for the tempo and type of sound). By placing these elements on the screen and connecting them together, the "composers" will receive a particular sound.
Also, the various settings can affect the final result. For those who have some musical knowledge and ambitions, there is a section of Audio settings where you can change the tonality, adjust the sound effects and so on. With these options, you can change the sound of the program by turning your melody from a song of Arab Bedouins into a fashionable club beat.
Despite the apparent simplicity, NodeBeat allows you to achieve interesting results. True, the creation of a unique track can take more than a dozen minutes. The program has an excellent design and easy management. The finished project can be saved in any popular format.
Features:
Adjustable tempo
Support for signing keys
Various musical scales
A large library of sounds and effects
Downloads: 1 200 +
Customers rating:
(4.5 / 5)

PocketBand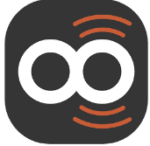 Are you a mad music lover and like to create new tunes? Thanks to the PocketBand application, you can do it right on your smartphone. If you install the PocketBand – Social DAW application on your Android tablet, it will easily replace a whole music studio for you.
Fans of composing music can now do this at home. With this program, you can mix different records, adjust their volume, and add all kinds of effects. If necessary, you can use a microphone that allows you to record live sound. Ready records are exported to mp3 files or can be saved as ringtones. And do not forget to share the received tracks in the community: the most popular songs will be on a special radio!
If you do not have the skills to create melodies, but still want to try yourself in this role, then you can use the built-in assistant, which will explain how to do it in step by step instructions.
Features:
3 levels of editing
Convenient publication of melodies in the community
It is possible to add third-party sounds
Support for synthesizers, modulation and sound recording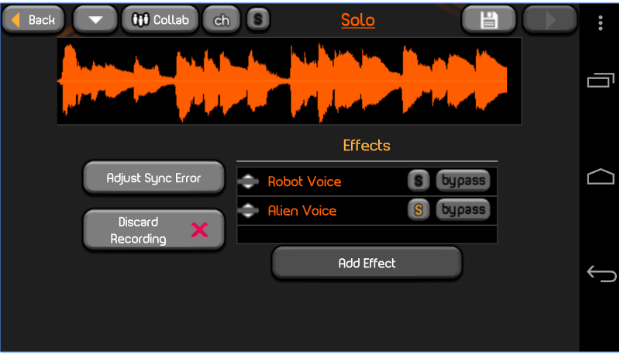 Downloads: 20 900 +
Customers rating:
(4.2 / 5)

djay 2
The main idea of the application is that it provides all the necessary tools for creating mixes that can be recorded. Downloading the application on your device, you will see an excellent graphics of all used elements. In general, the design of the program is of a high level! And so, before us is there is DJ booth that we have been looking for. There are a lot of different elements on the panel. It will not be so easy to understand it for an ordinary user. Of course, a person who has previously worked with such equipment will immediately understand what to do.
The novelty of djay 2 now satisfies the wishes of not only beginners – a versatile user interface will help to create incredible compositions! In addition, the updated music detection system on the mobile device will add all the tracks to the library and eliminate the need to search for special material for users.
The program has the ability to record your work, so you can always mix songs or make a mix anytime, and later show it to your friends. For knowledgeable people, this program will be an excellent find. It will be very useful and will fully help to organize excellent sound accompaniment for your company.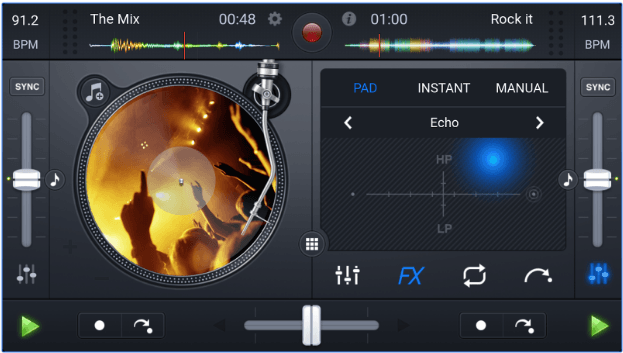 Downloads: 10 700 +
Customers rating:
(3.8 / 5)

Electro Drum Pads 24
Electro Drum Pads 24 – the program is a collection of rhythms, bits and cool sounds for creating electronic music. If you like electronic music and always wanted to try yourself in the role of a DJ, then Electro Drum Pads 24 – just what you need! It is a program that will allow you to create.
In the memory of the application, there is a fairly extensive library of all sorts of rhythmic and sound effects, with which you can create stunning compositions. Each effect "hides" under its colored square and plays as long as you hold it down. You can choose a beautiful background theme or even a few. Quickly move your fingers around the squares to create your own incendiary rhythm. When you are satisfied with the result, you can save the resulting melody to the device. So, create whole albums of your own electronic music.
The application works offline, so you can create music in any convenient place. If you download the program for the first time, do not forget to look into the training section to be aware of all the features and not to miss anything. Also, in monthly updates, new sounds and rhythms are added to the program, which will surely inspire you to new musical experiments.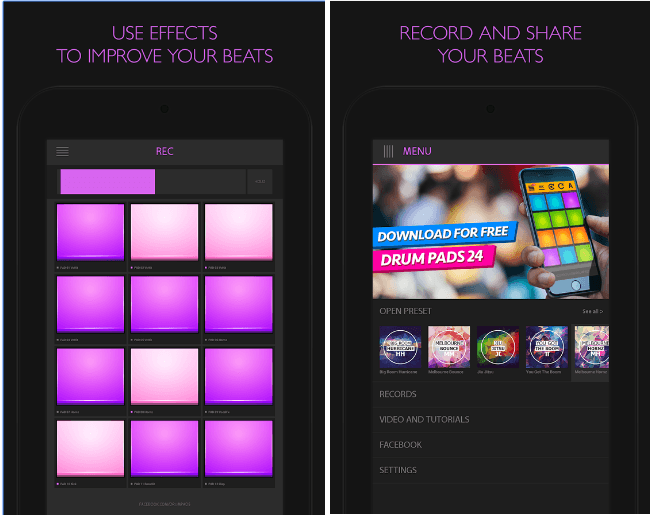 Downloads: 115 500 +
Customers rating:
(4.5 / 5)

Cross DJ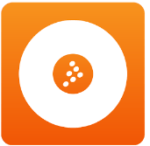 Cross DJ is one of the best Android-applications for DJs, thanks to which the user can create sets and mixes on his mobile device, making unusual tracks and compositions. There are all the necessary tools, various audio effects, auto-synchronization of the rhythm, adjusting the volume levels, controlling frequency bands, selecting fragments, navigating through folders and much more.
The main features of Cross DJ Free:
Ability to make tracks and process songs.
A possibility of preliminary listening of tracks.
Navigate through folders.
Auto-sync of rhythm and auto mix.
Presence of 15 audio effects.
Ability to control frequency bands.
A clear color indication of what is happening.
Adjust the volume levels.
Button lock mode.
Intuitive interface.
Cross DJ Free – Mix your music is a completely free DJ application that is available for Android devices. The application is equipped with an ideal synchronization and a powerful sound engine. The application has free access to music on your phone. A Beat grid is also available. With its help, you can make sure that your music on the phone is correctly synchronized. You can save all your musical creations on your phone and share with your friends.
Downloads: 90 100 +
Customers rating:
(4.2 / 5)

DJ Basic
DJ Basic is a program that allows you to create and mix tracks directly on a portable device. It will be an excellent assistant to any amateur DJ. Despite the fact that the application is free, it has a fairly extensive functionality and a number of interesting original features.
The first thing to note is the pleasant visualization of audio tracks, which, moreover, can be adjusted to your own tastes and needs. In general, the DJ Basic interface is at a sufficiently high level, all elements are drawn very qualitatively and are correctly positioned from the point of view of ergonomics.
The program will give you the opportunity to easily work with loops, share channels, add all kinds of sound effects, will recognize Async BPM, work with a three-band equalizer, as well as with compositions in WAV, MP3, and OGG formats. In general, it has everything that a mobile sound editor needs. You will appreciate the simple process of importing tracks into the program, which greatly facilitates the built-in DJ Basic file manager. So, this application can be considered one of the most functional and enjoyable in use sound editors for mobile devices.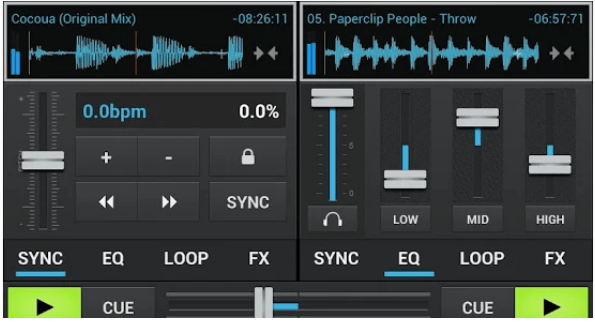 Downloads: 37 000 +
Customers rating:
(3.9 / 5)

Drum Pads 24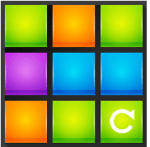 Drum Pads 24: Music Maker will help you to create beats, write music using colorful drums. Just connect the device to a good speaker system and get the most out. The application offers more than 2 thousand audio effects – funk, neuro, electro, etc. All audio packages are created in collaboration with professional music studios, producers, and DJs. Sounds are updated every week.
So, mix the sounds of the application, import your favorite tunes, create your own unique package and share it with your friends, and also take advantage of the masterpieces of subscribers, cooperate with them and create something completely new. Use the template editor, record the tracks you play, turn them into videos and publish them on social networks. Join the music community, practice playing drums and have fun.
The music application Drum Pads 24 works primarily with modern styles – Dubstep, iDM, Trip Hip Hop, Trap, and Electronic, and therefore lovers of new trends will definitely be delighted when combining different sounds and creating their own compositions. Users create all the tracks in the Drum Pads 24 on the basis of short samples, grouped by colors and genre – each press produces a uni