Photos with text today are quite popular. Instagram is full of really beautiful photos with quotes or motivating texts superimposed on them. Surely you were wondering how to impose text on a photo? And how easy is it to create such beautiful photos?

To date, you don't need to be a Pro in the graphic design and Photoshop to create such images. All you need is your smartphone, special apps, a little time, and a bit of talent. It's very simple, select an image and type the text you want to overlay on the photo, then share it in social networks.

Below, we list some of these applications.
Quotes Creator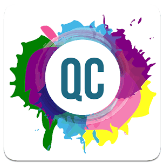 Quotes Creator – an Application that allows the user to quickly and conveniently create a beautiful picture with the text in the form of a quote. Images are created by selecting a background, font, text color, and effects.
To start, the user will be prompted to select one of 60 backgrounds for a future image or upload it from his gallery. After that, by double-clicking on the picture, a field will appear for entering a quote or selecting one of the extensive databases of the program, where they are divided by author and subject.
Next, the user has the option to select a font (total in the application of their 126) and adjust the size, color, and location of the text as desired, as well as to change the appearance of the background image. After that, the resulting image can be saved to the phone's memory. As a result, when using Quotes Creator, the user gets the opportunity to create a beautiful work with one of the many background images and a quote written on top of it.
This app completely lacks logs. Advertising appears periodically but it does not interfere with the use. There is no translation, but all the phrases in English are accompanied by icons that greatly simplify understanding.
So, the advantages of the program Quotes Creator are a convenient and intuitive interface, as well as an abundance of backgrounds, fonts, quotes, and opportunities for creating images. Disadvantages – lack of translation, ready-made quotes are available only in English, as well as a watermark in the corner of the image, which can only be removed for a fee (as well as advertising). In this case, the utility completely copes with its task.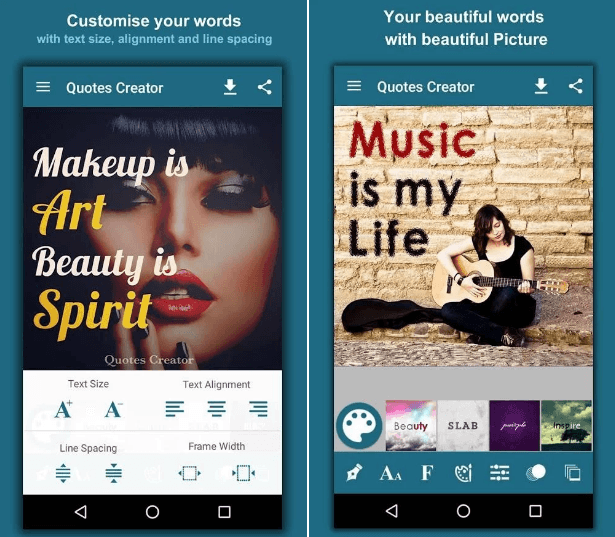 Downloads: +1000000
Customers rating: (4.5 / 5)

Quotes Creator by ThinkPeak Studio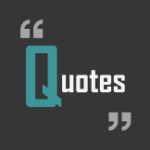 In the database of the application, you will find more than 2000 citations in 25 different categories. Create your masterpieces, save them, so that in the future you are able to alter them to send to friends or publish in social networks, for example, on Facebook, Twitter, Instagram. To ensure that your text looks beautiful, the program has a large number of fonts and backgrounds. In the settings, you may append a shadow to the font and change the color, add transparency, resize, align, etc. In addition to the wallpaper available in the application, you can upload your own background.
The number of added quotes on one photo is not limited, you can also add stickers. Developers constantly update the application, so that you have more and more opportunities to apply your creativity.


Quote Maker & Quote Creator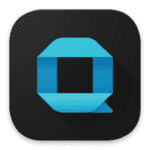 The QUOTE MAKER & QUOTE CREATOR application will assist you to make a beautiful photo with a quote in a matter of minutes. To improve the image, the following settings are available – background color, different fonts, filters, etc. Your quote will be unique and unrepeatable.
In the app, you will also find a large number of citations by category, funny stickers, photo frames, and much more. In addition to the standard backgrounds, you may append your own. Be creative, and the QUOTE MAKER & QUOTE CREATOR application will aid you in this!


Text2Pic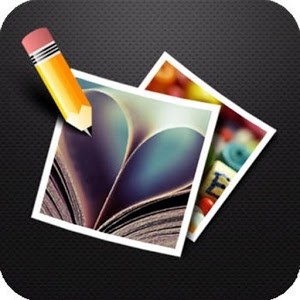 Text2Pic for several reasons can be called a special application. First, it is equipped with the widest range of fonts and formatting functions, including the ability to create inscriptions in 3D and with shadows at different angles. Secondly, the application ensures the ability to automatically connect to your profile in Instagram for easy uploading and publishing of created images. The biggest "minus" we noticed is the inability to upload your own image as a background, but instead, Text2Pic offers a huge number of a wide diversity of photos from which to choose what to choose. Give your phrases, aphorisms, and quotes a beautiful view!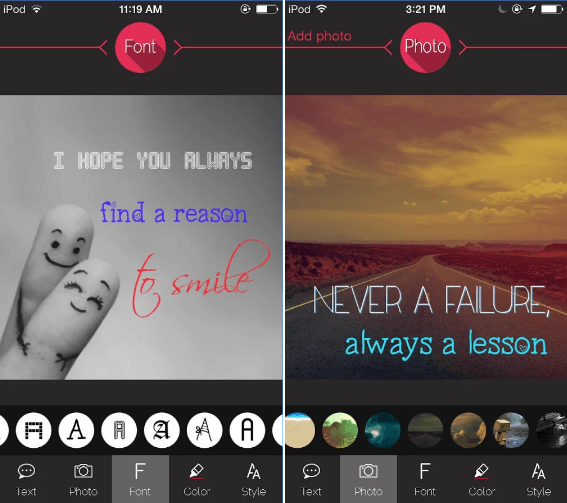 Fontmania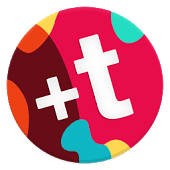 Let your pictures speak! Fontomania is an application that turns your photos and pictures into inspirational images, greeting cards or love messages that you can share with mates on social networks right from the app! The application contains an assemblage of original art graphics and specially selected fonts, as well as a diversity of creative alternatives for editing them. Turn your photos into works of art!
Express yourself in your native language, because every font in the application supports Cyrillic. Put the #Fontmania hashtag in Instagram-posts to share your creativity with others, and your photos can be published on @fontmania account.
Fontomania will permit you to:
create vivid images for posts on Instagram, Facebook, Twitter;
make greeting cards;
decorate pictures with inspirational, wise or funny quotes and expressions;
sign photos for memory;
make memes;
create wallpaper for the screen with personalized text;
append rapid notes and comments on any occasion;
create an image with stylish text and graphics.
with the help of inscriptions, you can give a new meaning to your photos!
Fontomania is a simple and convenient application! How to utilize it:
1. Select the photo you saved earlier, or make a new one. Zoom or cut it to the desired size. Improve it with filters.
2. Append text: boldly experiment with the fonts or select art graphics from the collection.
3. Edit to taste: select a color, use the Transparency and Shadow options.
4. Manually adjust the size, position, tilt, and position of text and graphics.
5. Save the image or immediately share it with friends on Instagram, Facebook, Pinterest or other social networks and instant messengers!
Put away boring pictures and messages! Share real emotions with your mates!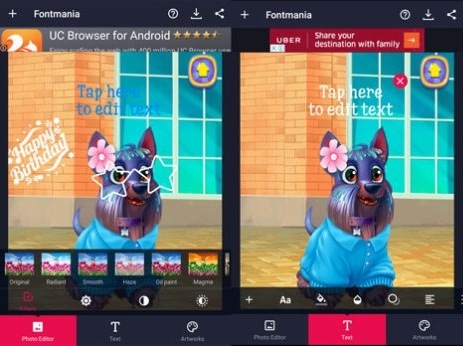 Picture Quotes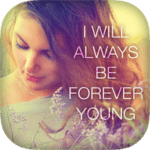 Excellent application for overlaying quotes on photos or attaching beautiful text to beautiful textures. Various fonts, colors, shaders, textures, quotes, and much more will be available to you if you download the Picture Quotes application. If you did not find a quote that suits you in the sense of the application, it does not matter. Just append your text, select the font, and place it on the main background.
Quotations are divided into categories:
Wishing for a wedding.
Vacation.
Quotes about love.
For friends and family.
Known quotations.
Funny.
You are able to choose a photo from the gallery or take a picture on the camera of your mobile phone. To expand your creativity, in the application you will find photo effects, a huge palette of colors. All your masterpieces can be saved and sent to friends. Make your pictures really beautiful!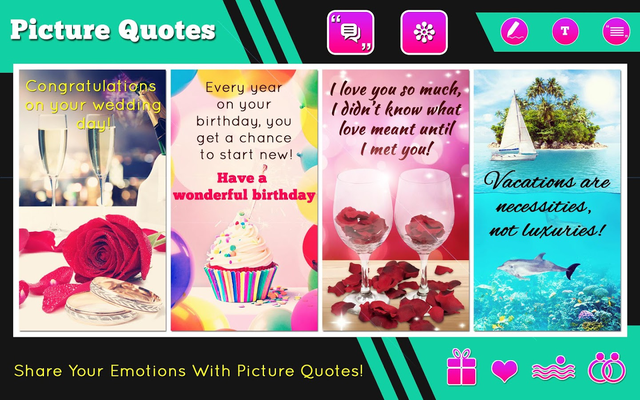 YourQuote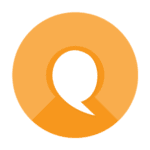 This application is designed to make your words look not like boring text, but as a work of art. Write on the photos graphically beautiful text, publish your quotes, poems, and stories, collect all your creativity in a single database.
Impeccable portfolio with beautiful texts. Write anything – poems, quotes, jokes, stories, tweets and much more and give them a beautiful graphic appearance. Combine everything into one base when creating your instaquote.
Your quotes can now be found in Google. The application is able to make your records available for search through Google's search engine. After publishing 20 quotes, you can use the Google seek.
Copyright. This application is a great platform to prove yourself as an author. All your graphic text is saved as a drawing, which provides you with protection from plagiarism.
Here the best authors gather. In the application, you can read quotes, poems, stories of other authors, comment, follow the work of other people.
Great editor. Here you will find a variety of styles and fonts that can make from your text a real artwork.
Accommodation in social networks. Share your creation on different platforms, such as Instagram, Twitter, Facebook, Whatsapp, and others.
Improved writing. The best grammar team, decide clichés and puzzles, advice on how to write correctly.
To summarize, it is worth saying that this platform is an indispensable tool for writers.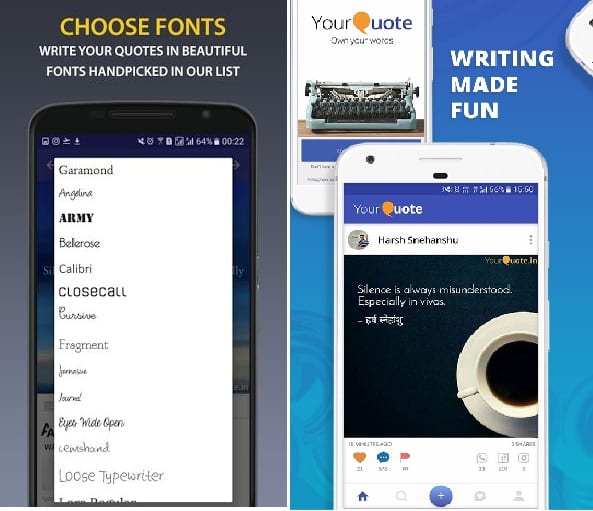 Kwote: Quote Maker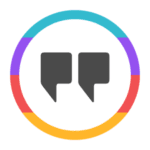 Everyone loves inspirational and motivating quotes, so they often share. But if you really desire to increase the interest of the audience, put a quote on the eye-catching background.
Kwote: Quote Maker is the best choice for those who are looking for an instrument for making visual options of citations in high resolution in a short time. The application has a large set of templates, backgrounds, and fonts that will assist you to make and popularize your graphic content.
But most importantly, the app has a large choice of quotes for 14 inspirational categories that you can employ. Pick a quote from the library, add a background that matches the parameters of the social network layout – and you are ready to publish the post.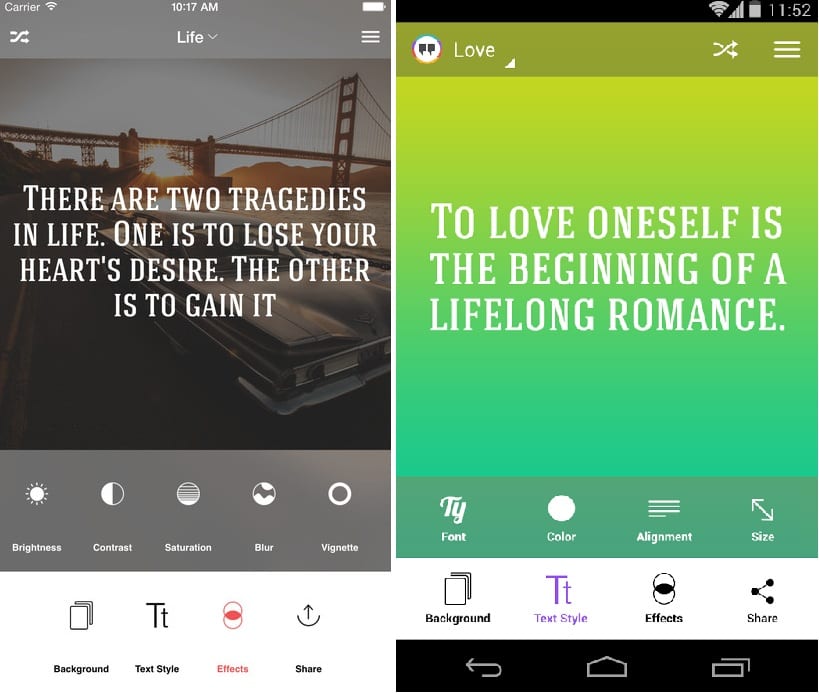 Quotes Maker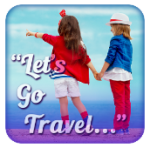 Create beautiful PhotoQuotes along with the Quotes Maker application. With this application, you can write quotes, sayings, create memes, etc. Beautiful wallpapers will make your thought not only deep but beautiful. In the application, you will find citations of famous people, as well as wallpapers with their image. You can also decide when to receive daily quotes from celebrities. And the possibility to create memes with popular characters will make your photo unforgettable. The best quotes with the best backgrounds are only in the Quotes Maker application.


Textgram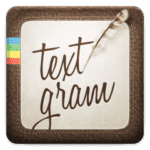 The application for Android devices is designed for fast editing of photos and other images, as well as adding text, stickers, and frames on top of them. With it, you can create an original graffiti, beautifully sign or decorate a photo and perform simple changes to any other pictures.
After starting the application will offer to choose one of two modes: free for a single image creation or a mode for saving a project, which can then be used as a template.
Regardless of the selected option, you will get access to the main groups of tools:
Canvas allows you to globally change a new project: add images to the work field, including from the device memory, text fields and change the aspect ratio of the sheet.
Templates contain a number of ready-made solutions for graffiti: photos with a field for entering text in the appropriate style.
Backgrounds – a set of cute photographs, textures and other blanks for the inscriptions.
Stickers contain a selection of stickers in the form of emojis.
Filters are applied to the entire working field, changing its tone and sharpness.
The framework allows you to complete the finished project.
Any of the added objects can be edited: the text can change the size, typeface and font style, use shadows and reflections, and for stickers and images – size, position, rotation.
It is also possible to change the transparency of the layer, its blending mode and position relative to other layers.
Textgram – write on photos is distributed free of charge. The application provides for purchases for real money, but a free set of fonts, backgrounds, frames, stickers and other graphic elements is enough for the main tasks. The editor's menu is executed in a simple black and white style with sparse interspersions of other colors and is not overloaded with animations or effects. Together with the small size of the application, this makes it a suitable tool for most mobile devices.
Textgram – write on photos is useful to anyone who is not alien to design impulses: its functions will make your photos unique, and graffiti – bright, and share them with friends in social networks or instant messengers.


Quick
Quick – a program for Android, which is designed to create an inscription in any photo or picture.
Sometimes, to create the necessary "effect" on the photo, you want to add some interesting phrase. For this, it is convenient to employ the Quick program. Among all your photos, the user selects the required one. Then, cutting off it, he proceeds to the most interesting thing – creating an inscription for the photograph. There are a few nice fonts in total, as well as the ability to change their color. It is quite convenient to manage the resulting inscription, you just need to manually move it to the desired point in the photo. It is also very easy to place the inscription diagonally or to reduce it for comfortable perception. It is enough to utilize only two fingers.
It is worth noting that the developer decided to add a watermark to his program on the screen floor, so that when the image is selected for editing, a huge program symbol closes the entire review. Also, only a few fonts are available free of charge, which greatly limits the program.
Quick is a good program for those who like to share their impressions with friends on social networks, after all, after creating a photo with an interesting inscription it's easy to immediately show it to all friends and subscribers. But it's worth noting that the developer decided to be greedy so that when the image is selected for editing, a huge program symbol closes the entire review.


TextSwag
Create your personal stylish quotes or make beautiful designs for Instagram, Facebook or Twitter. Make a screensaver or share your memories with help of flyers and ads. The developers have prepared for you many combinations of font and various formats. Therefore, to worry that you will not be able to find anything suitable is not necessary. You can always pick from a variety of signatures, and some of them will get you to inspire. You definitely get to impress your friends with the help of your designs, as well as bright verbal combinations. They are very easy to share with the help of social networks. You will be able to use many filters for images that are completely different in their properties.
How can you use the TextSwag application? Choose an image, change the text, then determine the style. If something does not like it, use another option, and change some elements. It's all so simple and understandable that there will be absolutely no difficulties when using the program.


Word Swag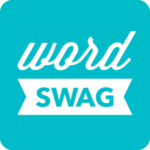 What do you get if you try to create a combination of pictures and text using Word Swag app? Fantastic visual content, which is sure to attract the attention of users. Word Swag, the Android application, allows you to easily add an inspiring or wise quote to your photo.
Thanks to over 290000 images, backgrounds, and templates, creating a unique image has never been easier. Selecting a picture and adding text take a few seconds, and the result looks as if you spent many hours creating layers, moving the elements, and selecting the perfect font.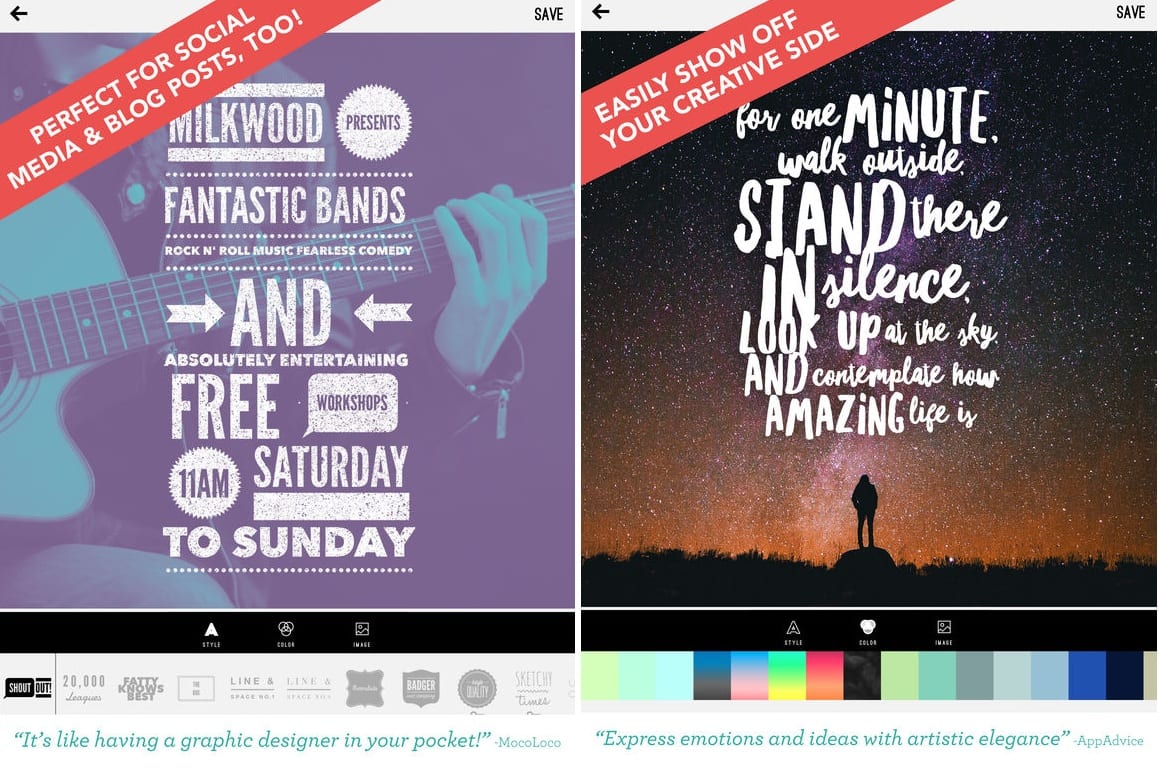 Recite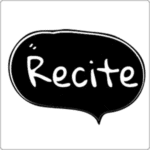 Looking for the fastest way to turn your thoughts into graphic content? Recite is your solution! Recite does not offer a large number of tempting options. The application performs one simple function – instantly turns your words into images that you can share. Add text, review options, select a design, and publish an image in your favorite social network.


Canva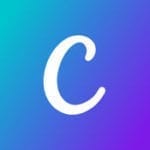 All marketers working in social media understand the significance of visual content for advertising. It is also not a secret that to attract the largest possible audience, you must use the original visual content. How to make visually attractive content again and again? Canva is the answer to this question.
Canva is a great instrument for making attention-grabbing images in just a few minutes. You do not need to be a designer or be able to use Photoshop to get started in this program. Canva suggests templates that match the size of your last post on Facebook, so you no longer have to bother about the size of the images. A lot of templates, fonts, sizes and other elements will allow you to make high-quality graphical content that will be noticed and shared.


It's very simple – download the application and show your creativity. Have you tried any of the described applications?
Check also 15 Free Drawing apps for Android