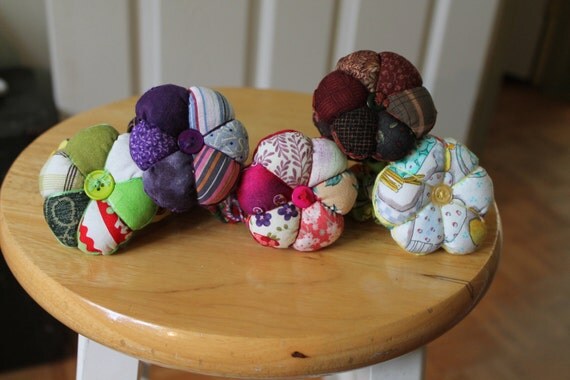 9.50 USD
This is a listing for a cute mini 6 point patchwork Cotton Pincushion wristlet/bracelet made with reclaimed cotton.

You can pick between 3 of these colors: pink/red, purple or burgundy. You simply pick in the upper corner of the page.

I added some embroidery around the pincushion and formed a flower, shaping each petal with the cotton floss. I added a button to add a finishing touch. The top of the pincushions have different fabrics as for the undersides have a complete fabric piece.
This is just as beautiful and as useful to be carried around while doing your sewing or any little crafting around the house so you always have your pins handy with you right when you need them.

It's also a decorative piece so you can add it to your collection.
This pincushion measures 2 1/2" across X 1" thick.
The bracelet stretches from 6" to 8".
Thanks for visiting my shop,
If you have any questions about this item, please convo me.