Sometimes it can be challenging to find just the right presents for the members of your family and it can be tempting to just grab some socks or underwear and save the aggravation. We've gathered the top 100 Christmas Gift Ideas for your brother, so you don't have to worry about racking your brain for the perfect item. You can find something in every category and every price range for that special brother – or brothers – on your gift-giving list.
By thinking about what the guys like or what they like to do, you can choose a present that he is sure to love and enjoy.
Check Out These 100 Christmas Gift Ideas for Your Brother: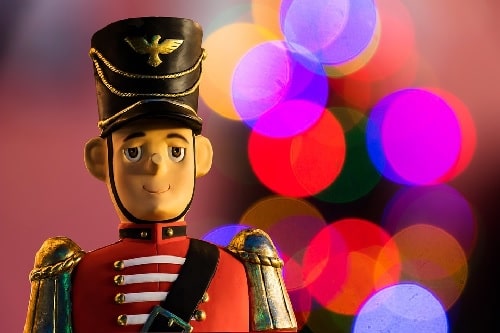 Self-Care Stuff
Facial Hair Scissors (Sharp Tip) – Grooming has never been easier than with these perfectly designed scissors just for the face!

Finger and Wrist Acupressure Exercise Massager with Magnetic Roller Ball by LURE Home Spa – Relieve arthritis pain and improve grip strength.
The Man Can – Plum Island Soap Co. paint container is filled with quality men's skin care essentials.
Urban Outfitters Toothpaste Set – Made in Italy and features toothpastes from around the world.
Organic Lip Balm (Peppermint) – Keep those lips moisturized during the cold weather months with this 6 pack of yummy balm.
Burberry Gift Set – Classic 4-piece miniatures of the famous brand.
BFWood Pocket Beard Comb – Made of sandalwood in a leather case.
ArtNaturals Argan Oil Leave-In Conditioner – Naturally restore and deeply condition hair.
Sivan Health and Fitness Basalt Lava Hot Stone Massage Kit – 36-piece massage stones in a wooden box.
Beard King The Official Beard Bib – Corral the hair while you shave for easy cleanup.
Braun 8-in-1 Electric Grooming Kit – Trim a beard, mustache or ears and nose!
Haute Couture
My Boot Trees – Never worry again about your boots losing their shape between wearings.
5-Pack Sports-Inspired Boxer Briefs– Comfy, colorful designs!
Custom Dog Tie – Personalize with his favorite pooch.
Star Wars Official Socks Collection – 4 pair official licensed character socks.
Lositto RFID Blocking Genuine Leather Wallet for Men – Slim, modern and durable with ID protection.
"Dad Bod" T-Shirt – Several color options. A lightweight classic with a fun theme.
Gold Hook Leather Bracelet by Miansai – Made in USA of leather and 18k gold-plated hook.
UnderArmour Utility T-shirt – Functional, versatile with anti-odor technology.
Lambswool Scarf – 9 warm, stylish options.
Americana PJ Pants – Patriotic flannel pants.
Dot Suspenders – Add some fun and sophistication to your wardrobe.
Enmoo Cotton Funny Socks – Everyone needs a pair of this footwear.
Stark Targaryen Election Shirt – The only election that really matters! For Game of Thrones fans.
Steampunk Watch Movement Cuff Links – Features levers and gears.
For the Foodie
Paleo Valley Naturally Fermented 100% Grass Fed Beef Stick – All natural and delicious!
ThermPro Digital Instant-Read Meat Thermometer – Convenient and highly accurate for perfect grilling every time.
Pizza Grilling Crate from Mancrates – Make your own delicious pizza at home!
Olive & Sinclair Bourbon Nib Brittle – Cacao beans are aged in bourbon barrels for the best taste ever!
BroBasket Customize Your Own Gift Basket – Choose from a variety of items sure to please any guy!
Authentic Personalized Ammo Box – Engrave for that special guy and fill with his favorite treats.
Omaha Steaks Dad's Ideal Gift – Steaks, burgers and more for the meat lover.
Grill Light – A flexible clip for the grill or railing.
Cold Brew Iced Coffee Kit – This tin has it all for 12 cups of perfectly iced coffee at home.
Smoker Box BBQ Grill – Sturdy and holds lots of wood chips. Comes with recipes.
Krups Electric Coffee Grinder – Easy to use and simple to clean.
Nutella Mini Glass Bottles – 16 tiny bottles of everyone's favorite spread.
Make Your Own Hot Sauce Kit – Give him something to do and make hot sauce his way.
Microwave Popcorn Popper – Glass popper with optional butter melter.
Flavors of America Nut Sampler – 4 yummy flavors from across the southern U.S.
For the Foodie
Anker PowerCore+ mini – Compact external battery charger, works with most phones.
Ember Temperature Control Ceramic Mug – Keep your hot beverage hot for an hour.
HAVIT HV-MS673 3200DPI Wired Mouse – 7 light options. Plug and play!
SOLLED Bias Lighting for HDTV 60 LEDs TV Backlight – 2 pack. Reduces eyestrain when on the computer or watching TV.
Game of Phones – Everyone can join in this clever digital scavenger hunt game.
Wireless Bluetooth Speaker – Small yet powerful, this 360-degree speaker delivers up to 30 feet of range.
Tile Sport – Waterproof and long range, he'll never lose his things again!
Universal Phone Mount – Great for mounting to a desk.
AcuRite Weather Station with Forecast/Temperature/Humidity – One piece mounts outside, while the other track temps inside.
The Outdoorsman
The Manteen – Double walled stainless steel water bottle holds 17 oz.
TRIBE Water Resistant Cell Phone Armband Case – Adjustable, hands-free, no slip design.
Deadly Skills 2019 Day-to-Day Calendar: The SEAL Operative's Guide to Surviving Any Dangerous Situation and Being Prepared for Any Disaster – The name says it all.
JBL Clip 3 Portable Waterproof Wireless Bluetooth Speaker – Contains 10 hours of playtime.
Kabig by The North Face – A bag for the office or gym!
LED Golf Balls – A 3-pack lights up on impact and glows for 8 minutes.
Car Care Kit – Includes all the products you need for home detailing.
LifeStraw – Compact water filter removes over 99% harmful bacteria.
Folding Sports Wagon – Great for tailgating, and collapses for easy storage.
HEX HX1001-GREN Watch Band for iPod Nano 6G – Silicone strap with audio port cover.
Whistle Creek Survival Kit in a Sardine Can – Everything you need in an emergency.
Victorinox Tinker Stainless Steel Swiss Army Knife – A classic reimagined.
Chill Pal Ultimate Mesh Cooling Towel – Perfect for the gym or anywhere.
Night Runner Headlights – Clip-on safety for running in the dark.
The Handyman
O'Keeffe's Working Hands Hand Cream – Protective barrier works on even the driest skin.
CLC 125L Handyman Flex Grip Work Gloves – Flexible, stretchable gloves with a strong hold and warm interior.
Leatherman Sidekick Multitool – 14 stainless steel tools in one. Includes nylon sheath.
LE CREE LED Adjustable Focus Mini Tactical Flashlight Torch – Super bright, zoomable.
Maxcraft 60199 ¼" Dual-Drive Mini Ratchet Driver –Chrome plated vanadium steel for durability.
The Art of Fixing Things by Lawrence E. Pierce and Margit Lieder – Instructions on how to do almost everything.
Apollo Tools 53 Piece Household Tool Set – Case comes with screwdrivers, wrenches and other hand tools.
5-in-1 Tool Pen – Everything you need in a pen – and more
The Drinker
Bartender's Knife – Multipurpose knife slices like a pro.
Corkcicle Color Wine Chiller – Chill wine to the perfect temp with a freezable tool that fits inside the bottle.
Pirate Corkscrew – A fun item for the wine aficionado.
Whiskey Stones Gift Set – Never drink a diluted drink again.
Cork Pops Nicholas Portside Flask – Enjoy a drink from a portable porthole!
Frequent Flier
The Carry on Cocktail Kit – Variety of flavor options.
Joomfeen Worldwide All-in-One Travel Adapter – This adapter contains 2 USB ports and functions almost everywhere!
Nap Pillow – Snooze wherever with this compact pillow.
Baron Fig Journal and Pen Starter Kit – Never forget anything again. Write it in this sleek register.
AhaLife Brass Business Card Holder – Gold satin finish over brass holds up to 15 business cards.
Neck Massage Pillow – Relieve tension in any location.
Cathy's Concepts Monogram Travel Kit – Personalize his toiletry bag.
FengJu Tie Case – Keep ties from crumpling when traveling.
For the Musician
Seagull S6 Acoustic Guitar – One of the best acoustic guitars under $500 you can buy for beginners or experienced players.
Dunlop Tortex Guitar Picks – A go to standard for both acoustic and electric guitar players.
World's Smallest Harmonica – Tiny but still playable.
ARLX Drumsticks – Because drumsticks wear out often, drummers are always in need of new ones.
Casio PX770 BK Privia Digital Home Piano – One of the best weighted key pianos on the market. Great for experienced piano players as well as beginners.
Just for Fun and Games
Ellusionist Bicycle Shadow Masters Playing Cards – A black deck works well for playing or sleight-of-hand.
Spalding Over-the-Door Slam Dunk Mini Basketball Hoop – Because who doesn't want to shoot some hoops?
Doinkit Darts Magnetic Dart Board – Great for the office or man cave.
Zak Designs Star Wars BB-8 Mug – Encourage his Star Wars obsession.
Ninja Umbrella – Not just for rainy weather!
Yiddish Proverb Money Clip – "With money in your pocket, you are wise and you are handsome and you sing well too."
World's Smallest Rubik's Cube – Entertainment on the go!
Paladone PacMan Ghost Light Table Lamp – Not everyone has a PacMan lamp!
Polaroid Originals OneStep2 VF Instant Film Camera – Built-in flash and battery last up to 2 months.
Cohiba Dominican Cigars – Medium-body flavors in a 10-pack.
Equation Geek Watch – Each number on the face also shows its equivalent notation.
Steampunk Sunnies – Historic Dollger circle glasses will make you stand out.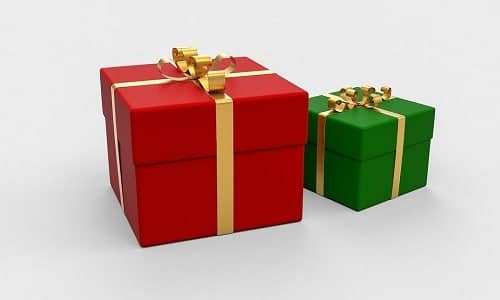 There's something for everyone with these 100 Christmas Gift Ideas for your brother!
Need more gift ideas for your brother? Check out our selection of Christmas gifts for men!
The post 100 Christmas Gift Ideas for Your Brother appeared first on Christmas Gifts.