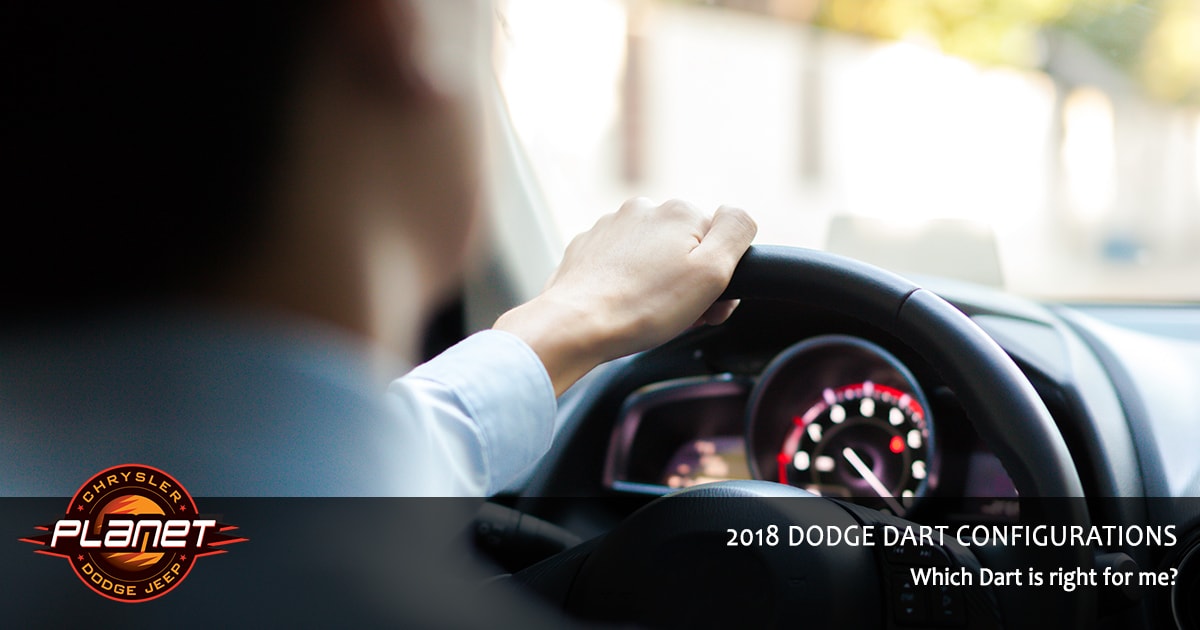 The Dodge Dart was officially sunset in 2016, but rumors are building around prototypes being shown off for the 2018 Dodge Dart. The Dart has long been a favorite in the compact sedan market, and it's no surprise why they'd want to re-release a revamped model to much applause. We hope your first stop if and when the 2018 Dodge Dart is released is Planet Dodge, so we only found it fitting we should put together this look at what the word on the street is surrounding the 2018 Dodge Dart configurations.
Exterior
From glimpses of the elusive 2018 Dodge Dart, we can see that the exterior hasn't been altered too drastically from 2016 models - the last time the Dart was in production. The SRT package does appear to sport some new visual additions, in the form of an SRT badge on the front grill, and some rear spoiler styling kit. The new Dart will most likely feature all of Dodge's current color offerings, from blue pearl to mango and red.
Interior
Moving inside, the 2018 Dart can be outfitted with a very classy interior, featuring black leather trim with red inserts. It's rumored to share similarities with the 2018 Pathfinder interior. Seating up to five is surprisingly spacious given its compact footprint, but that's nothing new. A shifter appears to be planted in front of the cup holders, closer to the dash console, and clustered gauges give the car a very sporty feel when you're in the captain's chair.
Powertrain
Right now, the best rumors put the 2018 Dodge Dart on the market with a few different engine packages that all boast better-than-average gas mileage. Currently, speculation shows offerings at the 1.4L, 2.4L, and some even at 6.2L engine variants. The 1.4L and 2.4L 4-cylinder models are rumored to push 41 MPG on the highway, and the 2.4L Multiair package comes turbocharged to output 184-HP stock. Obviously, a 6.2L V6 Pentastar would be insane in the 2018 Dart, but we're not so sure this particular rumor will come to fruition!
Visit Planet Dodge Today!
We hope you're as excited by the prospect of a 2018 Dodge Dart as we are, and invite you to be the first to test drive the 2018 Dart when it becomes available at Planet Dodge Chrysler Jeep RAM! We sometimes know car upgrades can't wait, though, and that's why we know you'll be happy with the rest of the amazing 2018 Dodge lineup.