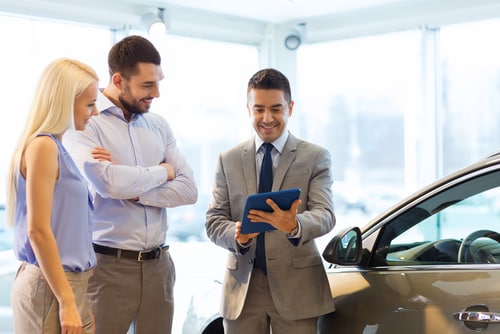 In order to have the best and most seamless car Buying experience at a Dealership, there are some important steps to follow.
Set a Budget
Understanding your financial limitations before you even visit a dealership is the most important step to having a great Car Buying experience. Knowing exactly what you can (and can't) afford will prevent any buyer's remorse once you get home with your new car.
Have a Plan
For the best experience when buying a car, you'll want to have a clear vision of your specific needs and wants in a new car. There's nothing worse than wasting a day wandering aimlessly around a dealership looking at options that won't suit your needs or your budget.
Be Prepared
No matter where you live, more than likely you'll need to have insurance coverage before you drive out of the dealership. If you've got a clear vision, and have a plan, you can call your insurance company before you arrive at the dealership to get a better understanding of what you'll need before your purchase.
Take Your Time
Here at Planet Dodge, we understand that purchasing a car is a huge investment and making such a major purchase isn't something that should be done based on an emotional response or by a rushed decision. Take a day or more to really consider your options, do your research, take a test drive, and sleep on it.
Hire a Babysitter
Car buying can sometimes be a time-consuming process, and not well-suited for keeping young children entertained. One of the most helpful tips to having the best dealership experience when buying a car is to hire a babysitter so that you can focus on getting the right car for you without a nap-deprived toddler and a baby who's screaming for a bottle.
Miami's Leading Dealership for New and Used Cars
Here at Planet Dodge Chrysler Jeep RAM, we understand what a stressful experience car-buying can be—but it doesn't have to be that way. As one of the leading new and used car dealerships in Miami, Florida, we want you to know that your satisfaction is our number one priority!
If you have any questions about the car buying experience or are looking for a new or used car, give us a call or stop by Planet Dodge today! We can't wait to meet you!