Hay artistas que te acompañan a lo largo de tu vida con su música y su arte. Eso me ha pasado a mí con Brandi Carlile. Desde la primera vez que la escuché cantando The Story (que ya les recomendé en su día) me enamoré de su voz. Así que estoy contentísima de enseñarles el vídeo de Party of One que está recién estrenadito y que créanme, van a querer añadir a su lista de música con toque lésbico.
Party of One es una canción que habla sobre las dificultades de una relación y como el hecho de que llegue un momento en que las cosas se pongan realmente difíciles no te hace amar menos a esa persona. Como hay una dicotomía entre el hecho de que tengas ganas de estrangularla y estés cansada de lidiar con los problemas, pero al mismo tiempo sepas que la relación es importante para ti y no quieras claudicar.
Siempre he creído que en la música no importa el género y me he apropiado de muchas canciones "heteros" para adaptarlas a mi vida, pero a veces es bonito no tener que cambiar los pronombres o sentirte totalmente identificada con la canción. Por ejemplo, en Party of One, Brandy escribe:
Don't even think about your freedom Or taking that flight Or going back upon your promise after fighting for the right
En esa frase está claramente haciendo referencia al matrimonio y diciendo como: "No se te ocurra pensar en darte por vencida cuando nos costó tanto poder casarnos". Son cosas pequeñitas pero que se refieren a la experiencia de una chica lesbiana o bisexual en lugar de una heterosexual y al menos yo las noto.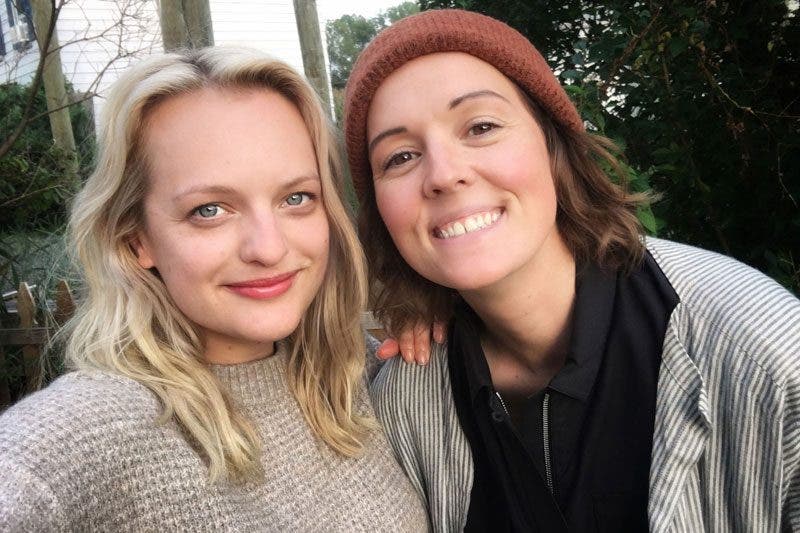 Además el vídeo es precioso. En serio ¡no se lo pueden perder! Para empezar la protagonista es Elisabeth Moss que se dice pronto. Resulta que Brandi Carlile es fan (como todas nosotras) de la actriz y llegó el momento de crear este vídeo necesitaba a alguien que actuara las emociones de la canción sin diálogo y solo pudo pensar en ella, así que le escribió una carta.
Moss no solo le respondió, sino que le dijo que la carta la había inspirado muchísimo y que le encantaba la canción. También le propuso que el vídeo tuviera un equipo de producción de solo chicas y fue ella la directora artística y productora del vídeo. Vamos que la historia corrió por su cuenta.
De la interpretación no les voy a hablar porque es que cuando vean el vídeo la música y la actuación combinadas es una bomba. Así que yo me dejo de seguir hablando y las dejo disfrutar del vídeo. Eso sí, como siempre les dejo la letra para que la canten a tope en el karaoke lesbicanario.
Letra de Party of One de Brandy Carlile
Waiter send this to the table, the party of one
The only other lonely soul in this place
And so you're finishing up your coffee
But then where you're gonna run?
Where'd you get that look on your face?

You should always let the sun go down on your anger
Let it burn you to sleep
Bring it closer to danger
To surrender and retreat
Sing your sad soul to sleep

I loved you the first time I saw you
And you know I love you still
But I am tired
And I am yours

Don't even think about your freedom
Or taking that flight
Or going back upon your promise after fighting for the right
Because your eggshells and your "I" statements and your weaponized words
Are paper tigers now

Oh your constant overthinking and your secretive drinking
Are making you more and more alone
And girl, you can slam the door behind you
It ain't ever gonna close
Because when you're home, you're already home

I am tired
I am tired
I don't wanna go home anymore
I don't wanna throw stones anymore
I don't wanna take part in the war

I loved you the first time I saw you
And you know I love you still
I loved you the first time I saw you
And you know I love you still

I don't wanna be right anymore
Lord, I don't wanna fight anymore
I'm not taking your side anymore
I am tired
I am not my own
And I am leaving
Oh, I am tired
And I'm coming home

'Cause I am yours, I am yours, I am yours, I am yours, I am yours
I am yours, I am yours, I am yours, I am yours, I am yours

¡Mil gracias a A.M. Irún por el tip
El post Party Of One por Brandi Carlile – Música con toque lésbico fue publicado originalmente en Lesbicanarias. por Paola Mejia