Los sueños se cumplen. En lo que parece haber sido un error inocente de Terry Crews (porque el post ya no está en su Instagram) descubrimos que los rezos de las fans fueron escuchados y la mismísima Jane the Virgin será estrella invitada en la comedia policial Brooklyn Nine-Nine.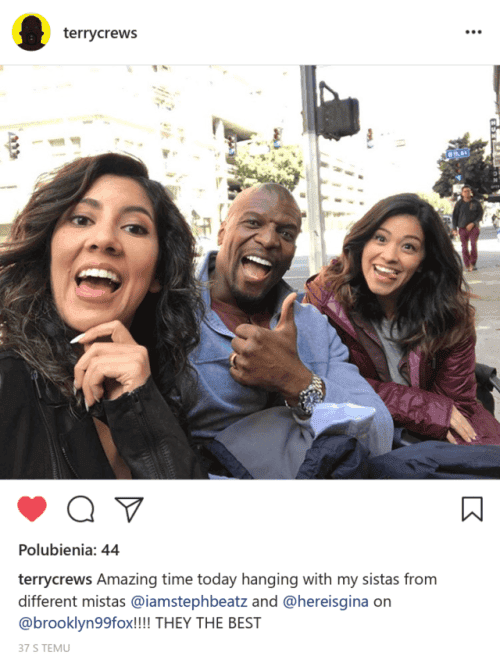 La pasamos increíble hoy con mis hermanas Stephanie Beatriz y Gina Rodriguez en Brooklyn Nine-Nine. ¡Son las mejores!
Se conoce de poco a ningún detalle sobre la participación de Gina Rodriguez en la serie. Claro que todas quisiéramos que fuera un papel lesbicanario relacionado con Rosa Diaz (Stephanie Beatriz). Pero tendremos que esperar para saberlo.
Razones para tener esperanza
Recordarán el épico momento en que B99 sacó del armario a Rosa, y su consecuente episodio, en aquel entonces el productor de la serie, Dan Goor, dijo que eventualmente conoceríamos a la novia de Rosa. A lo que Beatriz no dudó en ofrecer algunos nombres interesantes para ese casting.
Me encanta Gina Rodriguez y creo que ella sería fantástica
Eso dijo Stephanie en una entrevista. Y, aunque la actriz mencionó otras opciones que también nos encantarían, cómo Kate McKinnon, lo mejor es que la propia Rodriguez expresó su aprobación:
Um…can I get an audition @Brooklyn99FOX ?!? *applies lip gloss and puckers lips* @iamstephbeatz you know I'm ready and on the sidelines like Go Rosa Go! https://t.co/MMsY5MUvfs

— Gina Rodriguez (@HereIsGina) January 25, 2018
Uh… ¿Pudiera audicionar? *se aplica lápiz labial y frunce los labios* [A Stephanie] Ya sabes que estoy lista y a tu lado, diciendo «¡Vamos, Rosa, vamos!»
Es más, no olvidemos que actualmente podemos ver Annihilation, una cinta donde Gina, acompaña de Natalie Portman y Tessa Thompson, se roba el show como lesbiana.
¿Tienes Telegram instalado? Recibe nuestros artículos al momento en tu teléfono suscribiéndote a nuestro canal.
El post Gina Rodríguez aparecerá en Brooklyn Nine-Nine fue publicado originalmente en Lesbicanarias. por Nani