En un crossover para la historia, DC une fuerzas con Archie Comics para que dos icónicas parejas de chicas se enfrenten, cara a cara. La pareja canon de Poison Ivy y Harley Quinn, visitan Riverdale para atormentar a Betty y Veronica.
Harley and Ivy Meet Betty and Veronica
La mejor manera de describir esta pieza de comic es como ver un fanfiction convertido en arte visual. Quiero decir que es algo que sería genial ver en pantalla, pero que sabemos ningún directivo de Hollywood tiene el valor de realizar. La historia está a cargo de Marc Andreyko y Paul Dini. Con arte de Laura Braga.
La trama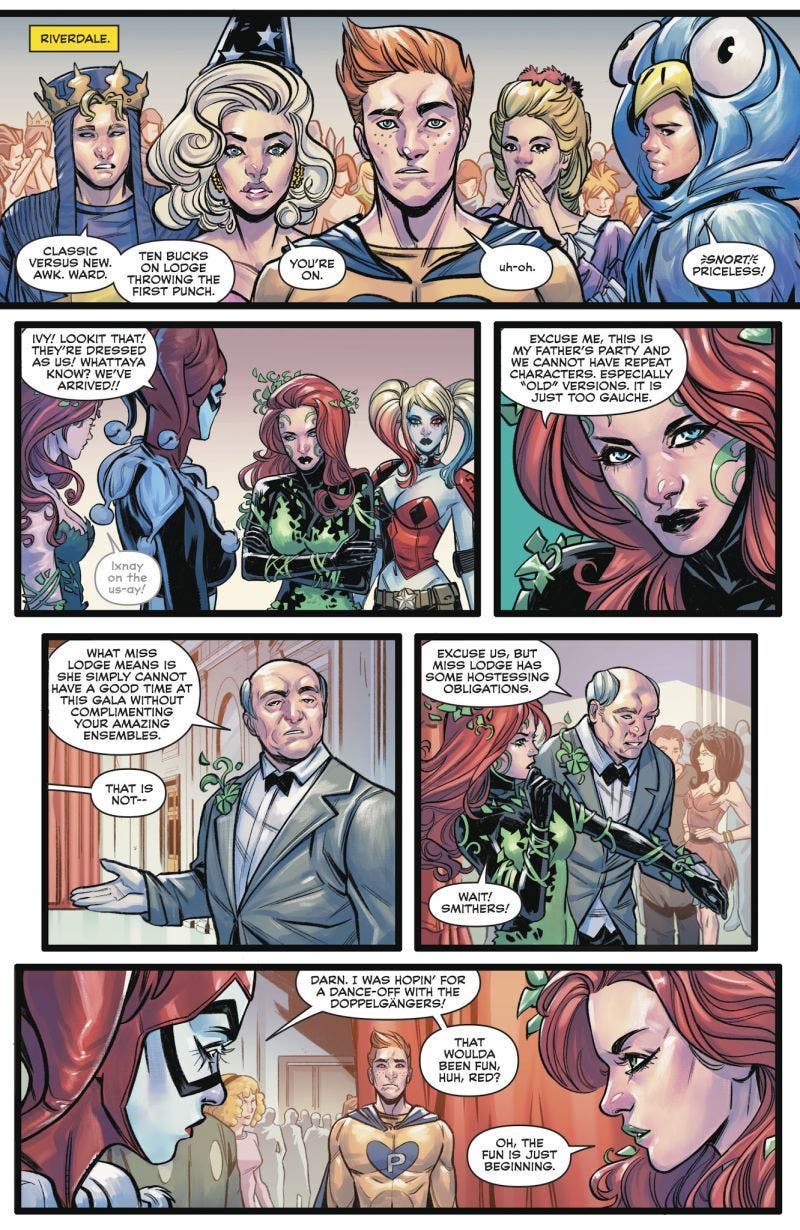 Es absolutamente absurda y por lo tanto maravillosa. Las Sirenas de Gotham viajan a Riverdale porque Hiram Lodge, el padre de Veronica, está planeando construir lo que recuerda a una Universidad Trump. La intención es explicarle a papá Lodge la importancia del pantano Sweetwater para el ecosistema.
Hiram desestima el argumento, así que nuestras anti-heroínas deciden que quizás sea más fácil persuadirle si amenazan a Veronica. Mientras, un grupo de maleantes de Gotham buscan a Harley que les debe una importante cantidad de dinero.
Cameos
Obviamente vemos a los personajes de Archie, porque Ivy y Harley están de visita en su mundo. Pero para deleite de todas, también veremos a varios personajes icónicos de DC en las páginas. Por ejemplo, en la fiesta veremos a alguien vestido de Catwoman, que va a resultar ser la propia Selina Kyle, quien confiesa ser fan de Jossie and the Pussycats.
O cuando Sabrina se topa con Zatanna.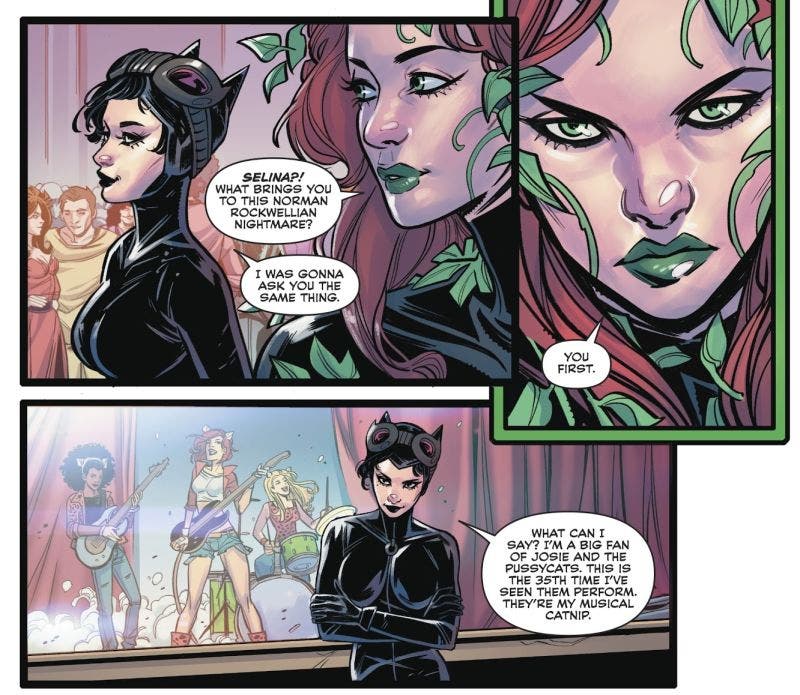 Popularidad
Entre el éxito que crece con cada episodio de Riverdale, lo que le ha inyectado nueva vida a los clásicos personajes de Archie. (Por ejemplo, Netflix prepara una nueva serie sobre Sabrina the Teenage Witch) La masiva popularidad que ha ganado Harley gracias a Margot Robbie y Suicide Squad. Además del impulso que la relación canónica entre Poison Ivy y Harley Quinn ha generado.
Todo esto sumado al buen momento de atención que vive el mundo de los cómics, es un tiempo idílico para hacer este crossover y si aún no te has enganchado a esta pareja, una manera divertida de iniciarte en este mundillo.
¿Tienes Telegram instalado? Recibe nuestros artículos al momento en tu teléfono suscribiéndote a nuestro canal.