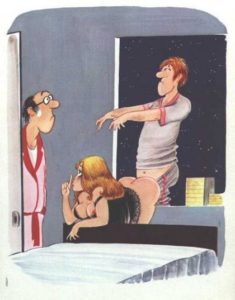 My wife wants sex in the back of the car and she wants me to drive. -Rodney Dangerfield
*****
A guy walked into a crowded bar, waving his big pistol with the an 8 shot clip, and yelled, "Who in here has been screwing my wife?" A voice from the back of the bar yelled back, "You need more ammo.
*****
Randall is leaving his office for the day, when a man calls to him, "You're a cuckold." Randall ignores him, but goes home and tells his wife, "tonight outside my office building, some asshole called me a cuckold." His wife replies: "So what? You're not going to listen to some random idiot in the street, are you? "No, I guess not," Randall says, putting his arms around her and giving her a kiss. They spend a quiet evening together and soon retire. The next evening, as Randall is again leaving the office, the same man is waiting for him and calls to him, "You're a damn tattletale too."
*****
Midieval Cuck Joke: Francesco Quartnense, a Florentine merchant, resided in Genoa with his wife and family. His children were thin and lanky, while those of the Genoese are generally healthy and hardy. He was asked one day why his children were so spare and of such a weak constitution, it being the reverse with the young Genoese. "The reason is easily given, " he said. "I work alone at manufacturing my children, but you have quite a number of assistants in the making of yours." It is fact that, soon after their wedding, the Genoese take again to the sea, and leave their wives, for many years in succession, to the care of other men, as they say.
*****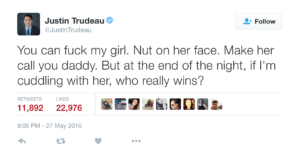 *****
Hope I made you giggle!
xo, Angela