You've noticed that recently I started sharing a SEO Infographics and I hope you enjoy some of the best ones I'm choosing to share. In this post I'd like to go into how to create infographics.
I'll briefly cover what it is and why it's good to use those in your content strategy. I'll also showcase a few infographics resources that will help you get materials and learn the steps. So, here we go…

What are infographics?
In essence, infographics are visual representations of data. It's it's easier to look at a pretty picture than to read a blog post :). Hence the popularity of infographics as content marketing tool. Visual.ly is a great place to explore various examples of infograhpics. Here's a quick example of a video illustrating infographics (although this one is actually a videographic, but we'll get to it later):
Why use infographics?
As I just mentioned pictures are a lot more fun to look at than reading a 1000-word article. Well-built infographics offer a simple description of the process, data, and whatever complex concepts there are on the internet and beyond.
Also, infographics have become a strong content marketing tool for their huge rate of sharability. People like the simplistic way of infographics and they choose to share them with friends and colleagues. As a result, the site gets tonnes of backlinks from blogs, sites and social networks like Facebook and Twitter.
Here's a great article by Neil Patel on the importance of infographics for your content marketing strategy, and SEO for that matter.
Want to look at infographics?
Infographics are great tools to learn new things. For example, as I already mentioned, you can learn a lot about SEO concepts by looking at this post (see examples below). Or you can choose any other subject and do a few Google searches to find infographics most suited for your needs. Here's a few good resources where you can find free but cool infographics:
The simplest way to start exploring infographics is by doing a Google Image search for infographics. You can also specify your query to include your field of interest such as social media infographics OR engineering infographics. Go ahead and do explore!
The next best thing is looking at sites like Visual.ly. It's a hub for infographic lovers and designers. It's a great place to search for infographics in specific fields.
If you're fan of social media and new technology stuff, then you probably know of Mashable. They have quite conveniently put together a Pinterest board on infographics. Also a great place to check on social media and marketing infographics.
Last but not the least, there are places like Daily Infographics that scout the web for cool infographics and post them on daily basis or even more often. Search Google for things like [daily infographics] or [infographics collections] and you'll find a whole lot of sites that will give you what you're looking for.
How to create infographics
Now that you've looked at a few pretty infographics you'd probably want to create your own. Although there are shops that will create infographics for you (prices vary) you'd want to create your own infographic or at least be familiar with the process. Here's a few good articles that will help you do that.
How to create great infographics for under $500 at SEOmoz
How to Create an Awesome Infographic at Mashable
Do-It-Yourself Guide to Infographics at Marketing Tech Blog
How To Design Your Own Infographics at Queness
FREE infographics tools and resource collections
Now that you've learn a few things about creating infographics, here's a short list of tools and resources that you can use to create those. This includes both infographics templates, sets for Adobe Photoshop and actual platforms that will help you develop your own infographics.
The actual tool to build infographics by Piktochart
Over 100 Incredible Infographic Tools and Resources (Categorized)
Build your infographics using PowerPoint, tool and process by HubSpot
20+ Tools To Create Your Own Infographics
Showcase of Free Infographic PSD Templates
30+ Really Useful Infographics Tools & Resources
The above list doesn't aim for being the most complete list of resources on infographics. However, while creating this list I wanted to avoid duplication. And, as you can assume, there's a lot of resources referencing the same infographic tools and resources online.
I hope this gives you a few good ideas on creating your own infographics and building links the right way. Feel free to mention other special tools you know of in the comments. Also share your infographic development stories. As always, I appreciate an occasional share of my posts
My collection of SEO infographics
Here's a few SEO and digital marketing infographics that I've collected over time. I hope you enjoy both the quality and the information from these visual pieces. I also added some commentary to each one of those to differentiate which ones are awesome and which ones need to have some work done on them. Here we go…
Google vs. Facebook advertising
There's a number of options to advertise your product or service on the internet. The two primary online advertising providers these days are Google AdWords and Facebook Advertising. I came across a good infographic on the subject and wanted to share it with you below. Click on the image to see a bigger version.
Overview of Facebook Advertising
I know you like to look at infographics and by all means do that, but here's a few key takeaways in words:
This infographic is based on a review of display ads (ads with pictures / images)
Google is the winner, at least so far mainly due to more diverse ad formats offered
Google is also stronger for its larger network coverage
Depending on your goals and the audience you'd like to reach, Facebook may be the choice for your campaign
Enough words, here's the actual infographic below. Thanks to WordStream for putting it together!
© WordStream, provider of a Google Keyword Tool for Search Engine Marketing.
SEO is dead?
I wrote about a client discussion on the matter of the end of SEO a few weeks back. I just came across a great piece of infographic on the matter. It goes really nicely into describing which people thought of the death of SEO and why, historically. I just wanted to make sure that I connect the two and give credit to the developers of this Seo Infographic too. Great job!


SEO Graphic by SEO Book
12 steps to SEO recovery
Here's another good SEO infographic I wanted to share with you. With a bit of humour and good intentions this SEO infographic communicates to SEO consultants and their clients. The bottom line is: SEO is not about tricking Google. It's about understanding what search engines do and improving website communication with search engines. And, creating great content along the way. I hope ou enjoy it as much as I did. As always, kudos to the author!
by douglaskarr. Browse more infographics.
SEO outsourcing
Since the early days of SEO a big question has been: Should we outsource our SEO or do it in-house? Here's a good SEO infographic that goes into explaining the benefits of SEO outsourcing to companies. It goes into how much you save, cost of SEO outsourcing as well as a few scenarios you should pursue if you engage with an outsourced team. As always, kudos to the author!
Learn about infographics software.
12 ways to improve SEO copywriting
It's not 1999 any more and keyword stuffing is not working. However, you still have to pay attention to your copywriting for SEO purposes. Believe it or not SEO copywriting affects your Google rankings today, but in different ways. Here's a great recommendations for SEO copywriting. Thanks to the author and sponsors for putting it together.
Learn about data visualization tools.
History of search engines and SEO
I've been working on an SEO course and ran into a few interesting infographics on the history of search engines and SEO, and wanted to share then here with you. When search engines started depends on sources. For example, Search Engine History starts tin he story in 1945.
Search Engine Journal takes us back to 1957 to begin its SEO tale. WordStream's History of Search SEO infographic only starts from 1990. Finally, a PPCblog.com's SEO infographic starts at 1994 point. I liked the last one the most so here it is below and as always, kudos to the authors!

Infographic by the PPC Blog.com
State of Digital Marketing 2012
Nope, this one is not an SEO infographic, however, it's closely related. This time I wanted to share something that will show a rounded up picture of where the industry of digital marketing is as of 2012.
In my opinion this one is one of the best infographics I've seen lately. Great use of symbols, graphs and ideas. Huge thanks to Markus Allen for butting together such a professional infograhic! Some of the key takeaways are as follows:
B2B goes for generating leads vs. B2C goes for awareness
SEO has the biggest impact on both B2B and B2C
A lot of people (70%) are can't figure out how to attribute SEO efforts to their bottom line
Satisfaction with digital marketing results is higher when an outsourced agency involved (comparing to doing it in-house)
Check the rest of the infographic out and give some link love to the author. Share what you think in the comments.
Check out our data visualization blog.
Guide to online marketing
Here's another great online marketing infographic by Unbounce. I love what these guys are doing, I've actually used their landing pages product for a number of my clients' campaigns and absolutely loved it. Make sure you check their landing page tools out.
This online marketing infographic paints a great picture for newbies in the industry. It splits the digital marketing realm into logical and manageable pieces as well as gives a few definitions along the way. Kudos to the author as always!

Unbounce – The DIY Landing Page Platform
2012 SEO industry survey
I've already shared the results of SEO industry research done by SEOmoz. This one is a bit less detailed, but presented in an SEO infographic, which makes the whole thing that much better. Although this SEO infographic won against a few other ones today, I'd say that it's still a bit on the cheap end of infographics in my experience. What do I mean by that?
2012 SEO industry results in an SEO infographic
What does the first question mean to me as an SEO industry practitioner? If I get the answer correctly, the 76% of people surveyed ticked the Facebook Business page. These people also DID NOT tick the Analytics box. Very weird question to ask if the answer is that meaningless.
The question on the kinds of content is much more meaningful. However, the presentation of results in this SEO infographic degrades data. Why would you put the number of responses instead of the percentages. Does the author expect users to calculate percentages from that? Percentages would be way more meaningful. I wonder if SEW provided these results in number of responses, not percentages.
SEO tools question does make sense and it does put things into percentages. Love the question and surprised by the answer. I use SEOmoz too, but I wasn't ever sure that SEOmoz software would have such a huge piece of the pie in the SEO industry. From my experience I'd say that SEO professionals use several of these at the same time.
Anyways, I still liked this one a bit so I wanted to share it with you. Still a good effort on the part of the infographic designer. But I wasn't able to find the author and didn't want to link back to SocialMediaIn7Minutes as I don't think they did it (maybe paid for it, yes, but i don't think they did it). It does take experience to make good SEO infographics. Stay tuned, more infographics is coming soon!
Learn about infographics software.
How Google works
Yet another great SEO infographic from PPC Blog. I got to it while working on my practical SEO course launching soon! This SEO infographic may not be the best design-wise, but it does convey a few interesting things about Google, it's alrogithm as well as some cool and funny things along the way. I hope you enjoy this on, feel free to pass long to your friends and colleagues. Cheers!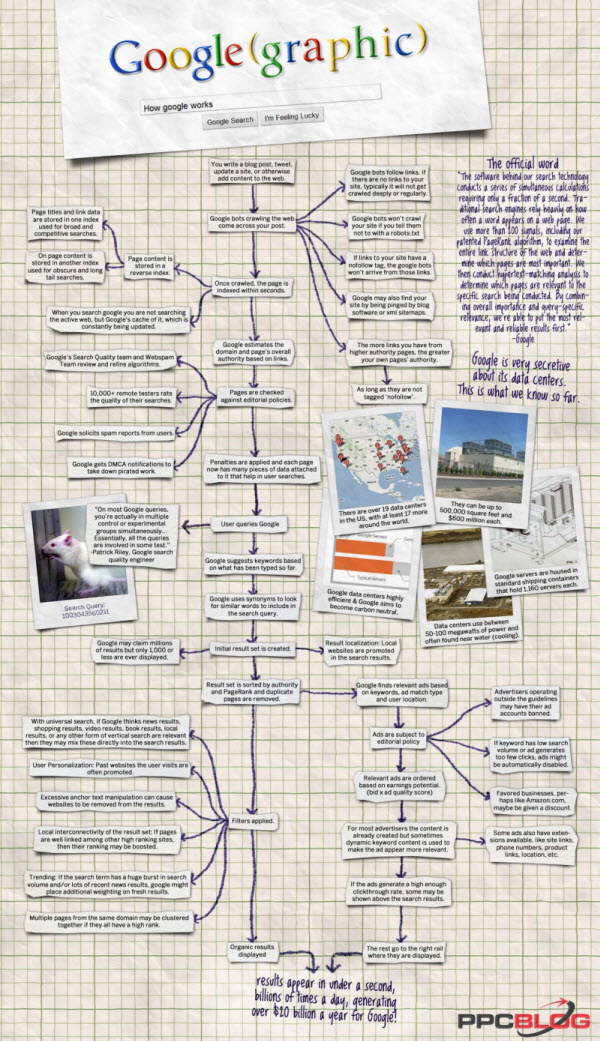 Infographic by the Pay Per Click Blog
A Contrographic by Subtle Network
To continue the quest for collecting good SEO infographics here, I'd like to share another one with you. I recently got an email from a company called Subtle Network that designed an SEO infographic for PointBlank SEO and asked me if I could share it on my blog. And here's what I'm doing here, with pleasure!
What's special about this SEO infographic?
This infograhpic shows a lifecycle of an SEO, which, speaking from experience, is quite true. To add a critique point: it took me awhile (I needed to read an entire piece to get what was going on). Some of the other ones SEO infographics were usually clear from the headline or sub-headline at the most. I hope this is something they'll improve on in the future. Still kudos to creators for an interesting, non-standard infographic, aka contrographic.
By Subtle Network Design on Point Blank SEO.
I hope you enjoyed the post and materials I've collected here. Feel free to leave a note or two in the comments below. Cheers!
The post How to create infographics appeared first on Alexander Zagoumenov.