The Beauty and cosmetics industry is at an all-time high.
With it's reach and customer base only getting stronger by the day, the industry seals it's spot as one of the fastest growing segments to look out for within the E-commerce landscape in contemporary times.
Coming to the expanse of the beauty and skincare trade, as per a report by Common Thread Collective – up from $483B in 2020 to $511B in 2021 — the industry boasts an annual compounded growth rate of 4.75% worldwide.
The industry's breadth is comprised of bigger players like L'Oreal, and Estee Lauder, and their challenging counterparts, namely – Glossier and Fenty Beauty, to name a few.
But what truly makes the space interesting is the entry of budding, homegrown beauty brands – created on a smaller scale by independent creators. These relatively smaller collectives have picked up all the hype in recent times, owning to the online-shift caused by the pandemic, and a stronger societal resolve to support local businesses.
Recently, we caught up with one such business owner – Nechami Tenenbaum, founder of Karmela Cosmetics, who opened up to us about what it took her and her brand to carve their own niche within the ever-growing beauty industry. Delving on a lot of personal anecdotes, coupled with business learnings – the founder gave us an insight into what it really takes to build a collective from scratch, and more importantly – how it's like for Women founders trying to pave the road for others behind them within industry.
Read through to learn about Nechami's story –
The backstory – Karmela Cosmetics :
I grew up in Michigan, as the oldest child, and only girl, with 3 younger brothers. In my family, we were taught to be inviting and loving, and not to judge others based on external appearance, religion, or ethnicity.
Once I launched Karmela Cosmetics, I implemented this idea from my childhood into my branding. My mom is from New York and her family still lives there, so growing up I spent a lot of time with my grandparents in the city. I developed a strong appreciation for art from my grandparents, who were both artists, and a passion for business from my grandfather, who owned a design and marketing firm. I was inspired by my grandmother, who saw my passion for makeup, to go to makeup school.
Since I was a child, I've always loved makeup, and anything beauty related. I've also been the one whom my friends and family turned to for beauty and business advice. During my time in makeup school, I realized that there was a need for high-end, natural cosmetics. When it came time for me to choose a career path, once I graduated with my MBA in Marketing, I launched my beauty brand, Karmela Cosmetics.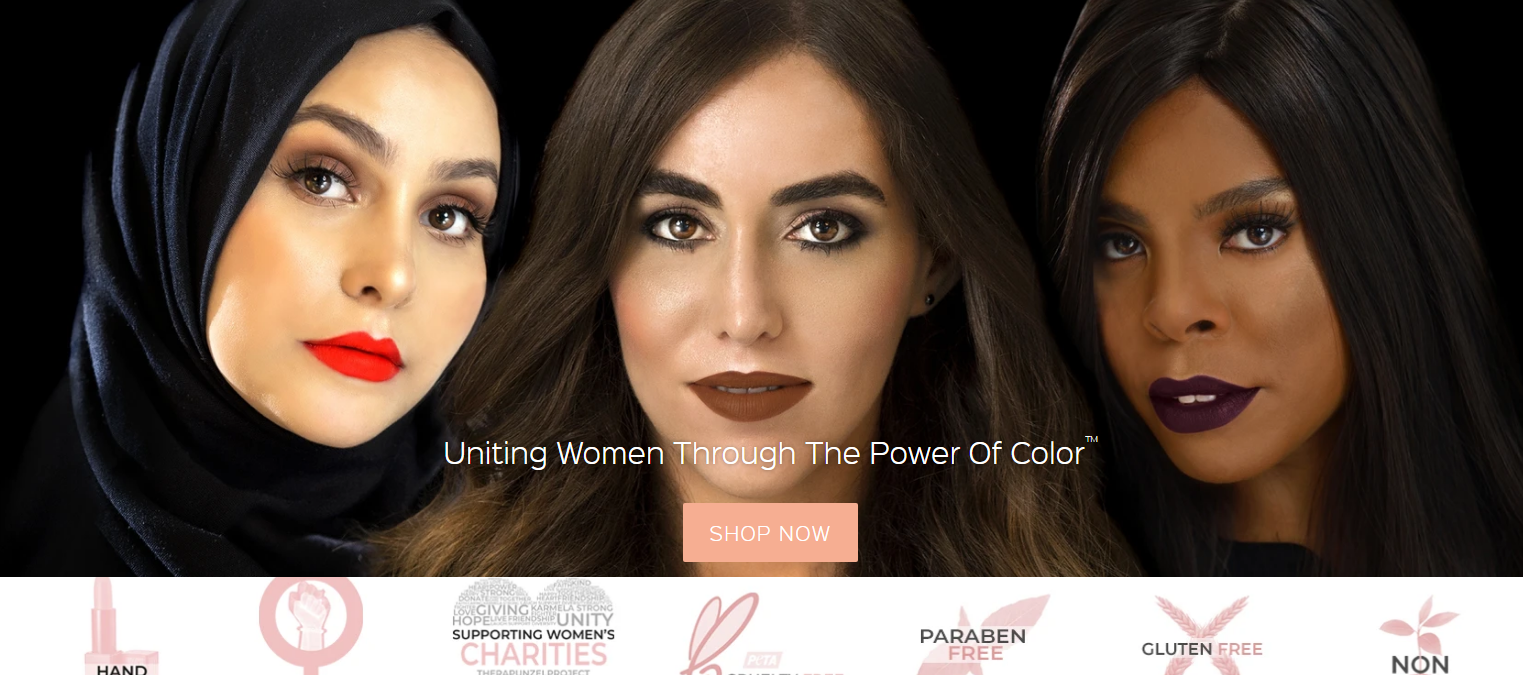 Trial – Error :
The basics of getting to know what works for your brand –
The initial days were fun, yet definitely challenging. There's a tremendous amount of work that goes on behind the scenes. Some of the first challenges I faced were finding reliable suppliers, as well as the highest quality manufacturers; and then deciding on a productive marketing strategy. I knew that my first product would make a significant impact in the way my brand would be recognized by consumers; so there was definitely some anxiety there regarding launching the "perfect" product. Would people appreciate all the work I put into my brand? Would they recognize the time and effort invested? Even more important, would they value the high quality? In regard to finding high-quality manufacturers, I had to distinguish between superior manufacturers, and others who weren't up to par with what I had in mind for my brand's image.
A lot of money was invested in samples, as well as research and development. At one point, we were going to use a certain supplier, and then found out that there was some dishonesty, as well as low quality manufacturing, in that facility, so we had to quickly research and begin the search for a new lab once again. In regard to our marketing strategy, just as I tell my Business and Marketing Consulting clients, there are endless strategies out there; you just need to find the one that works for you. I had to determine the strategies that resonated with me, to reach our ideal clients. Once we determined which ones worked, and facilitated growth, it became easier to market and stay consistent with a strategy.
" Most people see the finished result, but not the nitty-gritty, unglamorous aspects of business building."
The road from research, to development and ahead –

I put in a tremendous amount of research regarding what was lacking in the market, the formulas that we ended up creating, and the shades that we launched. Before I launched my brand Karmela Cosmetics, I completed my MBA in Marketing. We were assigned a number of case studies. One of the last projects we were working on as a group was creating positioning in the market for a cosmetics brand. As we worked on it, I saw that my group's results were the same as the cosmetic brand which I had not yet launched. i.e. the market for luxury, natural beauty products. Ones that would be long lasting, feel smooth and silky upon application, and look beautiful on the skin!
It was exciting for me to see that my ideas for positioning my brand in the market was the same as my colleagues, who had been in the business industry for many years. In terms of it being a smooth road…I have yet to discover a business owner who has always experienced a smooth road! Part of the adrenaline and excitement of being in business is that there are always new challenges, or roadblocks, we need to overcome.
By women, for women –
Our brand is focused on giving back to women's healing and empowerment, by helping all women feel strong, capable, and beautiful. We currently have a giving back program, through which we donate 10% of profits from each color collection to a different non-profit, dedicated to a specific healing initiative for women; these include eating disorders, endometriosis, breast cancer, and hair loss.
Additionally, I host a podcast, "We Are Women," where I speak with women, and give them a space to share their stories. These women have all been through challenges that they have worked hard to overcome. Through this platform, I have been able to create awareness of, and normalize, some of the problems women face.
One of my goals is for women to feel connected to each other and see how, despite our external differences, our backgrounds, and the various paths we take in life, we're actually very much alike.
Before I teamed up with the Endometriosis foundation I had never even heard of Endo. Turns out, one of my close friends had been diagnosed with Endo and I never knew the name for her condition. 1 out of 10 women suffer from Endometriosis, and unfortunately, many women have never even heard of this serious and debilitating condition. As I mentioned, we're trying to create awareness and change by utilizing our social media platforms, as well as our brand podcast. I
It's so important to help women feel that they're not alone in whatever they're going through, as well as to know that there is an end in sight. Often, hearing other women's stories, and what they have had to overcome, can inspire other women who are currently going through these challenges, to feel hopeful and gain the energy to continue to fight for their health and well-being.
" If there's one piece of advice I could share with other business owners, it's to trust your gut and implement business strategies which resonate and align with you."
Winging' it –
The highs and lows of creating a brand that stands out –
When I created Karmela Cosmetics, my goal was to create a brand that not only contained high-performance, luxury, natural products, but also was purpose driven and had a deeper meaning behind it. We spent a tremendous amount of time, energy, and resources to create a lipstick (and future products in the making) that was formulated without harsh chemicals, which are commonly added to makeup. It was important to me that they be long lasting , creamy and smooth application, weightless feel, and infused with vitamins and minerals. Since there's so much pigment in every lipstick, you'll get full coverage with just one swipe.
I entered the natural beauty niche which is constantly growing, and more women are turning to every day. Within this niche, I chose to focus on luxury, affordable, high-performance beauty. I created a niche utilizing the aspects of a brand that I really wanted for myself and knew there was a market for.
As our brand grows and evolves, I continue to work on ideas and strategies that align with me. Something that I have learned over the past few years is to trust my intuition, and make decisions from there.
I'm happy to say that I created the lipstick I had always wished would exist.
The post Girl Boss – A glance into this beauty maven's story of grit and glamour. appeared first on Blog | QeRetail.