A company is only as good as its employees. In the world of SEO, the landscape is constantly shifting and there will always be a pressing need for quality employees. In fact, over the past decade, there has been more than a 1900% increase in companies looking for SEO-experienced workers over the past decade.
Luckily, SEO is not rocket science. However, it does not mean that anyone can come in off the street and do a top-notch job. SEO is a field that in order to truly understand in the finer details, you need to get down in the trenches and get first-hand experience.
If you've just brought on some new employees with a basic level of experience in the field, you will need to develop tactics to get them up to speed. Here are three tips to make the process easier.
1. Recommend resources for industry trends
---
First of all, if you're bringing on a group of newbies (let's say you've just hired a crop of fresh graduates), they probably have an entry-level grasp on how SEO works. But, you should provide as much information as possible in regards to an overview of the industry from an agency point-of-view.
Luckily, there are tons of free and inexpensive resources available. Have your newbies
read Moz's Beginner's Guide to SEO from end to end
thoroughly go through the documentation for Google Search Console and Google Analytics
subscribe to Distilled University
bookmark AWR's comprehensive list of SEO resources
As all Search marketers know, SEO is a game of trial and error and success is dependent on adjusting. With new trends and insights popping up seemingly by the hour, your team needs to be up to speed on a daily basis. Chances are, they already know some of the big sites within the industry. Regardless, make sure they are keeping up with blogs on sites like:
Search Engine Land
Search Engine Watch
Search Engine Journal
The SEM Post
Try to instill habits into your team to make sure they are keeping up. Encourage them to spend the first half an hour or so of the day catching up on the latest industry news.
2. Foster communication and transparency
---
The success of any company stems from the ability to effectively communicate both internally and externally. First, you will need to get your team well-versed in proper client communication. Regardless of whether it's phone calls, emails, text messages, or face-to-face, this is one of the most challenging aspects of agency life.
Start by having the team craft some practice emails. Be sure they are familiar with any terms, formats and templates that your organization is used to.
Even their email signatures matter, in order to keep up the professional and consistent appearance. There are a couple of nice options, like WiseStamp, which is an instant signature creation tool, and GraphicRiver, which is a collection of professional signature templates.
Additionally, there are a number of "weak" words and phrases to avoid such as:
Kind of
Hopefully
Just
Maybe
Internally, communication and collaboration are the building blocks of a successful business. Transparency in the workplace is vital. While this seems like a no-brainer, it can be difficult to truly instill. An operation runs smoothly when everyone is on the same page about tasks and communication.
Speaking of smooth operations, you also need to get your team on board with the scheduling and task management tools that you use for managing campaigns and assigning work.
A seasoned collaboration and project management tool such as WorkZone is usually a better fit for managing multi-channel marketing campaigns compared to entry-level task trackers like Trello or Basecamp.
For ongoing accounts running parallel campaigns with task interdependencies and multi-team assignments, a clear-cut view of the big picture with open communication boards and progress reports is essential for everyone involved: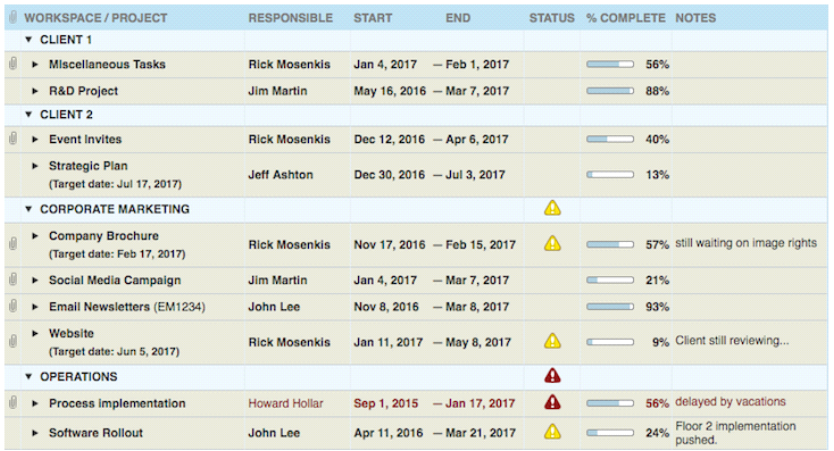 Streamlining communication and promoting teamwork from the start is an extremely beneficial tactic to practice in an agency setting.
3. Cover keyword research techniques
---
To get into the technical side of SEO, one of the most important things to educate your team on is how to do effective Keyword research. While some SEO experts are proclaiming keywords as "dead," what with Google's changing algorithms, obfuscation of search data, the rise of voice search, as well as how other search engines handle queries, I believe the name of the game in SEO is ranking for the right terms, which can (still) make or break a website.
Conducting research can be a lot harder than one might think.
A very important insight to convey to your team is that it isn't about just getting visitors. SEO is about targeting the right visitors that have a good chance of turning their experience into a conversion. This cannot be overstated.
By conducting keyword research properly, you not only create content your audience is looking for, but also predict trends, shifts in demand, and changes in market conditions. Start by training your team on the ins and outs of the Google AdWords Keyword Planner, but don't stop there. The Moz Keyword Explorer and Ahrefs Keywords Explorer are two very useful tools that offer data on more related terms and further insights on the ranking potential of your keywords. The latter, in particular, lets you pull up advanced metrics such as total clicks (important in the face of the rising number of results with answer boxes and knowledge cards), clicks per search, and rate of repeat searches.
Also, be sure you are educating everyone on the basic process for assessing the value of a specific term. For instance, here are a couple questions to consider when doing research:
Is the keyword relevant to any business objective of the website it leads to?
Will web users find exactly what they're looking for when they enter these words into the search box?
Will they be satisfied with what they find?
Does this traffic have a strong possibility of turning into a conversion? Or a sale?
In addition to this, have the team google the terms manually to see what other websites are already ranking for these keywords. Are the results organic?
A great way to test a keyword's strength is by using a practice site. Create a PPC campaign for a certain term. If the website doesn't rank for it, you have the option to buy test traffic to get an idea for how good it could get. Bid for exact match queries and direct traffic to the relevant page on the website. Track impressions, clicks, and conversion rate.
Based on the research, show the team how to determine the value of a keyword. Let's say your search ad generated 10,000 impressions over the course of a day. The ad brought 200 visitors to your website. Of those 200 visits, six resulted in conversions totaling $600. This means that each visit is worth $6.
Keyword research is the foundation of an SEO campaign. Your team will need to know this aspect of the job down to a tee.
4. Educate them on copywriting
---
Quality content is the backbone for almost all digital marketing ventures. Writing material optimized for SEO isn't necessarily complicated. However, there are a number of key principles you will need to teach your SEO team.
Most importantly, writing top-notch content depends heavily on the ability to understand people. It's all about creating value for the viewer while targeting specific keywords and using strong backlinks, and spreading your brand message via a plethora of marketing channels.
Doing this successfully results in boosted authority and relevance, which will increase your search rankings. Quality content plays a huge role in Google's algorithm for determining these standings. Their representatives have repeatedly said so and their webmaster guidelines page has a whole section titled "Quality guidelines" in addition to "General guidelines."
Be sure you spend a good deal of time teaching how to create stellar headlines for content pieces. This an area that even the best copywriters can struggle with. Regardless of how awesome the body copy might be; a sub-par headline won't do your click-through rates any favors.
In short, a good headline should be concise, while attracting attention that prompts further action. Just be wary of clickbait lines – these days Google and Facebook have algorithms that detect and bury content misrepresented by their headlines.
Generating fresh topics for articles will get difficult the more you write. Inbound Now and Portent have great title generators that can help defeat writer's block and nail down intriguing ideas for posts.
At the end of the day, writing content is all about encouraging people to act. Educating your team on the fundamentals of SEO copywriting will make the technical aspect run much smoother.
5. Bring them up to speed on Google updates and penalties
---
One of the most important concepts to keep in mind when working in SEO is that there are no guarantees. Google is famously quiet about how they are constantly evolving. Updates can happen at any time. Typically, when one occurs, it is a cause for concern.
Regardless of whether or not you or your clients have bought or traded links in the past, your website could end up getting penalized. For that reason, everyone on your team needs to be in the loop of what to do when this happens.
Over the past few years, Google has released major algorithm updates with weird names such as Panda, Penguin, Pigeon, Payday, Pirate, Phantom, Possum, Caffeine, Hummingbird, Mobilegeddon, and RankBrain. Each left many SEO strategists scrambling as their search rankings dropped like a rock. Make sure you communicate to your technical SEOs and account managers the best ways to prepare and react.
For one, instill a habit of analyzing websites regularly as new content is added so the team can be quick to identify issues. Second, ensure that websites have properly structured categories and sub-categories with clear navigation.
This is especially important for ecommerce websites as it will make the task of crawling the interface easy for both users and bots. Third, always make sure that link profiles are clean. Train them to keep a close eye on backlink inventory and weed out the low quality ones. This will help keep you in good standing with Google.
When an update hits out of nowhere, clients will most likely want immediate answers and explanations. Train your team on possible scenarios and how to properly address such issues. This is an area that truly separates the novices from the experts.
The wrap
It bears repeating that SEO is a world that is constantly changing. As search engines and other digital platforms evolve, so will your team. Fine-tuning the foundational and technical abilities of your team will be an on-going task and should not be taken lightly.
Keep an open-door policy and take into account that good employees gain a lot from a valuable mentor. Do whatever you can to help them set and reach professional career objectives and become skilled marketers in the process.
Note: The opinions expressed in this article are the views of the author, and not necessarily the views of Caphyon, its staff, or its partners.
The post 5 Essential Tips for Training a New SEO Team appeared first on AWR.