In a rare political move that has united liberals and conservatives in outrage, the United States Congress has voted to repeal an array of internet Privacy protections. The House of Representatives and the Senate have both voted to repeal the Federal Communications Commission (FCC) rules initiated in the waning days of the Obama administration that had not yet gone into effect. It is expected to be signed by President Trump.
View image on Twitter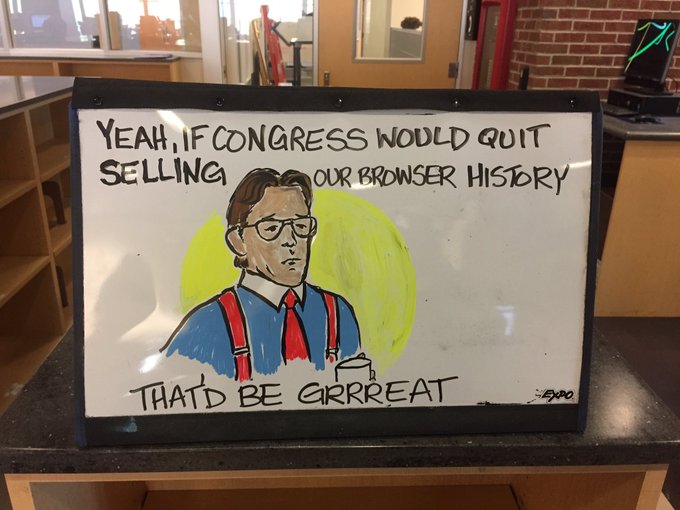 thelibrarywhiteboard

@thecircdesk

#libraries are into #privacy tho. #OfficeSpace #lumbergh#HeresYourFlair WhiteboardArt
The repealed law had set out to give more control to consumers over their privacy online, ensuring that Internet Service Providers (ISPs) would have to notify their customers before collecting and sharing your online insight about your online behavior. How we act and interact online extremely valuable for marketing purposes. Popular Internet Service Providers include Comcast, Verizon, and AT&T.
Some privacy advocates are stating that ISP should now stand for, "Information Sold for Profit." Lobbyists for the ISPs have argued that the FCC rules went against competitive neutrality (the same rules do not apply to Google and Facebook). Republicans have suggested that ISPs should be regulated by the Federal Trade Commission (FTC) instead of the FCC.
The repeal reached the president's desk on Wednesday morning and the White House has signalled Trump's clear intention to sign it.
Without the FCC broadband protections, ISPs such as Comcast, Verizon and AT&T are free to track your browsing behaviour and sell that data on to advertisers without consent. This represents a huge treasure trove of personal data, including your health concerns, shopping habits and visits to porn sites. ISPs can find out where you bank, your political views and sexual orientation simply based on the websites you visit. The fact that you are looking at a website at all can also reveal when you're at home and when you're not.
Should We Be Worried?
"The move isn't surprising," says Ari Scharg, a privacy advocate with the Digital Privacy Alliance. "We knew that privacy rights and freedoms would unravel at the federal level under this administration. But there is a silver lining. The fight is now local at a time when grassroots activism is surging."