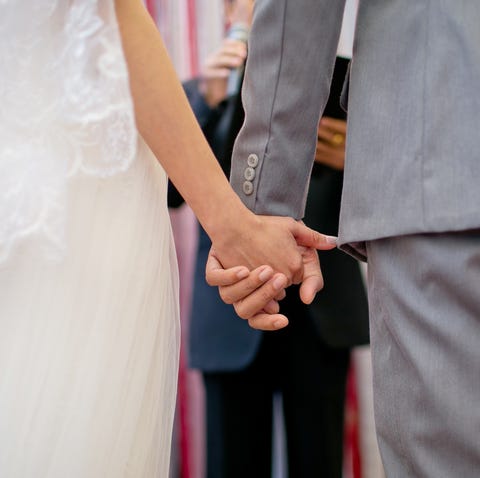 Thai Yuan Lim / EyeEmGetty Images
In a new Instagram video published earlier this afternoon, Dr. Pimple Popper—aka dermatologist Dr. Sandra Lee, MD—helps a patient deal with a pesky back Cyst. As they make small talk during the procedure, the patient reveals that she's getting married soon, and—understandably—would prefer not to have a big, keratin-filled blob stealing any of the attention on her big day. Or as Dr. Lee puts it in the 'gram's caption, "This #cyst wasn't the #somethingold she wanted for her wedding day

."
While there isn't too much context offered in the short clip, this appears—at first glance, anyway—to be an epidermoid cyst, judging by its location, and the thick, yellow-ish discharge that Dr. Lee squeezes out.
What are epidermoid cysts?
Epidermoid cysts are typically small, round benign bumps that are plugged by a single, tiny blackhead, according to the Mayo Clinic. They're often filled with dead skin cells. and are extremely common. Epidermoid Cysts often occur when protein—keratin—gets stuck under the skin and builds up, according to Healthline. (If you're in the mood for another, more dramatic example, you can check out this video that the doctor posted earlier this month.)
How do you treat an epidermoid cyst?
Most of the time, you can just let nature take its course—they'll go away on their own if you're patient enough. But if time is of the essence (like, say, your wedding is around the corner) you can also see a professional to have it drained, although this may increase the likelihood of the cyst growing back.
The post Watch Dr. Pimple Popper Eliminate a Back Cyst Before This Woman's Wedding appeared first on NewsWorld.
This post first appeared on NewsWorld™, please read the originial post: here