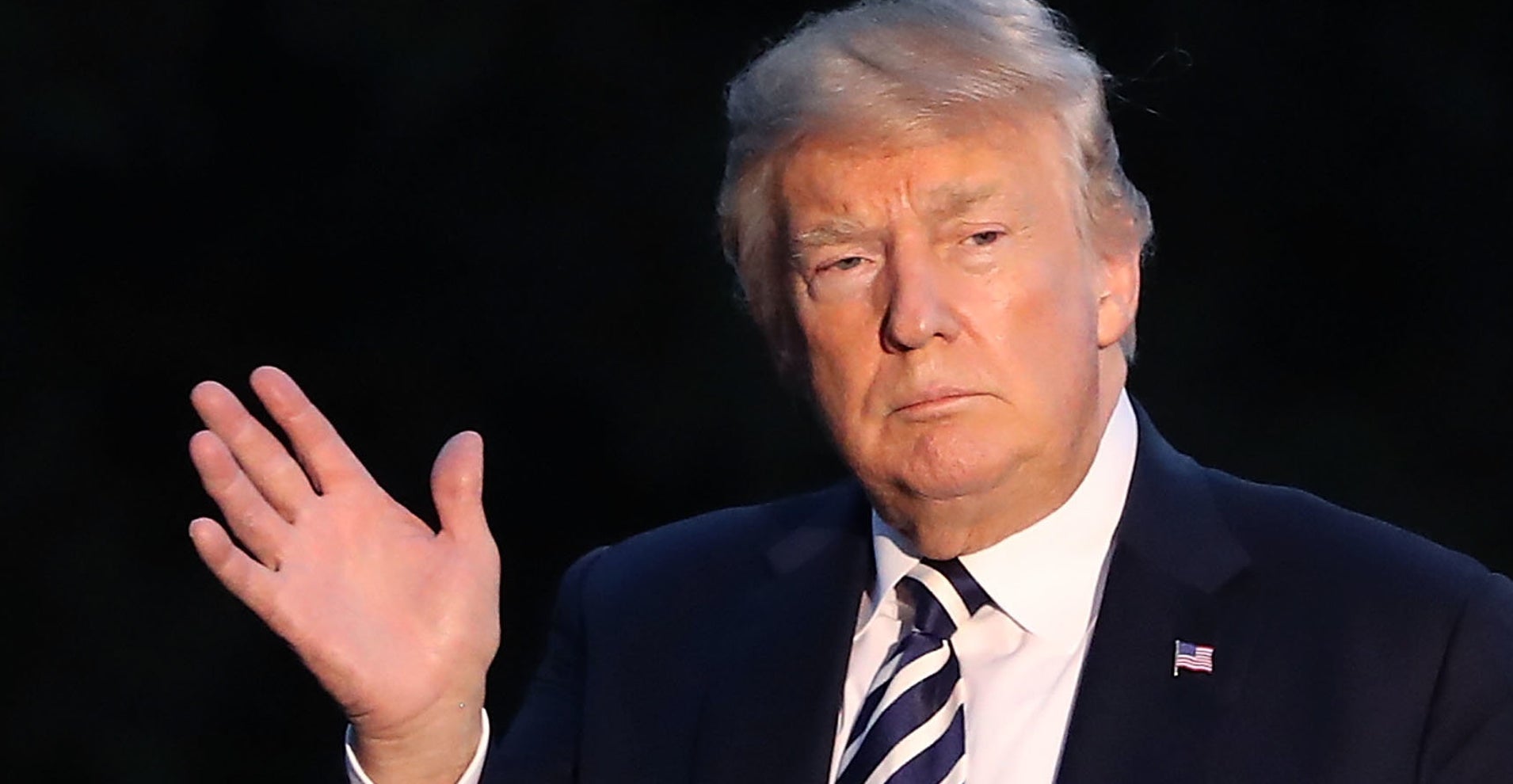 A warm Irish welcome will likely not be afforded to President Donald Trump when he visits the country in November.
The White House confirmed Friday that Trump would visit the Emerald Isle to "renew the deep and historic ties between our two nations" as part of a European trip in which he'll also visit France to commemorate the 100-year anniversary of the armistice that ended World War I.
The #TrumpIsNotWelcomeInIreland hashtag trended on Twitter as hundreds of people explained exactly why they didn't want POTUS setting foot on Irish soil and also proposed mass protests during his stay:
If Trump does visit Ireland in November, I think it would be wonderful if absolutely nobody, and I mean nobody, turned out to see him. Make it the exact opposite of when the Obamas visited.

— Dave Humphreys (@LordHumphreys) August 31, 2018
No, No, No, No: Trump to visit Ireland in November.
I hope every woman, man and child is ready for mass protest. Make it the largest protest Ireland has ever seen. And say to to racism, misogyny and hate. pic.twitter.com/QNXdKMVh84

— John O'Brennan (@JohnOBrennan2) August 31, 2018
Trump's coming to Ireland in November. We can't stand him and we don't want him here. Let the protest planning begin!! I know we've got something better than the #TrumpBaby up our sleeves

— Miriam Kennedy (@Miriam_Kennedy) August 31, 2018
Oh, for heaven's sake. #Trump is coming to Ireland in November. I'll have to head to the shop tomorrow for some poster paints and start work on the placard.

— Philip Nolan (@philipnolan1) August 31, 2018
If you're willing to take a day off or strike to protest #TrumpinIreland please retweet and like and follow. We'll march in every town and every village in Ireland in our thousands the day #Trump comes to Ireland.
General Protests to be held at Noon the day Trump arrives.

— Protest Trump Ireland (@ireland_trump) August 31, 2018
Our country is an open, tolerant and welcoming nation. Donald Trump embodies everything that is the anthithesis to the values of modern Ireland. He is not welcome. Let's come together to turn out numbers to protest his visit like he wished had attended his inauguration #DumpTrump

— Joe O'Connor (@Jocser99) August 31, 2018
Can we not pretend we're out for the day? Hide behind the sofa when he calls?

— Borghert Jan Borghmans (@StripyMoggie) August 31, 2018
The visit of President Trump does not represent the wishes of the many people in Ireland who strongly object to the regressive & damaging policies he pursues. Instead of red carpets, harps and dancing girls he must be met with strong voices of opposition to his policy platform.

— Social Democrats (@SocDems) August 31, 2018
Trump can come to Ireland on two conditions: all official engagements take place in Barack Obama Plaza and all photos are taken right beside the life size cardboard cutout of Barack Obama. Take it or leave it.

— amy o'connor (@amyohconnor) August 31, 2018
#TrumpInIreland
Trump's visit to Ireland will embolden racists and fascists in Ireland. We have a duty to mobilise against his visit to say his politics of hate and division has no place in Ireland.

— Stephen Lewis (@vegansmithsfan) August 31, 2018
Dear Donald Trump,

You really don't have to visit Ireland in November. Really you don't. Really and truly you don't.

Don't.

— Derek Landy (@DerekLandy) August 31, 2018
The post Donald Trump Sparks Anger In Ireland After Upcoming Visit Is Confirmed appeared first on NewsWorld.
This post first appeared on NewsWorld™, please read the originial post: here