May the best brother win…
This season on The Royals, the biggest fight for the monarchy may be coming from within the palace walls. Newly appointed King Robert (Max Brown) has made more than his fair share of enemies, but his brother Prince Liam (William Moseley) is definitely his biggest.
At the end of last season, Liam was ready to see his brother fall, no matter the costs, but will he be able to dethrone Robert? Max recently sat down with E! News and spilled a few secrets. "There's a lot of conflict between Liam and Robert since Robert came back into the fold," Max dished about the season four premiere (airing Sunday at 10 p.m.).
"Liam is still searching for answers, and he'll get some answers to some of his questions this season. Not all through the pursuit of me, but I think Robert and Liam will hopefully develop a better understanding of each other's characters throughout this season," Max revealed.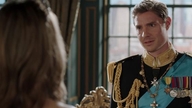 Watch
King Robert Explains Why He Fired the Lord Chamberlain
Liam isn't the only one standing in Robert's way of a peaceful run as king. "I think Robert and [Queen Helena] will definitely have some conflict over who is right in different situations and who should take the lead now that he is at the head of the royal family," Max shared about Robert's relationship to his mom (played by Elizabeth Hurley).
Even though there seems to be more people against him than for him, don't underestimate exactly what he's capable of when it comes to protecting his throne. "I think Robert has a lot of tricks up his sleeve, as far as controlling people and manipulating situations," Max shared. "So there is plenty more of that coming up."
Watch the season four premiere of The Royals Sunday, Mar. 11 at 10 p.m., only on E!
The post Will Prince Liam Finally Take Down King Robert on The Royals: "Robert Has a Lot of Tricks Up His Sleeve" appeared first on News World.
This post first appeared on NewsWorld™, please read the originial post: here