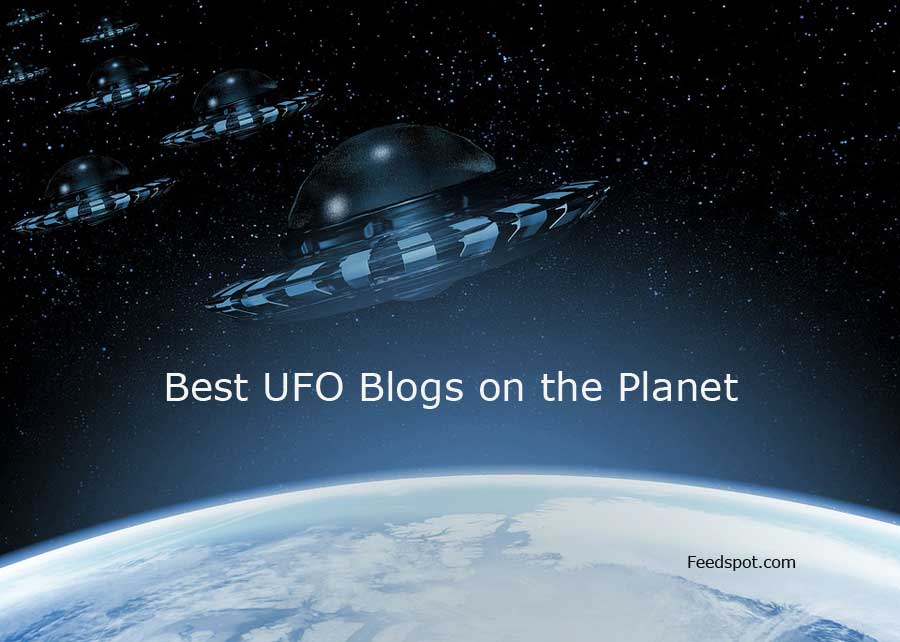 UFO Blogs List
The Best UFO blogs from thousands of top UFO blogs in our index using search and social metrics. Data will be refreshed once a week.
These blogs are ranked based on following criteria
Google reputation and Google search ranking
Influence and popularity on Facebook, twitter and other social media sites

Quality and consistency of posts.

Feedspot's editorial team and expert review
Top 75 UFO Blogs Winners
CONGRATULATIONS to every blogger that has made this Top UFO Blogs list! This is the most comprehensive list of best UFO blogs on the internet and I'm honoured to have you as part of this! I personally give you a high-five and want to thank you for your contribution to this world.
If your blog is one of the Top 75 UFO blogs, you have the honour of displaying the following badge on your site. Use the below code to display this badge proudly on your blog. You deserve it!:
Download Badge high resolution image

Learn how to add badge on your blog
UFO Blogs
Rank

Blog Name

Facebook Fans

Twitter Followers

Alexa Rank

1

Alien UFO Sightings+ Follow

alien-ufo-sightings.com

About Blog
Frequency - about 15 posts per week

292,684

19,192

224,341

2

Openminds.tv | Exploring UFOs and Extraterrestrial Life+ Follow

openminds.tv

Arizona

About Blog - Open Minds is a news media organization focusing on exploring the true nature of the UFO phenomenon in terms of its history, evidence and its enormous sociopolitical and scientific implications. OPEN MINDS is presented objectively with a focus on the facts, and is destined to change our current outlook on Ufos.
Frequency - about 5 posts per week

15,485

51,810

281,427

3

Latest-UFO-Sightings | UFO Videos & News about Extraterrestrial+ Follow

latest-ufo-sightings.net

About Blog - Latest-UFO-Sightings provides daily ufo sightings, videos and news.
Frequency - about 6 posts per week
Since - Apr 2009

115,874

2,984

371,431

4

The UFO Chronicles | UFO NEWS : Current and Historic Reports From Around The World+ Follow

theufochronicles.com

USA

About Blog - The UFO Chronicles provides UFO NEWS, Sightings, Reports, Articles, Editorials, Photos, Radio, Video, Historic UFO Chronicles and Interviews.
Frequency - about 8 posts per week
Since - Jan 2005

13,402

83,196

765,504

5

The Black Vault Case Files+ Follow

theblackvault.com/casefiles

Castaic, CA

About Blog - The Black Vault has been around for more than 20 years. The Black Vault Case File Database is a collection of UFO & Paranormal Reports from around the globe.
Frequency - about 3 posts per week

38,223

16,625

178,569

6

AboveTopSecret.com | Aliens and UFOs+ Follow

abovetopsecret.com/forum/19/..

About Blog - AboveTopSecret.com is the Internet's largest and most popular web site that covers a broad range of "alternative topics," which include conspiracy theories, political scandals, UFOs, paranormal experiences, and more. Find Conspiracy Theories, UFOs, Paranormal, Politics, and much more.
Frequency - about 15 posts per week

339,036

82,552

26,025

7

UFO Stalker+ Follow

ufostalker.com

About Blog - UFO Stalker is a real time UFO tracking system based on the MUFON Case Management System. It gives an immediate view into Worldwide UFO activity.
Frequency - about 84 posts per week
Since - Oct 1992

1,147

5,998

372,884

8

Reddit » UFO+ Follow

reddit.com/r/UFOs

San Francisco, CA

About Blog - Reddit is a community of millions of users engaging in the creation of content and the sharing of conversation across tens of thousands of topics. A sub-reddit for the discussion of UFOs.
Frequency - about 84 posts per week

1,175,390

534,452

7

9

UFO SIGHTINGS DAILY+ Follow

ufosightingsdaily.com

About Blog - Hi, I'm Scott C. Waring and I wrote a few books and am currently a ESL School Owner in Taiwan. I created this site to help the UFO community get a little bit organized. I post UFO Sighting Videos, photos, news, events, discoveries and more.
Frequency - about 9 posts per week

15,689

n/a

263,080

10

UFO Sightings Hotspot+ Follow

ufosightingshotspot.blogspot..

About Blog - UFO Sightings Hotspot provides latest UFO Sightings, Daily UFO News, Alien UFO Disclosure, Ancient Mysteries, Moon and Mars Anomalies, Paranormal, Spirituality and more.
Frequency - about 6 posts per week
Since - Jun 2012

8,720

325

1,336,770

11

UFO Digest | Recent UFO News+ Follow

ufodigest.com

Port Colborne, ON Canada

About Blog - UFO Digest provides proof of UFOs and the paranormal using videos, photos and expert articles about abductees, sightings and the bizarre.
Frequency - about 3 posts per month
Since - May 2006

n/a

6,331

716,373

12

UFO Seekers | Investigating UFOs, Aliens, and Unexplained Mysteries+ Follow

ufoseekers.com

Bakersfield, CA

About Blog - UFO Seekers, a California based organization, Investigates UFO Hot-Spots, UFO Sightings and Alien Encounters. We also investigate UFO Sighting reports filed by civilians.
Frequency - about 2 posts per week

7,759

3,060

2,721,601

13

UFOTVstudios | Youtube+ Follow

youtube.com/user/UFOTVstu..

Venice, CA, USA

About Blog - UFOTVstudios is Rated TOP, BEST UFO, CONSPIRACY, PARANORMAL YouTube Channel.
Frequency - about 2 posts per month
Since - Nov 2006

7,197

216

2

14

De Void+ Follow

devoid.blogs.heraldtribune.com

About Blog - Hi I'm Billy Cox. I am a general assignment reporter for the Herald-Tribune. De Void is my website about the mainstream media's lonely UFO weblog.
Frequency - about 1 post per month
Since - Jul 2008

n/a

n/a

75,302

15

Earthfiles.com + Follow

earthfiles.com

About Blog - Earthfiles is an award-winning news website where experts, eyewitnesses and viewers share the latest updates in earth and astronomical mysteries.
Frequency - about 5 posts per week
Since - Nov 1998

16,490

15,278

324,144

16

UFO Blogger : Uncover The UFO Truth+ Follow

ufo-blogger.com

New York

About Blog - UFO-Blogger.com is your best source for information about paranormal aliens UFO news, UFO sightings, alien proof and extra terrestrial UFO coverup. It is your source for UFO News, Space News, Alien Sightings and UFO videos
Frequency - about 1 post per month
Since - Sep 2014

7,654

4,474

1,450,325

17

A Different Perspective + Follow

kevinrandle.blogspot.com

United States

About Blog - A Different Perspective provides Commentary on UFOs, Paranormal events, and related topics.
Frequency - about 2 posts per week
Since - Mar 2005

n/a

n/a

1,693,498

18

UFO Reporting Center | Latest UFO Sightings & News+ Follow

ufosnw.com/newsite

About Blog - UFO Reporting Center has a team of investigators dedicated to studying the UFO phenomenon.They bring the truth about UFOs to the public and continue to perform scientific analyses of UFO sightings. UFOs Northwest is your UFO Reporting Center and contains the Latest UFO Sightings, UFO news, videos, photos, sketches and recorded witness interviews.
Frequency - about 5 posts per week
Since - Oct 2005

n/a

n/a

2,673,592

19

Bad UFOs: Skepticism, UFOs, and The Universe + Follow

badufos.blogspot.com

United States

About Blog - Robert Sheaffer is a writer with a lifelong interest in astronomy and the question of life on other worlds. He is one of the leading skeptical investigators of UFOs, a founding member of the UFO Subcommittee. His blog Bad UFOs is his reflections on UFOs, skepticism, and practically anything.
Frequency - about 2 posts per month
Since - Oct 2010

n/a

n/a

3,371,502

20

Tony Topping's Mysterious World of UFOs & Alien Contact Experiences+ Follow

tonytopping.wordpress.com

About Blog - Tony Topping's Mysterious World of UFOs & Alien Contact Experience is a deep personal insights into the phenomena of UFO contact, a targeted individual by agents unknown, a dark comedy at play across the skies above.
Frequency - about 1 post per month
Since - Mar 2014

n/a

n/a

3,570,778

21

Z-Blog | Chuck Zukowski UFO/Paranormal Investigations+ Follow

ufonut.com/the-ufonut-blog

Colorado Springs, CO

About Blog - Hi I'm Chuck Zukowski. I specialize in a diverse area including UFOlogy, Roswell, alien abductions, cattle mutilations, UFO investigations, Bigfoot investigations and ghost hunting. UFonut.com documents the ongoing investigations of paranormal investigator, Chuck Zukowski.
Frequency - about 1 post per month

4,097

167

3,884,198

22

The UFO Trail+ Follow

ufotrail.blogspot.com

About Blog - Hi I'm Jack Brewer. I encourage critical thinking and healthy skepticism balanced with keeping an open mind. I blog about UFOs.
Frequency - about 2 posts per month
Since - Aug 2010

n/a

916

3,719,862

23

Spectral Vision | Exploring the World of the Weird and Unknown+ Follow

spectralvision.wordpress.com

About Blog - Find posts and videos on UFOs.
Frequency - about 1 post per month
Since - Nov 2014

n/a

321

3,990,399

24

UFOContact.com | UFO and ET Contact Blog+ Follow

ufocontact.com/et-contact-blog

About Blog - UFO Contact is the hub of the ET Contact Movement. UFO Contact is facilitating an expanded and evolving mission to aid in the education and enlightenment of those who seek the truth regarding our relationship with our Star Visitors. We discuss ET Intelligence, Human Initiated Contact Experiences, consciousness and more.
Frequency - about 1 post per month

1,398

352

3,649,600

25

hidden experience+ Follow

hiddenexperience.blogspot.com

USA

About Blog - Hi I'm Mike Clelland. I am avid outdoorsman, illustrator and UFO researcher. My website, Hidden Experience, explores these events and their connections to the alien contact phenomenon. It also features over 200 hours of audio interviews with visionaries and experts examining the complexities of the overall UFO experience.
Frequency - about 1 post per week
Since - Mar 2009

n/a

n/a

4,668,706

26

UFO-Prophet+ Follow

ufoprophet.blogspot.com

Ongole, India

About Blog - UFO-Prophet covers the media archives from 1970's about the most controversial Swiss UFO Contactee. It is a blog about the Billy Meier UFO Case.
Frequency - about 1 post per week
Since - Feb 2012

528

214

6,243,131

27

UFO newshub+ Follow

ufonewshub.com

London, England

About Blog - UFOnewshub has been set up as a central resource for all things UFO related. We bring important updates, sightings and news from across the globe in relation to anything UFO or Alien related.
Frequency - about 84 posts per week

8,964

887

6,289,091

28

High Strangeness+ Follow

highstrangenessufo.com

Atkinson/Chicago

About Blog - Hi I'm Mark UFO'Connell. I blog about UFOs.
Frequency - about 1 post per week
Since - Jul 2011

n/a

785

6,393,250

29

UFORSA blog | UFO research of South Africa+ Follow

uforsa.co.za/blog

Somerset West, South Africa

About Blog - UfoRSA is a small organisation started by two young UFO enthusiasts. We founded when we started seeing an increase in the amount of UFO sightings and the enthusiasm involved with it. Our aim with this website is to get the community involved and to try and explain the sightings that others have seen.
Frequency - about 2 posts per week
Since - Oct 2011

1,136

110

7,095,903

30

Alien UFO Blog | Finding the Real Mysteries while Exposing the Hoaxers & Misinformed+ Follow

alienufoblog.com

Maryland, USA

About Blog - Alien UFO Blog provides Stories & Articles About Aliens, UFOs, Alien Technology - with an honest twist.
Frequency - about 8 posts per week
Since - Jan 2017

4,178

251

7,052,160

31

UFO Research Blog | UFO sightings, meetings+ Follow

uforq.asn.au/blog

Brisbane

About Blog - UFO Research Queensland Incorporated is a voluntary, non-profit association established in 1956 to receive, research and record sightings. It disseminates, educates and supports the public about the UFO phenomenon. It disseminate the information they receive from individuals back out to the public while educating them via our UFO Encounter journal, public meetings, speaking to community groups.
Frequency - about 1 post per month
Since - Aug 2014

4,225

14

7,687,570

32

UFO Network Blog | UFO sightings from around the world.+ Follow

ufo.net

About Blog - UFO Network Blog is a UFO sightings blog, sorted by categories and tags. There are anonymous forms allow people the ability to share their UFO experiences.
Frequency - about 3 posts per month
Since - Oct 2010

n/a

n/a

9,112,837

33

UFO 'Lou's Channel + Follow

youtube.com/user/Lou20764/vi..

Australia

About Blog - UFO 'Lou's Channel is one of the few legitimate and respected U.F.O. channels on Youtube.
Frequency - about 1 post per month
Since - Feb 2012

n/a

n/a

2

34

UFOs-Disclosure+ Follow

ufos-disclosure.blogspot.com

United Kingdom

About Blog - The blog UFOs-Disclosure is all about UFOs, UFO ET Alien Disclosure, Truth, with information about Dr. Steven Greer and the sirius documentary film.
Frequency - about 8 posts per week
Since - May 2012

n/a

n/a

10,016,038

35

James Clarkson UFO Investigations Blog+ Follow

jamesclarksonufo.com/blog

About Blog - Hi I'm James Clarkson. I am the State Director of the Mutual UFO Network in Washington State. I do scientific investigation of UFOs for the benefit of humanity. We develop new directions for UFO research, with radio and lectures across the United States.
Frequency - about 1 post per month
Since - Apr 2013

888

n/a

10,692,380

36

Amazing UFO Stories AND Strange UFO Videos | PEOPLE ARE STRANGE AND SO ARE UFOs+ Follow

strangeufovideo.blogspot.com

About Blog - A blog dedicated to amazing UFO stories, the strangest UFO videos, and ideas about UFO's - with analysis.
Frequency - about 1 post per month
Since - Feb 2011

n/a

n/a

11,195,447

37

Unidentified Aerial Phenomena - scientific research | An examination of aspects of Unidentified Aeri+ Follow

ufos-scientificresearch.blog..

Australia

About Blog - Hi I'm Pauline Wilson. I blog about my life-long interest in the UFO phenomenon. I have never had a personal UFO sighting or an encounter. In my UFO work, I prefer using the scientific/intelligence method of collection, collation, interpretation and dissemination.
Frequency - about 1 post per week
Since - Sep 2009

n/a

n/a

11,206,871

38

UFO-Disclosure.net Blog | UFOs and ETs, New energy, Suppressed Information+ Follow

ufo-disclosure.net/blog

Studio City, CA USA

About Blog - UFO-Disclusure.net is about ending the secrecy about the truth of UFOs, new energy systems and the existence of extra terrestrial civilizations that have been visiting our planet. It brings the best UFO footage, UFO images and news.
Frequency - about 1 post per month
Since - May 2013

110,801

3,430

11,889,900

39

UFO pictures and photos+ Follow

ufopicturesphotos.blogspot.com

Denmark

About Blog - Hi I' Brian Jørgensen, I am amateur photographer and the author of this blogsite, which is about my UFO photography I have gathered since 2009. UFO pictures and photos is my blog about unidentified flying objects documented on photography, sightings, videos and related research.
Frequency - about 3 posts per week
Since - Sep 2009

100

12,365

11,640,724

40

Ufowatchdog.com+ Follow

ufowatchdog.blogspot.com

About Blog - Find posts and updates on UFOs.
Frequency - about 3 posts per month
Since - Aug 2007

n/a

n/a

11,986,746

41

Veritas Radio with Mel Fabregas+ Follow

veritasradio.blogspot.com

United States

About Blog - Veritas Radio with Mel Fabregas is a movement set on informing the world, teaching and finding out everything about the hidden knowledge being kept secret from humanity.
Frequency - about 4 posts per month
Since - Dec 2008

n/a

n/a

13,026,723

42

The Object Report | Breaking UFO News 24/7 From Around The World+ Follow

theobjectreport.blogspot.com

About Blog - Agent D & Agent K have been working non-stop behind the UFO scene since 1996 and are covering the contact phenomenon live 24/7. Agent D & Agent K use their skills as technical illustrators to create visualizations based upon eye witness testimony and historical evidence and present this graphic evidence within their Special Reports which can be viewed on the The Object Report Blogs.
Frequency - about 1 post per month
Since - May 2010

n/a

292

16,368,353

43

Utah UFO Festival blog+ Follow

utahufofest.org/blog

Southern Utah

About Blog - Welcome to Utah UFO Festival This is not an ordinary UFO Conference. We are completely outdoors with camping included and we want to hear about your UFO experiences and stories. We are a truly grass-roots festival which means that we are building this from scratch.
Frequency - about 1 post per month
Since - Sep 2014

678

9,400

18,255,684

44

Area Zone 51 - UFOs+ Follow

areazone51ufos.blogspot.com

About Blog - Find posts and updates on UFOs.
Frequency - about 5 posts per week

n/a

n/a

17,839,319

45

Did It Really Happen?+ Follow

timhebert.blogspot.com

About Blog - Find stories about UFOs, government conspiracies, and paranormal events.
Frequency - about 1 post per month
Since - Nov 2010

n/a

n/a

18,879,837

46

UFOs Found In TV Broadcasts+ Follow

realtvufos.blogspot.com

About Blog - UFO blogspot presents UFO footage (videos) and descriptions of UFO footage found in TV broadcasts from around the world. Any UFO evidence recorded or obtained by a media company or government source will also be included here.
Frequency - about 10 posts per week
Since - Jul 2008