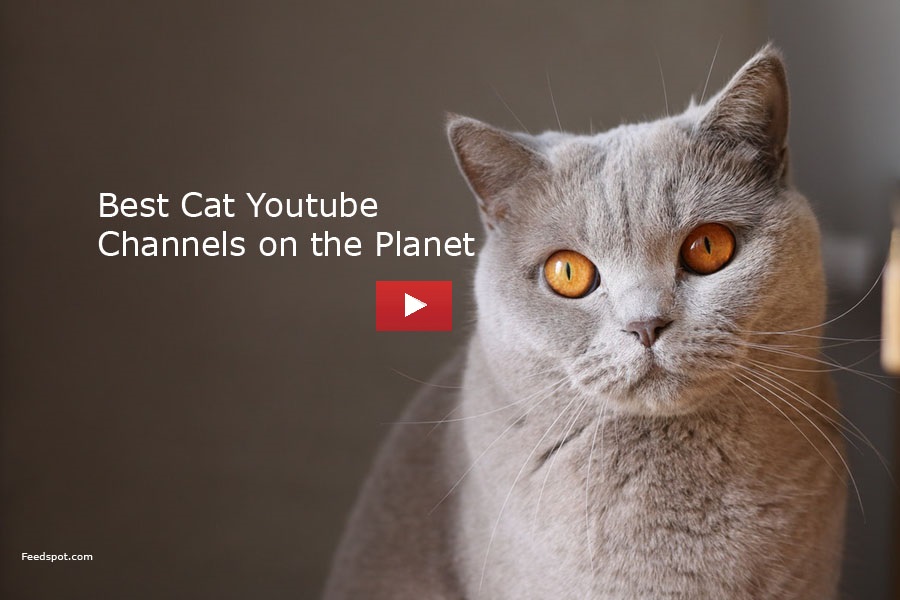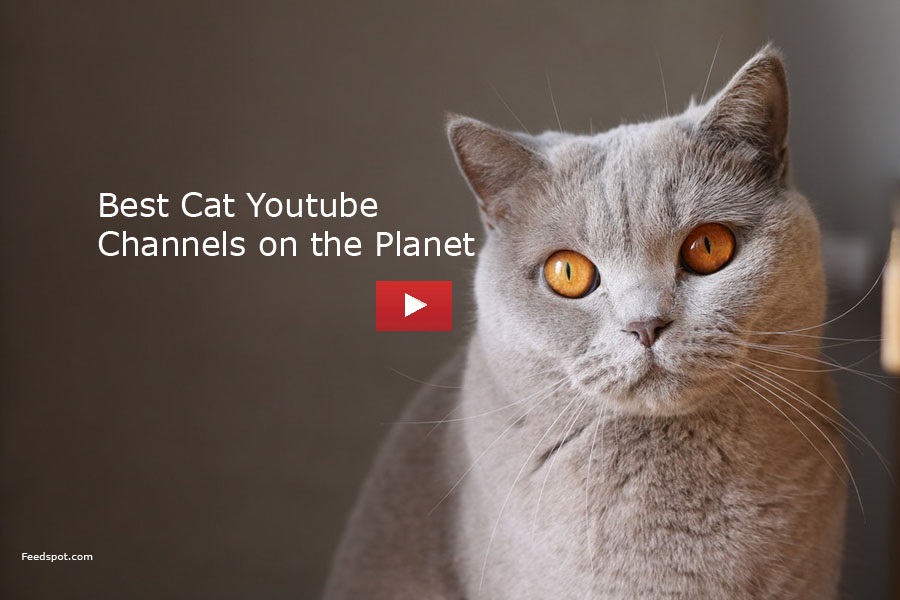 Cat Youtube Channels List
The Best Cat Youtube Channels from thousands of top Cat Youtube Channels in our index using search and social metrics. Data will be refreshed once a week.
These Youtube Channels are ranked based on following criteria
Total youtube channels subscribers, video views, and video uploads
Quality and consistency of videos

Youtube search ranking

Feedspot editorial team' objective and subjective review
Top 50 Cat Youtube Channels Winners
CONGRATULATIONS to every youtuber that has made this Top Cat Youtube Channels list! This is the most comprehensive list of best Cat Youtube Channels on the internet and I'm honoured to have you as part of this! I personally give you a high-five and want to thank you for your contribution to this world.
If your youtube channel is one of the Top 50 Cat Youtube Channels, you have the honour of displaying the following badge on your site. Use the below code to display this badge proudly on your blog. You deserve it!:
Download Badge high resolution image

Learn how to add badge on your blog
Top Cat Youtube Channels
Rank

Channel Name

Youtube Followers

Views Count

Video Count

1

Cole and Marmalade+ Follow

youtube.com/user/chrispoole2..

Chicago, Illinois, United States

About Channel - Cole & Marmalade are always up to something! ... Together with their human 'servant' Chris they will entertain and educate you, check out their fun videos to see them in action!
Frequency - about 3 videos per month
Since - Jun 2012

675,644
178,177,949
294
2

CreamHeroes+ Follow

youtube.com/channel/UCmLi..

South Korea

About Channel - CreamHeroes is a channel with everything related to cats.
Frequency - about 8 videos per week
Since - Jan 2017

528,841
130,291,341
512
3

Kitten Academy+ Follow

youtube.com/user/scribblej/v..

United States

About Channel - This channel features videos of and about our foster cats - and the "foster failures" that live with us forever now.
Frequency - about 6 videos per week
Since - Jul 2006

218,823
9,035,062
652
4

Robin Seplut+ Follow

youtube.com/channel/UCTZU..

About Channel - Robin Seplut this channel is about feral cats and kittens that live on street. I feed feral cats on street. Cats living on street are very hungry. The cats live together, form bonds with each other, and hunt for food. In my city lives to more than 5,000 feral cats. I am unable to help everyone. I help cats in my yard on my street. Cats need attention and love.
Frequency - about 5 videos per week
Since - Jan 2015

198,980
74,145,689
726
5

CatPusic+ Follow

youtube.com/channel/UCyIq..

Belarus

About Channel - Smart, funny and energetic cat Pusiс pleases all. That you will not see anywhere else. The possibilities are endless ideas cat. Video out every 1-2 weeks.
Frequency - about 3 videos per month
Since - Jan 2016

211,872
34,238,638
50
6

Relax My Cat - Relaxing Music for Cats+ Follow

youtube.com/user/relaxmycat/..

United Kingdom

About Channel - RelaxMyCat specialises in music designed for all cats.The music is for cats who have anxiety problems or who are alone a lot and uses the power of music to relax your pet. It's perfect for occasions which bring fireworks or storms, or for cats who suffer with separation anxiety.
Frequency - about 3 videos per week
Since - Apr 2013

194,093
32,478,888
514
7

CATMANTOO+ Follow

youtube.com/user/CatTrainerT..

Australia

About Channel - Who say's cats can't learn... Didga, adopted from the shelter (and Boomer) are going to help me show that cats are smart and teachable as long as you use a specific positive 'methodology' (similar to the way marine animals are taught.) On CATMANTOO, you will not only see Didga and Boomer do amazing tricks and stunts but, you'll learn how to teach your cat to follow.
Frequency - about 1 video per month
Since - Apr 2012

182,868
66,160,194
83
8

Funnycatsandnicefish+ Follow

youtube.com/user/Funnycatsan..

United States

About Channel - Most funny cats and cute kittens videos here! Meet my hilarious and ridiculous Cat Rocky, Toffee and Coco and her awesome Kittens.
Frequency - about 4 videos per month
Since - Jun 2012

172,762
77,035,920
384
9

Ginger Kitties Four+ Follow

youtube.com/user/utahactor/v..

Utah, USA

About Channel - Subscribe for all things cat & kitten related with Zeus & Phoebe and Helios & Athena, and all of their kittens.
Frequency - about 3 videos per month
Since - Jan 2007

155,912
62,716,141
478
10

Cat Man Chris+ Follow

youtube.com/channel/UC6Vz..

United States

About Channel - Hi, my name's Chris Poole and I'm a crazy cat guy! (and proud of it) … I'm also owned by internet kitties Cole & Marmalade. This channel will be full of clips of the dynamic duo, along with so much more, like vlogs, cat rescue, BIG cat videos, animal welfare vids and reviews.
Frequency - about 3 videos per month
Since - Dec 2015

101,789
15,676,912
58
11

Top Funny Cat Youtube+ Follow

youtube.com/channel/UC-Rs..

New York, United States

About Channel - Welcome to Top Funny Cat Youtube Channel. Have a nice time watching our content.The content we build with the aggregation of various sources on Youtube, Blog, Website. It is difficult to guarantee all copyright protection, we always try to communicate with the owners rights to cooperate copyright even if there are still errors.
Frequency - about 1 video per week
Since - Dec 2015

22,472
9,156,101
71
12

Talking Kitty Cat+ Follow

youtube.com/user/stevecash83..

United States

About Channel - Hey friends! My name is Steve Cash. I am a musician and an animal lover. I've been on youtube since 2007.
Frequency - about 1 video per month
Since - Dec 2007

1,088,686
345,513,611
151
13

Simon's Cat+ Follow

youtube.com/user/simonscat/v..

London, UK

About Channel - Simon's Cat is an animated series featuring the mischievous and often hilarious antics of a fat white cat and his owner Simon. One of the most popular animated channels.
Frequency - about 1 video per week
Since - Nov 2007

4,588,763
934,319,803
167
14

TheMeanKitty+ Follow

youtube.com/user/TheMeanKitt..

United States

About Channel - Enjoy the videos on cat by TheMeanKitty.
Frequency - about 2 videos per month
Since - Jun 2008

414,759
92,689,305
174
15

Lil BUB+ Follow

youtube.com/user/LilBubBub/v..

Bloomington, IN

About Channel - BUB has many unique characteristics that make her a very special one of a kind critter. Please understand that she was NOT bred to be this way. BUB was the runt of an otherwise healthy litter from a stray outdoor mother, and was born with several genetic mutations that make her special. She is just one of nature's happy accidents.
Frequency - about 3 videos per month
Since - Oct 2011

227,640
38,246,272
208
16

Sho Ko+ Follow

youtube.com/user/ShortyTheCa..

About Channel - The ShoKo Show! Brightening up your day, waving the flag for shelter cats, and reminding us that life is pawesome! Featuring Shorty and Kodi. Both were adopted from local shelters.
Frequency - about 1 video per month
Since - Dec 2010

237,613
96,367,488
270
17

Purina Friskies+ Follow

youtube.com/user/PurinaFrisk..

About Channel - Cats are awesome, and Friskies has the cat videos to prove it. Cats are daily invitations to a more vibrant world. Let's celebrate what makes cats great. Let's celebrate their catness.
Frequency - about 1 video per month
Since - Feb 2010

157,627
66,708,870
172
18

N2 Cat Crew+ Follow

youtube.com/user/VersaBC/videos

About Channel - N2 the Talking Cat is not your everyday house cat. He can fly, shoot lasers from his eyes, dance, sing, but what he specializes in is just plain old talking. N2's popularity reached new heights as he and his co-star Kona (Siamese) landed a spot on Animal Planets "My Pet's Gone Viral".
Frequency - about 3 videos per month
Since - Nov 2010

117,061
40,732,737
171
19

CATS UPS AND DOWNS+ Follow

youtube.com/channel/UC44e..

About Channel - Cats are graceful, clumsy, silky soft with sharp edges, softly glowing eyes in the dark, purring, kneading balls of fur curled up closely against your body warmth, intellegent, annoying, funny, great conversationalists with comments about many things, and intriguing little creatures who display many emotions including affection, even love for their guardians.
Frequency - about 1 video per month
Since - Mar 2015

107,421
47,512,176
65
20

Pastel Cat Diary+ Follow

youtube.com/channel/UCq_T..

Japan

About Channel - My channel mainly introduce the live of a pastel tortoiseshell cat "Neko-kichi". Also, we introduce dramas occurred behind Dora-kichi's house. A number of videos sometimes make you cry or laugh.
Frequency - about 9 videos per week
Since - Jul 2013

97,945
64,909,194
1,392
21

TinyKittens HQ+ Follow

youtube.com/user/tinykittens..

About Channel - We help cats and kittens in need. Watch our rescue cats and kittens LIVE 24/7.
Frequency - about 2 videos per week
Since - May 2013

63,552
22,947,177
86
22

Miaou+ Follow

youtube.com/user/kamaitachiT..

Japan

About Channel - Welcome to Miaou, a channel for true cat lovers! Our videos feature everyday life of 2 adorable kittens and 2 cute cats. Some are inspiring chronicle of how each each cat was saved and settled in their loving home, and others feature their peaceful life in Miaou's.
Frequency - about 8 videos per week
Since - Jan 2014

59,710
43,709,002
2,092
23

Frozen Kitten+ Follow

youtube.com/channel/UC6do..

About Channel - Just your typical, everyday, ordinary Flame Point Siamese kitten found frozen and nearly dead in a foot of freshly fallen snow on Thanksgiving morning and brought BACK TO LIFE by the loving Bingham family!
Frequency - about 1 video per month
Since - Feb 2016

50,365
5,637,386
83
24

smoothiethecat+ Follow

youtube.com/channel/UC5RT..

About Channel - Fluffy videos about British Longhair cats Smoothie & Milkshake are coming your way.
Frequency - about 4 videos per month
Since - Jan 2016

43,681
3,263,466
45
25

The Kits Cats+ Follow

youtube.com/user/DrNworb/videos

Canada

About Channel - Cute & funny cat videos filled with love.
Frequency - about 3 videos per month
Since - Jul 2010

38,759
22,024,771
712
26

Sissi The Red Cat+ Follow

youtube.com/user/VeterinaryL..

Italy

About Channel - Sissi is a most popular internet cat that she lives in Italy ( Carpenedolo, Brescia ) and she is 5 years old.
Frequency - about 1 video per month
Since - Dec 2009

34,933
5,371,989
353
27

CreamHeroes Cats+ Follow

youtube.com/channel/UCkuA..

About Channel - Relaxation video for cat lovers!
Frequency - about 3 videos per week
Since - Mar 2017

33,006
990,685
23
28

Krzysztof Smejlis+ Follow

youtube.com/user/FaqYouTB/vi..

Poland

About Channel - If you love funny cats - like us and watch our videos on YouTube!
Frequency - about 1 video per month
Since - Sep 2010

30,513
26,911,751
338
29

Kute Cats+ Follow

youtube.com/channel/UCFzL..

Japan

About Channel - Cute cats, best funny cat videos.
Frequency - about 5 videos per week
Since - Oct 2016

28,369
8,296,391
115
30

DIY for CATs by Hohentwielbirmas+ Follow

youtube.com/user/Hohentwielb..

Germany

About Channel - DIY for cats, I'll show you how you can make cuddly beds, great toys, sleeping caves, ingenious climbing possibilities and much more for your darling. In my playlist Goldtatze Look around, there is certainly something great for your velvet paws and you.
Frequency - about 1 video per month
Since - Jun 2011

28,132
12,228,073
105
31

IAmNalaCat+ Follow

youtube.com/user/iamnalacat/..

Los Angeles

About Channel - Hi I'm Nala,5years old Siamese&Tabbymix.My owner adopted me from the shelter when i was 5months.
Frequency - about 2 videos per month
Since - Apr 2012

24,012
901,151
74
32

Bad Cat+ Follow

youtube.com/channel/UC_dB..

New York, USA

About Channel - I am a cat lover. I really enjoy the adorable, and sometimes devilish antics of cats. (These beautiful creatures do make me feel happier every day). So I've created a playlist of cats videos to share their lovely and funny moments with all of you – who are also animal lovers and especially delight in cats like me.
Frequency - about 1 video per month
Since - Oct 2012

23,441
11,078,003
77
33

Cat Videos+ Follow

youtube.com/user/TheCatsEmpi..

About Channel - In this Channel you would see mostly outdoor cats. They climb trees and walls , catch rats, mouse , lizards , birds etc and may or may not eat it! I mostly don't interfere in it, ie never let them or forbid them catching those things and live according their nature. They enjoy fresh air and sunshine. As you can see they are very agile and are very much different from indoor cats!
Frequency - about 1 video per month
Since - Jan 2012