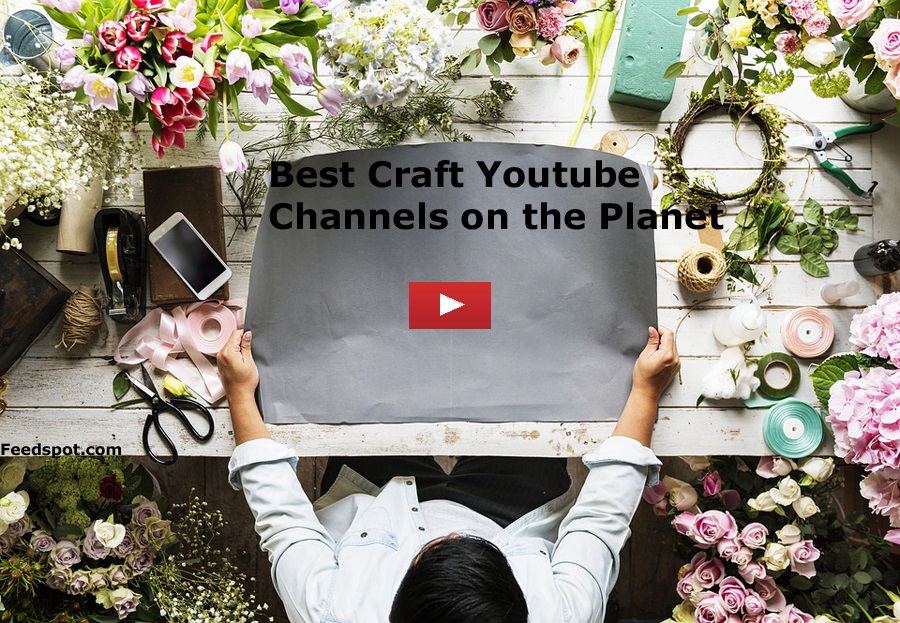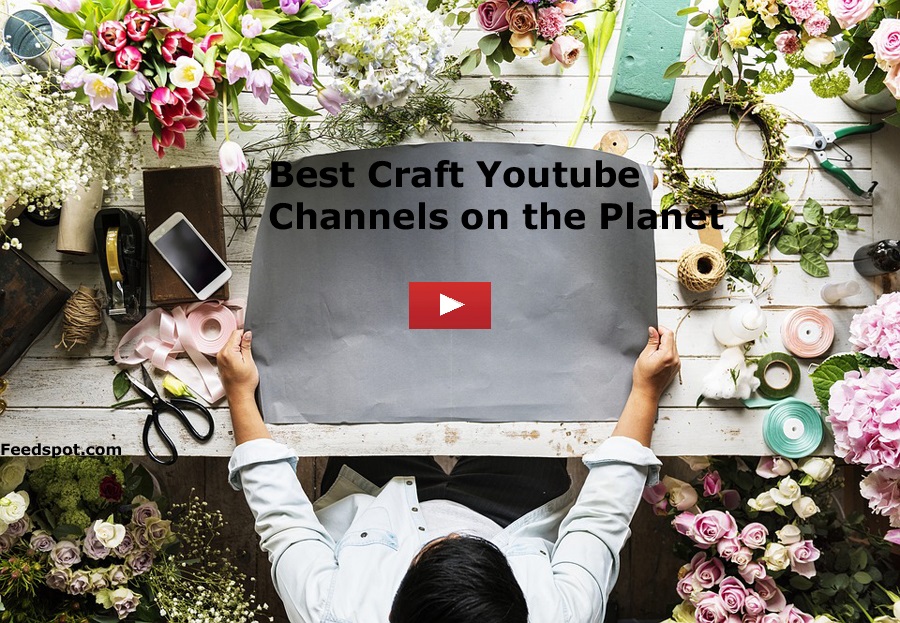 Craft Youtube Channels List
Craft is an activity involving skill in making things by hand. Also a craft or trade is a pastime or a profession that requires particular skills and knowledge of skilled work.
These are the Best Craft Youtube Channels from thousands of top Craft Youtube Channels in our index using search and social metrics. Data will be refreshed once a week.
Follow these channels to keep up with the latest videos relating to Craft.
These Youtube Channels are ranked based on following criteria
Total youtube channels subscribers, video views, and video uploads
Quality and consistency of videos

Youtube search ranking

Feedspot editorial team' objective and subjective review
Top 100 Craft Youtube Channels Winners
CONGRATULATIONS to every youtuber that has made this Top Craft Youtube Channels list! This is the most comprehensive list of best Craft Youtube Channels on the internet and I'm honoured to have you as part of this! I personally give you a high-five and want to thank you for your contribution to this world.
If your youtube channel is one of the Top 100 Craft Youtube Channels, you have the honour of displaying the following badge on your site. Use the below code to display this badge proudly on your blog. You deserve it!:
Download Badge high resolution image

Learn how to add badge on your blog
Top Craft Youtube Channels
Rank

Channel Name

Youtube Followers

Views Count

Video Count

1

Simple Kids Crafts - Dollhouse and Miniature Crafts | Youtube+ Follow

youtube.com/user/simplekidsc..

NYC, New York, United States

About Channel - Simple Kids Crafts is a video blog dedicated to making easy, educational recycled crafts for people of all ages. Here we share Dollhouse and Miniature Crafts, General DIY and Doll Crafts. Our blog features crafts made out of recycled and Eco-friendly materials, as well as paper, cardboard, fabric etc.
Frequency - about 2 videos per week
Since - Dec 2008

311,140
85,318,495
548
2

Innova Crafts+ Follow

youtube.com/user/InnovaCraft..

About Channel - DIY crafts channel: Here you will find very easy diy and crafts.
Frequency - about 2 videos per month
Since - Jun 2014

651,338
91,759,247
79
3

Isa's World+ Follow

youtube.com/channel/UCNkz..

España

About Channel - My name is Isa. There are original ideas doing arts and crafts with recycled products ... but all in an easy and fun way.
Frequency - about 2 videos per week
Since - Apr 2015

384,711
38,745,642
146
4

Jo Nakashima - Origami Tutorials | Youtube+ Follow

youtube.com/user/jonakashima

Brazil

About Channel - Origami tutorials by Jo Nakashima. Learn how to make awesome origami models, from simple to complex!
Frequency - about 1 video per week
Since - Jun 2006

1,151,417
252,498,213
440
5

Lia Griffith+ Follow

youtube.com/user/Liagriffith..

Portland, OR

About Channel - Video tutorials of handcrafted projects from paper flowers, to sewing projects to making your own rugs, pillows and home decor.
Frequency - about 2 videos per week
Since - Aug 2012

40,901
4,898,854
172
6

aPasos Crafts DIY+ Follow

youtube.com/channel/UCe0C..

Spain

About Channel - Welcome to your favorite craft channel with highest creativity. You can find all kind of DIY and tutorials step by step of your hobby. Things like fofuchas, Hand Crafts, Decoupage, Patchwork, Card Making, Recycling, Home Deco, Gifts, Celebrations. Do it Yourself!
Frequency - about 2 videos per week
Since - Oct 2016

127,441
11,136,712
35
7

Ana - DIY Crafts+ Follow

youtube.com/user/anadiycraft..

About Channel - Hello everyone! welcome to my channel! ♡ my name is Ana! I make easy D.I.Y crafts tutorials.. You'll find a wide variety of projects on my channel - there's something for everyone. Enjoy
Frequency - about 4 videos per month
Since - Jun 2014

113,528
14,815,439
169
8

DIY Paper Crafts - Giulia's Art+ Follow

youtube.com/user/estoreroman..

United Kingdom

About Channel - Learn Amazing Crafts - Paper Crafts, Valentine Crafts, Easter Crafts, Origami, Quilling, Crafts for Kids, Craft Projects, Home Decor Crafts, Paper Flowers, Christmas Crafts, New Year Cards, Valentine's Day Cards, Scrapbooks, Greeting Cards, Mother's Day Cards, Father's Day Cards, Pop-up Cards, Exploding boxes, Handmade Photo Albums, Gift Boxes and Packing, etc.
Frequency - about 2 videos per month
Since - May 2014

109,776
10,960,895
79
9

Lorien's Craft Box+ Follow

youtube.com/user/atelierlori..

Japan

About Channel - My name's Abi and I am a big fan of sweets deco and miniatures. It is my dream to one day make perfect 1/12 scale miniatures. I like to work with clay, resin, paper, wood, and many other mediums. This channel is a mix of everything I like. I hope you'll find something you like!
Frequency - about 1 video per month
Since - Mar 2012

53,327
4,594,300
188
10

Interweave Craft+ Follow

youtube.com/user/InterweaveV..

Ft Collins, CO; PA; MA; & NYC

About Channel - One of the largest art and craft companies, we love DIY projects and making alongside art and craft enthusiasts.
Frequency - about 3 videos per month
Since - Feb 2008

84,196
21,398,271
1,516
11

FaveCrafts+ Follow

youtube.com/user/FaveCraftsV..

Chicago, IL

About Channel - Welcome to the FaveCrafts channel where we have 1000's of free craft projects, home decor ideas and DIY tips. We are alway adding new projects and tips. Some of our favorites include Christmas Crafts, Free Knitting Patterns, Free Crochet Patterns and Crafting with Kids. You will find step-by-step instructions, videos and patterns to make it quick and easy.
Frequency - about 1 video per week
Since - Feb 2010

58,613
13,400,457
840
12

Craftsy+ Follow

youtube.com/user/becraftsy/v..

United States

About Channel - The Craftsy YouTube channel, where we share inspiring ideas and a-ha tricks from industry pros and everyday makers like you. No matter your passion, we're your destination to learn something new, master a trendy design or just become more confident in your skills.
Frequency - about 1 video per week
Since - Jul 2011

314,288
22,591,463
515
13

Shagufta Fyms+ Follow

youtube.com/user/FymsEmbroid..

About Channel - Welcome to my channel! I create beautiful embroidery designs & tutorials. I make embroidery fun and easy through my videos! Hope you all like!
Frequency - about 2 videos per week
Since - Oct 2013

279,362
56,200,218
328
14

Artkala - World of innovation+ Follow

youtube.com/channel/UCbP0..

Patna, India

About Channel - This channel is all about DIY, lifehack, tutorials, nail art and other awesome ideas that pop on my mind.We always strive to upload the best quality content on our channel. The best part of our channel is that we transform the old and useless waste materials into a new creative and daily need usefull material and we upload a new video everyday. Every DIY tutorial is very easy and simple to follow.
Frequency - about 5 videos per week
Since - Sep 2016

470,443
72,496,831
338
15

Paper Quilling Art - Youtube+ Follow

youtube.com/channel/UCwq0..

Hyderabad, India

About Channel - Raghuvaran uploads attractive quilling designs on his youtube channel. Subscribe to this channel for learning technics of quilling and quilling art.
Frequency - about 1 video per week
Since - Jan 2015

83,483
14,696,142
375
16

Create & Craft TV+ Follow

youtube.com/user/CreateandCr..

UK

About Channel - Learn & shop with Create and Craft, the UK's number one live TV Craft channel. Tune in for live demonstrations plus tips and techniques from the experts!
Frequency - about 12 videos per week
Since - Mar 2014

27,309
2,971,936
978
17

FRISHTA - DIY CRAFT+ Follow

youtube.com/channel/UCrBI..

About Channel - DIY handmade, home decor, room decor videos.
Frequency - about 2 videos per week
Since - Dec 2014

21,254
3,282,293
107
18

Abbi Kirsten Gillespie+ Follow

youtube.com/channel/UCpex..

About Channel - I create tutorials for Paper crafting.
Frequency - about 4 videos per month
Since - Oct 2015

12,977
1,495,829
98
19

Paper Folds - Origami & Crafts ! | Youtube+ Follow

youtube.com/channel/UCaoR..

Bangalore

About Channel - Origami & Paper craft demos made very easy to learn!

Frequency - about 5 videos per week
Since - Feb 2015

182,780
30,187,833
831
20

Stitch and Flower+ Follow

youtube.com/channel/UCnub..

About Channel - Want to learn hand embroidery? Who has the time? You do. I know, I know, it sounds painstaking, time-consuming and intimidating. You can learn to embroidery. I say so. This is a deceptively simple craft. Embroidery is easy, relaxing, and one of the least expensive hobbies you can take up. YOU CAN DO THIS.
Frequency - about 1 video per week
Since - Jul 2016

134,982
20,021,308
172
21

Srushti Patil - Youtube+ Follow

youtube.com/channel/UCSyS..

Mumbai, India

About Channel - Where craft unfolds... This is one of the most popular Youtube channel on Card Making. Follow this channel to find step by step video tutorials on cardmaking.
Frequency - about 3 videos per month
Since - Jun 2013

321,882
47,928,709
102
22

Arte y Salud en Casa + Follow

youtube.com/channel/UCBJp..

United States

About Channel - Arte y Salud en Casa means art and health from home. Here, you will find easy DIY´s, crafts using easy to find supplies and much more.
Frequency - about 2 videos per week
Since - Jul 2015

279,981
31,140,139
119
23

Cristhian Crafts+ Follow

youtube.com/user/CristhianCr..

Salta, Argentina

About Channel - Welcome to this great family of Crafters! My name is Cristhian and I will help you make your favorite characters! In the channel you will find Tutorials in Plasticine and Cold Porcelain, you will also find key chains, pens and even drawings
Frequency - about 2 videos per month
Since - Jun 2014

246,265
49,580,676
332
24

Maymay Made It Crafts+ Follow

youtube.com/user/MayMayMadeI..

About Channel - Blogger, crafter and all around paper addict!! I love crafting and making tutorials for you!!
Frequency - about 6 videos per week
Since - Sep 2011

130,019
15,767,618
1,186
25

Minakshi Biswas+ Follow

youtube.com/channel/UCp3Q..

About Channel - Hi, I am Minakshi Biswas. I am a housewife from India. I make DIY videos in my spare time. Hope you like them.
Frequency - about 2 videos per week
Since - Aug 2012

108,500
13,943,518
89
26

Kraft Story+ Follow

youtube.com/channel/UCsR9..

About Channel - This channel is an Innovative way to share our own creativity and happiness with others.
Frequency - about 2 videos per week
Since - Mar 2017

100,014
14,013,309
50
27

DIY Crafts TV+ Follow

youtube.com/channel/UCv7t..

About Channel - Only FRESH OWN DIY Crafts: Room decor, Desk organization, Gifts Tutorials, DIY Bags & Backpacks, Home DIY Crafts, Clothes Recycle Tutorials, School DIYs and other. New video every 5 days. Here you will find really interesting and usefull DIY Ideas.

Frequency - about 2 videos per week
Since - Sep 2015

99,006
14,492,937
197
28

Pearl's Crafts+ Follow

youtube.com/channel/UC01g..

About Channel - Hi everyone! Welcome to my small craft corner where I show you some of my favorite crafts. Right now I am focused on making paper flowers and tutorials. I upload twice a week (Tuesdays and Thursdays) and sometimes I do bonus videos on Saturday.
Frequency - about 1 video per week
Since - Mar 2017

96,078
6,355,197
51
29

Recycled Bottles Crafts - Youtube+ Follow

youtube.com/user/recycledbot..

Richmond, British Columbia

About Channel - Recycled Bottles Crafts is a part of big diy crafts project. Here you'll find wonderful diy crafts ideas which you can make out of plastic bottles, cups, containers and so on. Use these ideas for your school projects, for home or garden decoration, for fun and soul.
Frequency - about 1 video per week
Since - Feb 2014

94,921
24,605,367
227
30

DIY-Paper Crafts+ Follow

youtube.com/channel/UCvSc..

About Channel - DIY-Paper Crafts is channel that show you how make some art and crafts from crepe paper, tissue paper and origami paper.
Frequency - about 2 videos per week
Since - May 2016

87,661
20,659,047
256
31

Idea Of The Day | Youtube+ Follow

youtube.com/channel/UC-CX..

About Channel - Find DIY, how to make greeting cards, card making ideas, tutorials, paper crafts, origami, paper folding, handmade, scrapbook, crafts ideas, arts, gift ideas all this and more on the channel Idea Of The Day.
Frequency - about 4 videos per month
Since - Jan 2016

84,426
13,642,277
85
32

Skymagenta Craft+ Follow

youtube.com/channel/UCXLS..

About Channel - Hello there! Crafting is my greatest passion of all. I will be sharing a kinds of craft tutorial here in my channel.
Frequency - about 2 videos per week
Since - Oct 2011

72,688
11,520,313
165
33