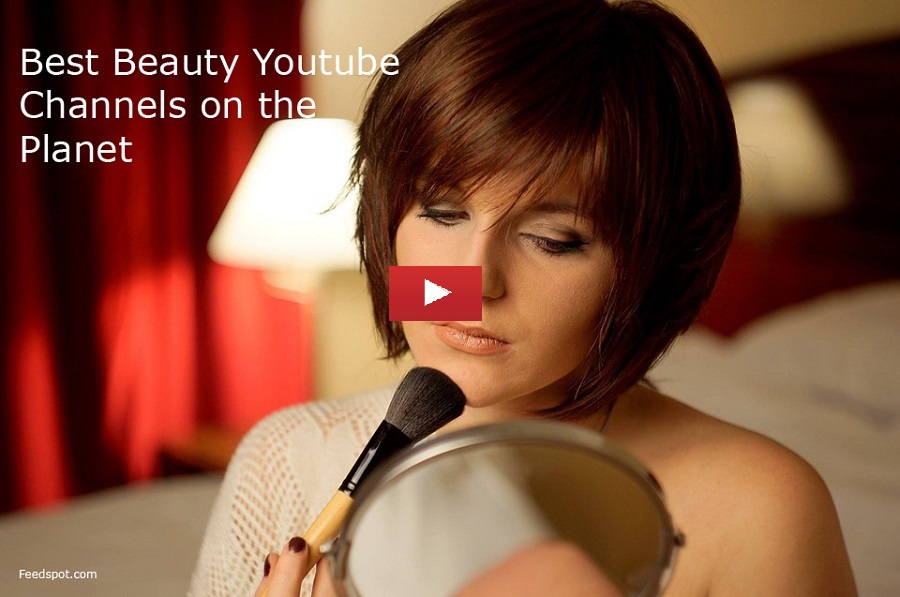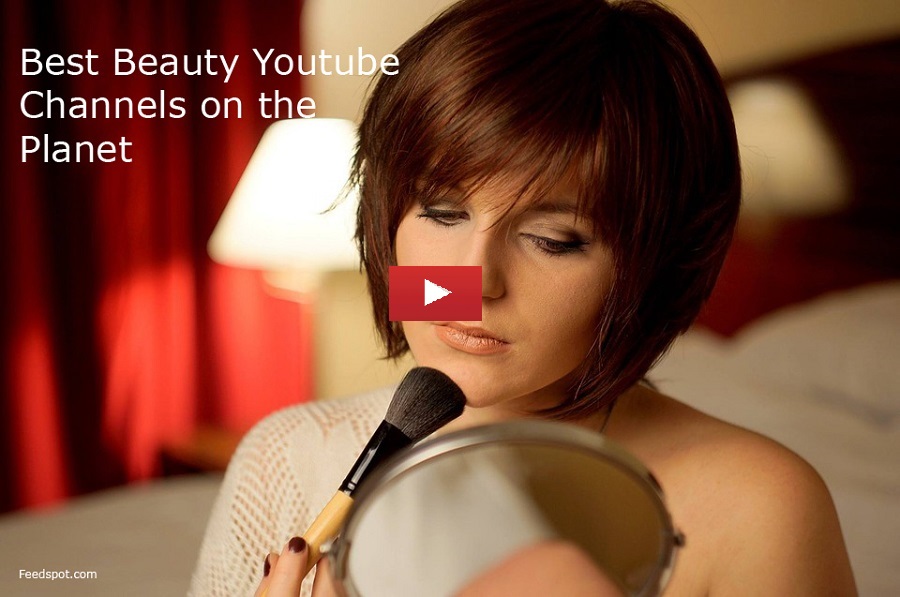 Beauty Youtube Channels List
Beauty is a characteristic of a person that provides a perceptual experience of pleasure or satisfaction.
The Best Beauty Youtube Channels selected from thousands of Beauty channels on youtube and ranked based on youtube channel subscribers and popularity. Data will be refreshed once a week.
Follow these channels to keep up with the latest videos relating to Beauty.
These Youtube Channels are ranked based on following criteria
Total youtube channels subscribers, video views, and video uploads
Quality and consistency of videos

Youtube search ranking

Feedspot editorial team' objective and subjective review
Top 100 Beauty Youtube Channels Winners
CONGRATULATIONS to every user that has made this Top Beauty Youtube Channels list! This is the most comprehensive list of best Beauty Youtube Channels on the internet and I'm honoured to have you as part of this! I personally give you a high-five and want to thank you for your contribution to this world.
If your Youtube Channel is one of the Top 100 Beauty Youtube Channels, you have the honour of displaying the following badge on your site. Use the below code to display this badge proudly on your blog. You deserve it!:
Download Badge high resolution image

Learn how to add badge on your blog
Top Beauty Youtube Channels
Rank

Channel Name

Youtube Followers

Views Count

Video Count

1

Nikkie Tutorials+ Follow

youtube.com/user/NikkieTutor..

Netherlands

About Channel
Frequency - about 1 video per week

7,834,301
636,629,310
633
2

Tati - GlamLife Guru+ Follow

youtube.com/user/GlamLifeGur..

Los Angeles, CA

About Channel - I'M TOTALLY ADDICTED TO MAKEUP and upload unbiased Product Reviews, Tips, Hauls and Tutorial videos on Drugstore & Luxury Beauty Products.
Frequency - about 5 videos per week

3,310,085
640,303,471
1,191
3

Shaaanxo+ Follow

youtube.com/user/shaaanxo/vi..

New Zealand

About Channel - I teach you about makeup, fashion and more through my YouTube channel. Enjoy all of my beauty and fashion related videos!
Frequency - about 2 videos per week

3,065,554
346,998,544
1,171
4

Goss makeupartist - Makeup Artist, Brush Guru+ Follow

youtube.com/user/gossmakeupa..

Cardiff

About Channel - Love makeup? Want to improve your makeup skills? Interested in becoming a makeup artist? Or just want honest reviews on the brands you most love. Then welcome to my channel. With 15 years makeup experience i want to share with you everything i've learned. By breaking things down into simple, easy manageable segments, even the most complicated looks become easy.
Frequency - about 2 videos per week

3,039,027
397,415,726
1,109
5

Manny Mua+ Follow

youtube.com/user/MannyMua733..

United States

About Channel - This beauty channel is where I teach tutorials, create favorites videos, tags, shenanigans that go on in my life, etc. I hope you guys can join me in this crazy adventure that is Youtube and the beauty world. I am constantly learning and growing with you guys! Honestly I believe that men can wear makeup, teach makeup, and vlog about it just as much as girls can!
Frequency - about 2 videos per week

3,661,914
225,960,680
263
6

Jeffreestar+ Follow

youtube.com/user/jeffreestar..

Calabasas, CA

About Channel - Jeffree Star is an American singer-songwriter, make-up artist, fashion designer and model from Orange County, California.
Frequency - about 2 videos per week

5,455,804
636,044,486
227
7

Lauren Curtis + Follow

youtube.com/user/laurenbeaut..

Australia

About Channel - This channel is centred around all things beauty - from makeup and hair tutorials to product reviews and hauls - I've got everything covered!
Frequency - about 1 video per week

3,649,116
289,626,378
310
8

Cassandra Bankson+ Follow

youtube.com/user/DiamondsAnd..

San Francisco, CA

About Channel - Model. Student. Beauty Writer. Vegan. Makeup Addict. Crazy Cat Lady. Friday Night Nerd. Undercover Mermaid & Online Media Personality. I'm a 21 Year Old San Fran girl who has a passion for helping others live beautifully inside and out!!
Frequency - about 2 videos per week

807,403
129,624,176
1,044
9

Carli Bybel+ Follow

youtube.com/user/CarliBel55/..

New Jersey

About Channel - To help every girl feel beautiful from the inside out! Also, I'd love for girls to get involved in my page and leave me feedback! I'm always looking for new requests for tutorials.
Frequency - about 4 videos per month

5,614,972
517,979,360
463
10

Jaclyn Hill+ Follow

youtube.com/user/Jaclynhill1..

United States

About Channel - I am a professional makeup artist. I'm young, ambitious & full of life. I post makeup tutorials and makeup reviews on all different holidays and themes, like smokey eye tutorials, how to shape and sculpt brow tutorials, challenges/tags, celebrity makeup tutorials like the Kardashians and Jenners along with other celebrity makeup looks, hair tutorials and more! I hope you love my makeup tutorials.
Frequency - about 4 videos per month

4,522,988
372,449,846
299
11

Kandee Johnson+ Follow

youtube.com/user/kandeejohns..

About Channel - My name is Kandee Johnson and welcome to the happiest channel on YouTube! Follow me on my creative adventure, through makeup transformations, beauty hacks and makeup tutorials, with some hair how-to's (for added sweetness).
Frequency - about 4 videos per month

3,906,472
430,895,516
622
12

Nicole Guerriero + Follow

youtube.com/user/nguerriero1..

Tampa, Florida

About Channel - Beauty & Lifestyle Vlogger on Youtube.
Frequency - about 1 video per week

2,848,539
301,784,728
570
13

Chloe Morello+ Follow

youtube.com/user/ChloeMorell..

Australia

About Channel - I love to upload videos weekly about makeup and fashion. It is about everything beauty, fashion and Chloe Morello
Frequency - about 1 video per week

2,312,761
217,836,922
421
14

ThatsHeart+ Follow

youtube.com/user/ThatsHeart/..

Los Angeles, CA

About Channel - ThatsHeart is a channel where she posts beauty product reviews, hair and make-up tutorials, and nail art.
Frequency - about 1 video per week

2,148,549
148,059,581
387
15

Huda Beauty + Follow

youtube.com/user/hudaheidik/..

Dubai, UAE

About Channel - My passion for Beauty started when I was 9 years old, mainly because I had eyebrows like Bert from Sesame Street and my sisters Mona & Alya started calling me Berta. Huda Beauty is a Beauty Blog that focuses on the latest Beauty Hacks, DIY's and Makeup Tutorials. I'd love to hear from you so please comment on my videos and stay in touch on my other social media channels.
Frequency - about 2 videos per month

1,989,135
118,085,860
302
16

Farah Dhukai+ Follow

youtube.com/user/farahdhukai..

Concord, ON, Canada

About Channel - Hi! Im Farah. I love makeup. Im low key a make up hoarder.. someone needs to call TLC on me. I also love to do cute things to my hair sometimes, and I mostly love taking things from my kitchen and using them as a DIY face, hair or body mask.
Frequency - about 1 video per month

1,886,407
118,761,657
197
17

Kaushal Beauty+ Follow

youtube.com/user/BeautyFulfi..

London

About Channel - I like to collect fabulous things and I like to wear lipstick.

Frequency - about 1 video per week

1,792,319
148,023,301
308
18

Jackie Aina+ Follow

youtube.com/user/lilpumpkinp..

Los Angeles, California

About Channel - Changing the standard of beauty, one video at a time
Frequency - about 2 videos per week

1,710,421
114,119,247
716
19

Lisa Eldridge - Pro Makeup Artist+ Follow

youtube.com/user/lisaeldridg..

London

About Channel - Mother and renowned professional make up artist working with many of the worlds top A-list celebrities, models, magazines and brands. I only feature products I like or want to try. The products I use in these videos are either purchased by me or sent to me by make up companies to use in my professional capacity as a make up artist for fashion and celebrity photo shoots, red carpet etc.
Frequency - about 2 videos per month

1,701,513
156,789,318
275
20

Casey Holmes+ Follow

youtube.com/user/itsbl0ndie/..

Georgia

About Channel - I'm Casey- Georgia girl- Makeup & Hair obsessed. If you like my videos, please subscribe so you don't miss out on any of them!
Frequency - about 2 videos per week

1,549,548
150,129,344
614
21

Marlena Stell - Makeup Geek+ Follow

youtube.com/user/MakeupGeekT..

Los Angeles, CA

About Channel - At Makeup Geek, we believe high quality, cruelty-free cosmetics should be fun and affordable. Makeup Geek is an online cosmetics company and beauty website staffed by a team of cosmetics aficionados with a passion for makeup education. The brand is committed to exceeding customer expectations, sharing useful beauty tips, and most importantly, supporting positive beauty messaging.
Frequency - about 3 videos per month

1,403,959
188,469,465
682
22

Bella Fiori+ Follow

youtube.com/channel/UCaez..

Brisbane, Queensland

About Channel - I am a cruelty free youtuber and I post a little bit of everything! Beauty videos, unsolved mysteries, vlogs, and I'm always open to suggestions!
Frequency - about 2 videos per week

1,389,459
76,465,519
223
23

Shani Grimmond+ Follow

youtube.com/user/itsshanigri..

Brisbane, Queensland

About Channel - I post new videos every 3-4 days and they are generally beauty related!
Frequency - about 2 videos per week

1,343,687
116,448,147
293
24

MakeUp By Camila2+ Follow

youtube.com/user/MakeUpByCam..

MA, USA

About Channel - Fashion and Beauty channel by blogger Camila Coelho.
Frequency - about 3 videos per month

1,106,005
71,988,372
247
25

My Pale Skin+ Follow

youtube.com/user/mypaleskinb..

London

About Channel - Welcome to My Pale Skin. I'm a Beauty Youtuber & Filmmaker. I'm a self taught London Based makeup lover who wants to share some of the tips and tricks that i've learnt over the past few years!
Frequency - about 1 video per week

1,052,783
73,289,445
175
26

Asian Beauty Secrets+ Follow

youtube.com/user/NTDHealt..

United States

About Channel - Welcome to Asian Beauty Secrets as we share amazing, interesting and sometimes unbelievable beauty tips and tricks to stay beautiful on the inside and out.
Frequency - about 3 videos per month

971,321
68,951,169
326
27

Shruti Arjun Anand+ Follow

youtube.com/user/shrutiarjun..

India

About Channel - Publishing MONDAY to FRIDAY on Fashion, Beauty, Skin Care, Hair Care, Makeup, Cosmetics, Reviews, Hair Style, Fitness, Lifestyle, Henna & Hauls.
Frequency - about 3 videos per week

924,677
167,896,332
630
28

SMLx0+ Follow

youtube.com/user/SMLx0/videos

NY

About Channel - Get makeup tutorials and product reviews from SMLx0. Watch videos on Youtube.
Frequency - about 2 videos per week

916,414
76,179,642
481
29

SunKissAlba - Organic Beauty and Non-Toxic Everything+ Follow

youtube.com/user/SunKissAlba..

New York

About Channel - I'm here to share my love for natural beauty and natural living, with easy to follow videos in hopes of making your life easier and healthier.
Frequency - about 2 videos per month

914,910
47,782,532
169
30

Sephora+ Follow

youtube.com/user/sephora/videos

U.S. & Canada

About Channel - Welcome to the official Sephora YouTube channel. Subscribe for beauty news, inspiration, and makeup tips from our PROs and brands. Browse hundreds of hair and makeup tutorials to learn how to create a range of looks—from everyday and natural to dramatic and smoky. Get the inside scoop on your favorite products and discover the latest innovations in beauty.
Frequency - about 7 videos per week

882,369
122,823,516
2,242
31

Melissa Samways+ Follow

youtube.com/user/melsamwaysm..

Rondonópolis, Brazil

About Channel - Melissa Samways is an Make Up Artist and Beauty Influencer.
Frequency - about 2 videos per week

846,649
99,501,414
267
32

Samantha Ravndahl+ Follow

youtube.com/user/BatALashBea..

Vancouver, British Columbia

About Channel - Samantha Ravndahl is a beauty vlogger.
Frequency - about 3 videos per month

746,664
36,588,434
210
33

Sona Gasparian + Follow

youtube.com/user/MakeupBySon..

Los Angeles

About Channel - Here you'll find all things Beauty, Skincare, Hair, Fashion and Lifestyle. My name is Sona Gasparian, I'm a professional makeup artist turned Beauty and Fashion blogger/vlogger based in sunny Los Angeles! For all my Beauty, Fashion and Lifestyle tutorials .
Frequency - about 2 videos per week

724,859
47,899,043
317
34