All papers today covered the trilateral meeting between the presidents of Iran, Russia, and Turkey in Tehran, which was held to discuss the latest developments in Syria, especially the upcoming operation to retake the militant-held Idlib province.
Many of the headlines today were dedicated to the results of the Tehran Summit as well as the meetings of Turkish President Recep Tayyip Erdogan and Russian President Vladimir Putin with Ayatollah Seyyed Ali Khamenei, the Leader of Iran's Islamic Revolution, and Iranian President Hassan Rouhani.
The following are some of the headlines and stories that appeared on the front pages of Saturday newspapers in Iran:
Arman-e Emrooz:
1- Man Who Hoarded Two Tonnes of Gold Coins to Be Prosecuted
2- Triangle of Syria Peace in Tehran
---
Ebtekar:
1- Tehran, Last Stop of Syria Crisis
---
Etemad:
1- We Fight for Peace: Iran-Russia-Turkey Summit Held in Tehran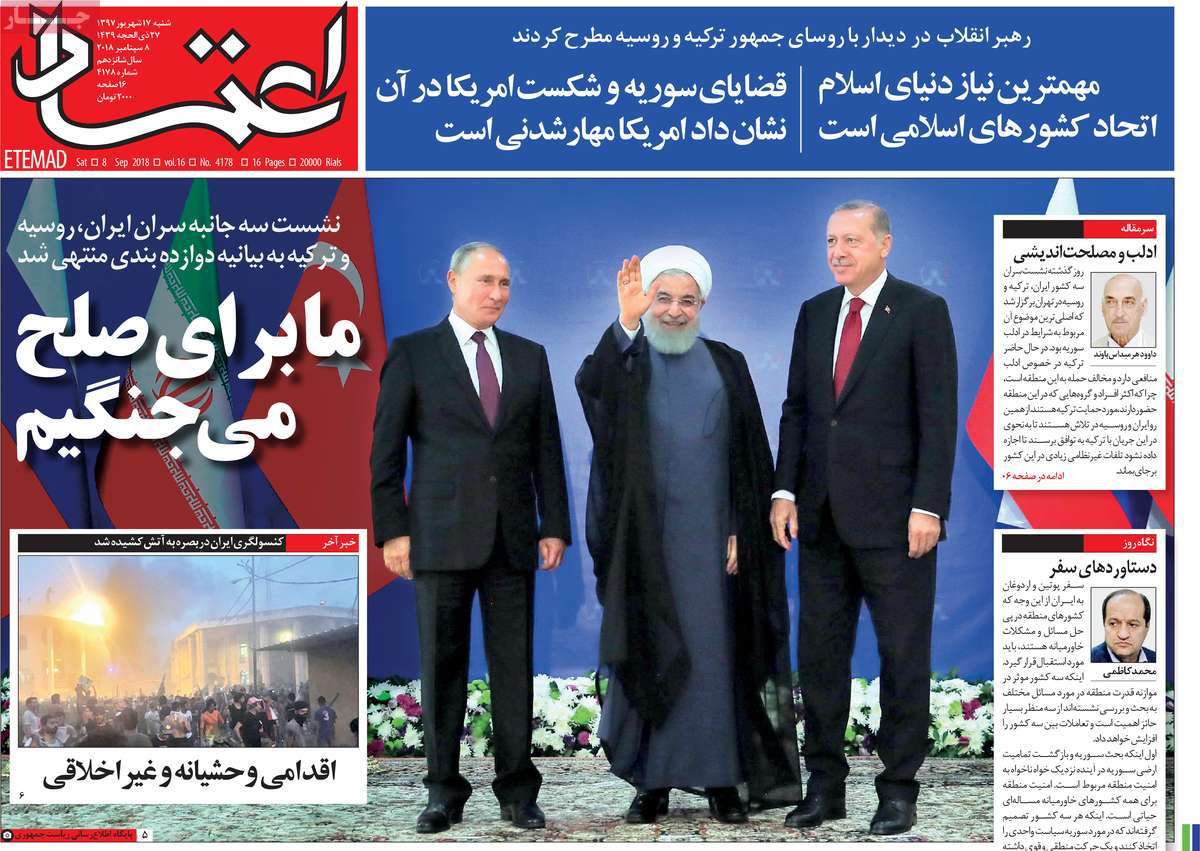 ---
Ettela'at:
1- Iran Leader: Solution to Problems Is Not Leaving Government Alone
2- Nasrallah: US, Israel Plot to Commit Genocide against Shiites Foiled
3- Terrorist Group in Syria Admits It Receives Money, Arms from Israel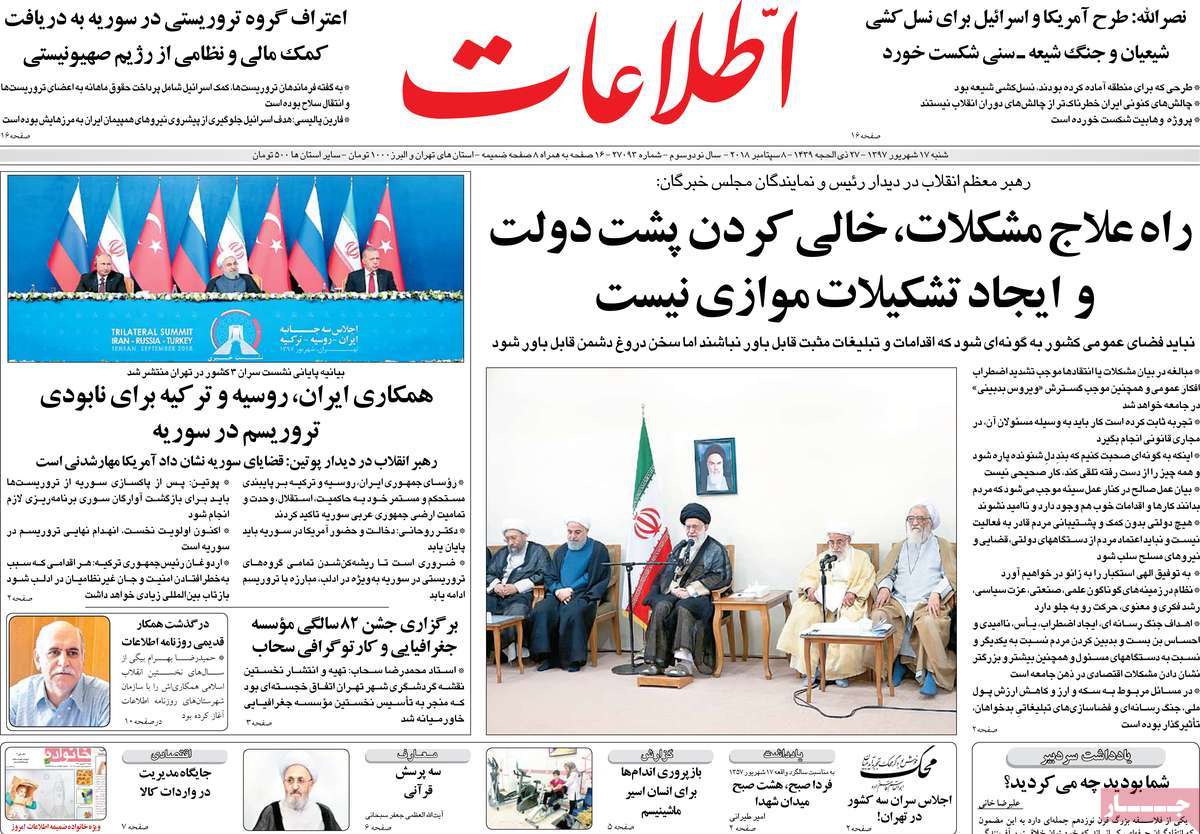 ---
Iran:
1- Quarrel for Peace
2- Tax on Producers to Be Decreased by 5%
---
Jame Jam:
1- Syria Wins 3-0
Tehran, Moscow, Ankara Hold Trilateral Meeting to Resolve Syria Crisis
2- Iran Leader to Putin: What Happened in Syria Showed US Not Invincible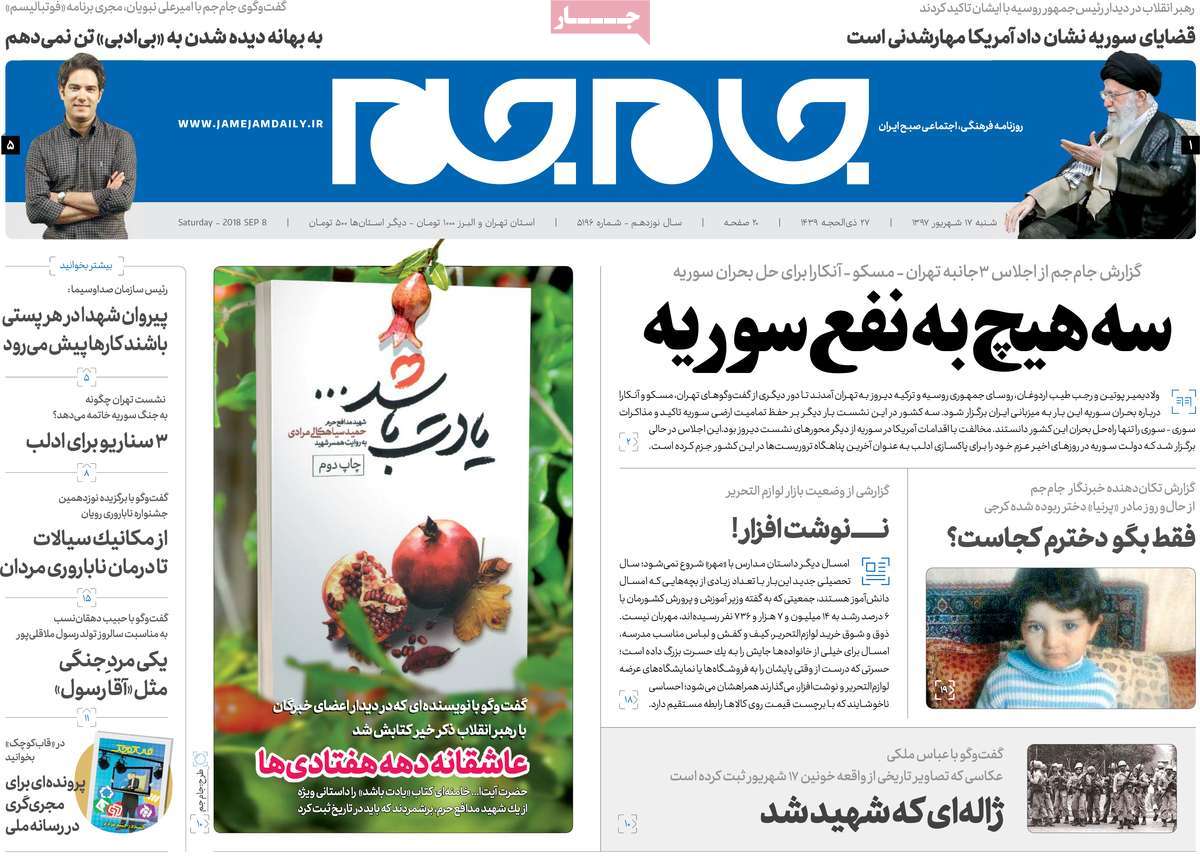 ---
Javan:
1- Sun of Peace in Levant Rises from the East
2- Zarif: Iran, Turkey, Russia Agreed to End Terrorism in Syria
3- Iran Leader to Putin: US Can Be Contained
4- Ayatollah Khamenei to Erdogan: US Concerned over Rise of Muslim Power
5- Trump Still Dreaming of Taking Photo with Iranian Officials
---
Kayhan:
1- Leader: Enemy's Media and Economic Wars Aimed at Making Iranians Disappointed
2- Resistance Group Formed in White House against Trump
---
Resalat:
1- Iran Leader Unveils US, Israel Media War against Tehran
2- US' Illegal Presence in Syria Must Be Stopped: Rouhani
---
Sazandegi:
1- Order to Retake Idlib Issued in Tehran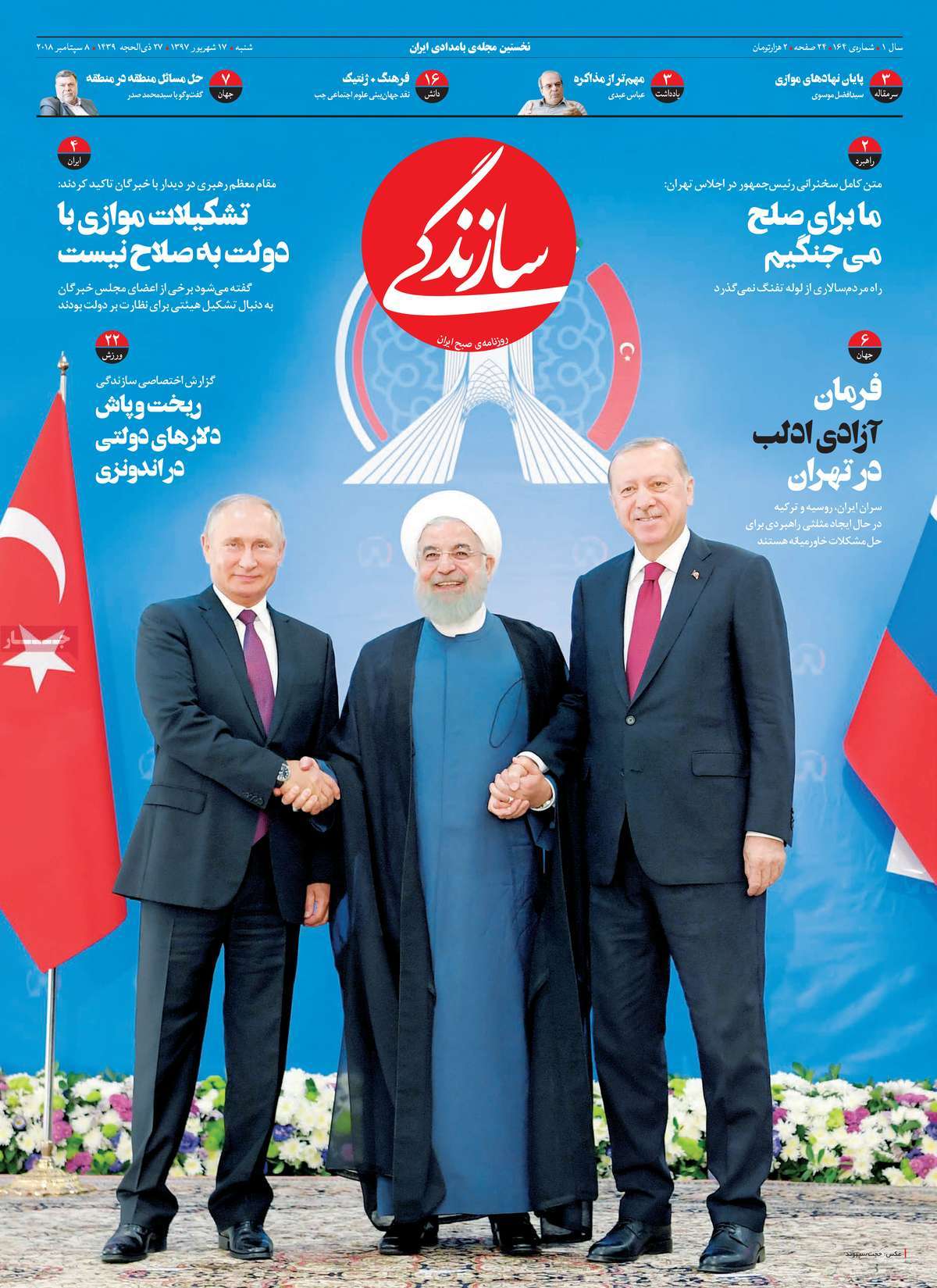 ---
Shargh:
1- Problem-Solving in Absence of US
Tehran Summit Underlines Need for Cleansing Idlib of Terrorists
The post Tehran Summit Grabs Headlines in Iran on September 8 appeared first on IFP News.