A top story in all papers today was the US Department of State's move to form the 'Iran Action Group' in a bid to coordinate its anti-Iran hostile policies.
Several papers also covered the death of renowned Iranian actor Ezzatollah Entezami who died on Friday at the age of 94.
The above issues, as well as many more, are highlighted in the following headlines and top stories:
Abrar:
1- German Railway Firm Stops Cooperation with Iran
2- US Says It's Open to Negotiation with Russia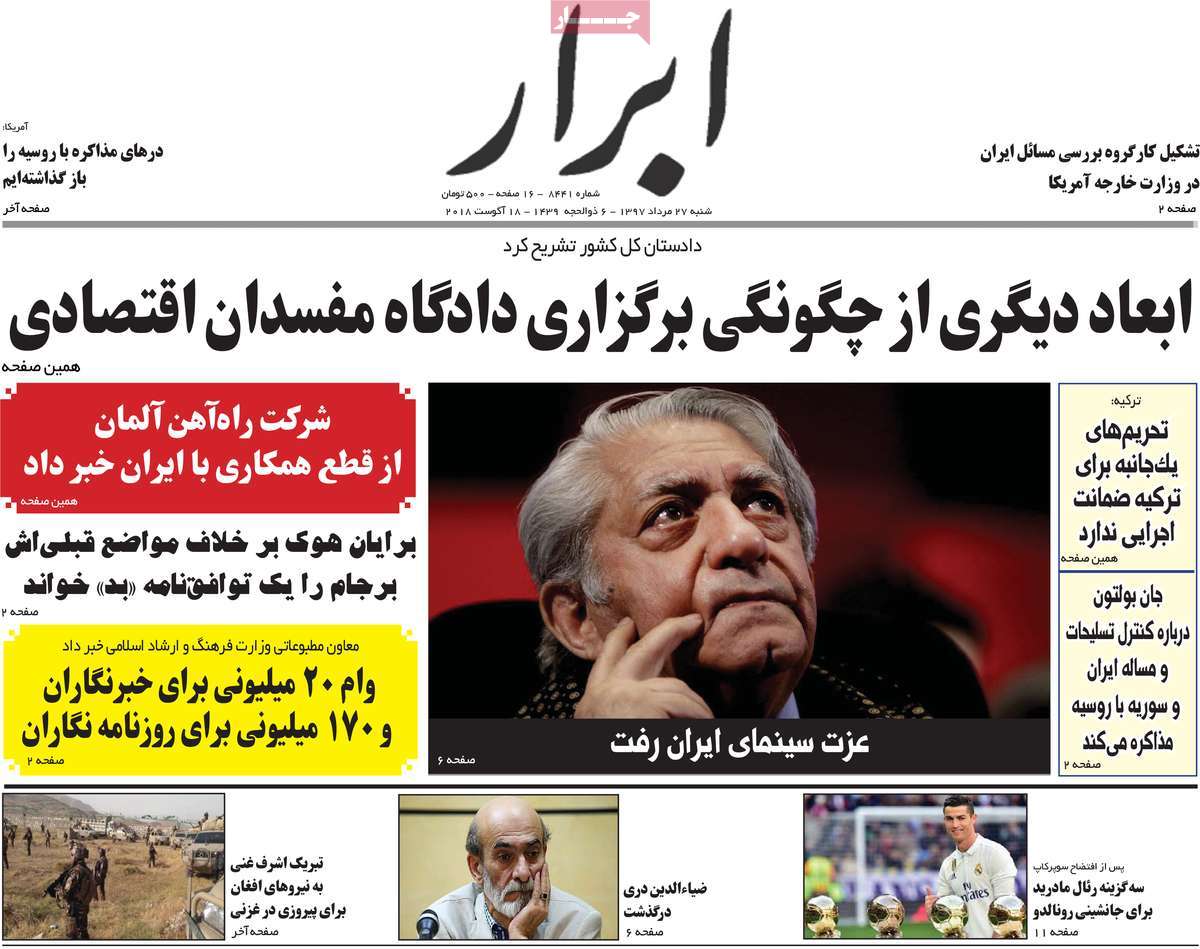 ---
Abrar-e Eqtesadi:
1- Iran Exports $6 Billion Worth of Goods to Europe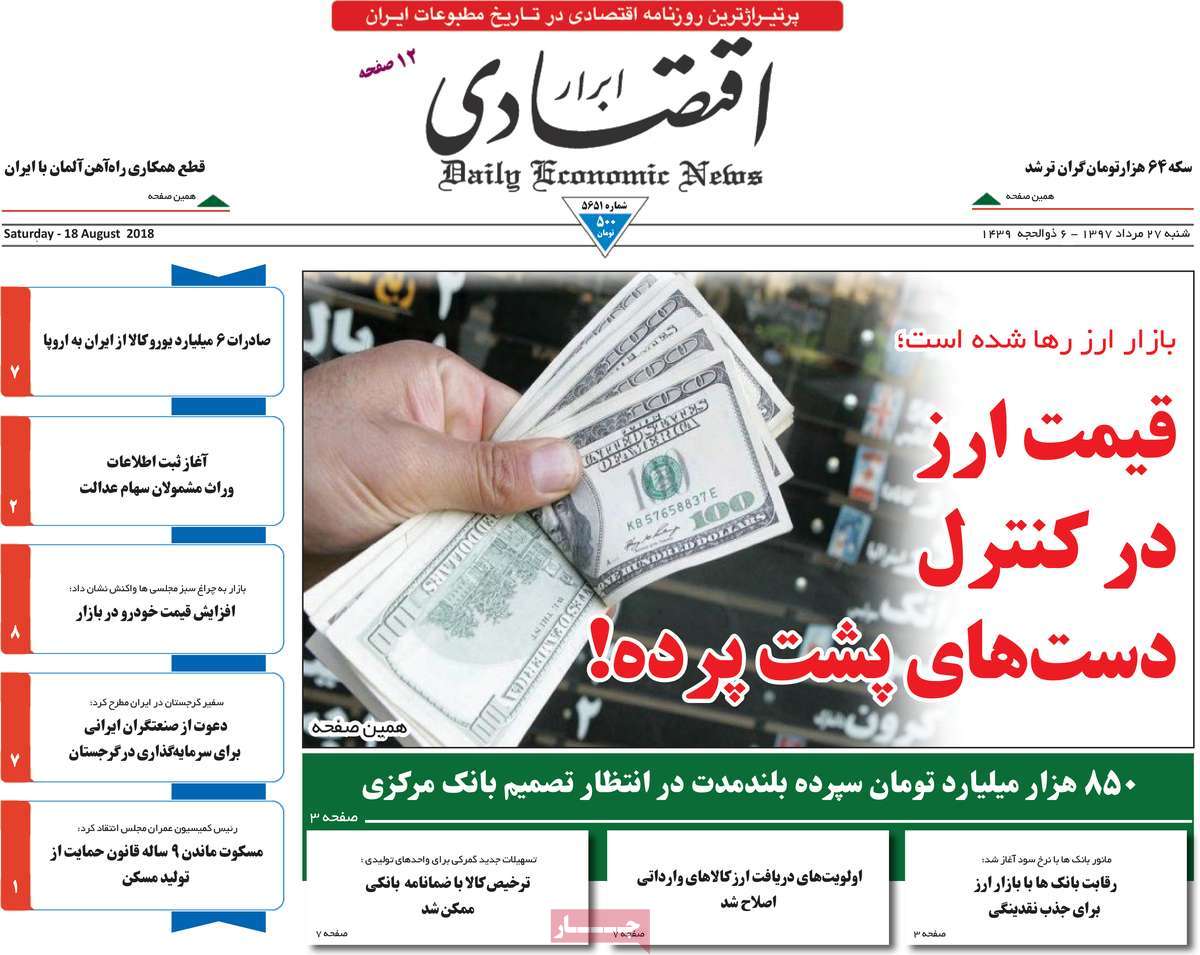 ---
Afkar:
1- Trump and Tsunami in International Relations
Impact of US Sanctions on Different Countries in the World
2- China No Longer Interested in US' Oil
---
Aftab-e Yazd:
1- Story of Joint Article by 350 American Journalists
2- Experience of EU's Support for Cuba against US Sanctions
3- Turkish Lira Recovers Its Value: Emir of Qatar Comes to Rescue of Turkey
---
Arman-e Emrooz:
1- Hoor al-Azim Lagoon Still on Fire
2- Fluctuations in Tehran Stock Exchange Market Not Normal
---
Ebtekar:
1- UN Trying to Convince Yemeni Sides to Attend Geneva Peace Talks
2- Once Again Dream of 'City of Bicycles': A Report on New Bike Plan in Tehran
3- Black Friday of Cinema: Renowned Actor Entezami, Filmmaker Dorri Pass Away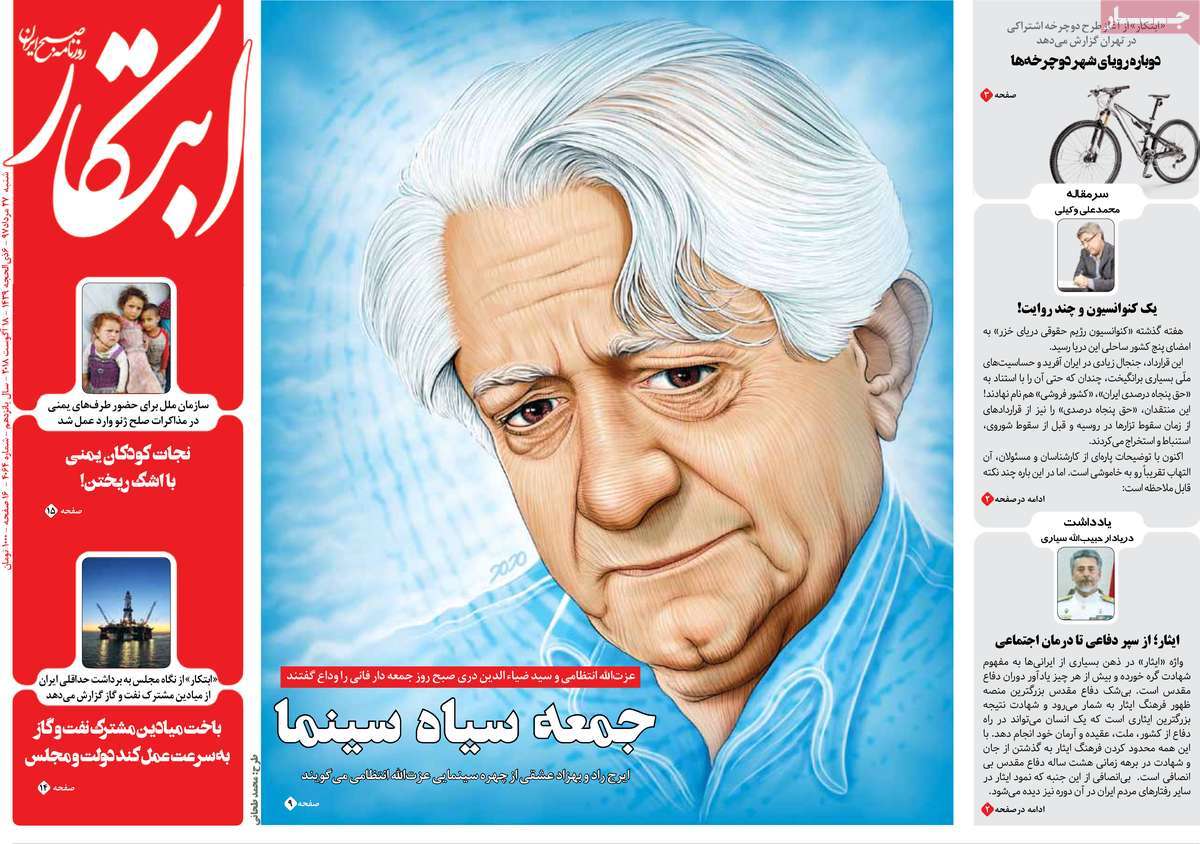 ---
Etemad:
1- Ezzatollah Entezami Dies at 94
2- US Creates 'Iran Action Group': End of US' Gesture of Negotiation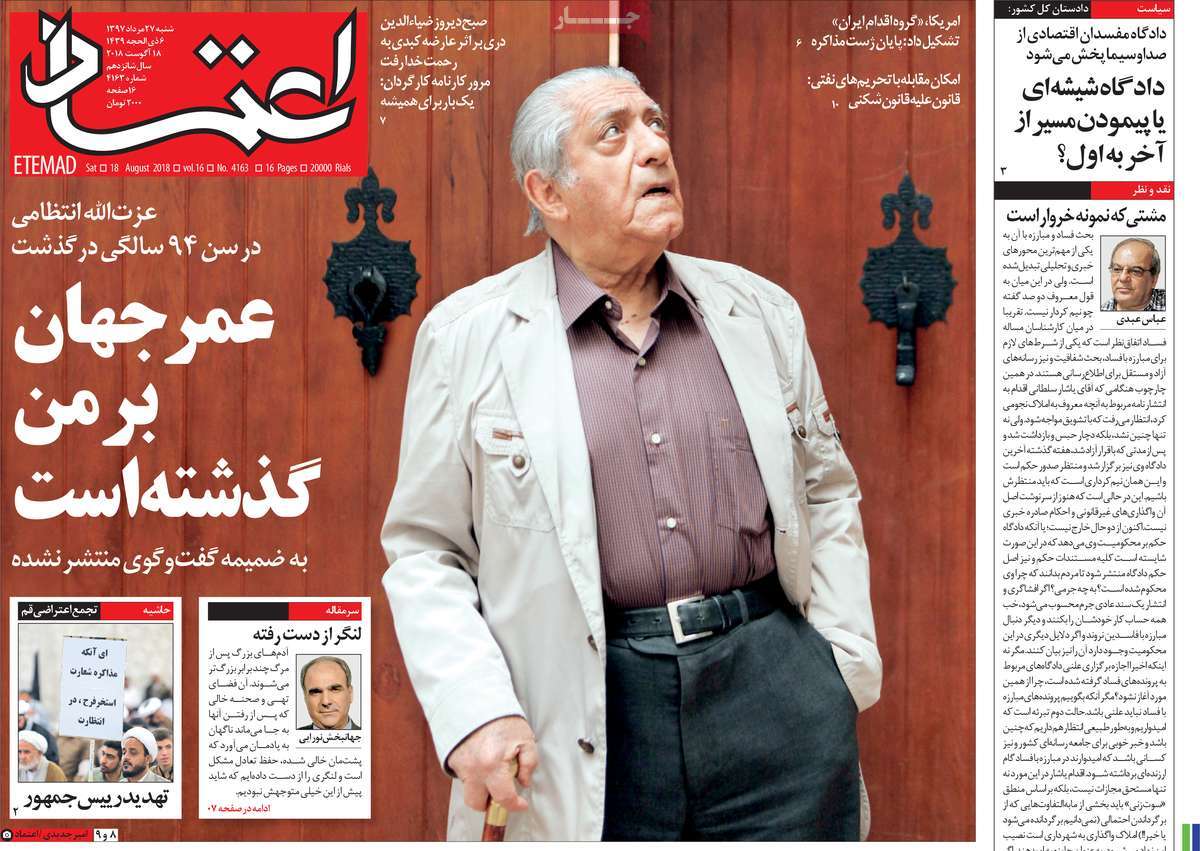 ---
Ettela'at:
1- Interest Rates Increase to Encourage People to Deposit Their Money
2- ICT Minister: No Cell Phone Smuggled into Iran Anymore
3- 350 Reputable American Journalists Attack Trump
4- Zarif: 20% of Caspian Sea's Resources Must Be Allocated to Iran
---
Hamshahri:
1- Reformist Analyst Talks of US, Russia Strategies towards Iran
US Trying to Implement USSR Pattern in Iran
Iran's Foreign Policy Needs Balance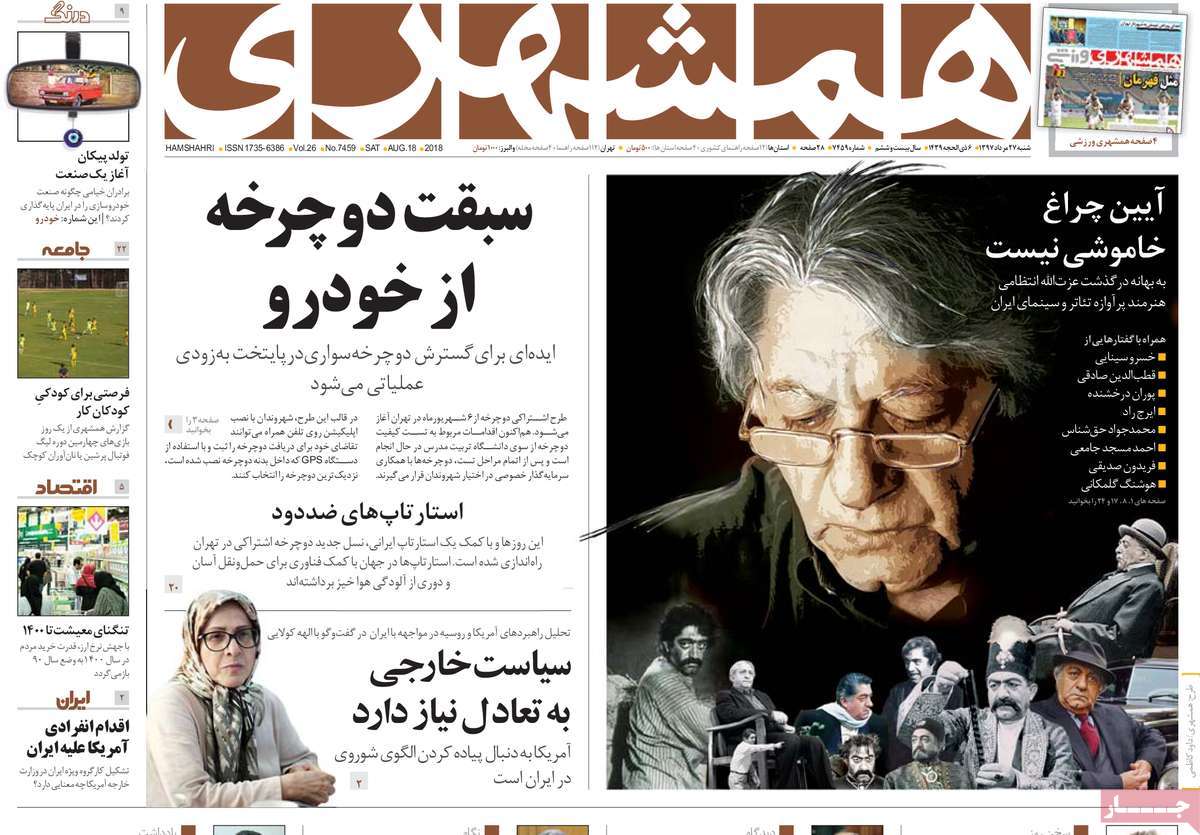 ---
Hemayat:
1- North Korean Leader Slams US' 'Brigandish' Sanctions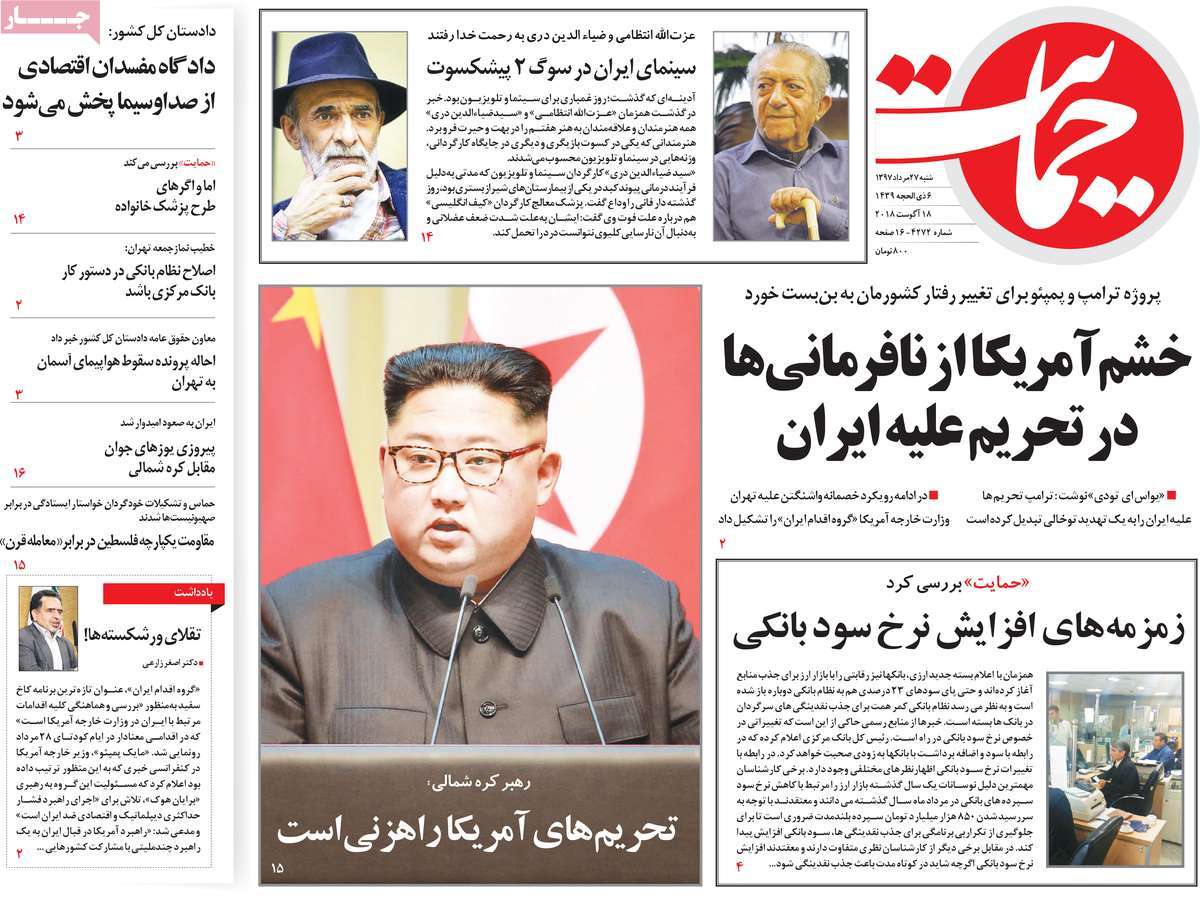 ---
Iran:
1- Iran's Trade with EU Increases ahead of Sanctions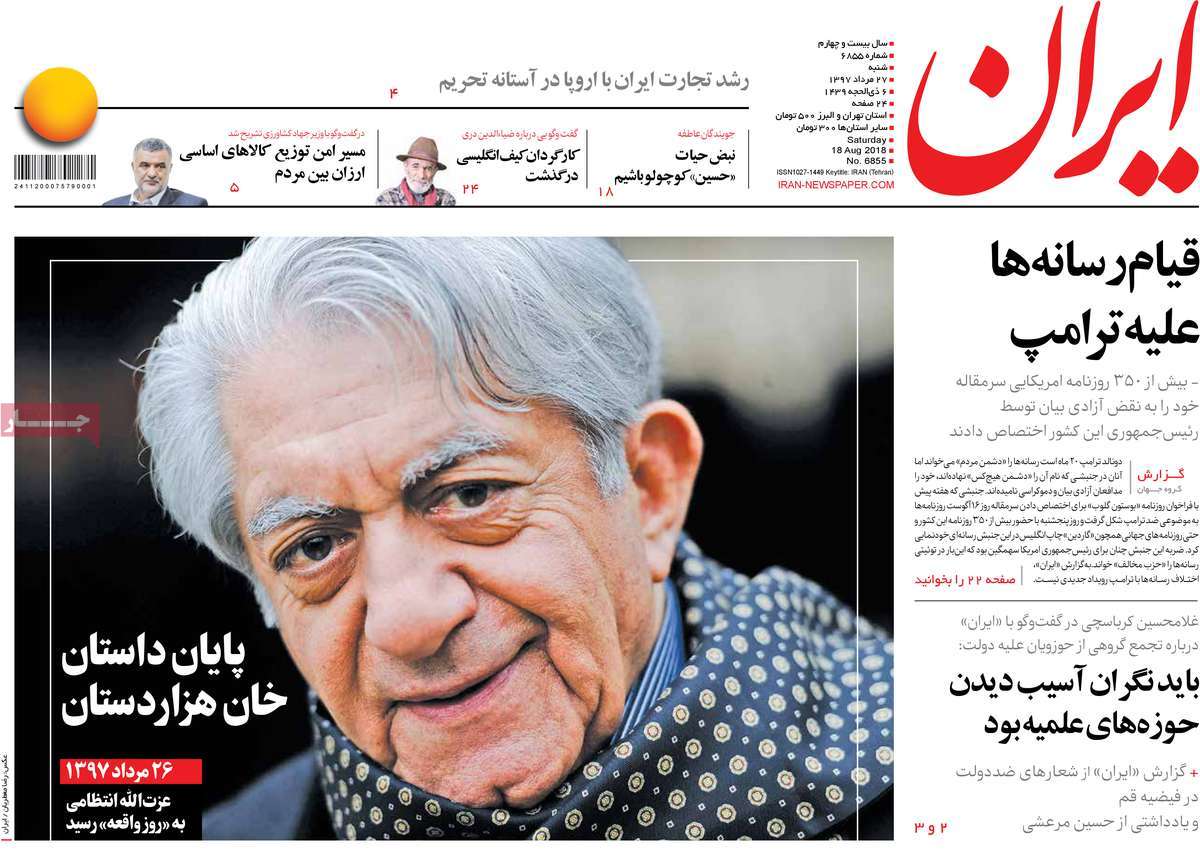 ---
Javan:
1- US' Second Chamber of Economic War against Iran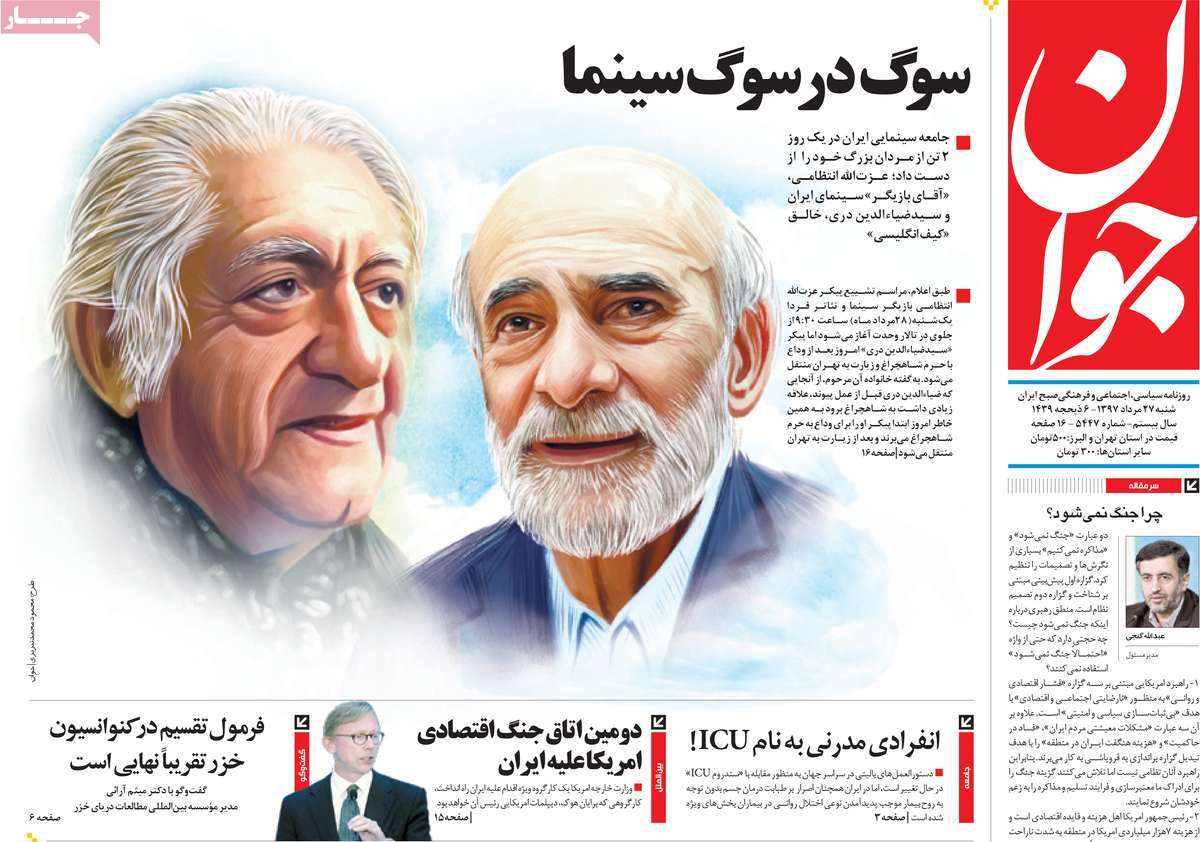 ---
Jomhouri Eslami:
1- 55 Int'l Legal Organizations Call for Probe into Saudi Crime in Sa'ada
2- Zarif's Response to Ambiguities Regarding Caspian Sea Convention
There's No Article in This Convention that Harms Iran's Territorial Integrity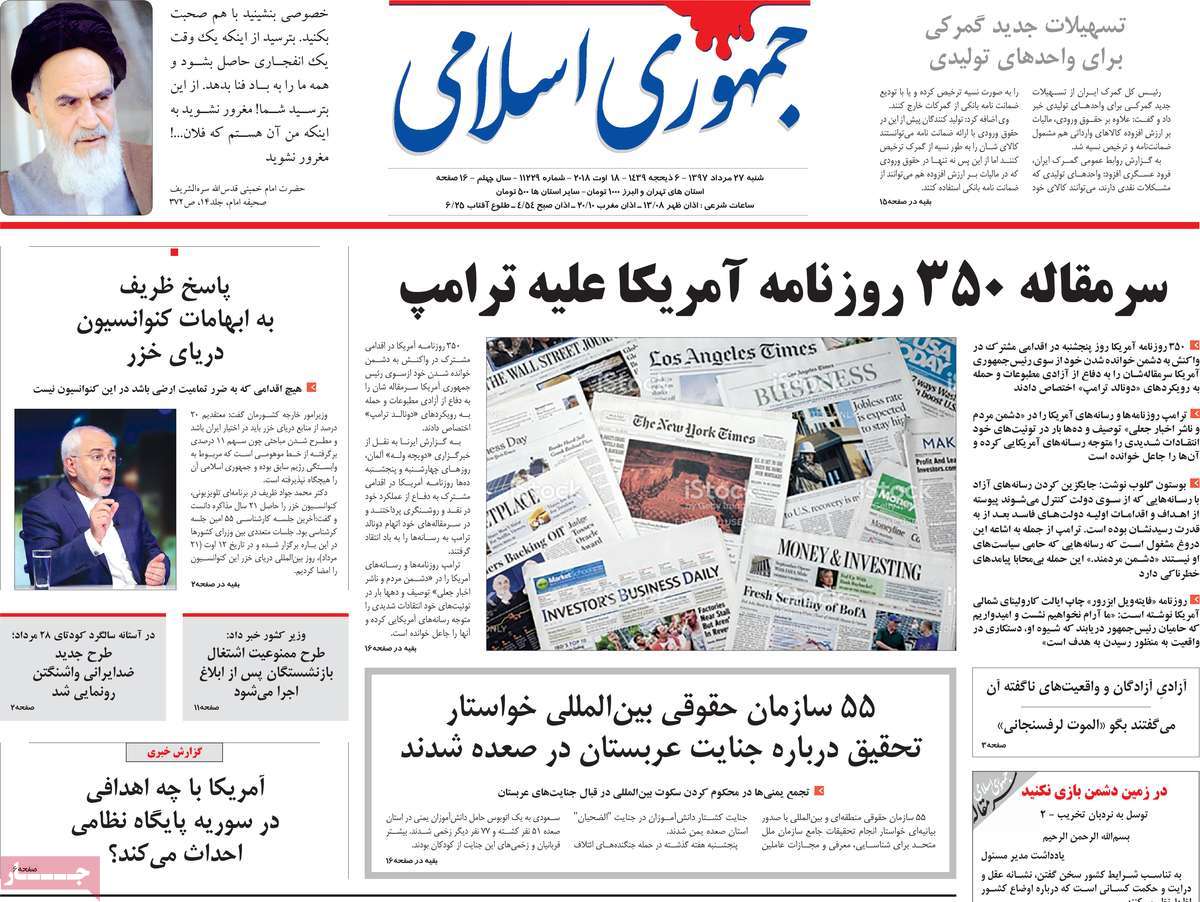 ---
Kayhan:
1- US' Reaction to Rouhani's Message of Inaction: Forming Iran Action Group
2- Tunisian People Prevent Israeli Ship from Entering Their Waters
---
Khorasan:
1- Prosecutor-General: State TV to Broadcast Court Sessions of Economic Corruption Cases
---
Sazandegi:
1- Iran's Economy in Crisis but Not on Verge of Collapse
---
Setareh Sobh:
1- Reuters Quoting American Official: Russia, US Reach Secret Deal on Iran's Withdrawal from Syria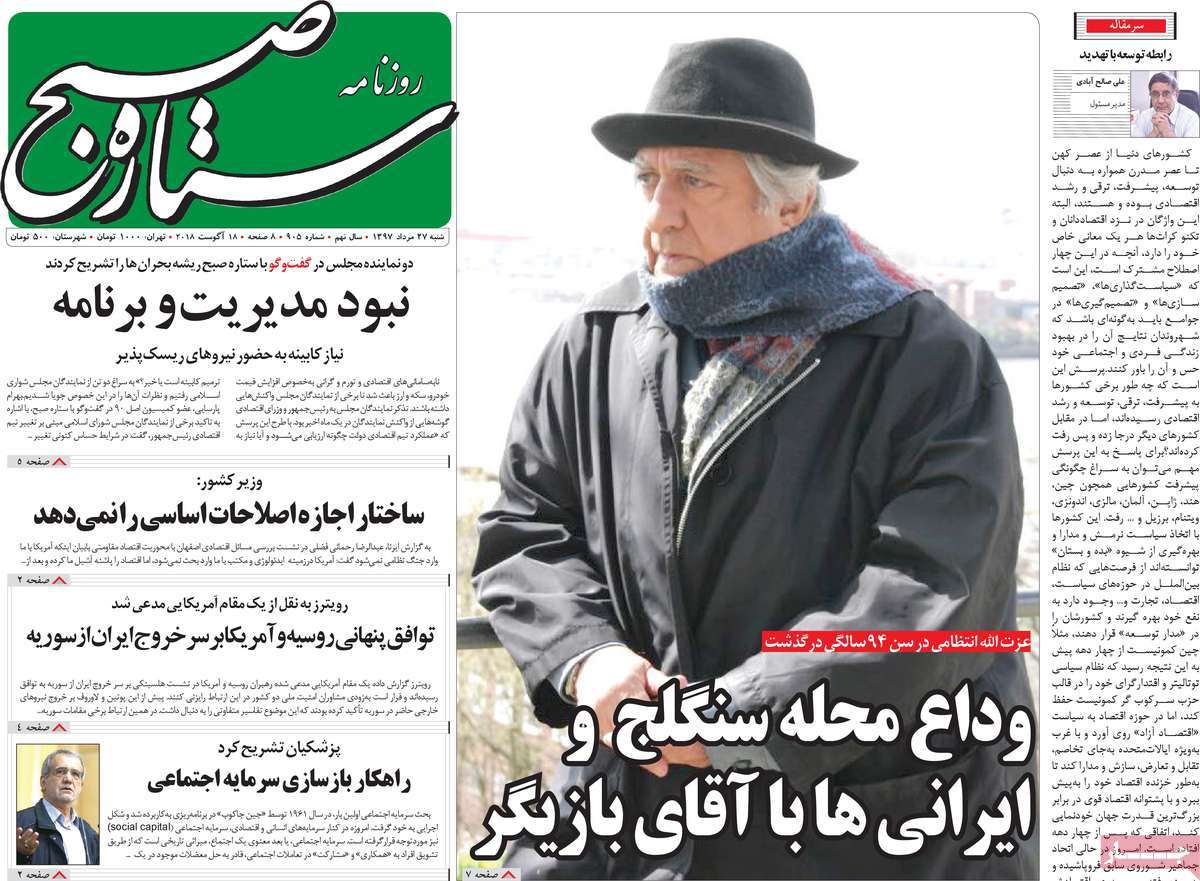 ---
Shargh:
1- Rouhani Offers Condolences on Death of Popular Actor Entezami
2- ICT Minister Talks of Iran's Move towards Digitalization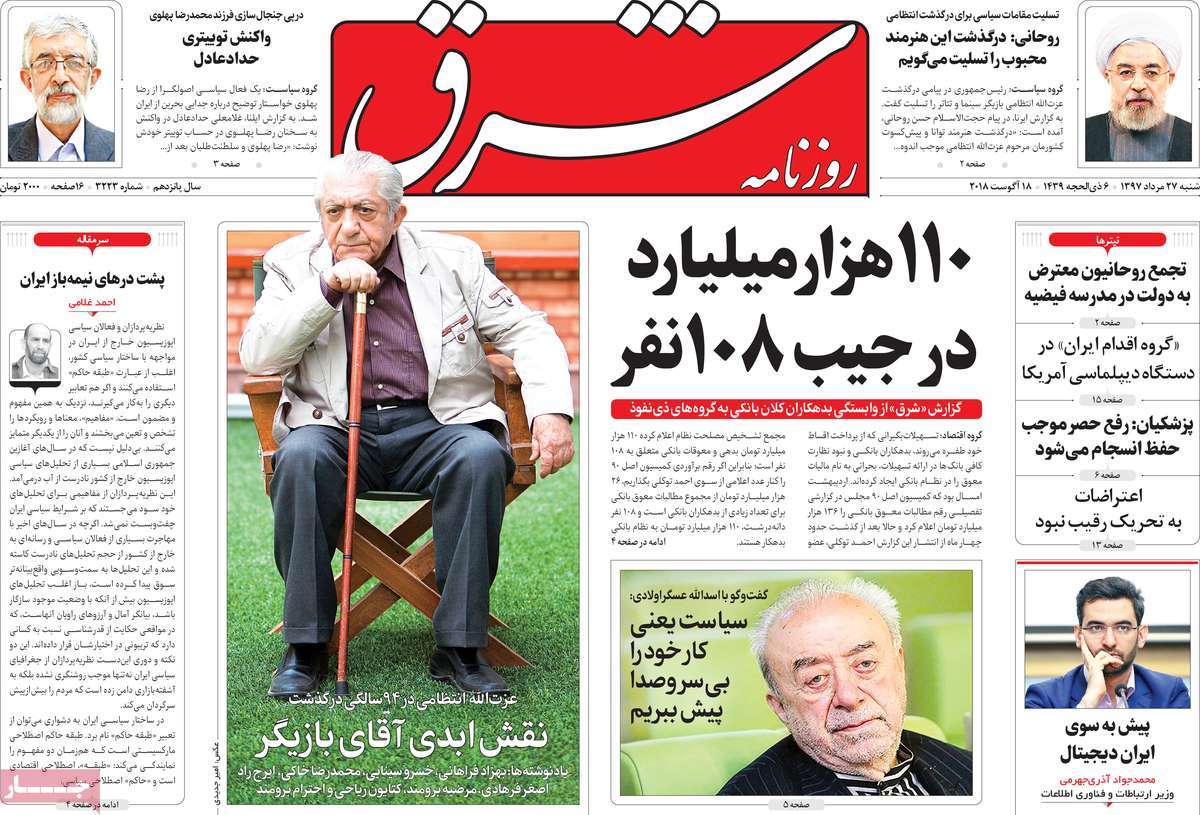 ---
Sobh-e Now:
1- 40 Years of Futile Efforts by the US
2- Iranian Passengers Once Again Disrespected, This Time in Tbilisi Airport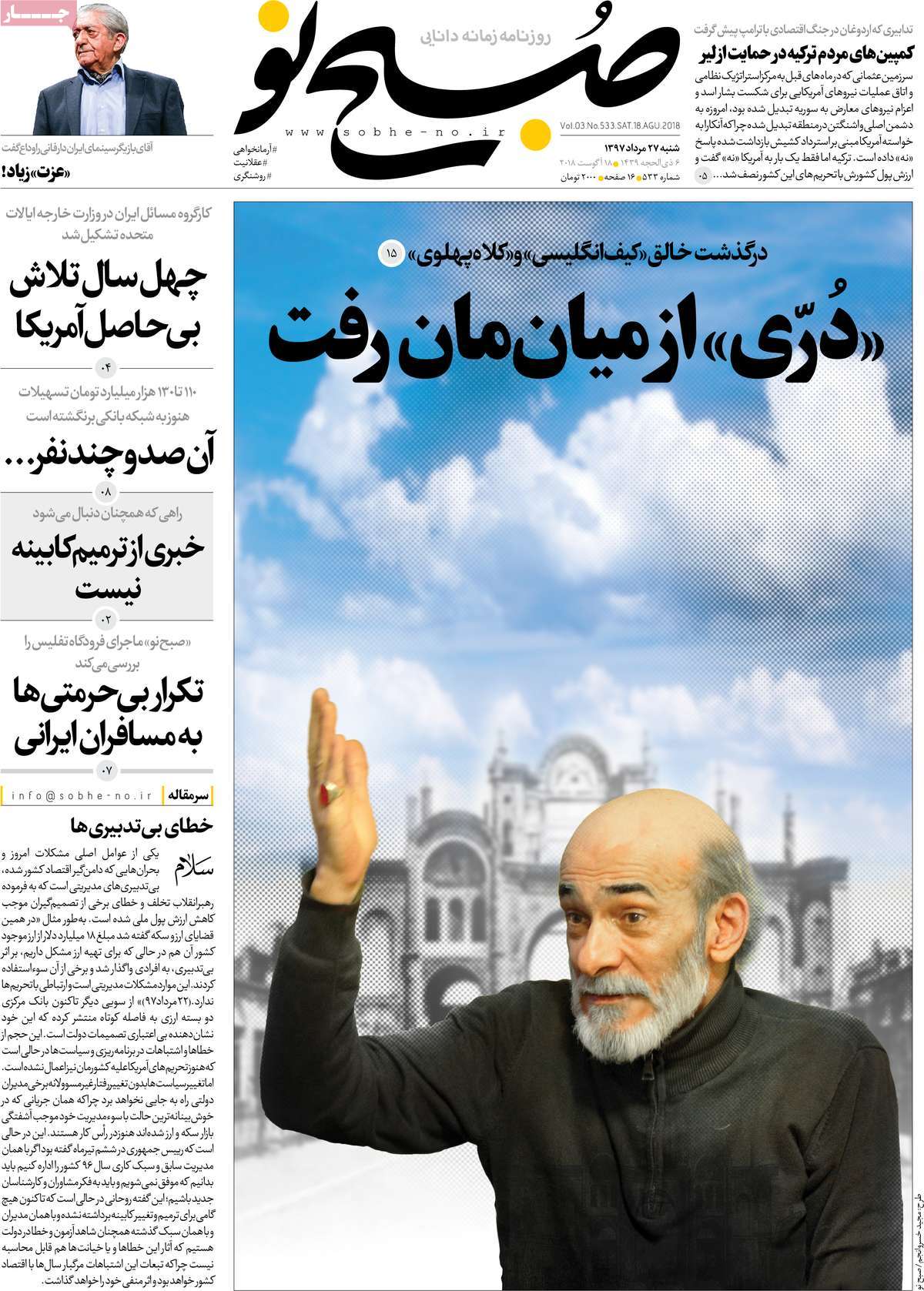 The post A Look at Iranian Newspaper Front Pages on August 18 appeared first on IFP News.