The top story in all papers today was the harsh response by IRGC Quds Force Commander Major General Qassem Soleimani to US President Donald Trump's anti-Iran threats.
Also a top story was the ongoing legal dispute between Iran and the US at The Hague, where the two countries must appear in a court in August to discuss Washington's sanctions on Tehran, which Iran says are illegal.
The closure of Bab el-Mandeb Strait amid an ongoing tension between Yemen and Saudi Arabia, and the speculations regarding the future of global oil trade also received great coverage.
The above issues, as well as many more, are highlighted in the following headlines and top stories:
Abrar:
1- Larijani: Europeans' Offers Reasonable at Macro Level
2- India Cancels Purchase of One Million Barrels of Oil from Iran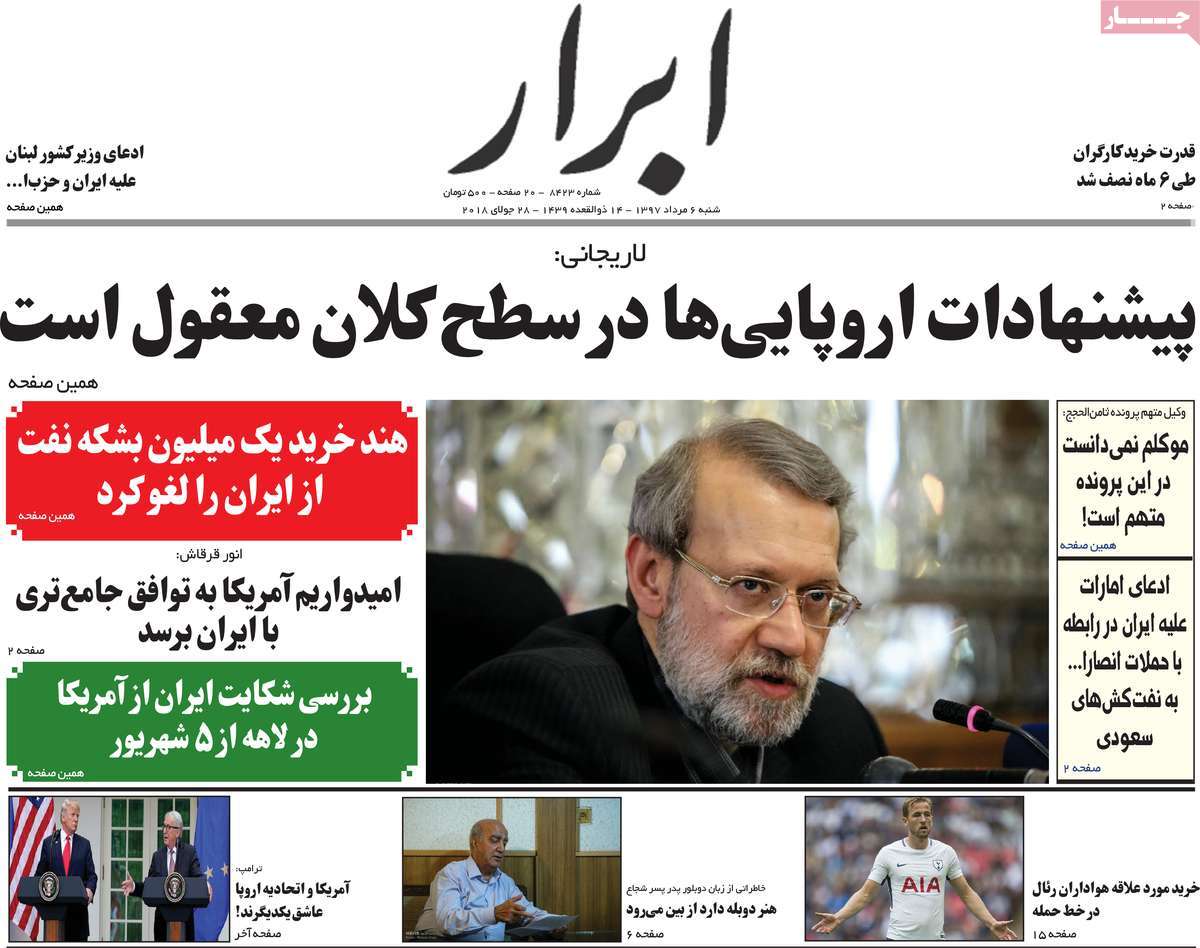 ---
Afkar:
1- Will The Hague Vote in Favour of Iran?
---
Aftab-e Yazd:
1- EU's Package Still Ambiguous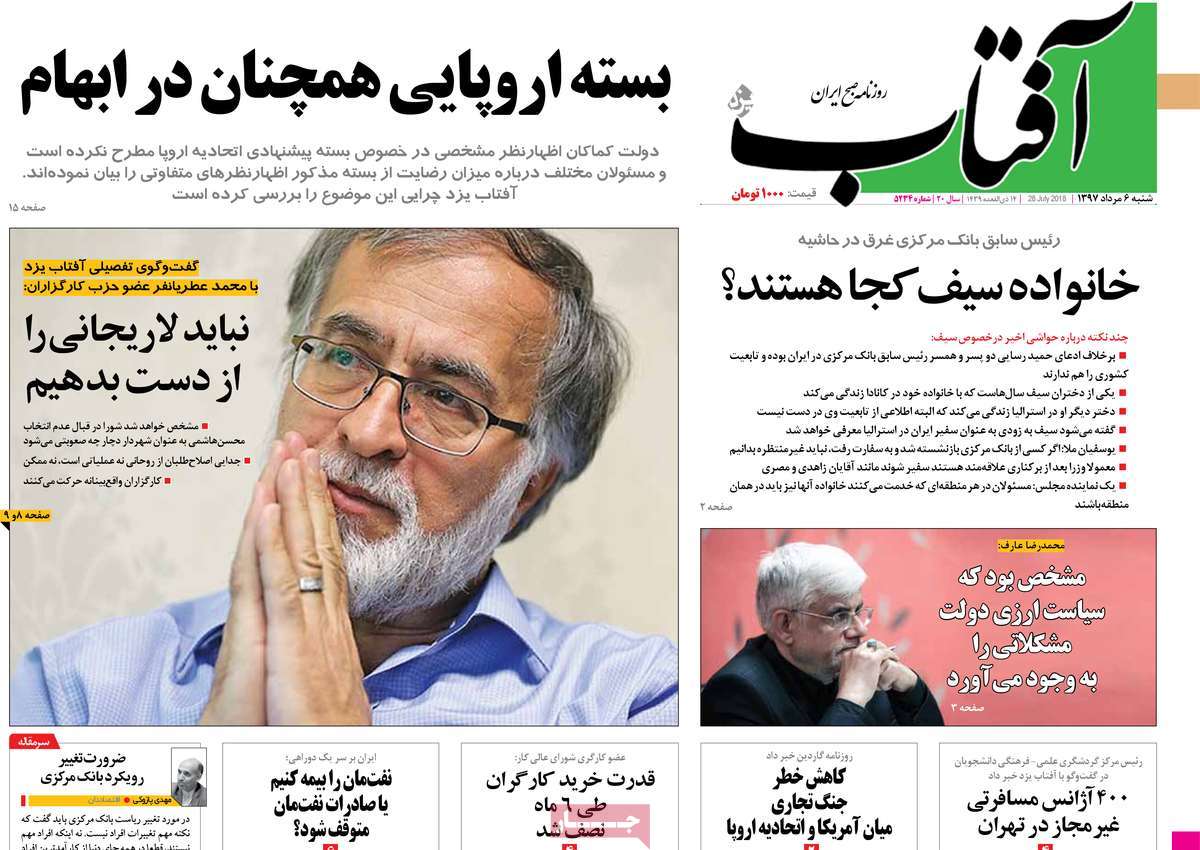 ---
Arman-e Emrooz:
1- Zoroastrian Councillor: Media Helped Me Return to Council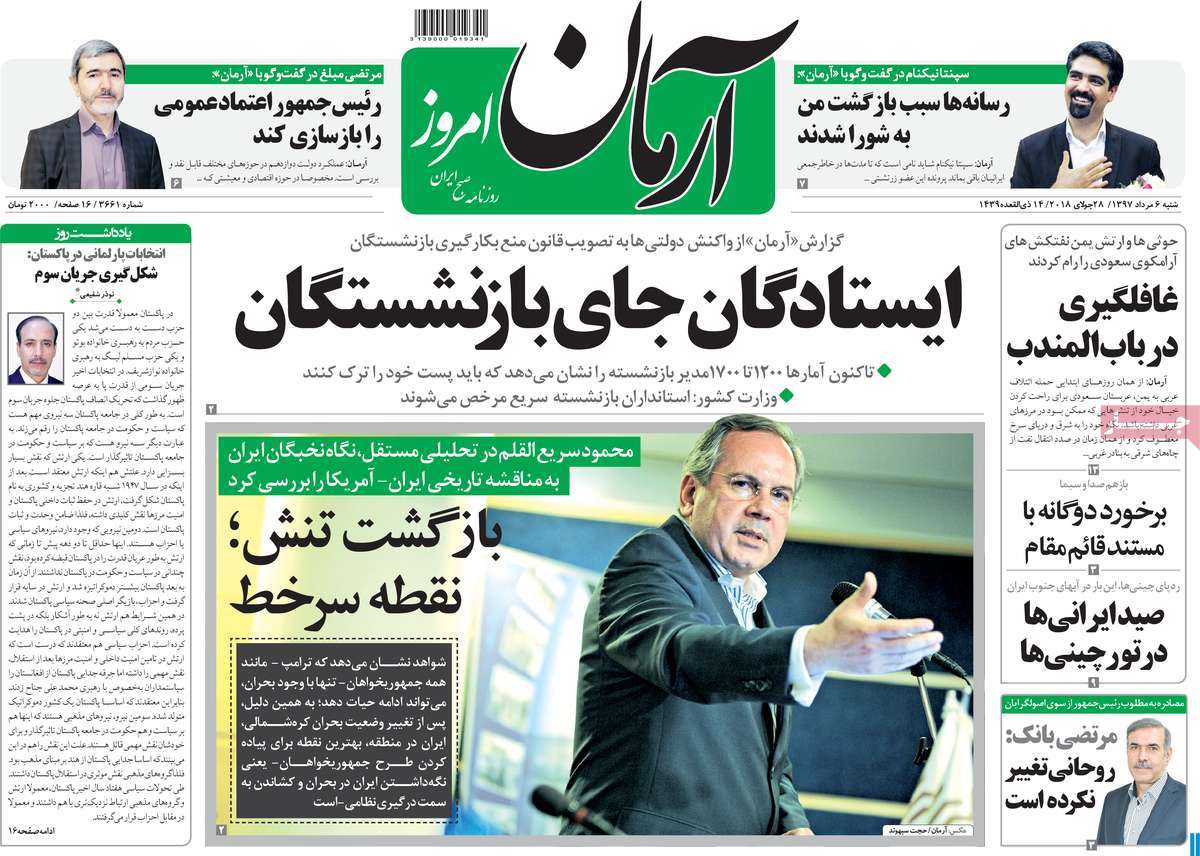 ---
Ebtekar:
1- Yemen Crisis Taken to the Sea
2- Pakistan on Path of Evolution: A Report on Imran Khan's Victory in Parliamentary Votes
---
Etemad:
1- I'm the One You Must Talk to: General Soleimani to Trump
It's Beneath Our President's Dignity to Respond to You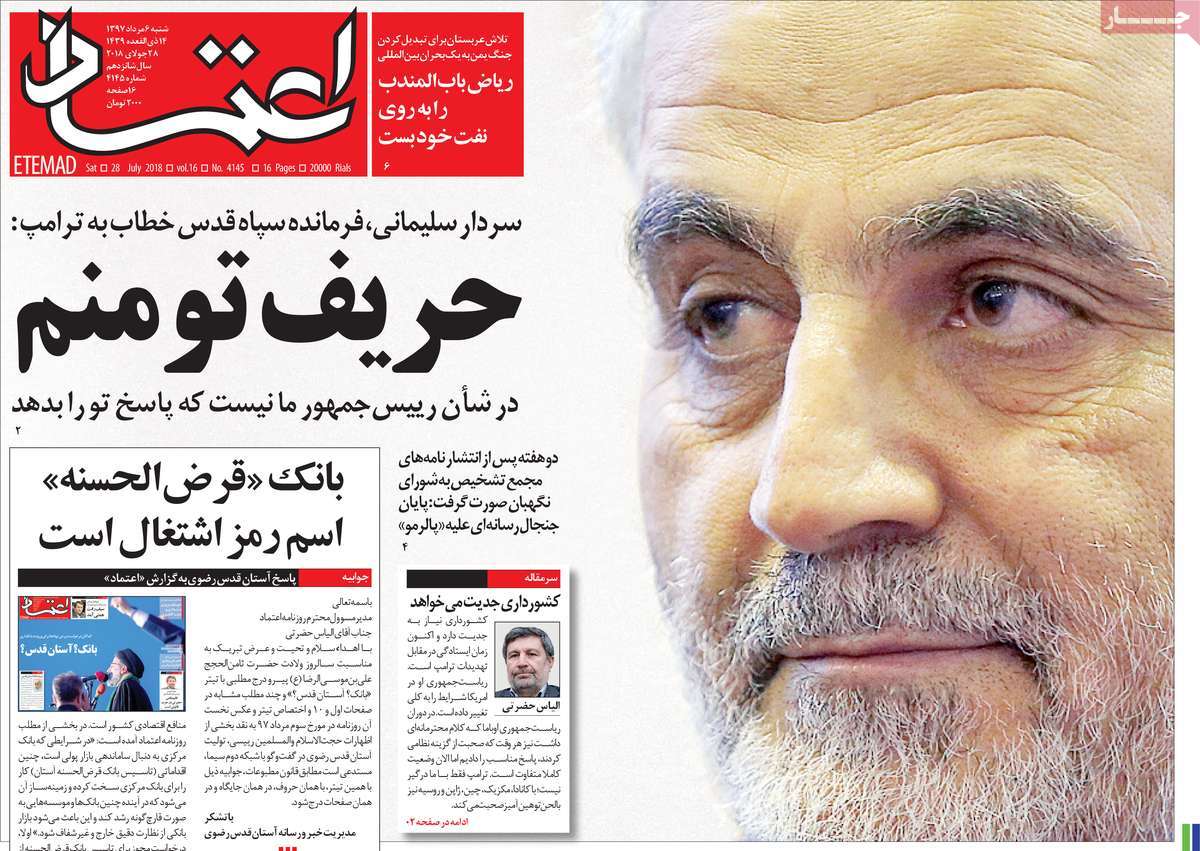 ---
Ettela'at:
1- General Soleimani: War with Iran Means Destruction of All US Equipment
2- Yemen's Drone Attacks on Abu Dhabi Airport, Two Saudi Warships in Bab el-Mandeb
---
Hamshahri:
1- Hot Debate on Iran in Washington
Iran Has Been Focus of Remarks Made by Various US Officials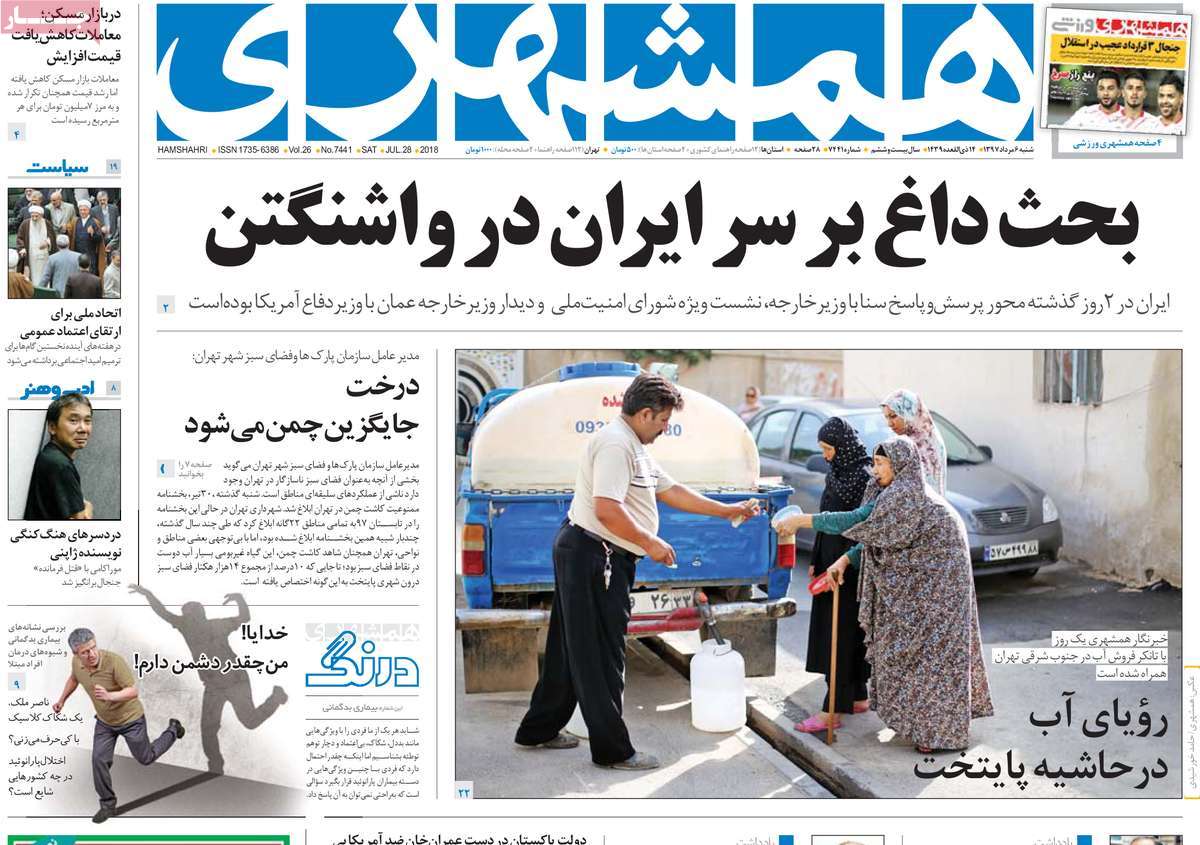 ---
Iran:
1- Half of the World United against Trump
BRICS Member States to Counter US' Trade War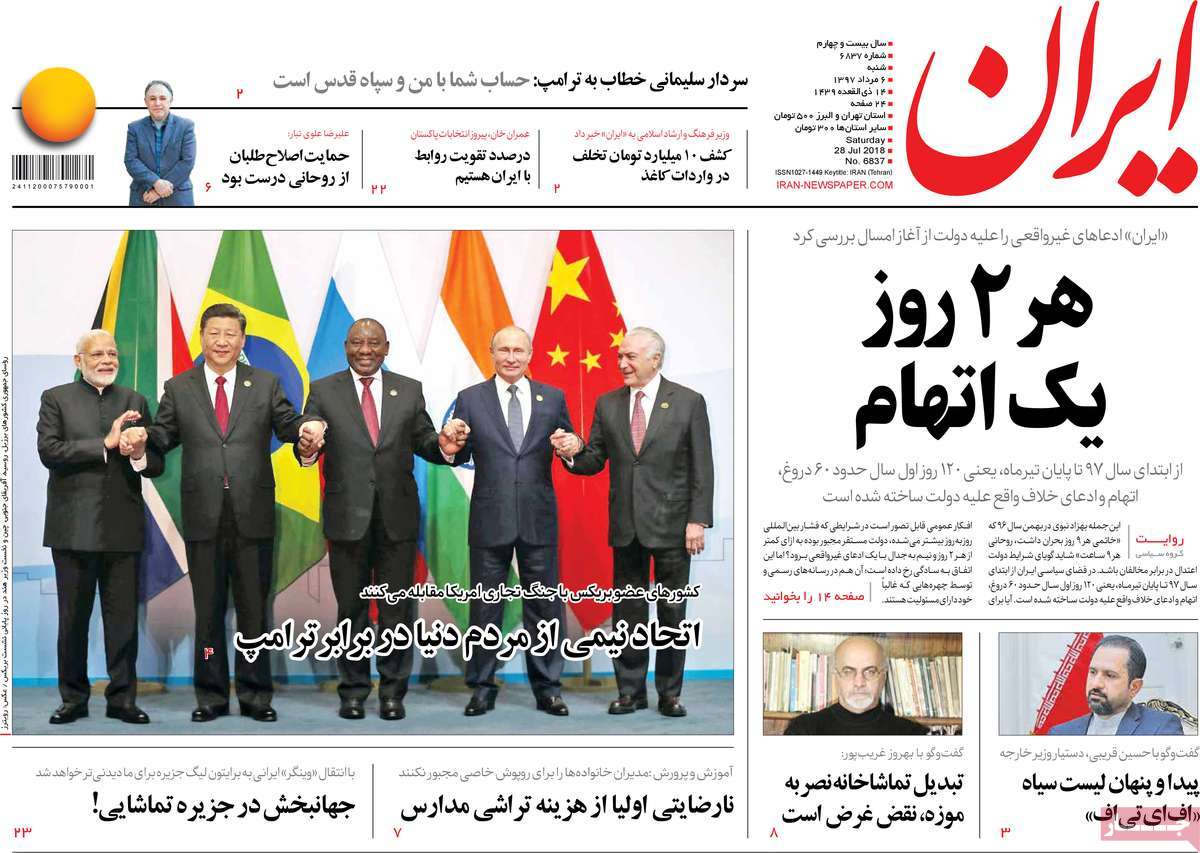 ---
Jame Jam:
1- Greatness of Gen. Soleimani
IRGC Quds Force Commander's Strong Position Widely Covered by World Media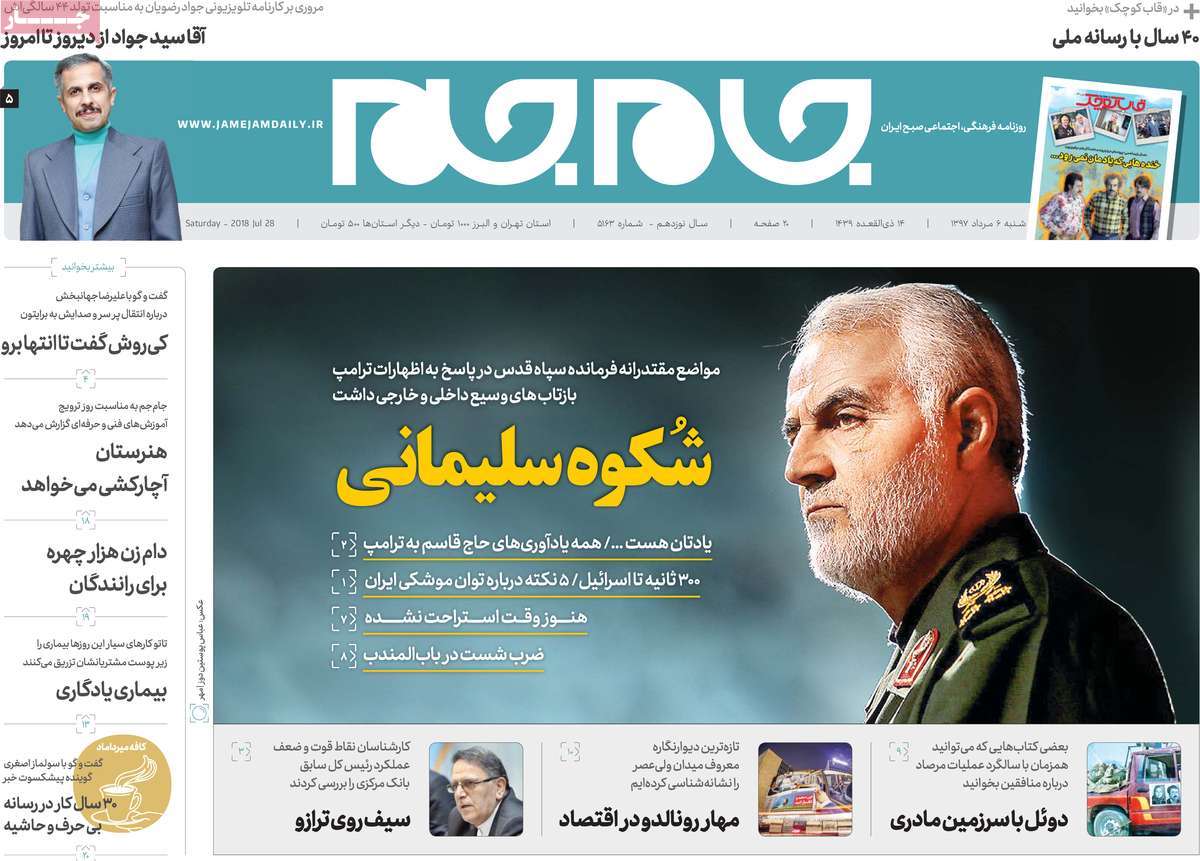 ---
Javan:
1- Legend of Revenge: Brave Iranian General's Remarks Widely Covered by World Media
You Used to Beg Taliban! Now Don't Threaten Iran!
2- DM: Attack on Iran Merely Cock and Bull Story
---
Jomhouri Eslami:
1- Italian Companies Resolved to Continue Their Presence in Iran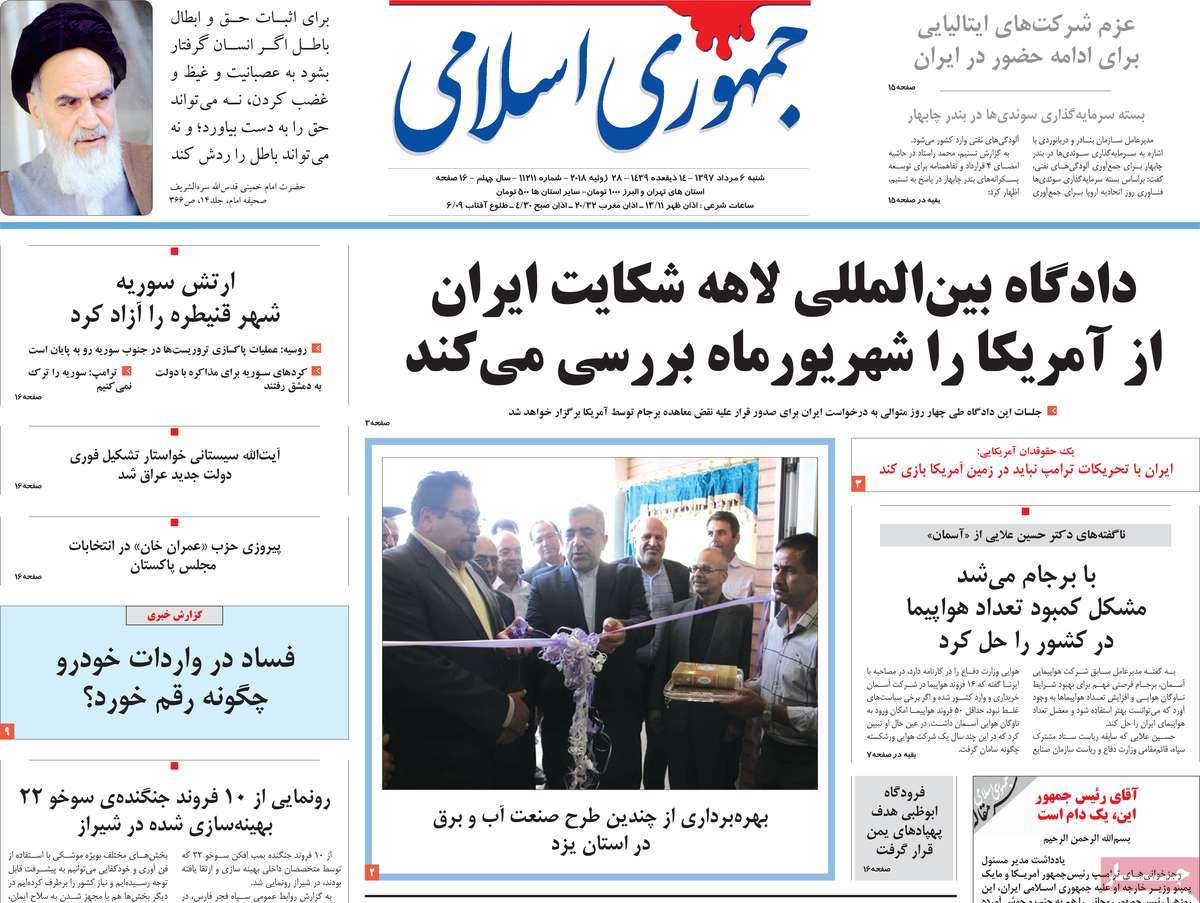 ---
Kayhan:
1- Gen. Soleimani: Mr Trump! IRGC Quds Force Alone Will Fight against You
2- Trade Minister: We've Reserved 7 Million Tonnes of Goods; Not Worried about US Sanctions
---
Khorasan:
1- General Soleimani's Decisive Response to Trump's Cheap Remarks
We're Close to You, So Much So that You Can't Imagine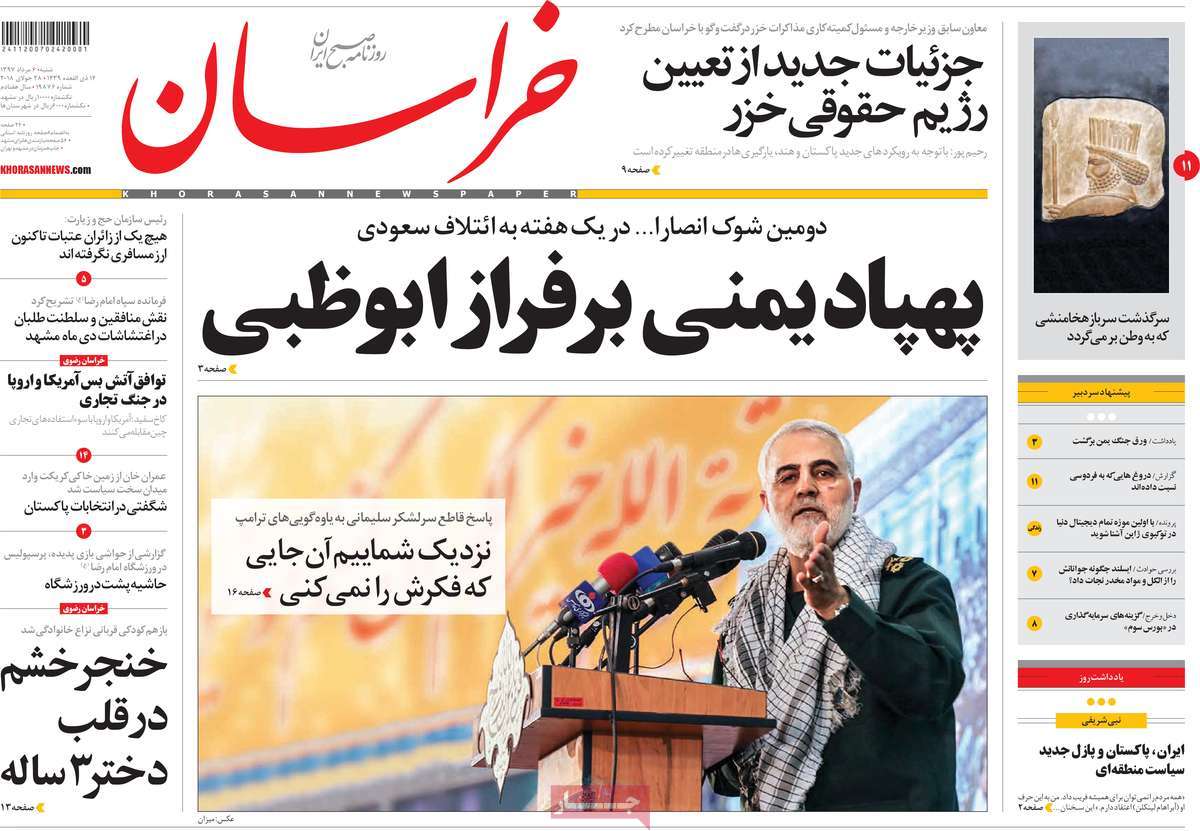 ---
Sazandegi:
1- General Soleimani beyond Reformist-Conservative Dichotomy
IRGC General's Important Speech Offers New Image of Iranian Political Factions
---
Setareh Sobh:
1- Senior Lawmaker: It's Not in World's Interests that Iran-US Relations Get Tense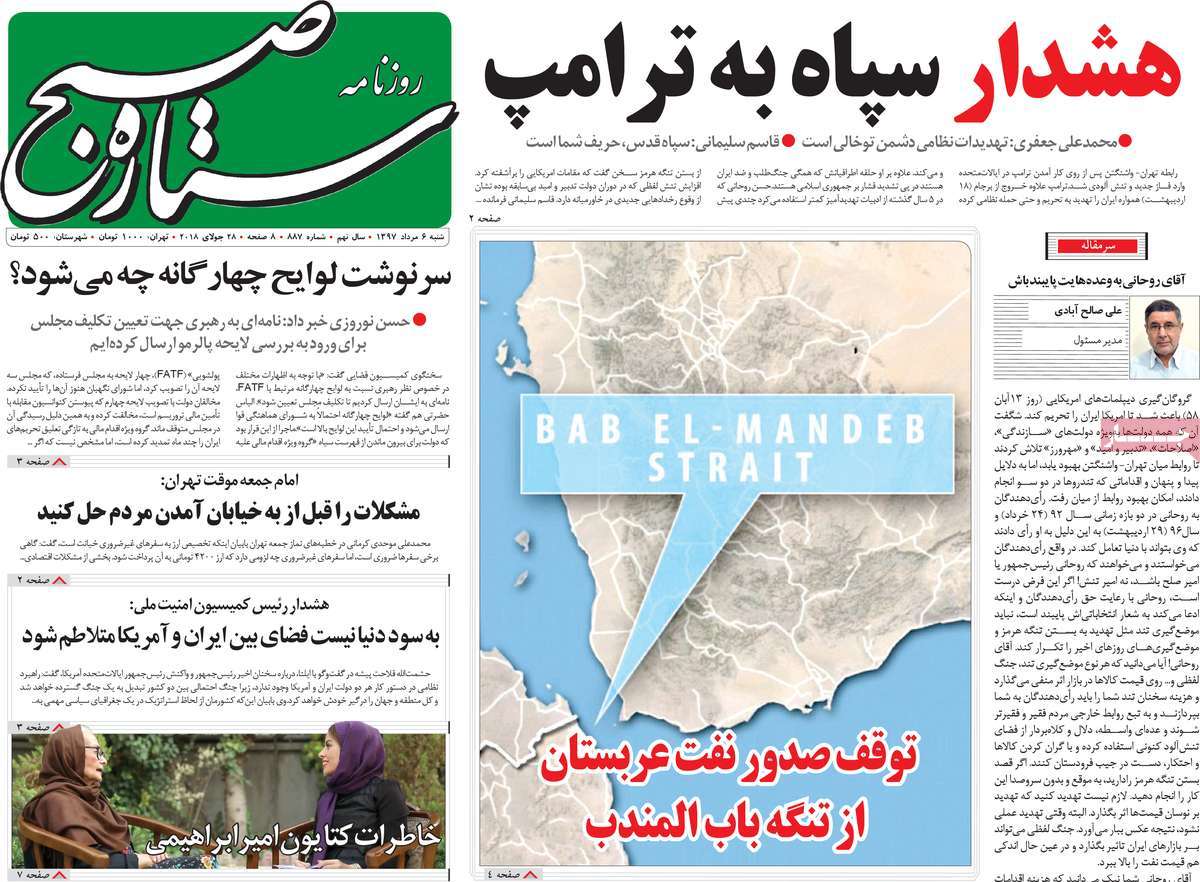 ---
Shahrvand:
1- Iraqi Flight Crew Engage in Physical Fight over Iran's Sky
Lives of 160 Passengers Endangered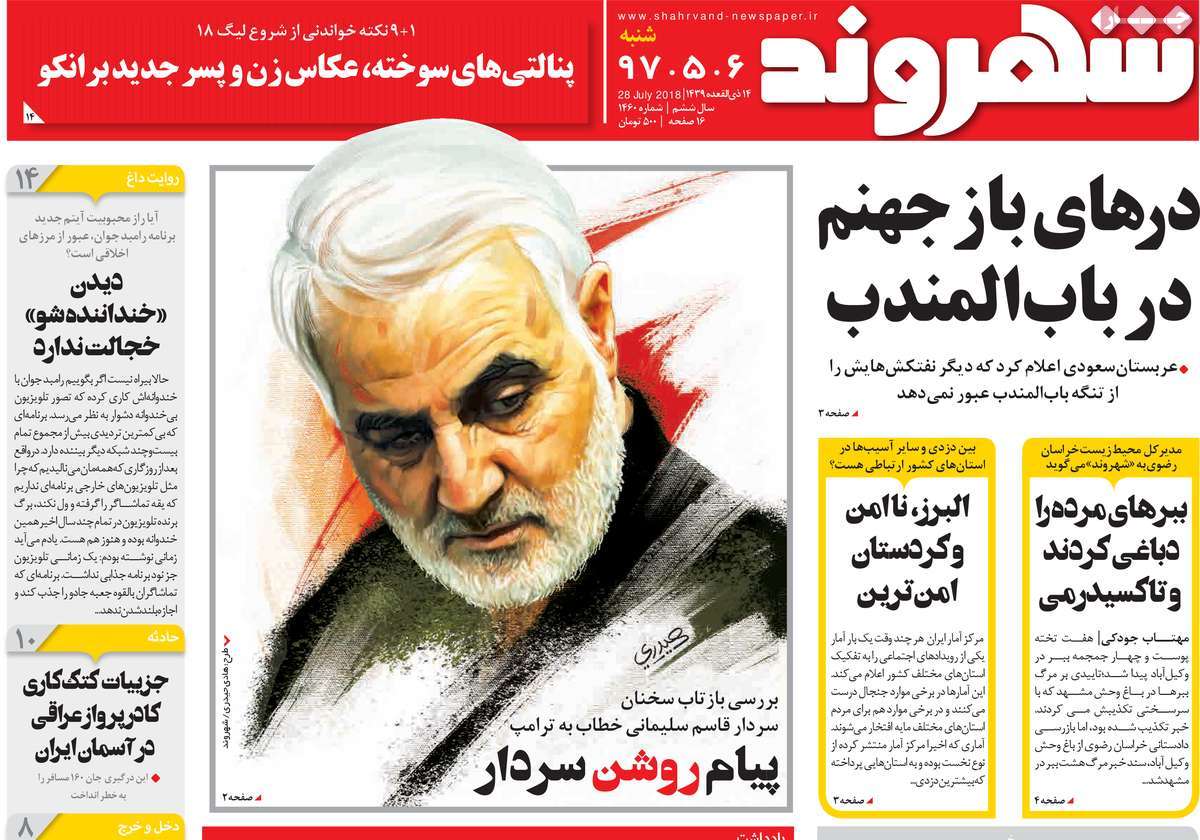 ---
Shargh:
1- Iran, US to Appear in ICJ in August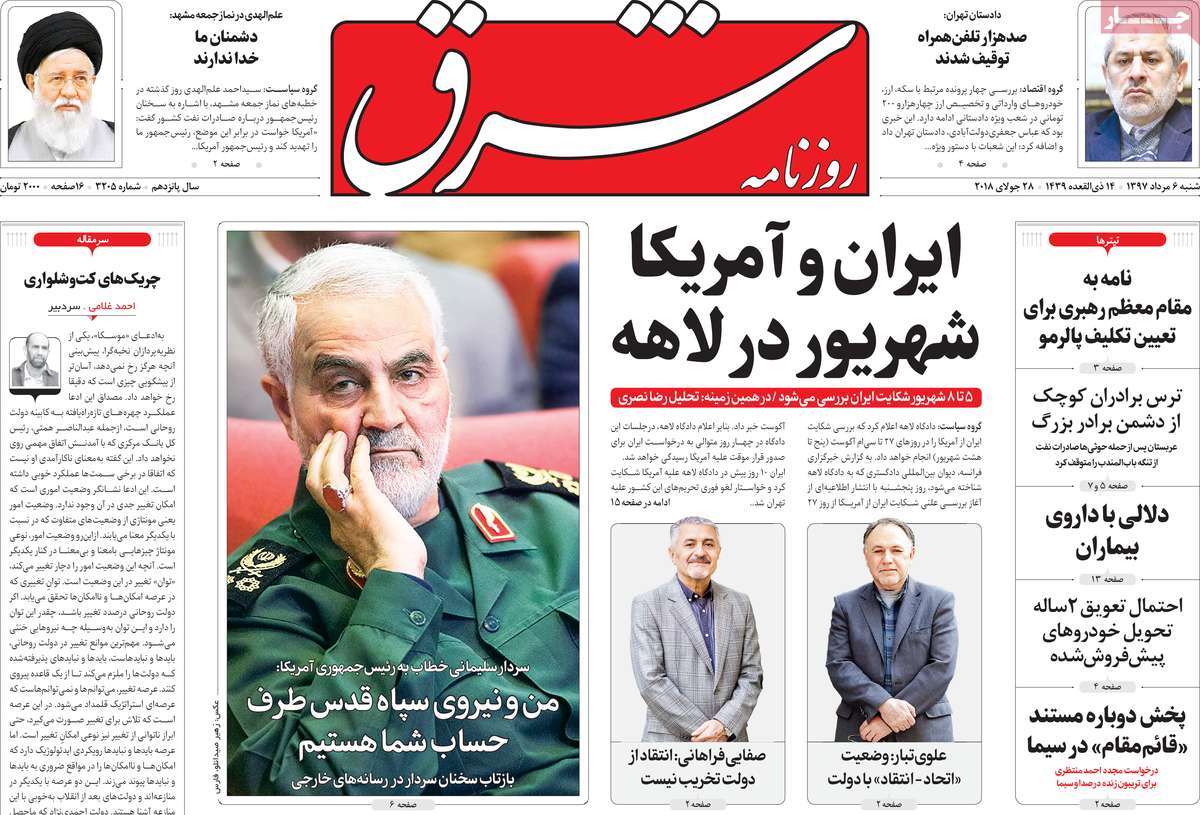 ---
Sobh-e Now:
1- Bab el-Mandeb Strait Closed
Saudi Oil Exports Stopped after Ansarullah's Attack on Saudi Warships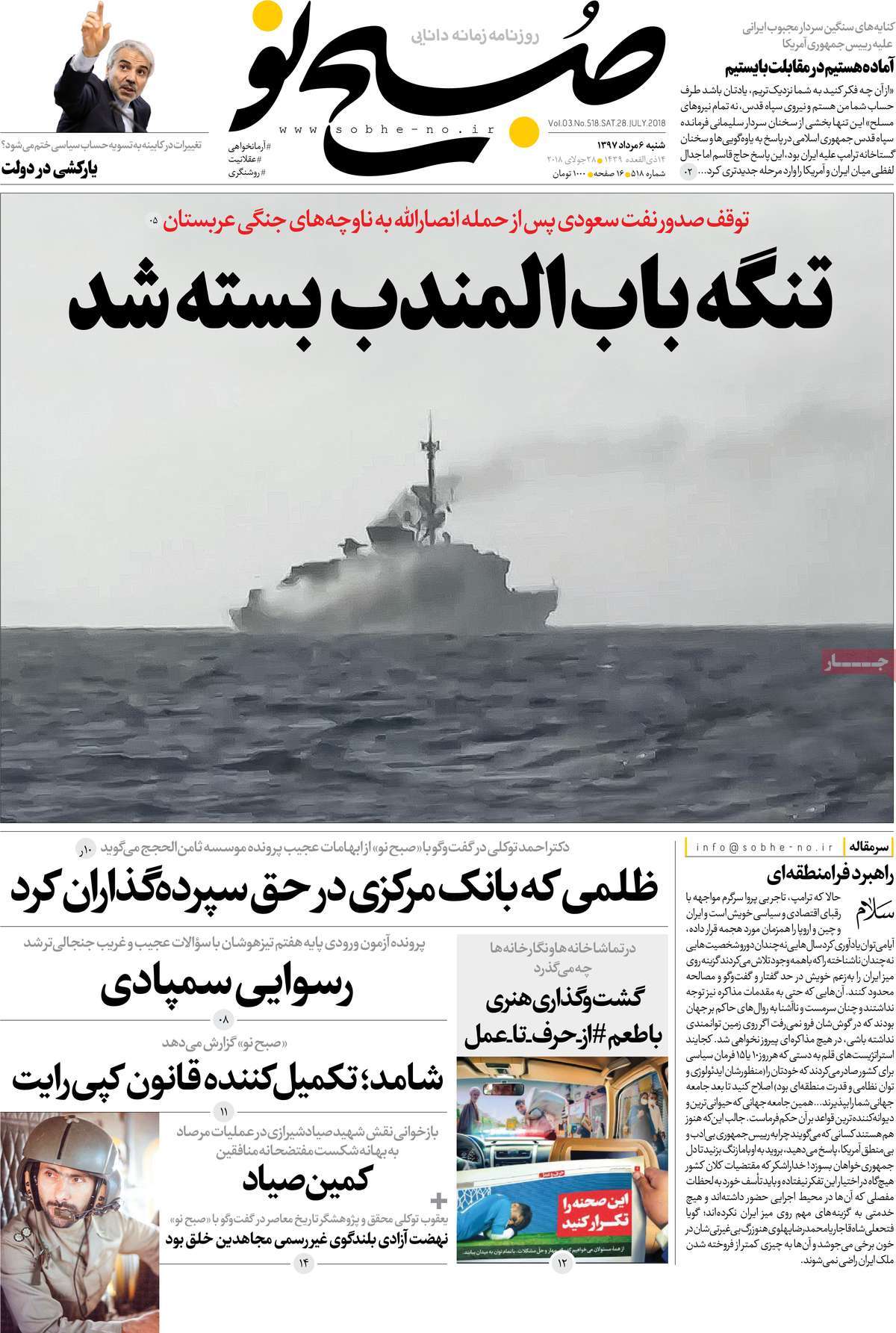 The post A Look at Iranian Newspaper Front Pages on July 28 appeared first on IFP News.