The top story in all papers today was the remarks made by Iranian President Hassan Rouhani and top security official Ali Shamkhani about the Iran Nuclear Deal and the consequences of the US withdrawal from the 2015 accord.
Also a top story was comments made by Foreign Minister Mohammad Javad Zarif on the Iran Nuclear Deal in separate interviews with American media in New York.
The martyrdom of Saleh al-Samad, a senior Ansarullah official, and the Yemeni group's vow to take revenge from the Saudi perpetrators also received great coverage.
The above issues, as well as many more, are highlighted in the following headlines and top stories:
19 Dey:
Rouhani: We've Remained Committed to Our Promise
Zarif: We Hope Macron, Merkel Would Make Trump Understood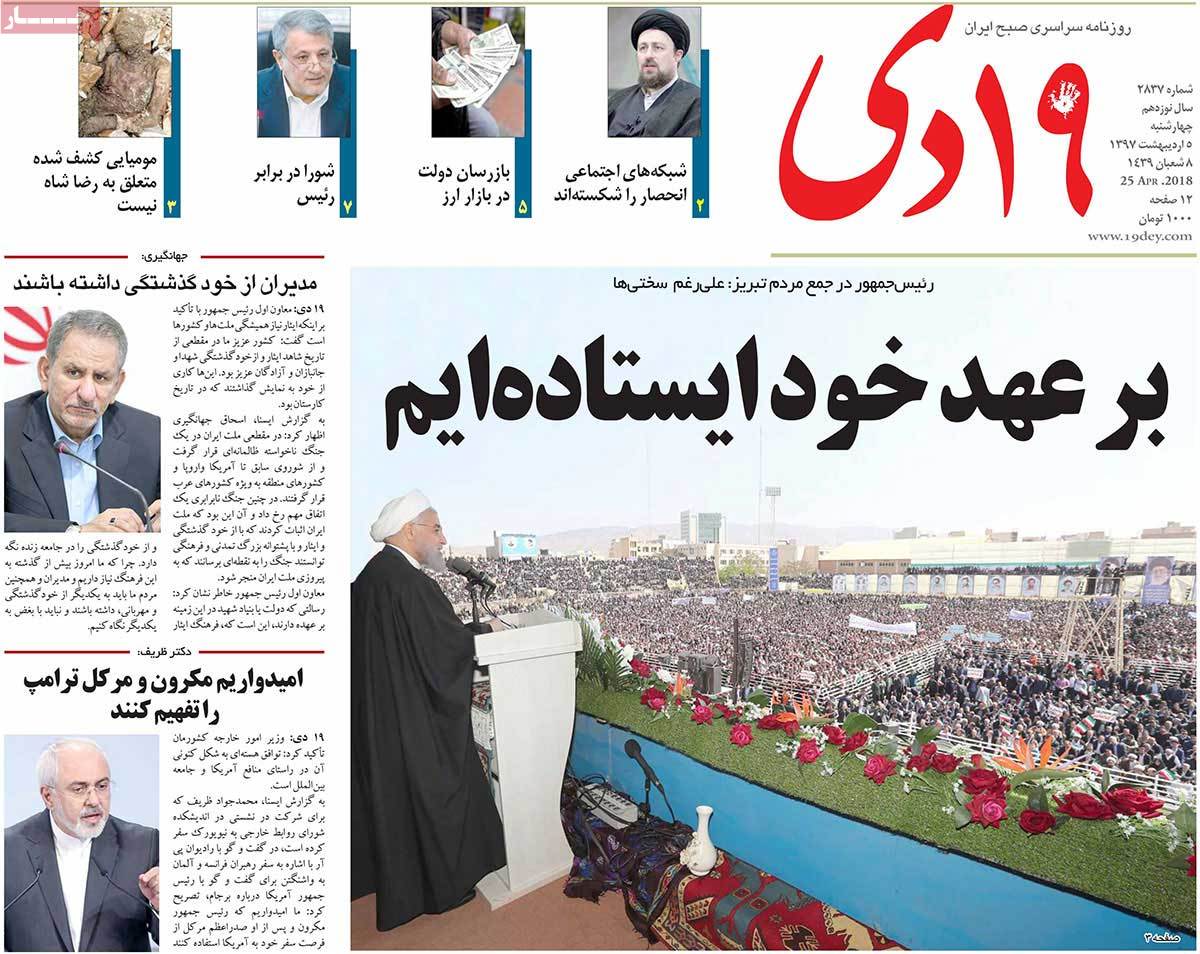 ---
Abrar:
Zarif: US Withdrawal from JCPOA to Free Iran from Commitments
---
Afkar:
Shamkhani: We Won't Show Restraint If Trump Hampers JCPOA Implementation
Rouhani: No One Can Make Iranian Nation Disappointed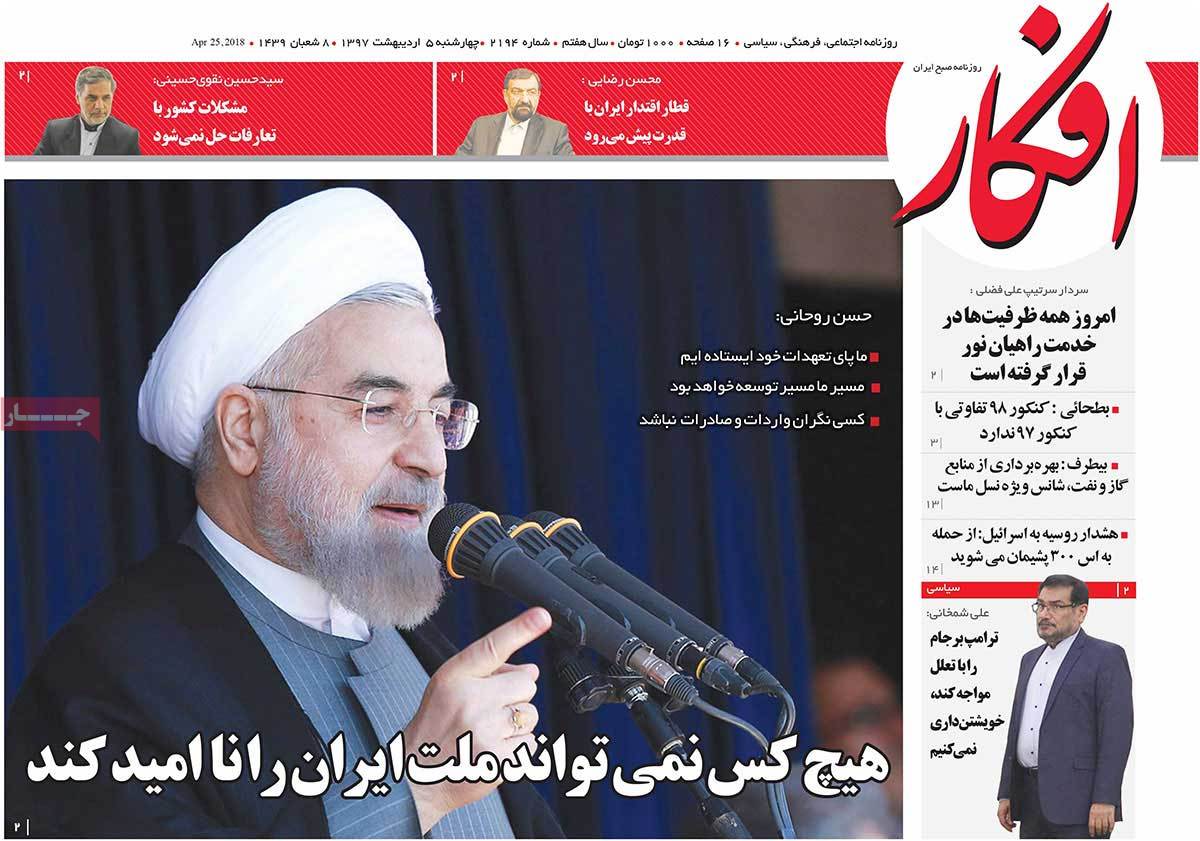 ---
Aftab-e Yazd:
Rouhani: I Don't Have a Weak Memory, So I've Not Forgotten My Promises
---
Arman-e Emrooz:
Rouhani: Don't Worry about Exports, Imports; We've Made Robust Forex Decisions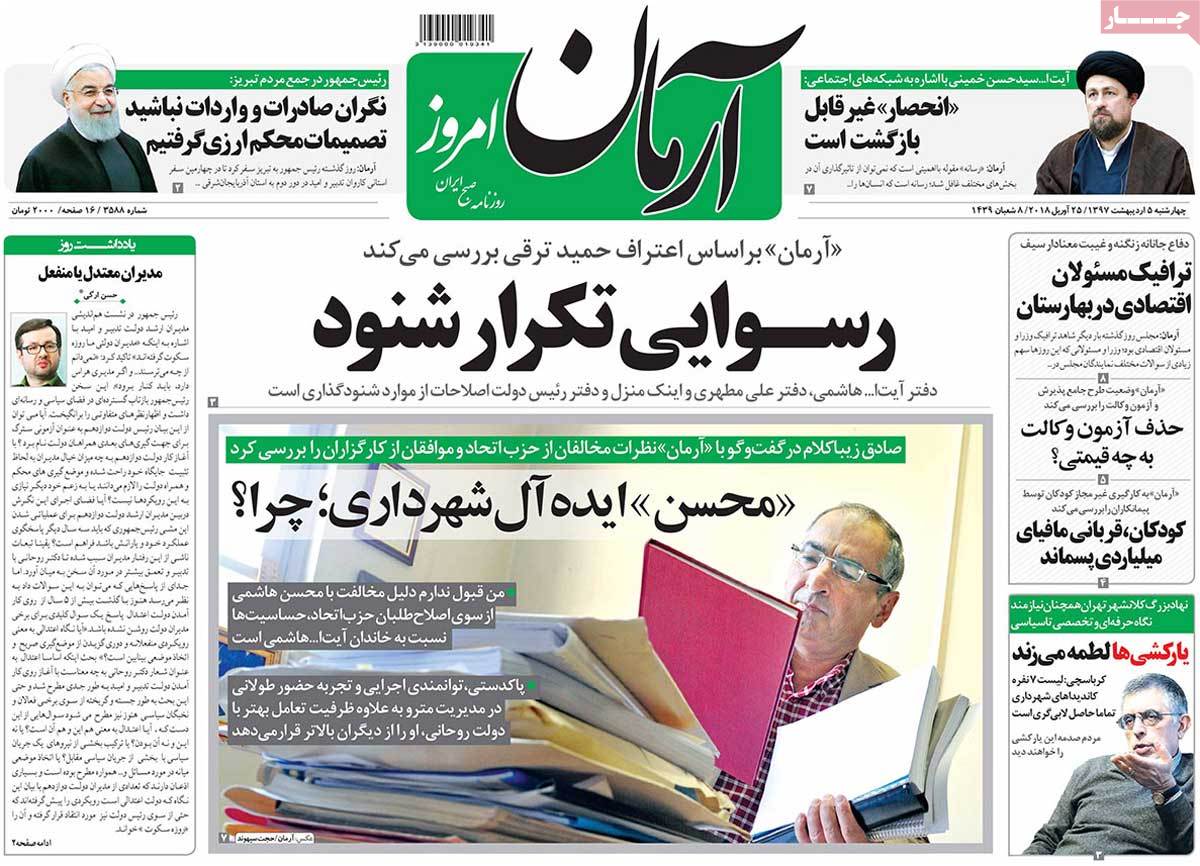 ---
Asrar:
Imam Khomeini's Grandson: Social Media Have Ended Monopoly [of traditional media]
Rouhani: US to Pay Dearly for Violating Iran Nuclear Deal
---
Ebtekar:
Leaving NPT among Iran's Options in Case US Threatens JCPOA: Shamkhani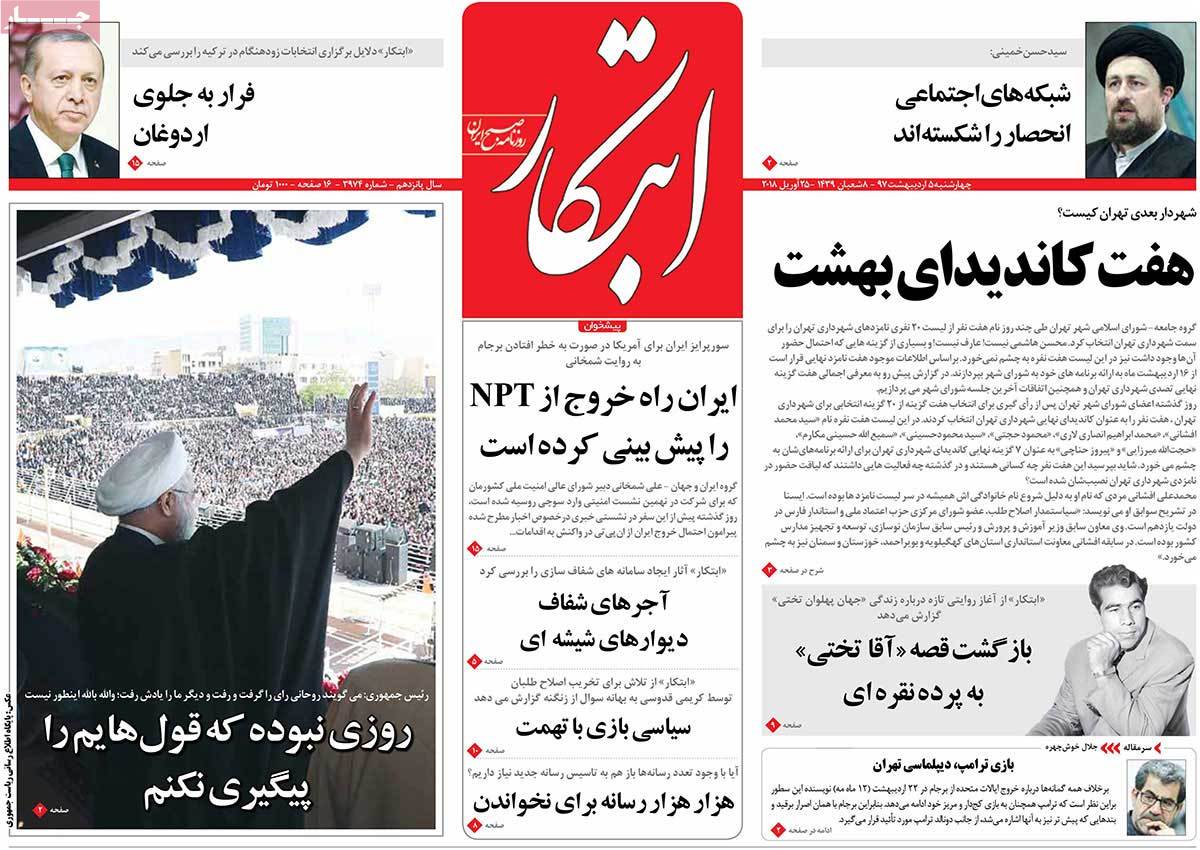 ---
Etemad:
Who Will Be Elected as Tehran Mayor? There Are Seven Candidates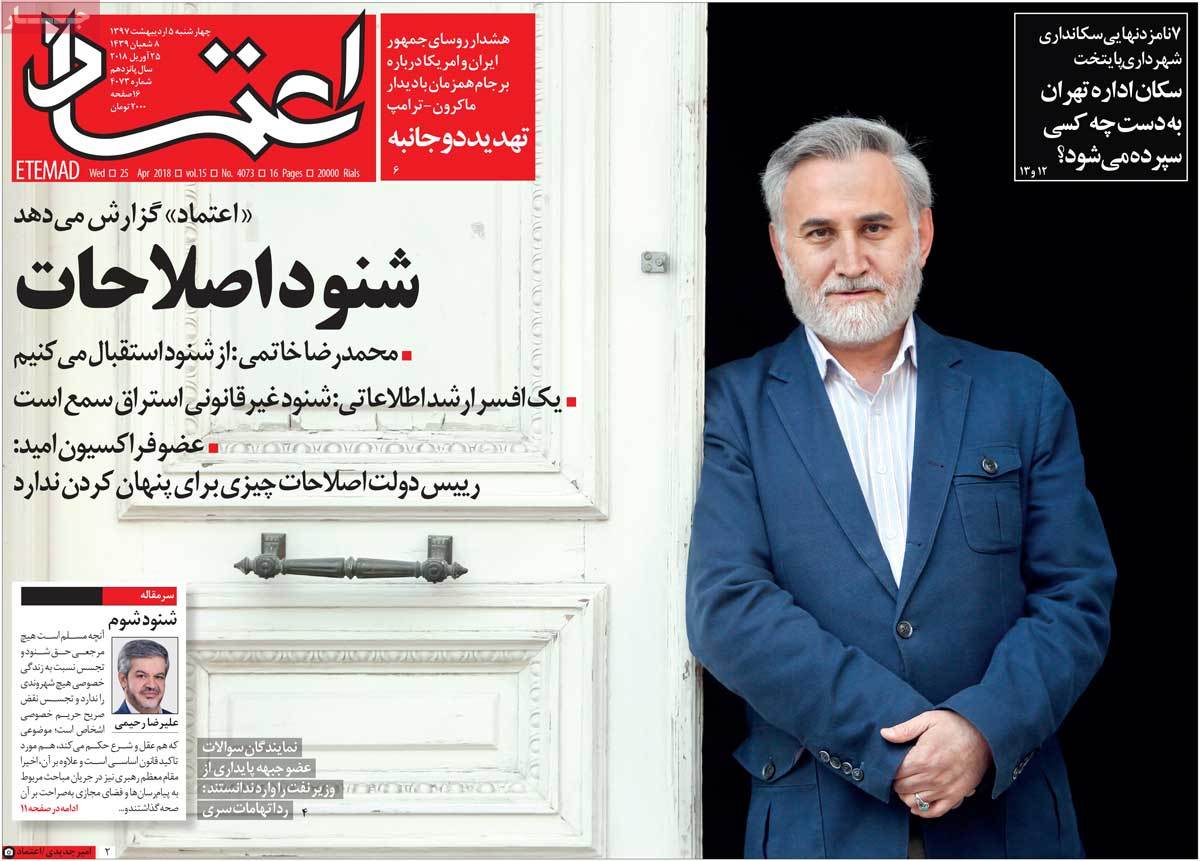 ---
Ettela'at:
Zarif: Conflicts in Western Asia Must Be Stopped
Central Bank Allocates $2.3 Billion to Import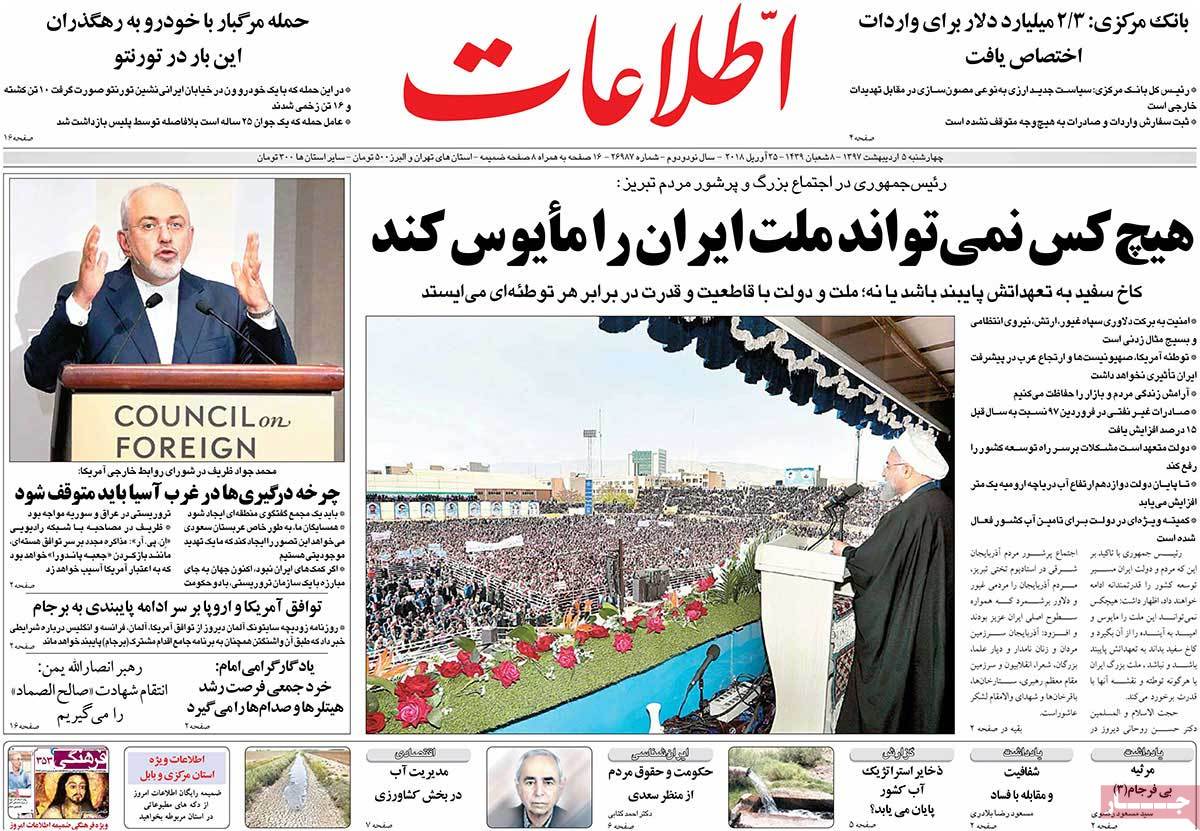 ---
Iran:
Oil Minister: What Are We Afraid of Interacting with Foreigners?
EU, Int'l Bodies Increase Pressure to Preserve Iran Nuclear Deal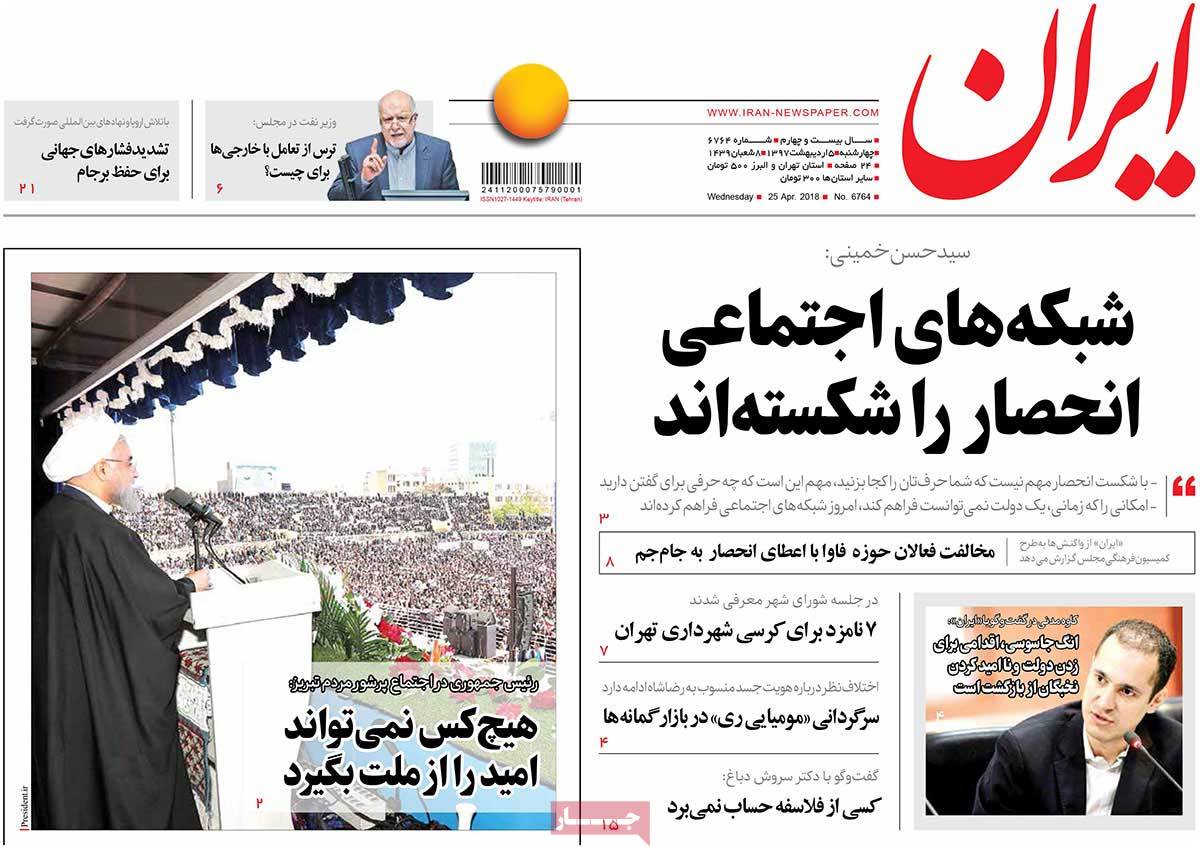 ---
Javan:
JCPOA on Verge of Collapse
German Paper: Europe, US Have Agreed on More Iran Sanctions, Major Changes to JCPOA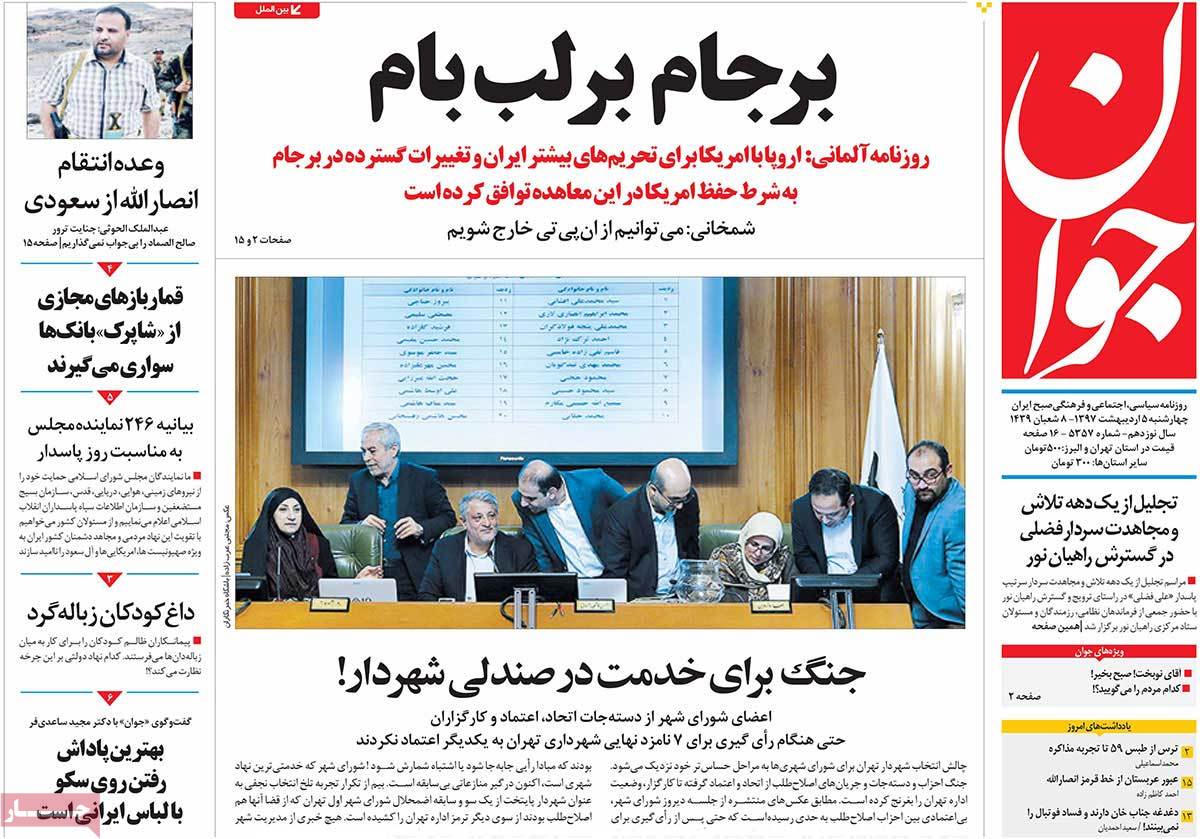 ---
Kayhan:
Mr Zarif! You Don't Need to Be A Revolutionary, Just Be A Diplomat!
A Report on Zarif's Remarks against Iran's National Interests in New York
Car in Toronto Kills 10, Wounds 16
Ansarullah Takes First Step to Avenge Death of Saleh al-Samad by Targeting Aramco Port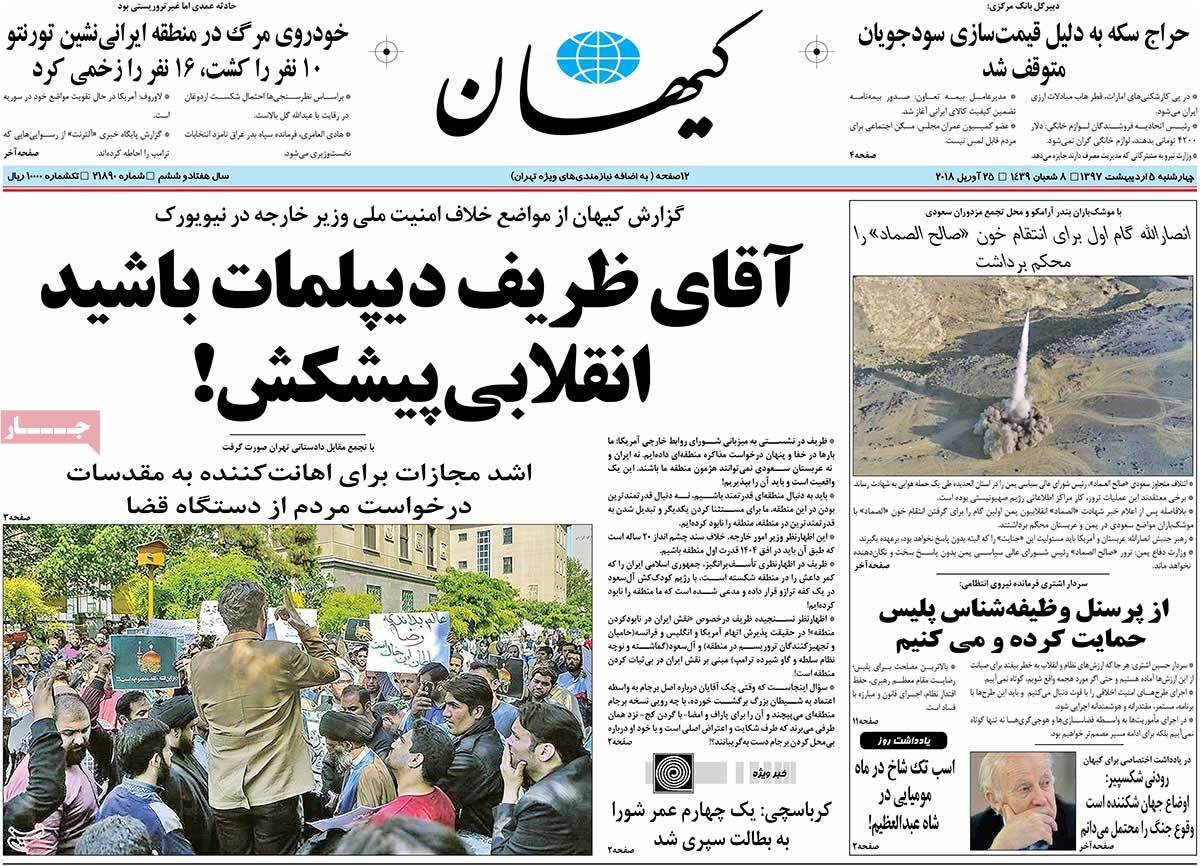 ---
Khorasan:
Rouhani's Threatening Remarks on Iran Nuclear Deal
US to Pay Heaviest Costs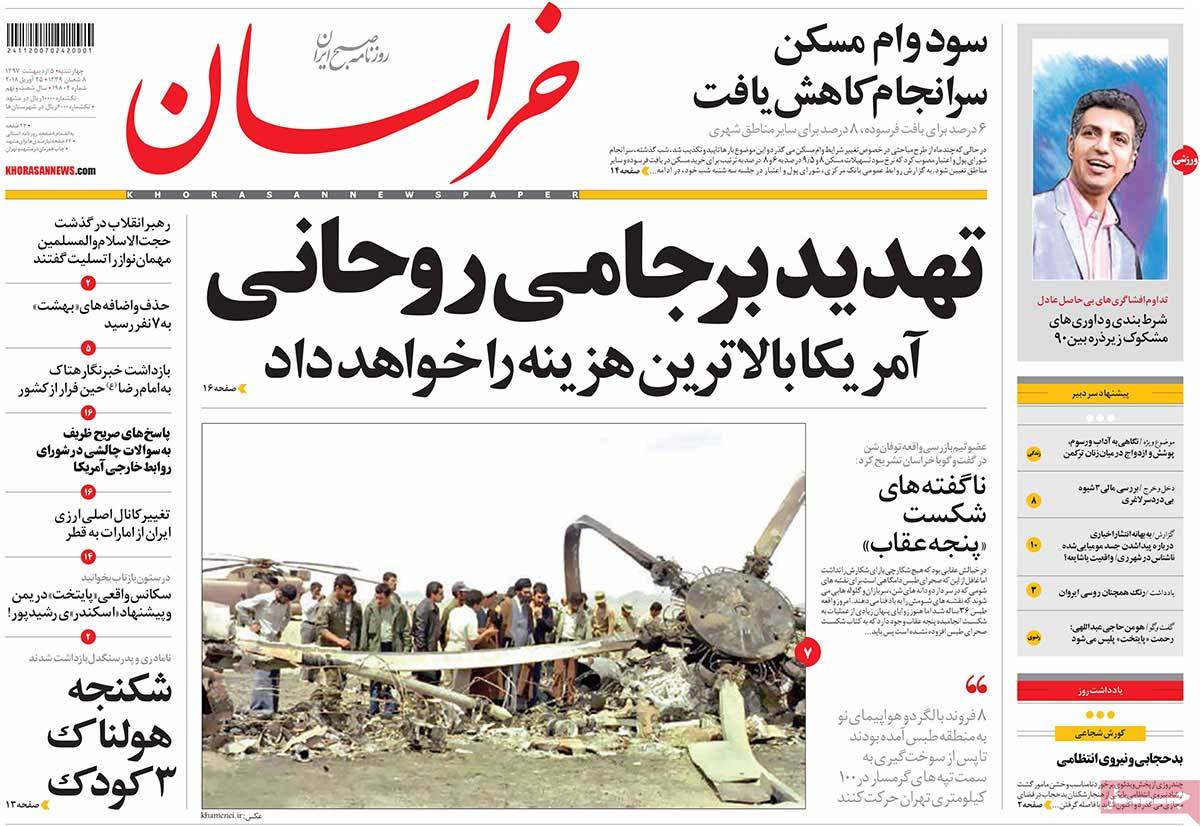 ---
Rah-e Mardom:
Iran Oil Minister: I'm Just Implementing Establishment's Policies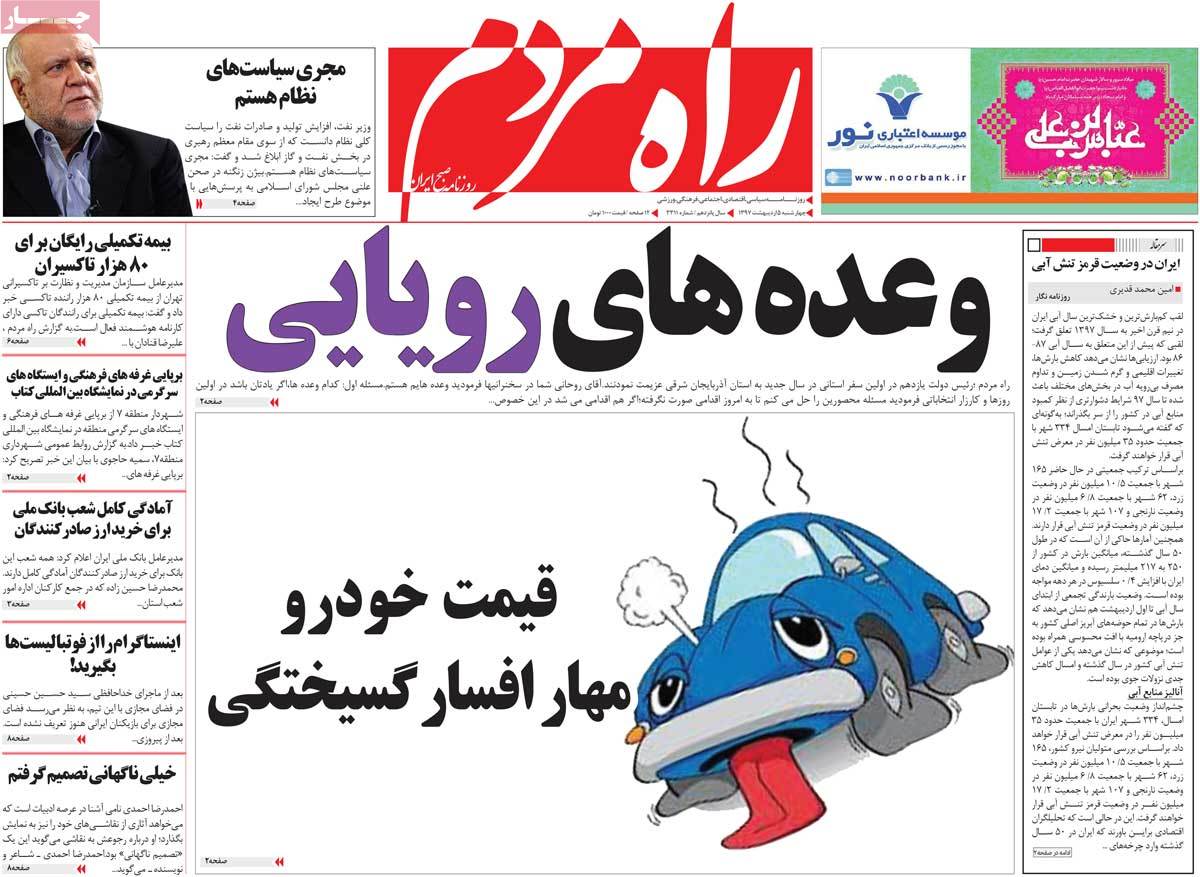 ---
Resalat:
Rouhani: Nation, Gov't to Stand against White House's Plot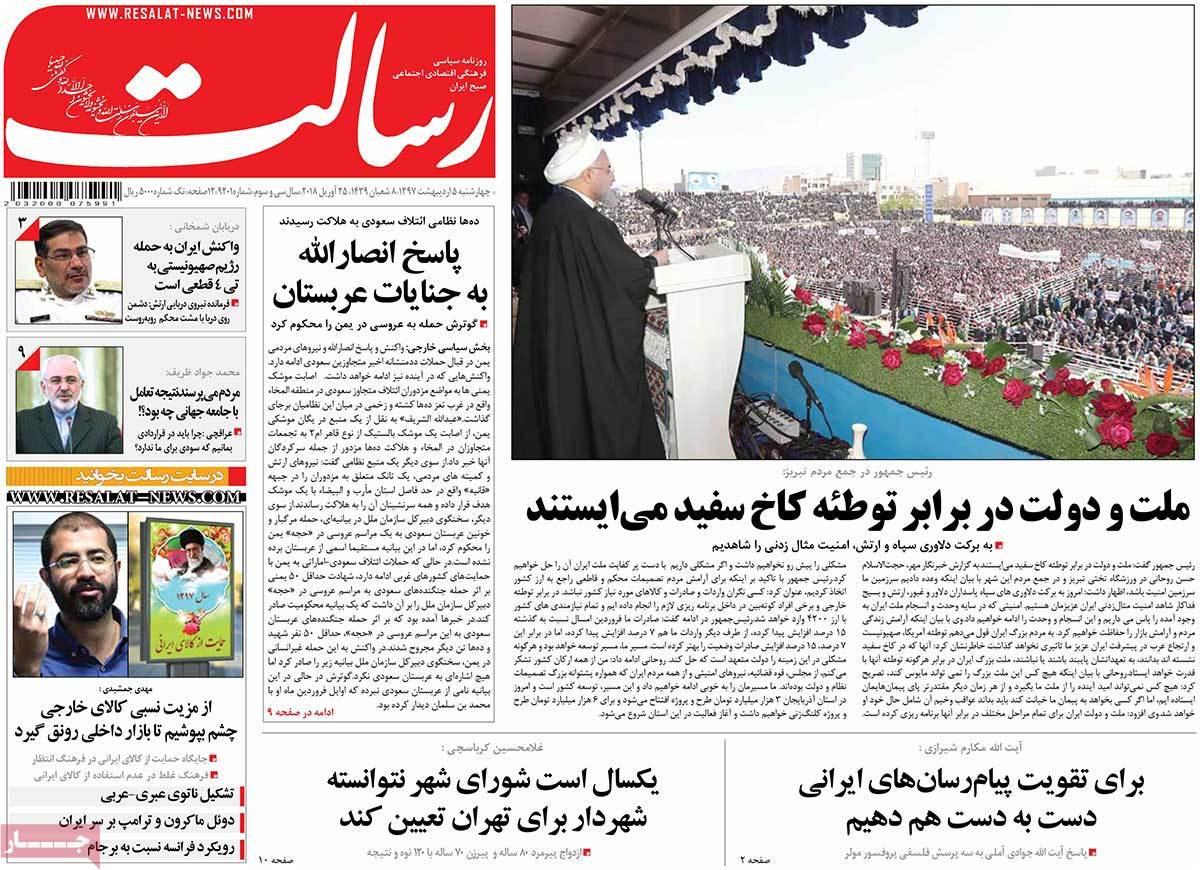 ---
Shargh:
Mr Macron's Mission to Save Iran Nuclear Deal
What French President Looks for in Washington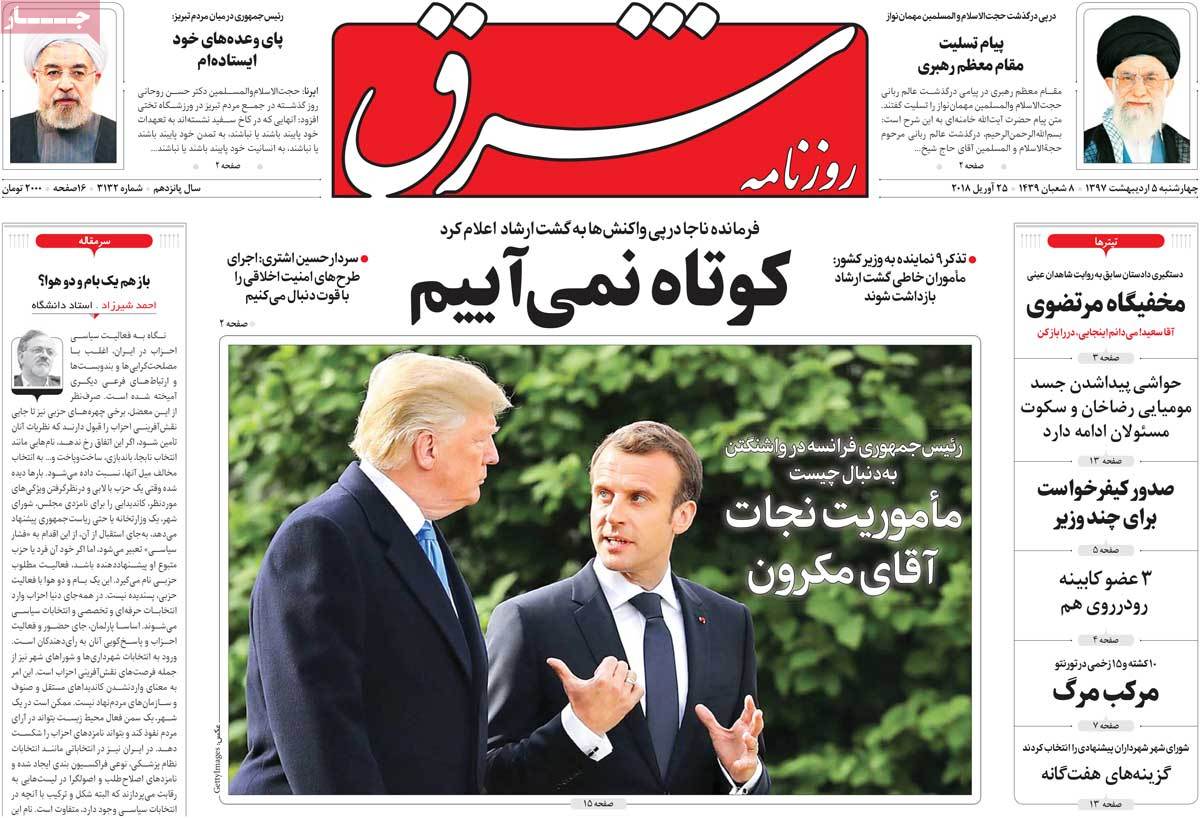 ---
Vatan-e Emrooz:
Yemen's Ansarullah to Take Revenge for Death of Its Top Official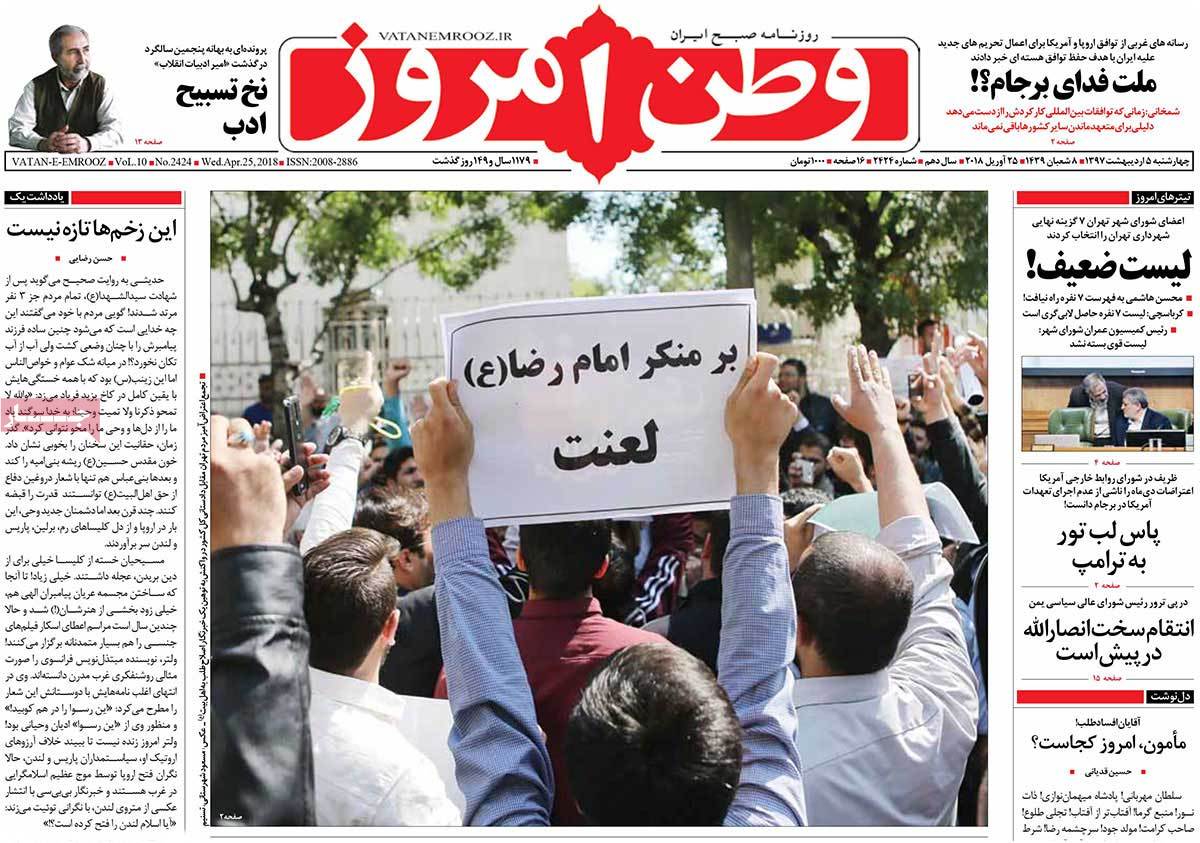 The post A Look at Iranian Newspaper Front Pages on April 25 appeared first on IFP News.