All newspapers today covered the remarks made by Iranian President Hassan Rouhani during his Tuesday press conference. Such issues as the growing forex rates, the recent protests across the country, and the fuel prices were among what covered from Rouhani's remarks.
A telephone conversation between Rouhani and his Russian counterpart Vladimir Putin also received great coverage. The two sides discussed a range of issues, from bilateral ties and the Nuclear Deal to the Syria peace talks and Iran's role in Yemen.
The fire at an Energy Ministry building in central Tehran, which was finally contained after 48 hours, also received great coverage. Several firefighters were wounded during the operation.
The above issues, as well as many more, are highlighted in the following headlines and top stories:
Abrar:
1- US Jet Fighters Attack Northern Afghanistan
2- Rouhani to Putin: US, Saudi Claims about Iran's Missile Supply to Yemen Groundless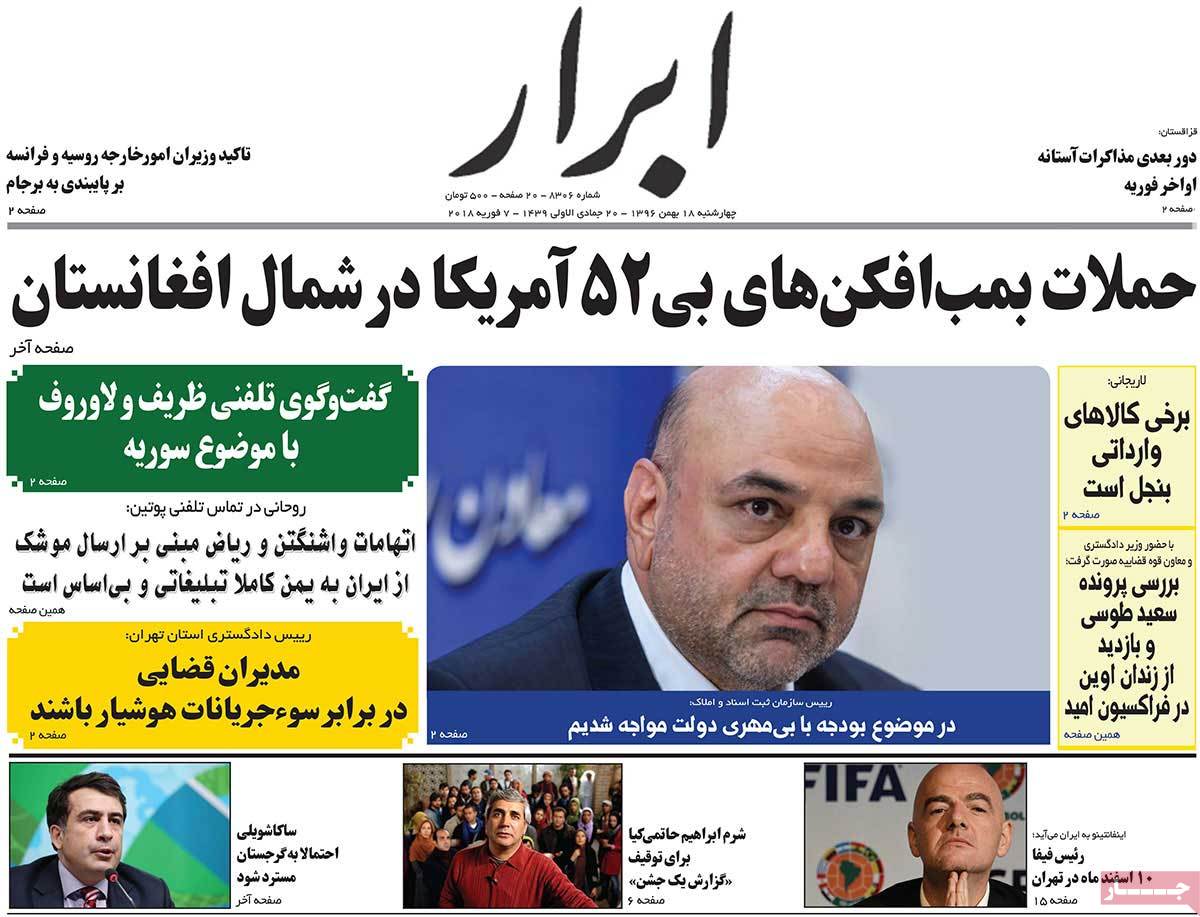 ---
Aftab-e Yazd:
1- Despite Growing Dollar Rates in Recent Days, Officials Still Say There's No Crisis
Rouhani: We Will Have Good Future in Terms of Forex
---
Arman-e Emrooz:
1- Still Not Transparent Enough: Rouhani Discusses Various Issues in Press Conference
Experts Believe Rouhani Must Be More Transparent in Some Cases
2- Parliament Research Centre: $110 Million of Damages Incurred by Iran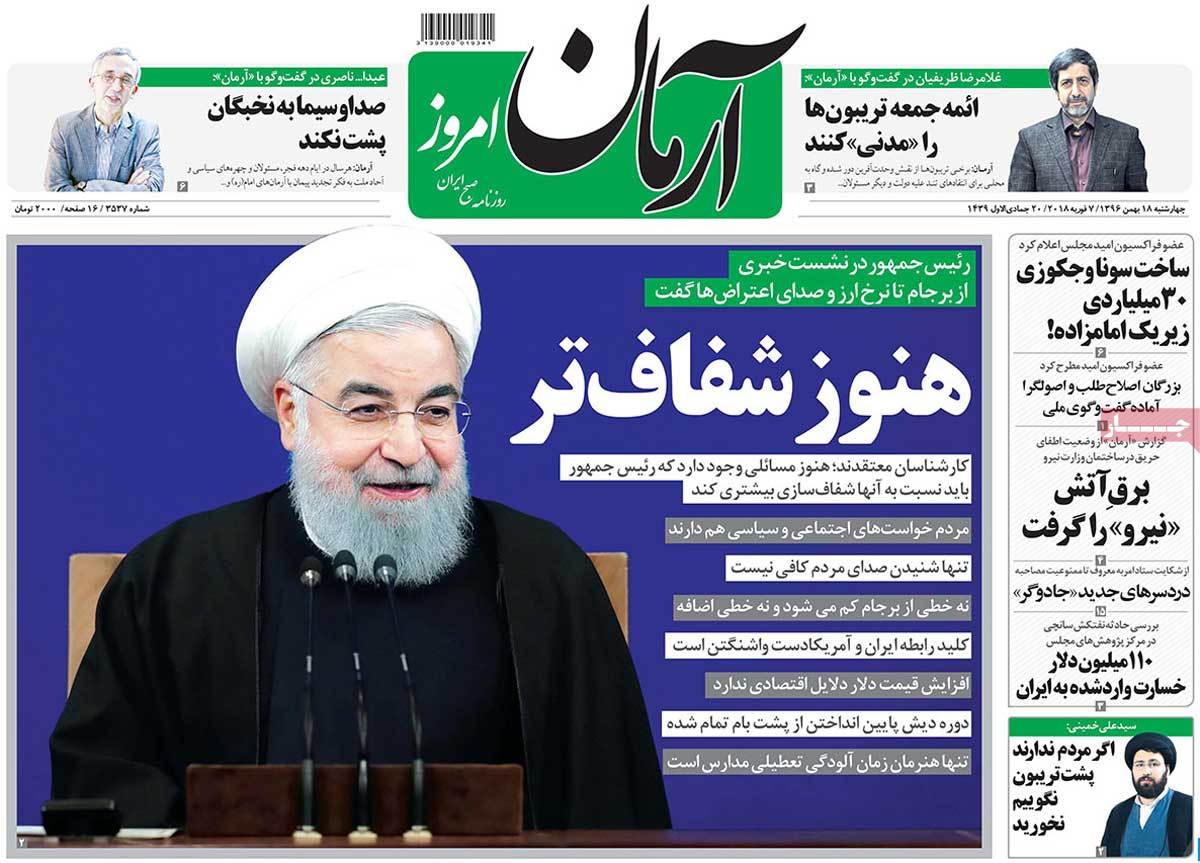 ---
Emtiaz:
1- Iranians Consume 5.5 Million Barrels of Oil per Day
Inconsistency with Global Standards
---
Ettela'at:
1- Rouhani Calls for National Dialogue about Major Issues
Our Problems Not Just Economic, but Also Political, Social, Environmental
2- Oil Minister: $40 Billion Paid Annually for Energy Subsidies
3- 48 Hours of Efforts to Extinguish Energy Ministry Building
12 Firefighters Wounded during Operation
4- Putin to Rouhani: Weakening Iran Nuclear Deal Very Dangerous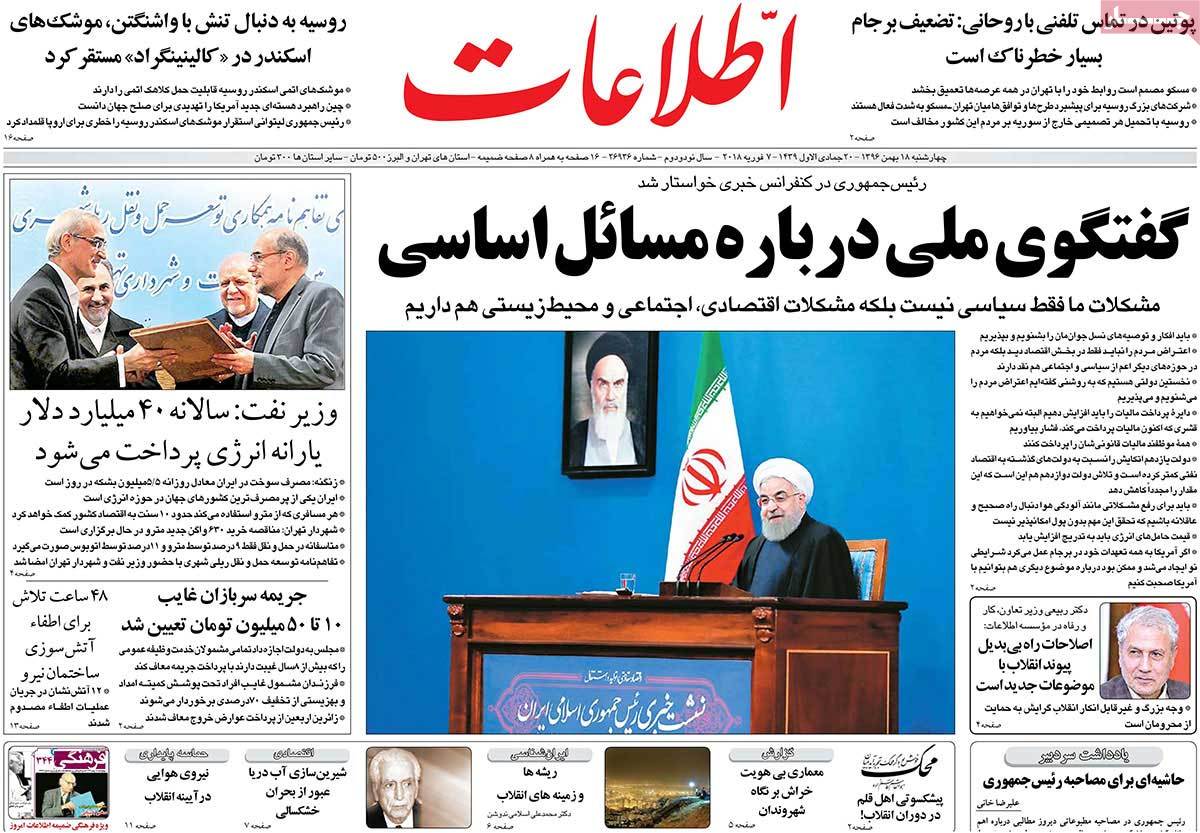 ---
Iran:
1- Rouhani Says Increased Dollar Rates Have Psychological Causes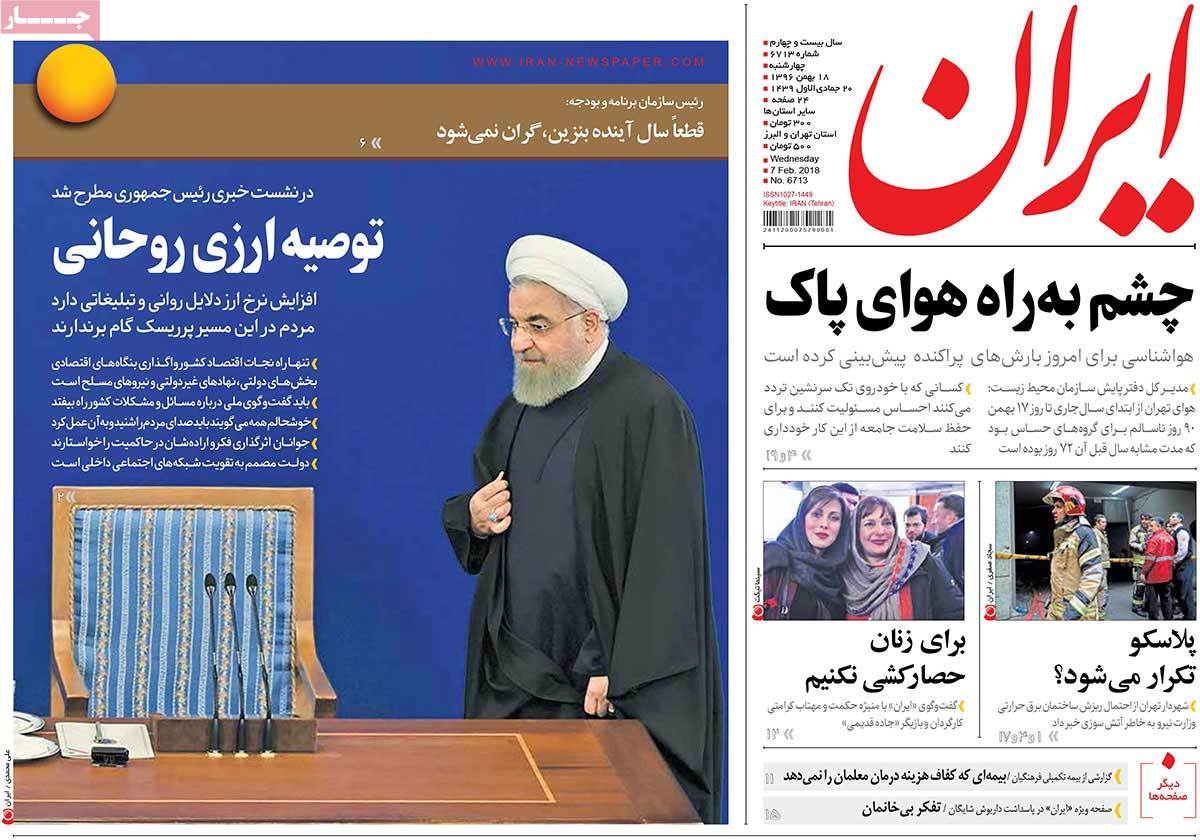 ---
Javan:
1- Rouhani: Fuel Prices Must Go up Gradually
---
Jomhouri Eslami:
1- Rouhani: Gov't Respects People's Protests
2- Arab Analyst: US Has Plans for Long-Term Presence in Iraq
3- Rouhani to Putin: Iran's Commitment to JCPOA Hinges on Other Sides' Commitment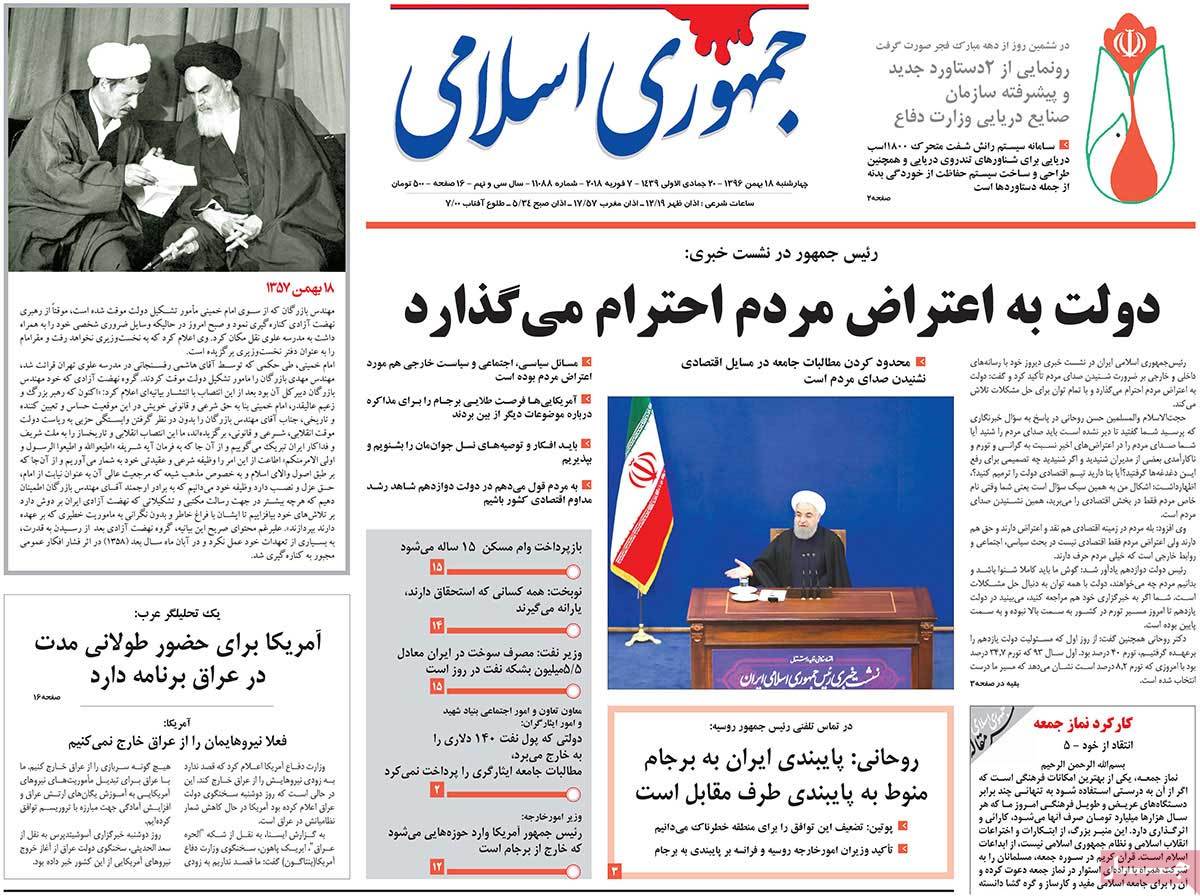 ---
Kayhan:
1- Unprecedented Move: Young Jewish Man's Armed Attack in Support of Intifada
2- Nigerian Security Forces Open Fire on Shiite Cleric Due to His Support for Zakzaky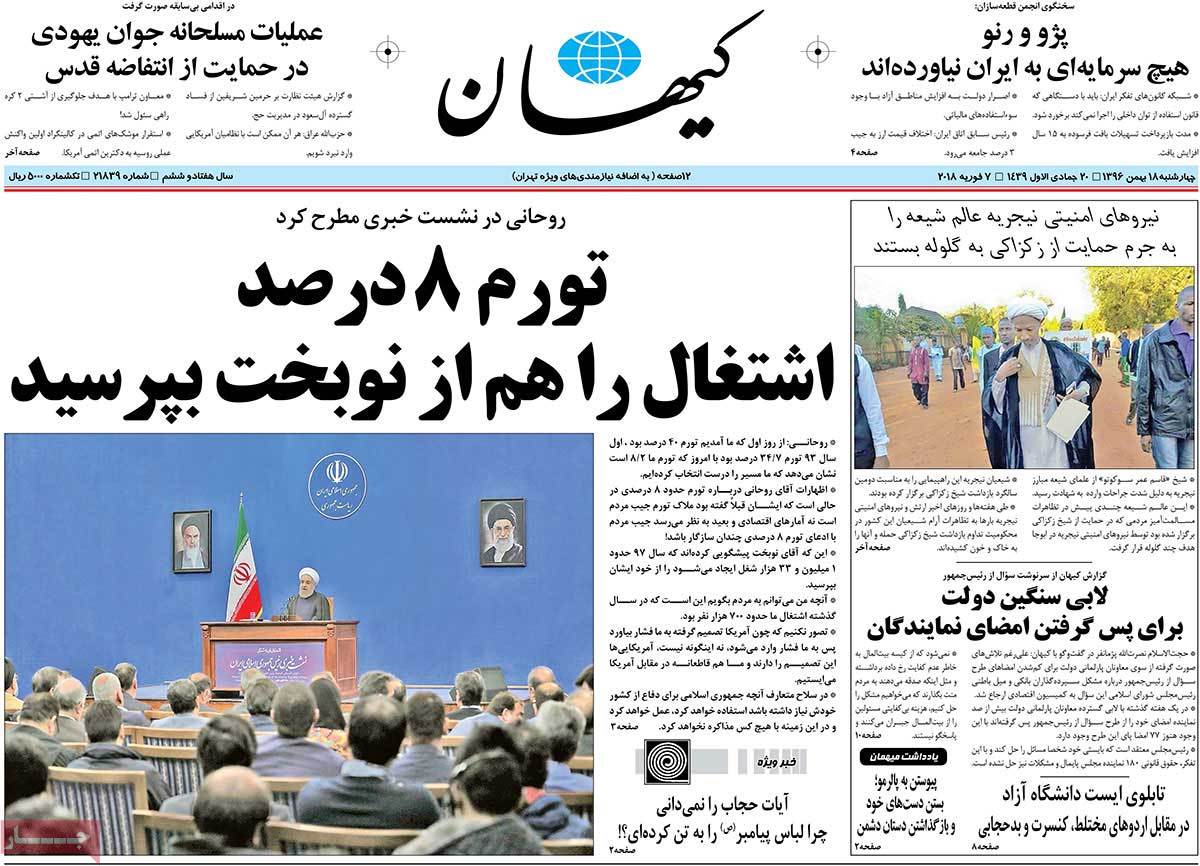 ---
Khorasan:
1- Horrific Confessions of ISIS Element: I Raped 250 Women, Girls, Killed 900
---
Resalat:
1- Rouhani: We'll Stand against US Strongly
2- Zarif: Iran Nuclear Deal Not What We Wanted from Americans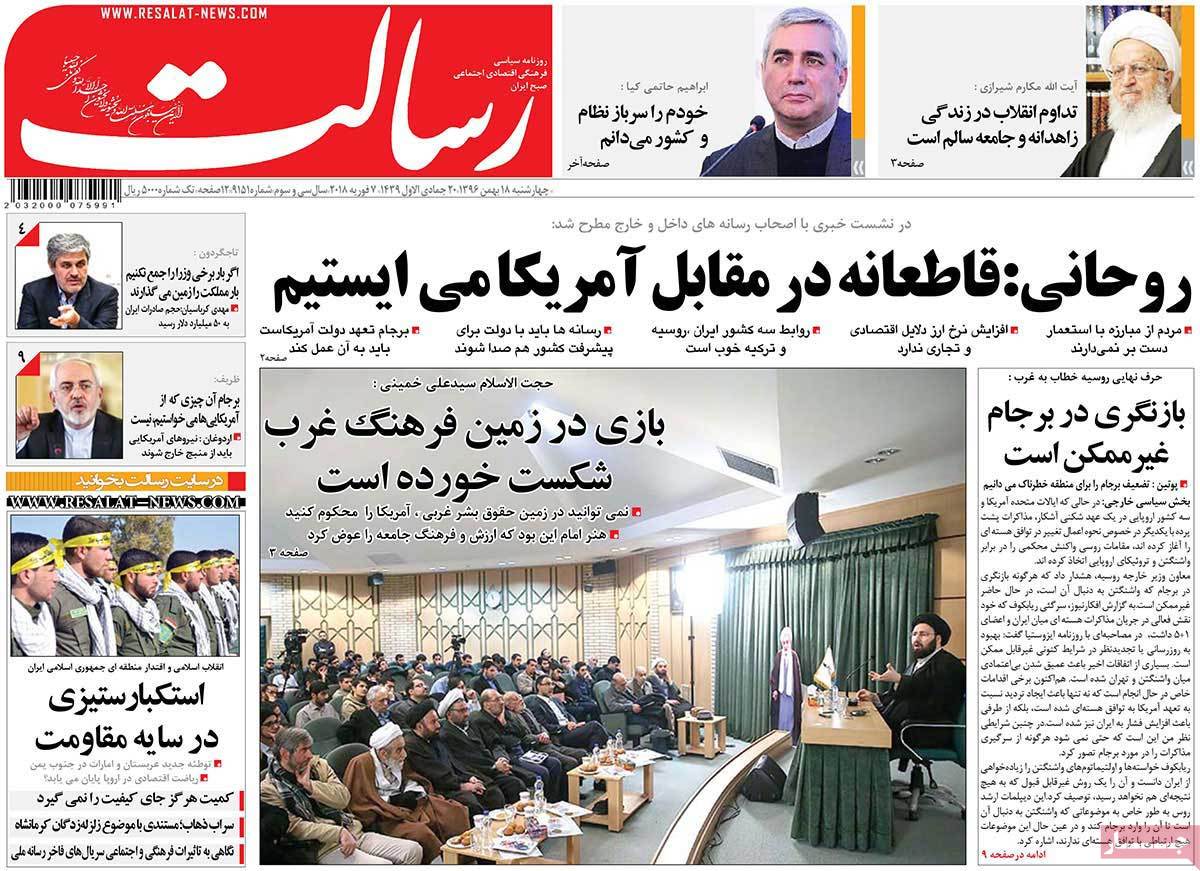 ---
Shargh:
1- Rouhani: If You Think People's Protest Was Only for Economic Woes, You Haven't Heard Their Voice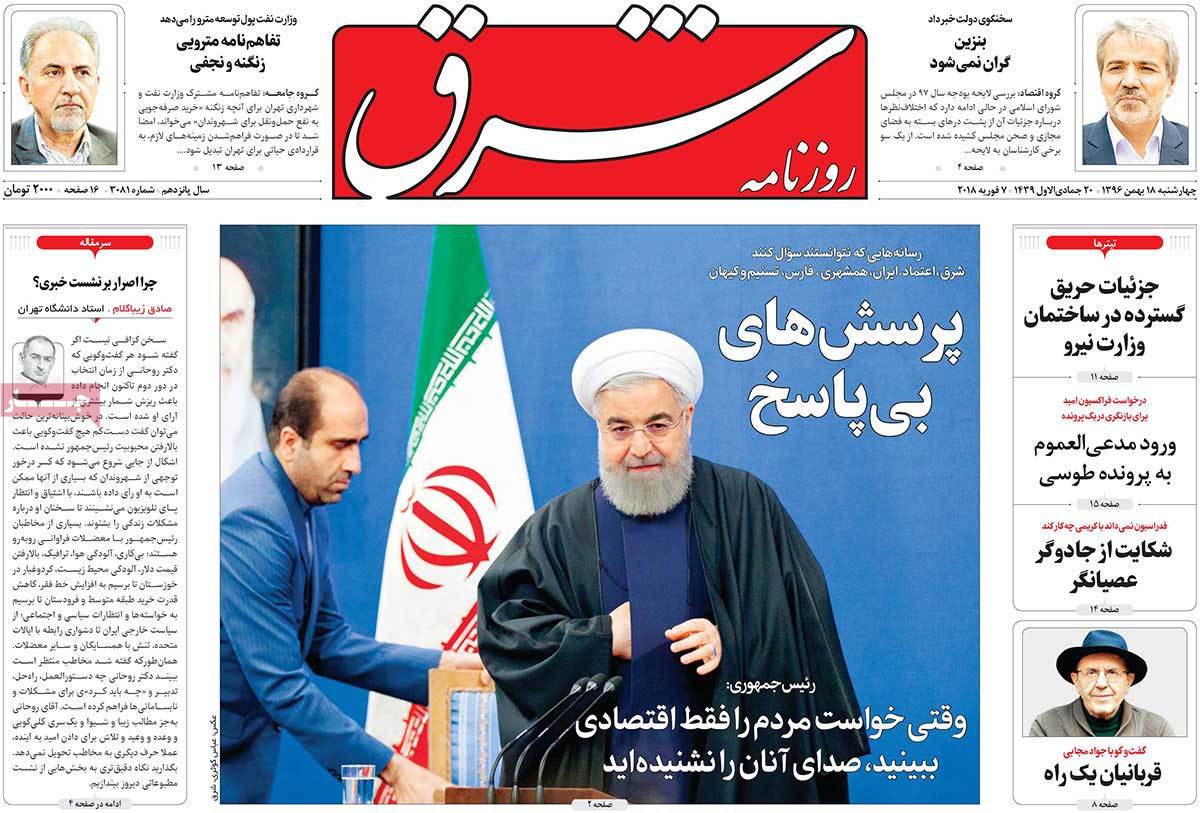 The post A Look at Iranian Newspaper Front Pages on February 7 appeared first on IFP News.