Several papers today covered the World Economic Forum held in the Swiss city of Davos, and criticized the Iranian foreign minister for not attending the important summit, where anti-JCPOA lobbies spoke out against Iran.
Also a top story was the Turkish operation in the Syrian city of Afrin, and the US warning about Ankara's extension of the war to the SDF-controlled Manbij, near the Iraqi border.
A decision by the Organisation for Economic Cooperation and Development (OECD) to upgrade Iran's risk rating to 5 also received great coverage.
The above issues, as well as many more, are highlighted in the following headlines and top stories:
19 Dey:
1- Judiciary Chief: Names of Offending Judges to Be Released in Media
2- Power Minister: Current Iranian Calendar Year, Driest Year in Past 50 Years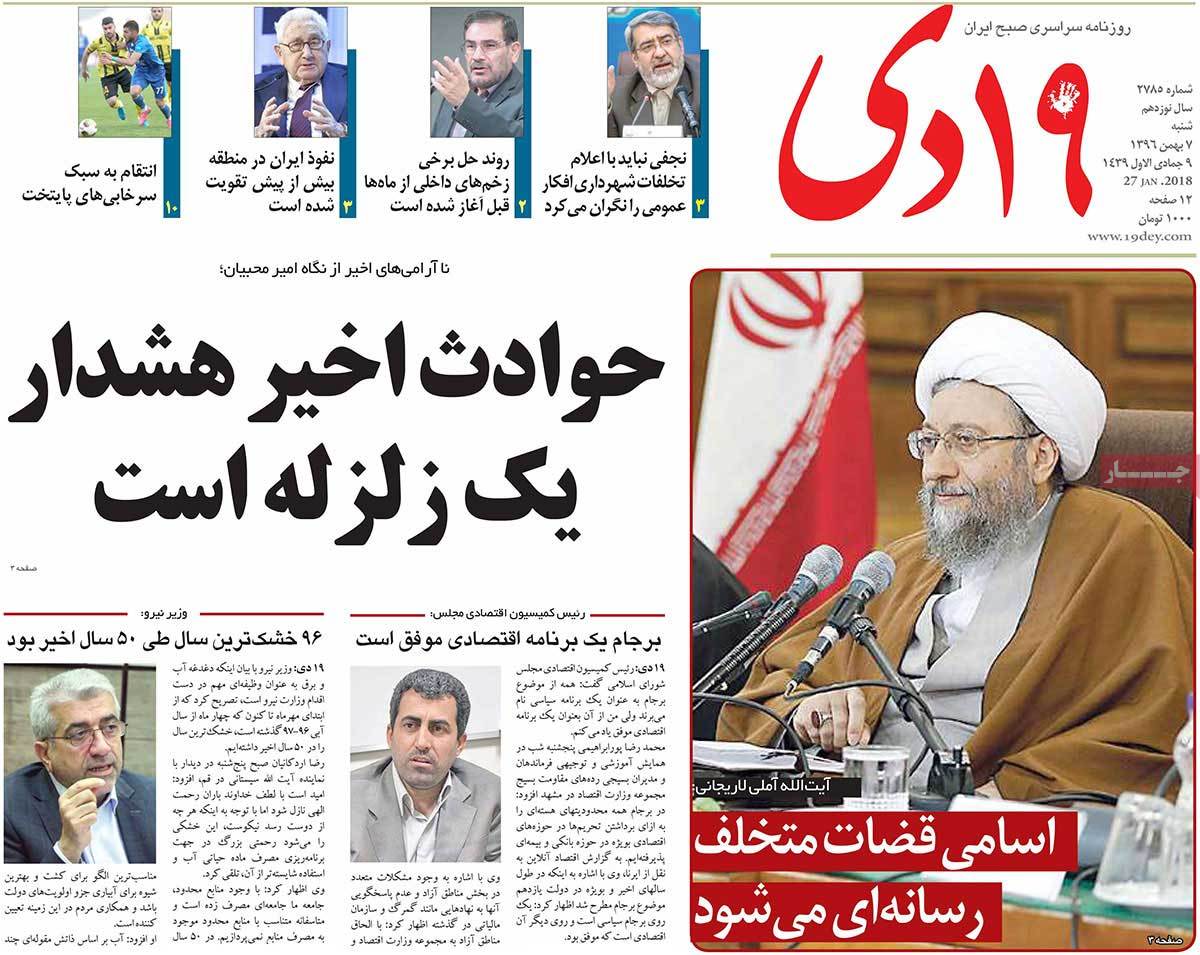 ---
Abrar:
1- US Warns Turkey of Consequences of Attacking Manbij
2- UNSC Representatives to Investigate Parts of Missile Fired at Saudi Arabia
3- Al-Abadi: Iran-US Tension Hurting Iraq, Region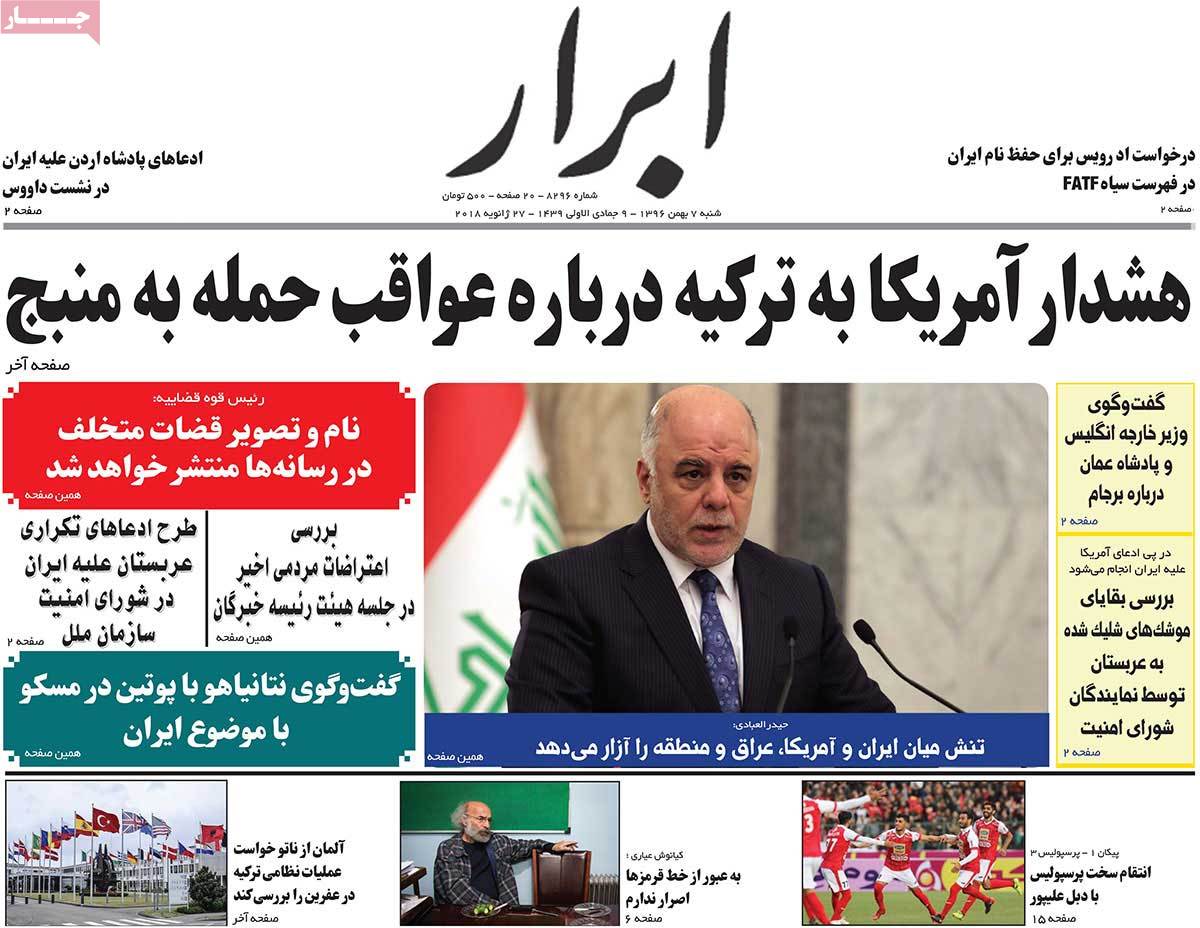 ---
Aftab-e Yazd:
1- Death of Second Child, Mr President!
While Quake-Hit People Are Dying of Cold, Red Crescent Chief Not in Iran!
2- Zarif's Untimely Absence from WEF in Davos: Opponents of JCPOA Speak Out against Iran
3- Drought Result of Failure to Adhere to Religious Values: Cleric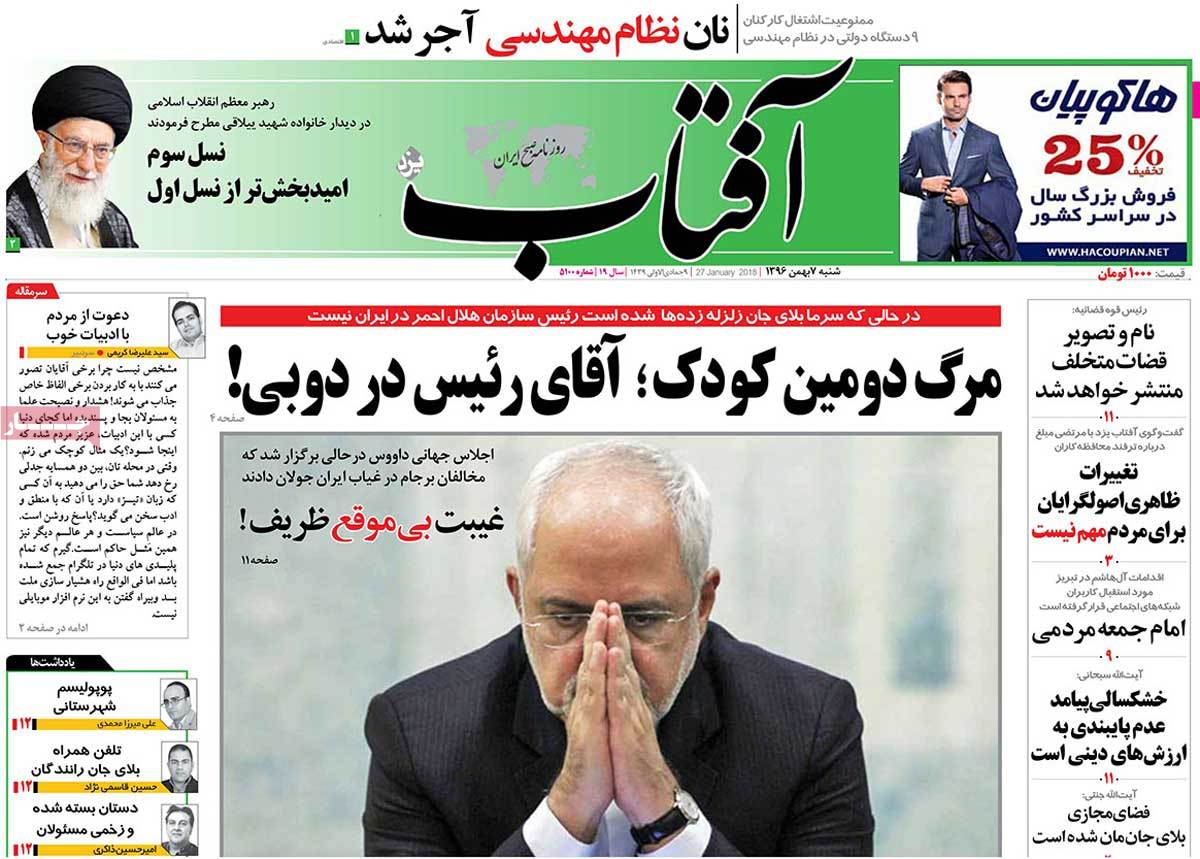 ---
Arman-e Emrooz:
1- Three Women Want to Visit Evin Prison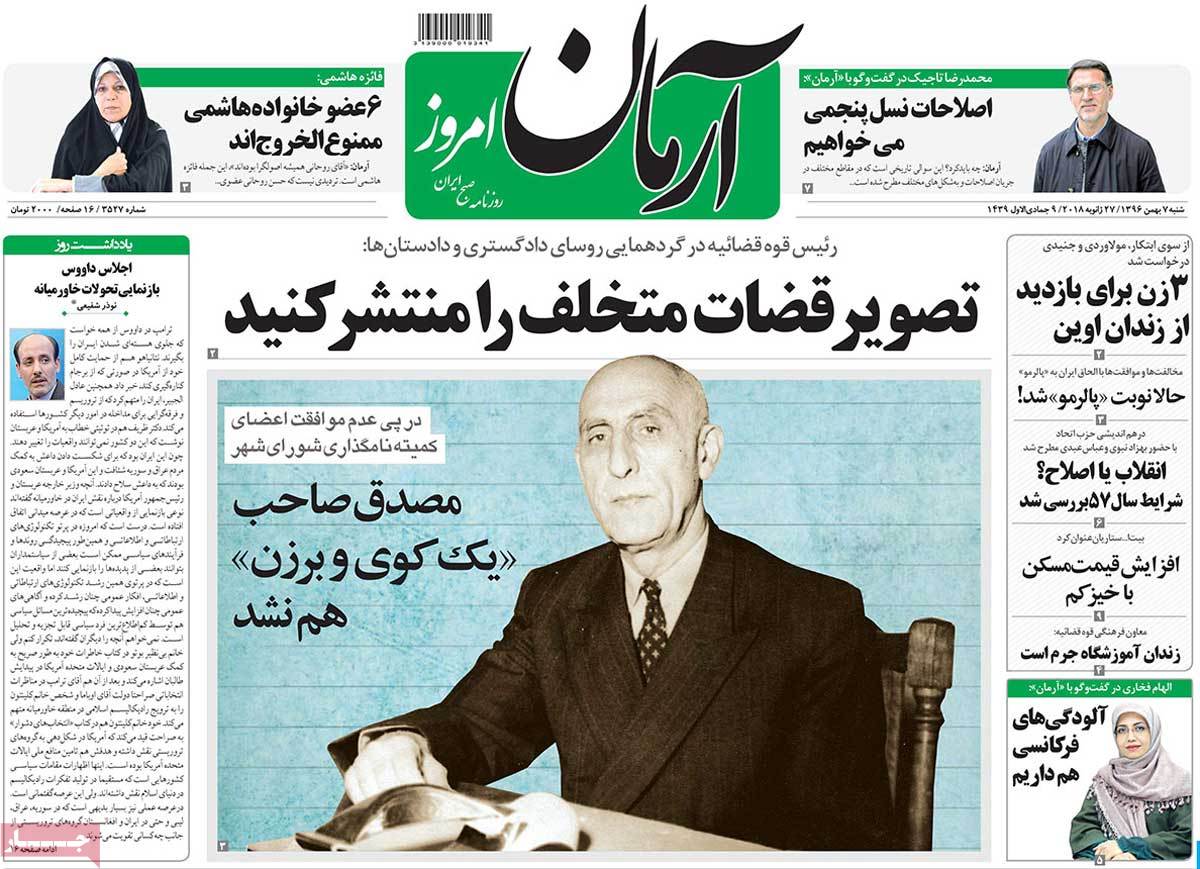 ---
Ebtekar:
1- Numerous Int'l Negotiations Totally Forgetting about Syrian People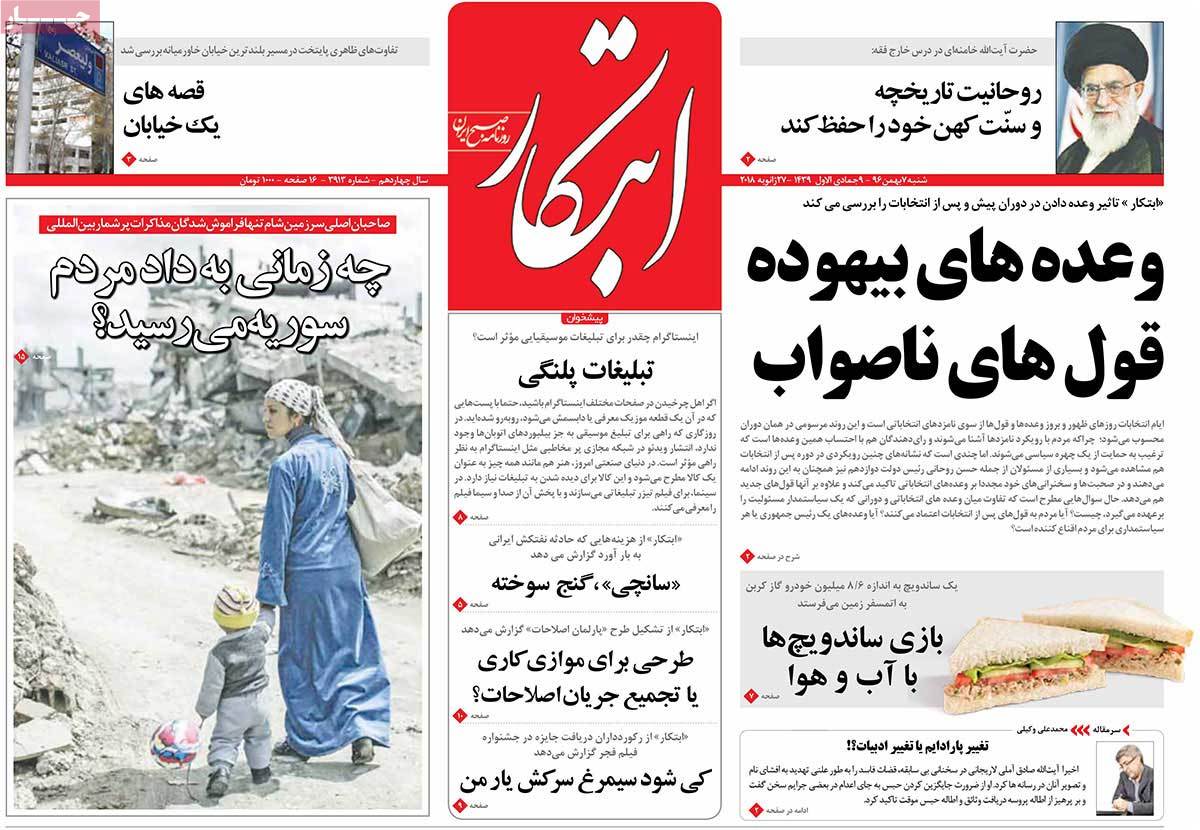 ---
Ettela'at:
1- Shamkhani: Iran Not to Be Loser of JCPOA Annulment
2- End of First Phase of Tackling Khuzestan's Dust Pollution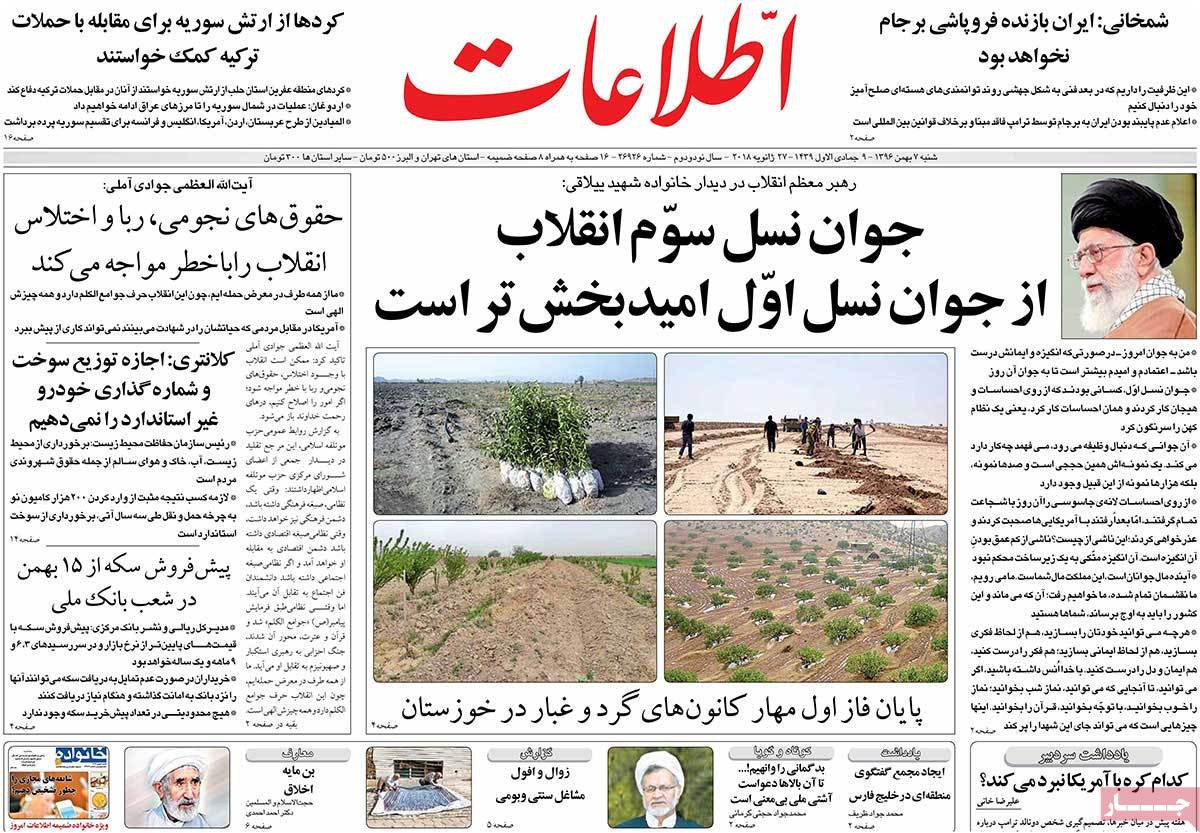 ---
Iran:
1- Trump Booed in Davos Summit
Controversy Sparked after Trump Accused Media of Telling Lies
2- Post-JCPOA OECD Ranking: Iran's Risk Rating Upgraded to 5
---
Javan:
1- Iran Leader Urges Clerics to Keep in Touch with Poor People
2- Cleric Calls for Removal of Security Barriers between People, Officials
3- Iran's Risk Rating Improved despite US Congress' Sabotage
4- Kissinger: Iran's Influence Has Increased Thanks to Its Leaders' Aggressive Strategy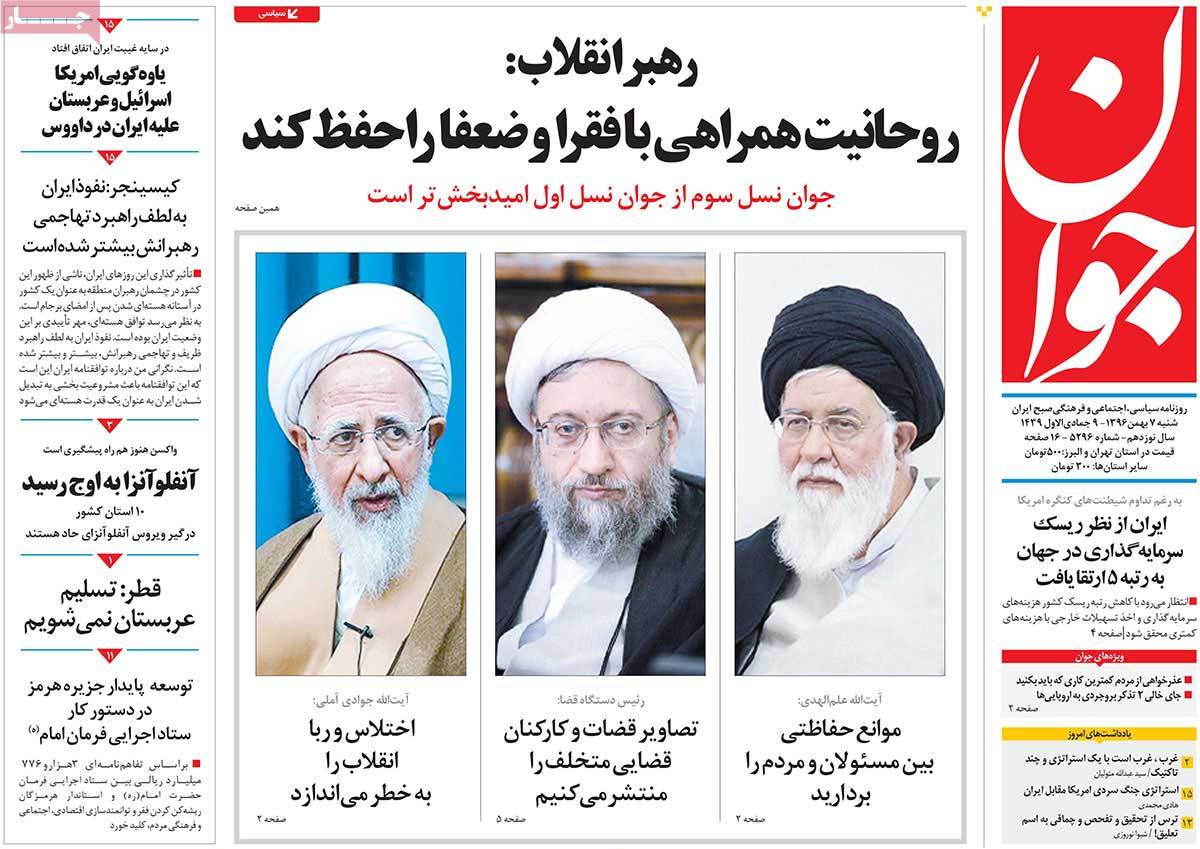 ---
Jomhouri Eslami:
1- World's Biggest Sponge Iron Factory to Be Launched in Iran Next Week
2- Qatar: Saudi Arabia Has Made Region Insecure
3- Top Clerics Call for Raising People's Awareness about Optimized Energy Consumption
---
Kayhan:
1- Cleric: Not a Single Penny of Seminary Students' Tuition Comes from State Budget
2- British PM: Telegram Has Turned into House of Terrorists, Criminals
---
Resalat:
1- Judiciary Chief: Names of Offending Judges to Be Publicized
2- Leader: I'm More Hopeful about Today's Young Generation than I Was about Previous Ones
3- Zarif: US, Saudi Arabia Arm ISIS Terrorists
---
Shahrvand:
1- Return of Life to Shalamcheh
War-Torn Farmers of Shalamcheh to Plant Farms 36 Years after Khorramshahr Liberation
2- Performing Theatre While Serving Prison Term
Play Performed by Young Prisoners to Go on Stage in Fajr Festival
The post A Look at Iranian Newspaper Front Pages on January 27 appeared first on IFP News.