Newspapers on Tuesday continued to cover the recent Protest rallies and ensuing riots across Iran. The protests, which started in the religious cities of Mashhad and Qom on Thursday, mainly focused on economic grievances, particularly the surge in prices and the financial corruption of certain state bodies.
However, the ensuing protest rallies in other cities on Friday, Saturday, Sunday, and Monday involved more political slogans and turned violent in numerous cases.
What follows are the Iranian papers' coverage of the recent unrest on Tuesday:
19 Dey:
1- Rouhani: People's Protest an Opportunity, Not Threat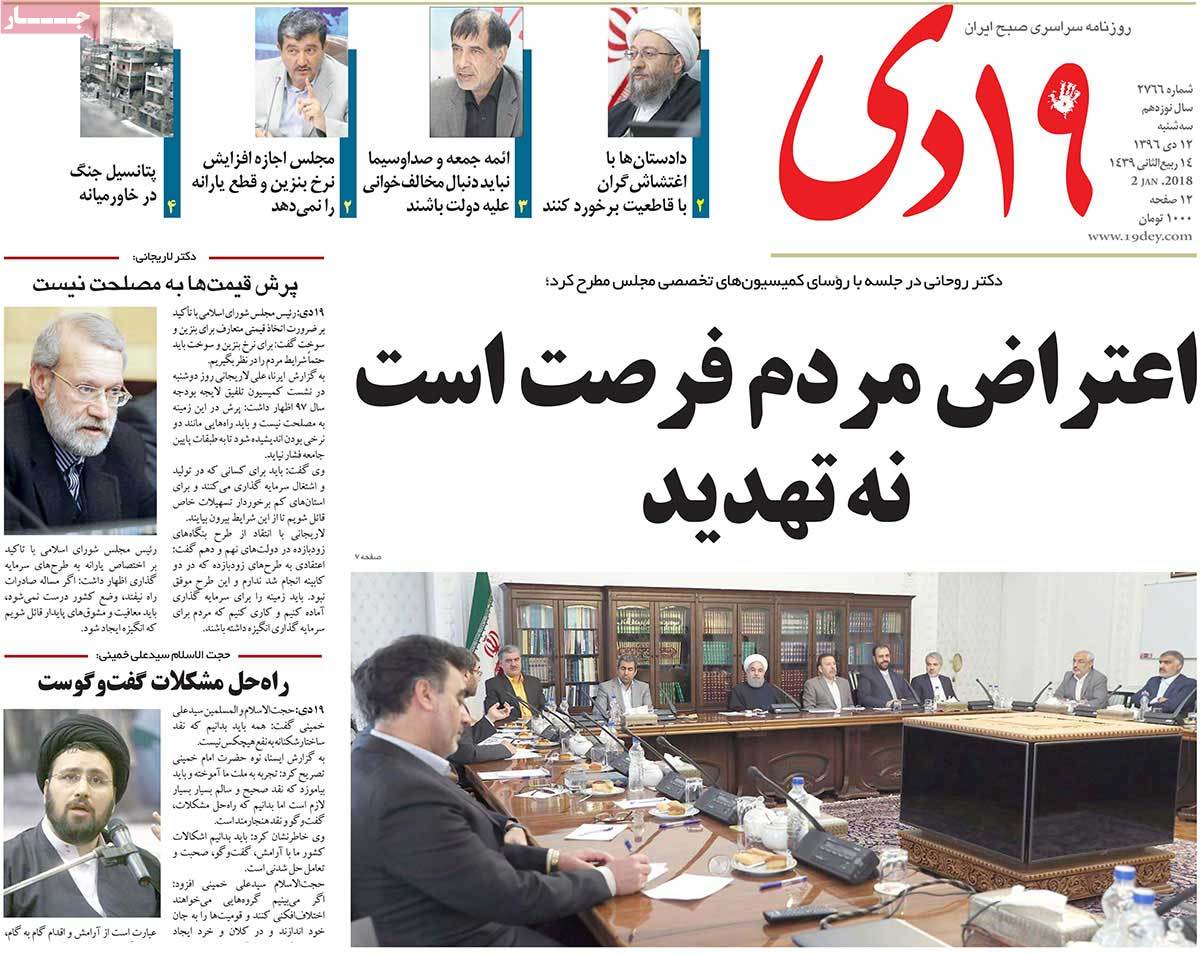 ---
Abrar:
1- MP: Unrest Can Send Negative Signals on Investment
2- US Senator to Trump: Tweet Not Enough for Supporting Iran Unrest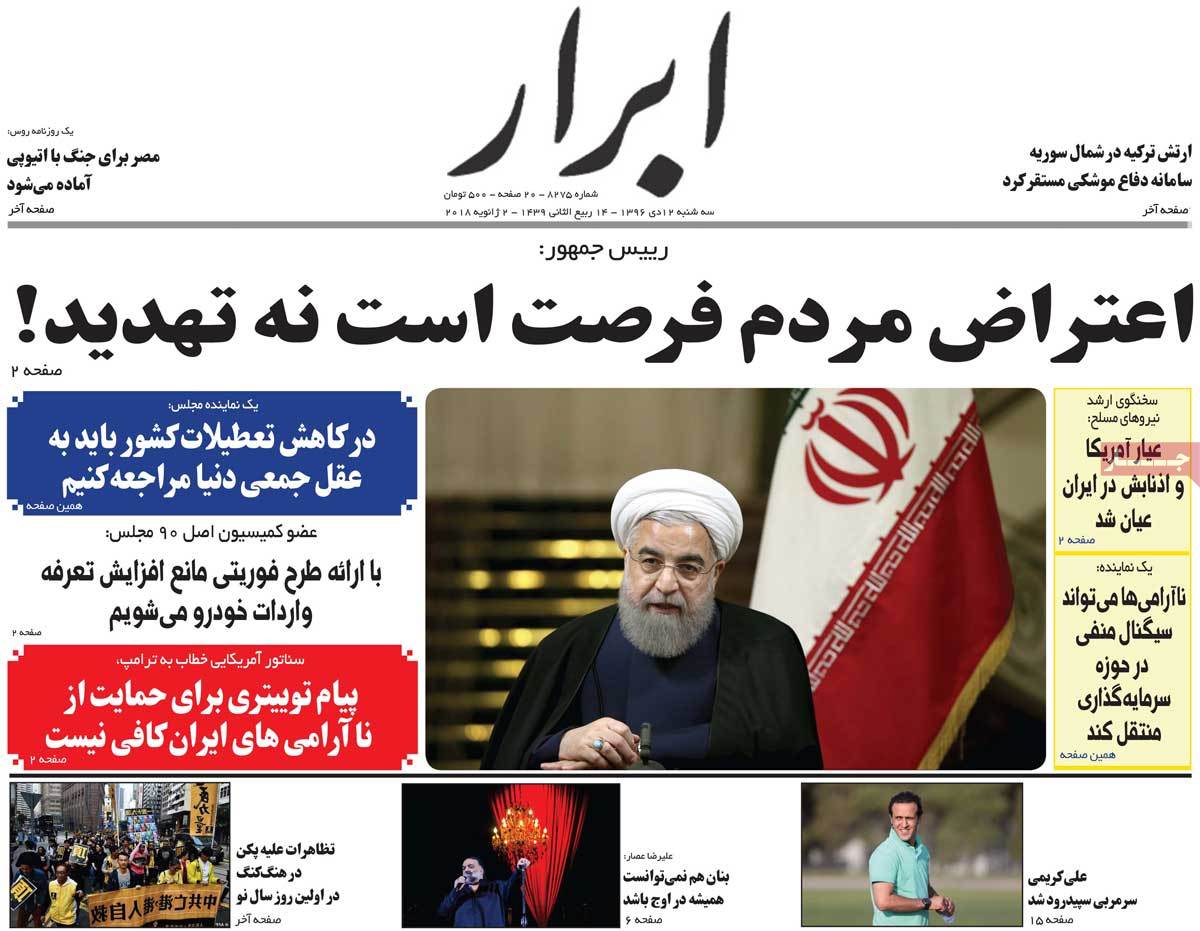 ---
Aftab-e Yazd:
1- IRGC Spokesman: Situation under Control, No Need for IRGC's Help
---
Arman-e Emrooz:
1- Khatami's Brother: Opponents of Gov't Took People to Streets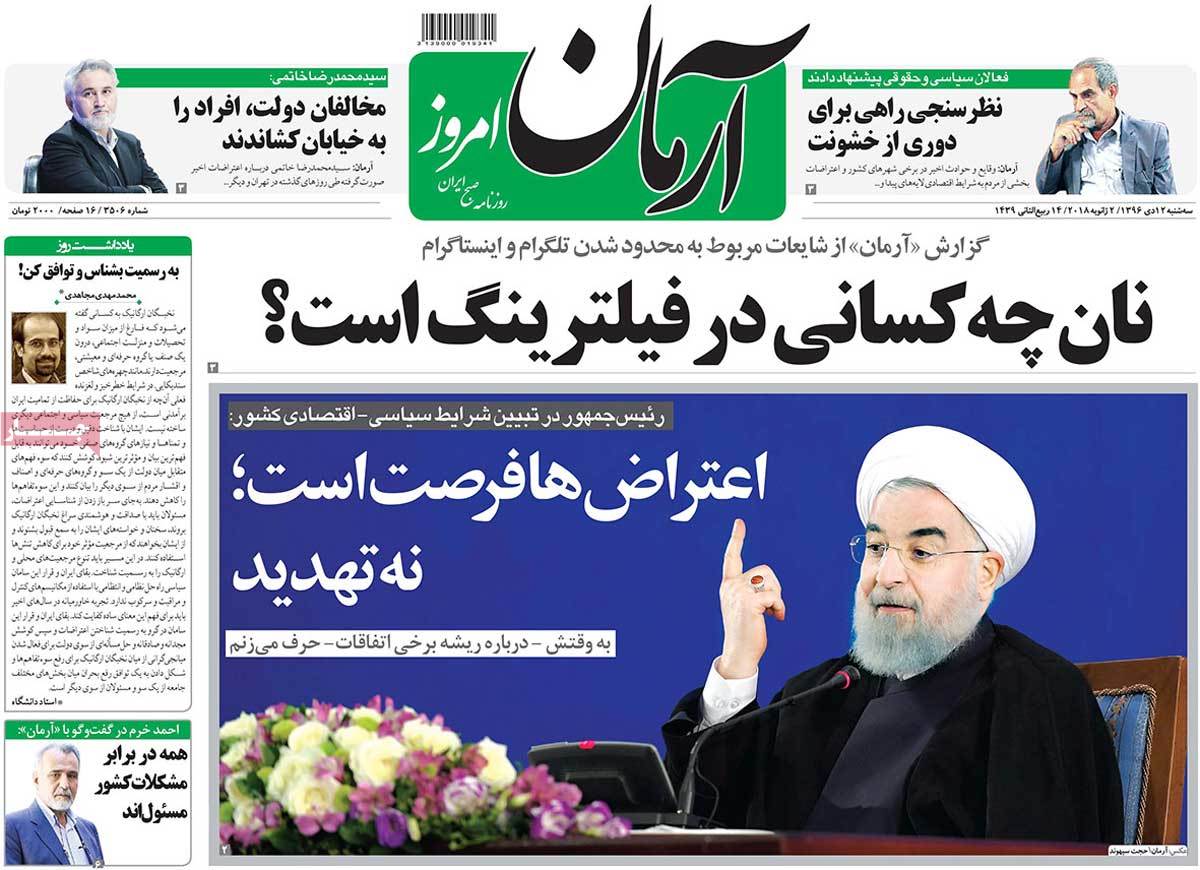 ---
Ebtekar:
1- Gov't, Nation behind Wall of Distance
2- N. Korean Leader Threatens US, Underlines Necessity of Talks with Seoul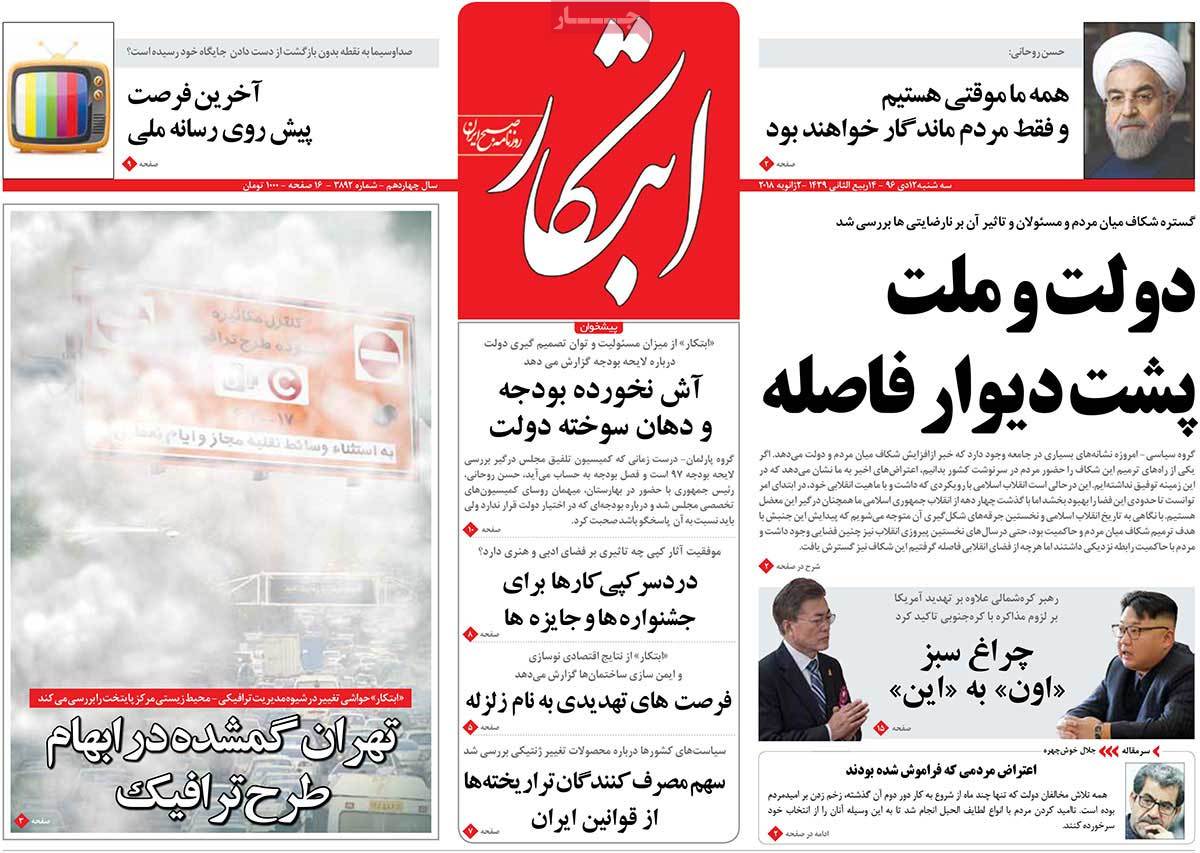 ---
Etemad:
1- Dialogue, Calm, Prudence: Political Activists Call for Legal Behaviour, Avoiding Violence
2- Rouhani: National Unity Best Response
---
Ettela'at:
1- Rouhani: Atmosphere Should Be Opened Up for Criticism, Legal Protest
2- 27 Killed, 8 Wounded in Saudis' Brutal Attack on Yemen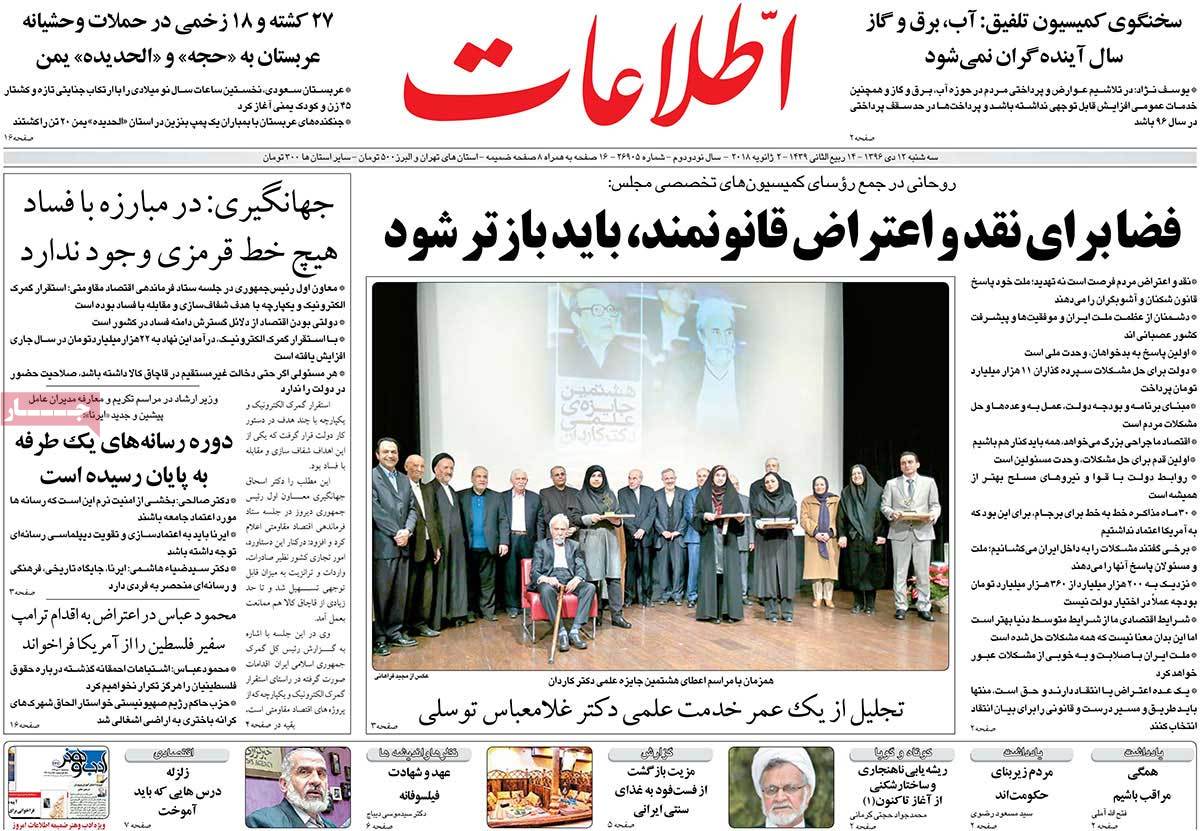 ---
Iran:
1- Iran First VP: We Must Think about National Security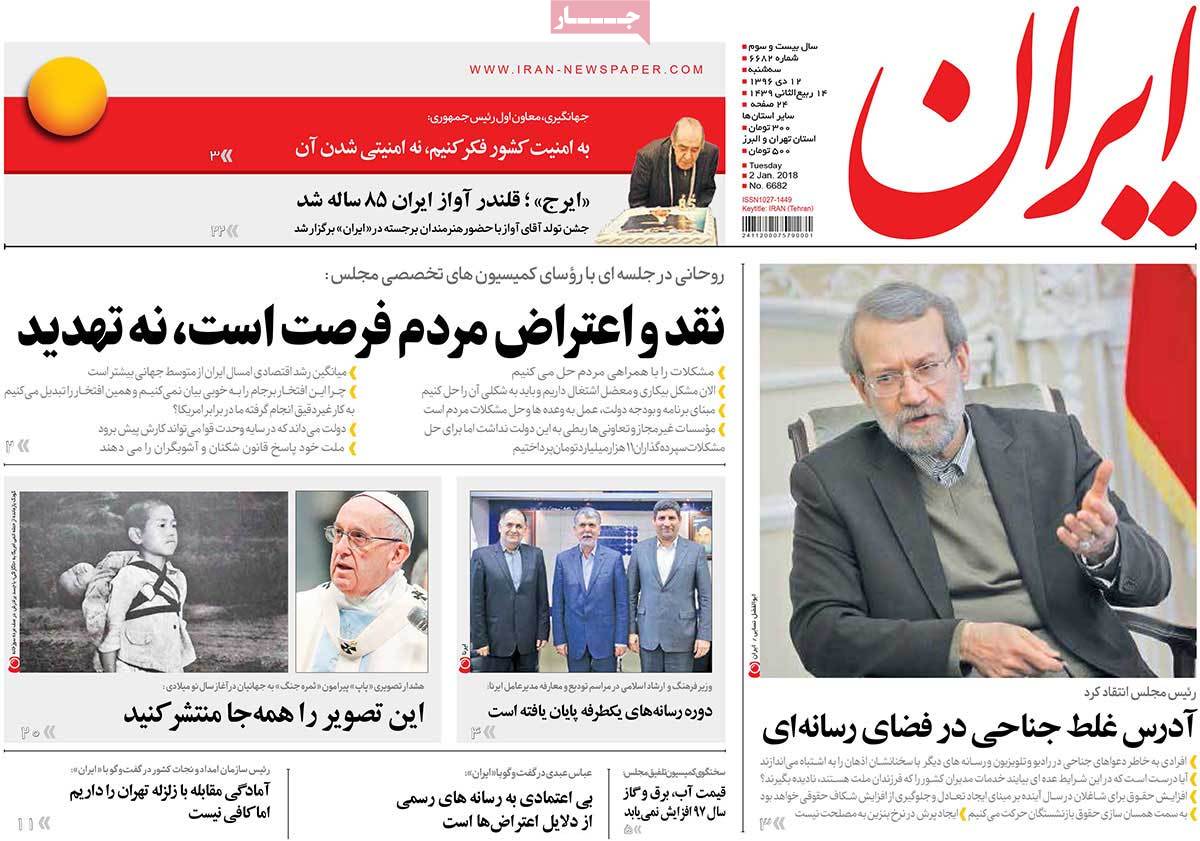 ---
Jame'eh Farda:
1- Interior Ministry Invites Party Leaders to Resolve Crisis
2- Can Reformists Convince People to Leave Streets?
---
Javan:
1- Guardian: Political Vultures Flying over Iran's Sky
American, Israeli Officials' Hope for Weakening Iran in Recent Developments Immature
2- People Will End Unrest Created by Rioters: Rouhani
---
Jomhouri Eslami:
1- Rouhani: People to Respond to Norm-Breakers, Rioters
2- Iran First VP: Officials Not Eligible to Be in Cabinet If Involved in Contraband Smuggling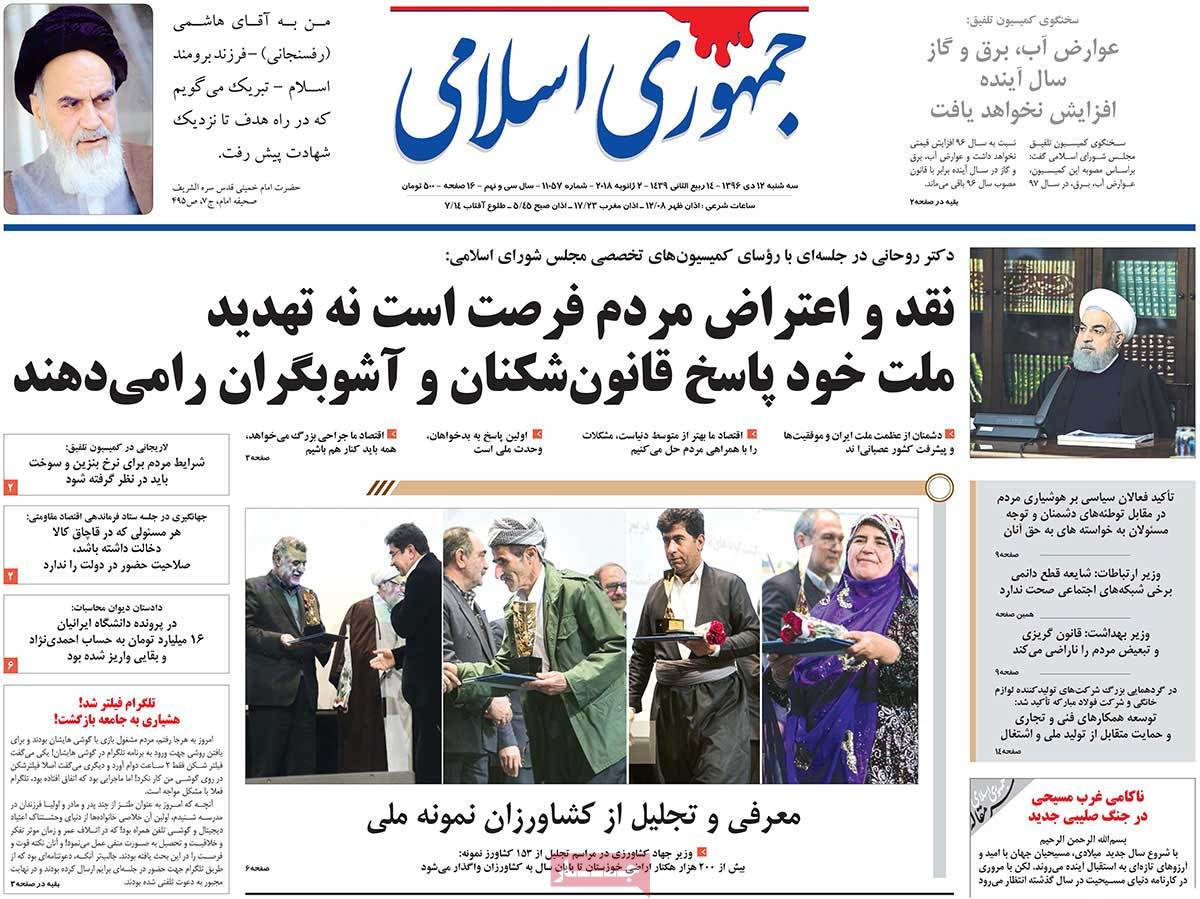 ---
Kayhan:
1- Political Activists: Riot, Killing People, Damaging Public Property Are Crime, Not Civil Protest
2- Trace of IMF in Iran's Economic Conditions Today
3- Yemen's Ansarullah Seizes Saudis' Surveillance Submarine
---
Khorasan:
1- ICT Minister: Restrictions on Social Media Temporary
2- People's Spontaneous Response to Rioters in Certain Cities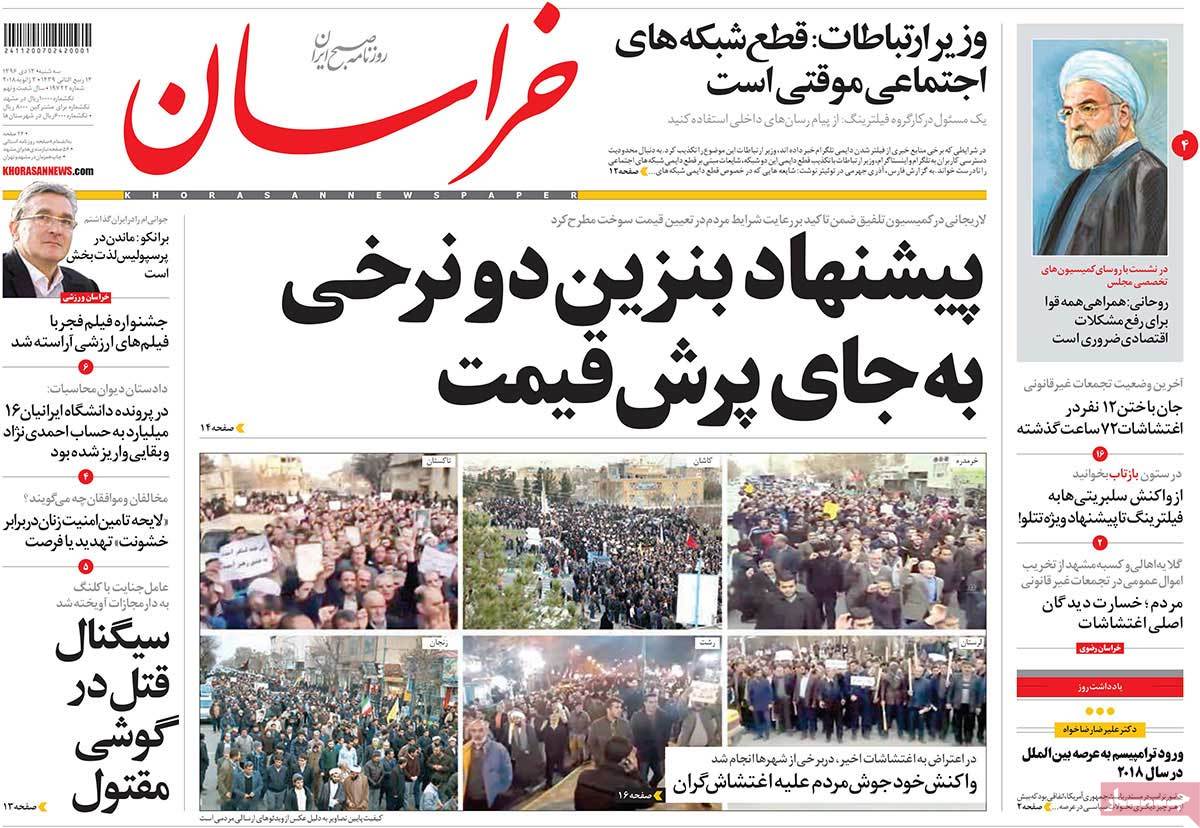 ---
Resalat:
1- Rouhani: We All Should Remain United, Join Hands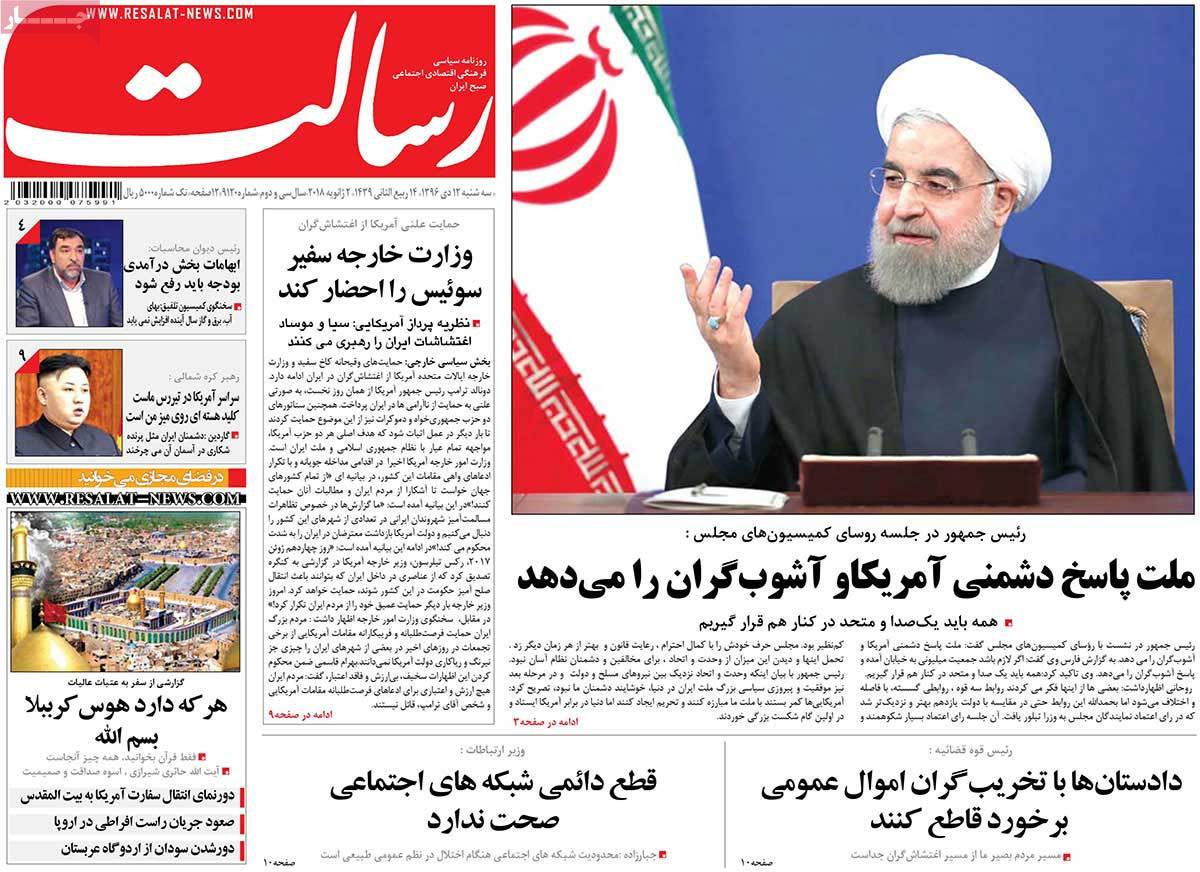 ---
Setareh Sobh:
1- Judiciary Chief: No Demand to Be Fulfilled by Creating Disorder
---
Shargh:
1- MP: Heavy Price Should Be Paid for Transparency
2- Rouhani: People Want Freer Atmosphere
3- Larijani: None of People in Post-Revolution Cabinets Were Corrupt
4- Obama Blocks Israel's Plan to Assassinate General Soleimani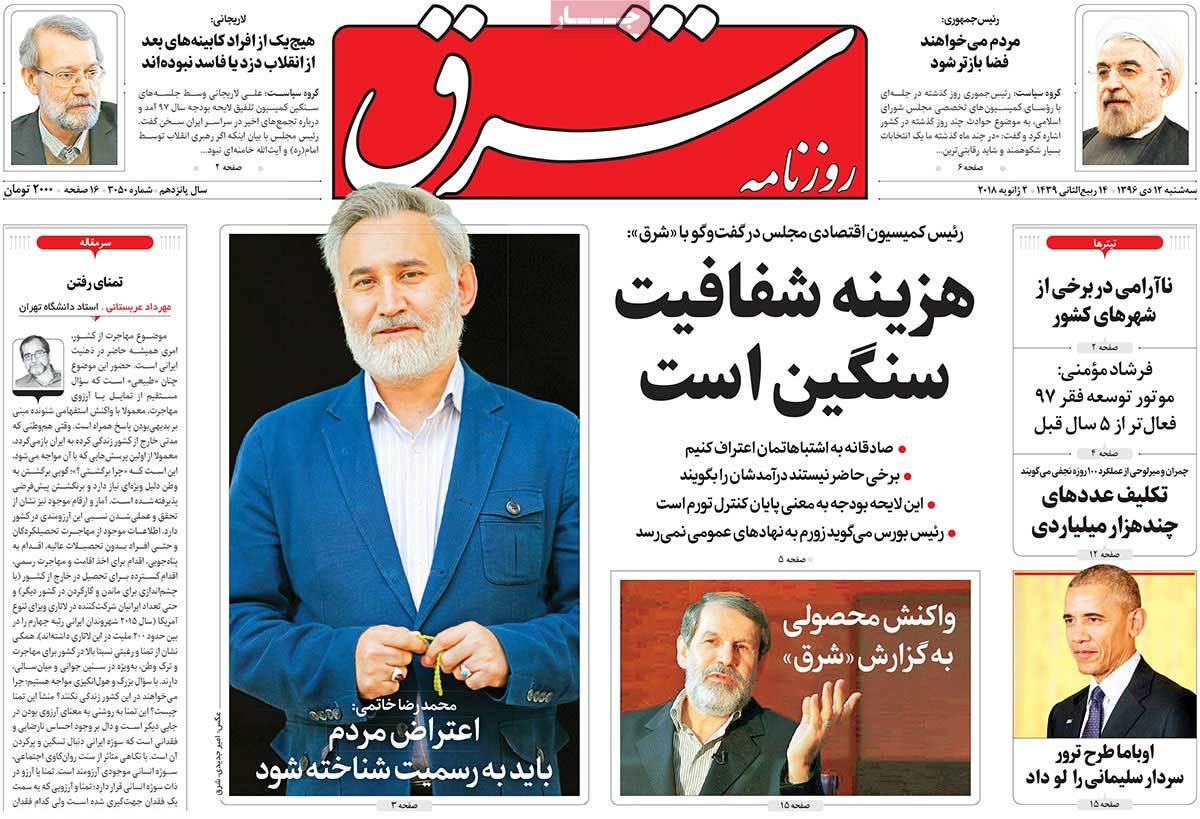 The post Iran Protests Still Making Headlines on January 2 appeared first on IFP News.