The top story in almost all Iranian newspapers was the 5.2-magnitude Earthquake that his Tehran and Alborz provinces on Wednesday night. Several reports and opinion pieces were published today on the insufficient preparedness for dealing with such an incident in Tehran.
The other major story in today's papers was the UN General Assembly's unanimous vote for a Resolution that urges the US administration to withdraw its controversial decision on Jerusalem al-Quds.
The above issues, as well as many more, are highlighted in the following headlines and top stories:
19 Dey:
1- World against US
2- Shock of Earthquake to Tehran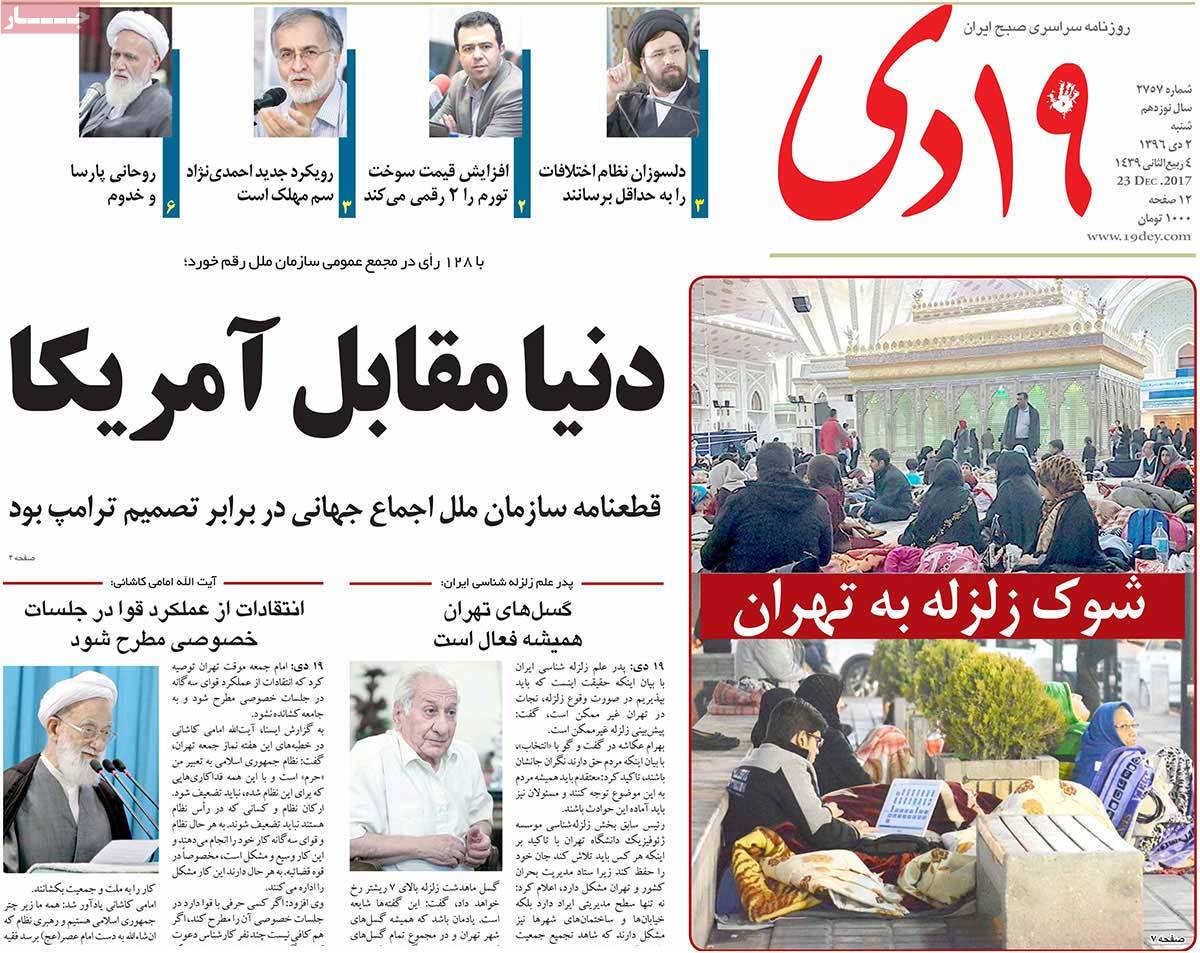 ---
Abrar:
1- Letter of US Intelligence Experts to Trump: Iran Not Supporting Terrorism
2- Saudi Arabia: We Want to Enrich Uranium as Iran Does
3- Deputy FM Araqchi: We Won't Accept Any Negotiation over Defence Issues
---
Abrar-e Eqtesadi:
1- 54% Increase in Iran-EU Trade Ties
2- Increase in Fuel Prices to Destroy 400,000 Job Opportunities
---
Aftab-e Yazd:
1- How Desperate We Are: A Report on People's Behaviour after Tehran Quake
2- Playing with Paris' Card: Why We Should Welcome French FM's Imminent Visit to Tehran
3- Europe Worried about China's Economic Growth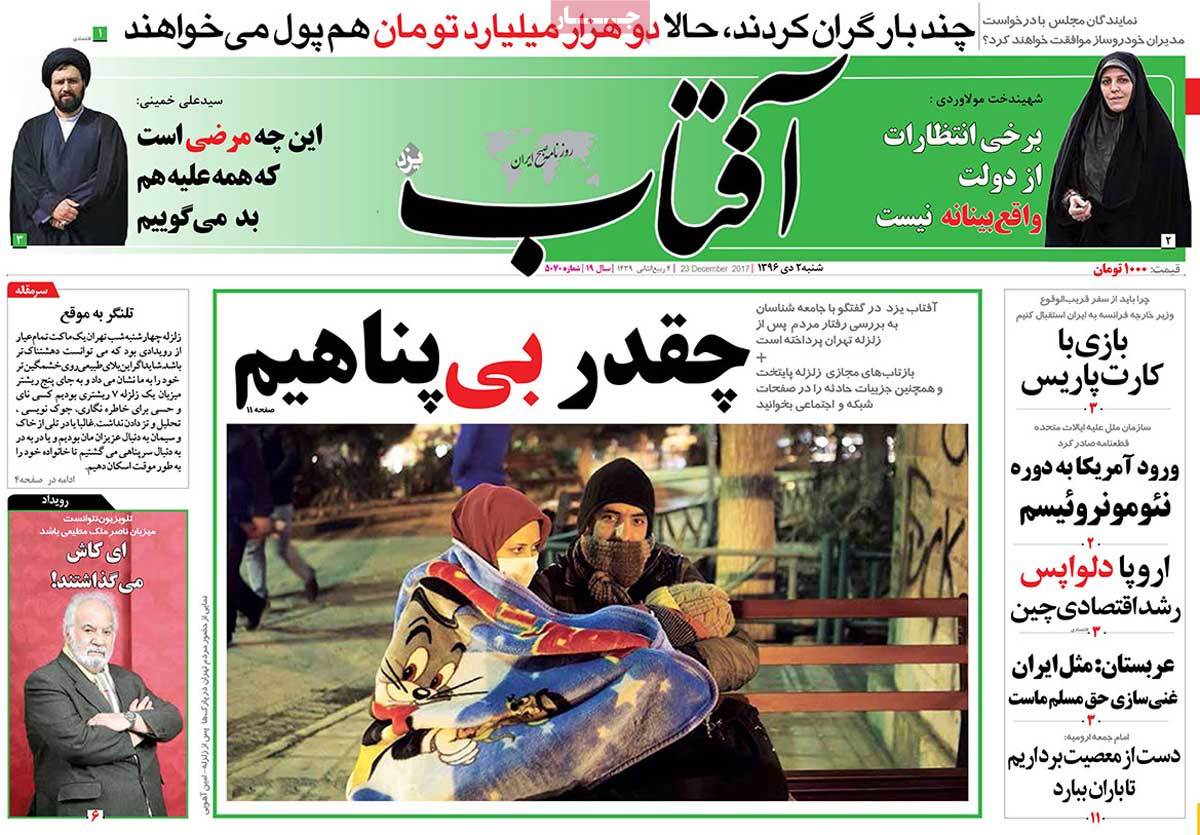 ---
Arman-e Emrooz:
1- Domino of Earthquake
2- Stopping Support of Rouhani to Distance Us from Democracy: Zibakalam
---
Ebtekar:
1- We Consciously Don't Regret Voting for Rouhani
A Report on Campaign of Rouhani's Critics, Supporters
2- Escaping Tehran! A Review of Ways to Decrease Possible Damages of Tehran Quake
---
Etemad:
1- Problems of Generals: Have Strengths of Rouhani's Gov't Turned into Its Weak Points?
2- Attacking Ministers to Result in Weakening Gov't (Editorial)
---
Ettela'at:
1- Global Community's Decisive 'No' to Trump's Claims on Quds
2- Possibility of Strong Quake in Tehran, Alborz Always Exists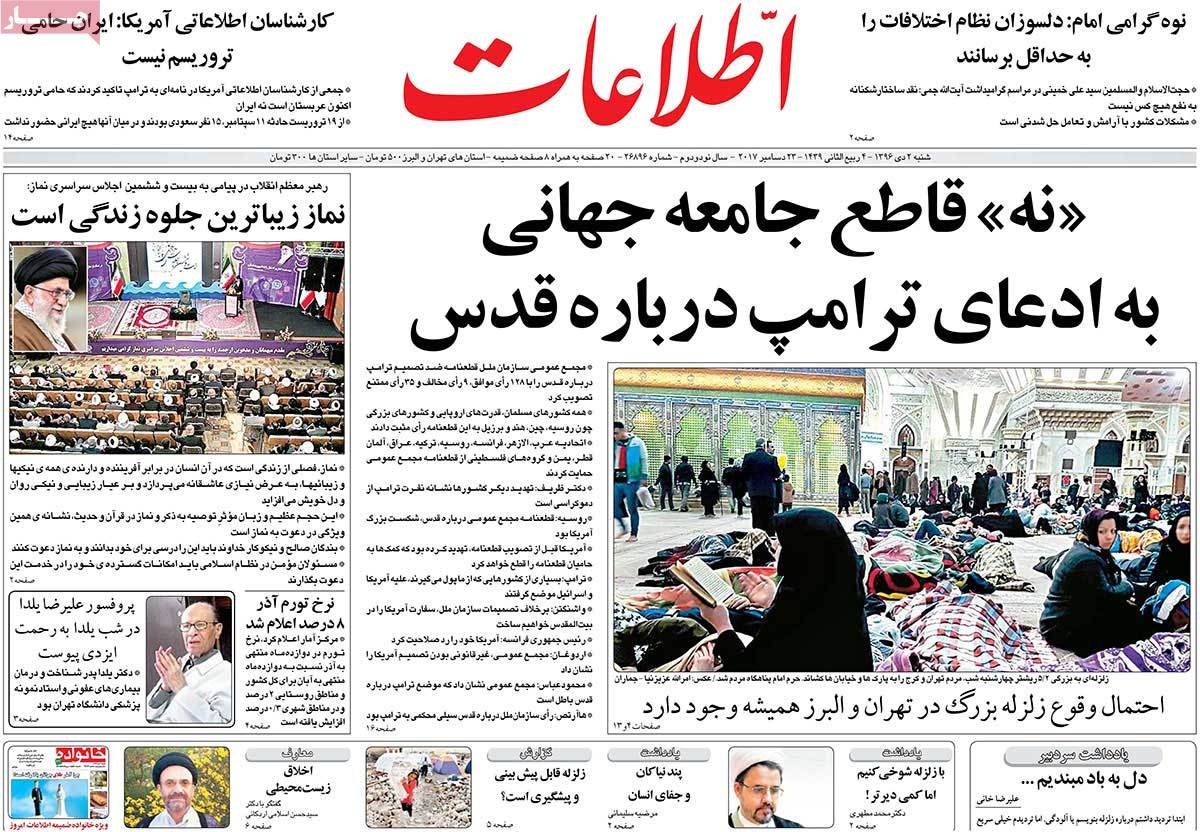 ---
Iran:
1- Earthquake Drills Imposed on Iran
2- Unprecedented Unity of 128 Countries against US
---
Jame'eh Farda:
1- Test of Tehran
Crisis Management, People's Behaviours under Scrutiny after Earthquake without Damages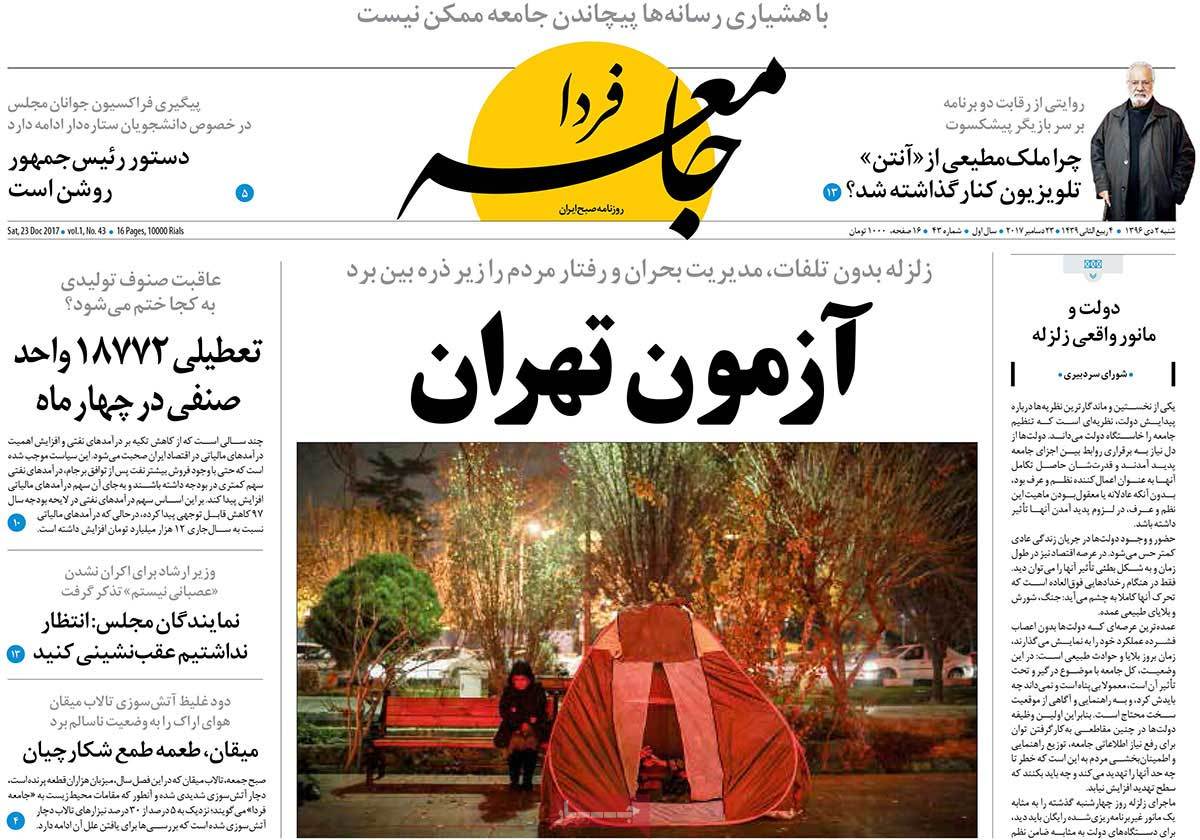 ---
Javan:
1- Tehran Scared!
2- They Impose Sanctions on Palestine to Force It into Accepting 'Deal of Century': Islamic Jihad
---
Jomhouri Eslami:
1- Story of al-Quds Made US Isolated in the World
---
Kayhan:
1- Tehran's Night Full of Stress
Praiseworthy Performance of Officials in Shortest Time Possible
2- Syrian People Show Their Solidarity, Power in First Anniversary of Aleppo Liberation
3- Washington Post: Time to Prosecute Bin Salman as War Criminal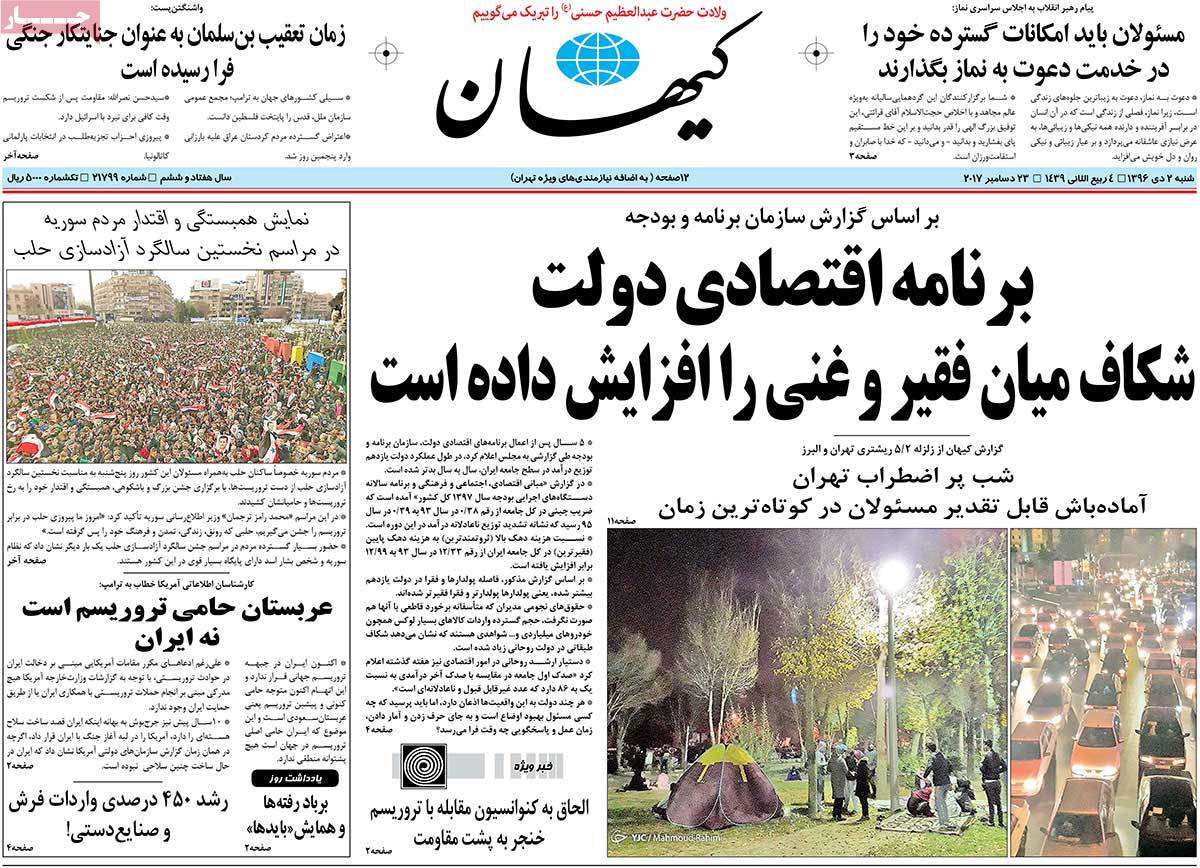 ---
Resalat:
1- Ayatollah Javadi Amoli: We Should Avoid Socialist, Capitalist Culture of West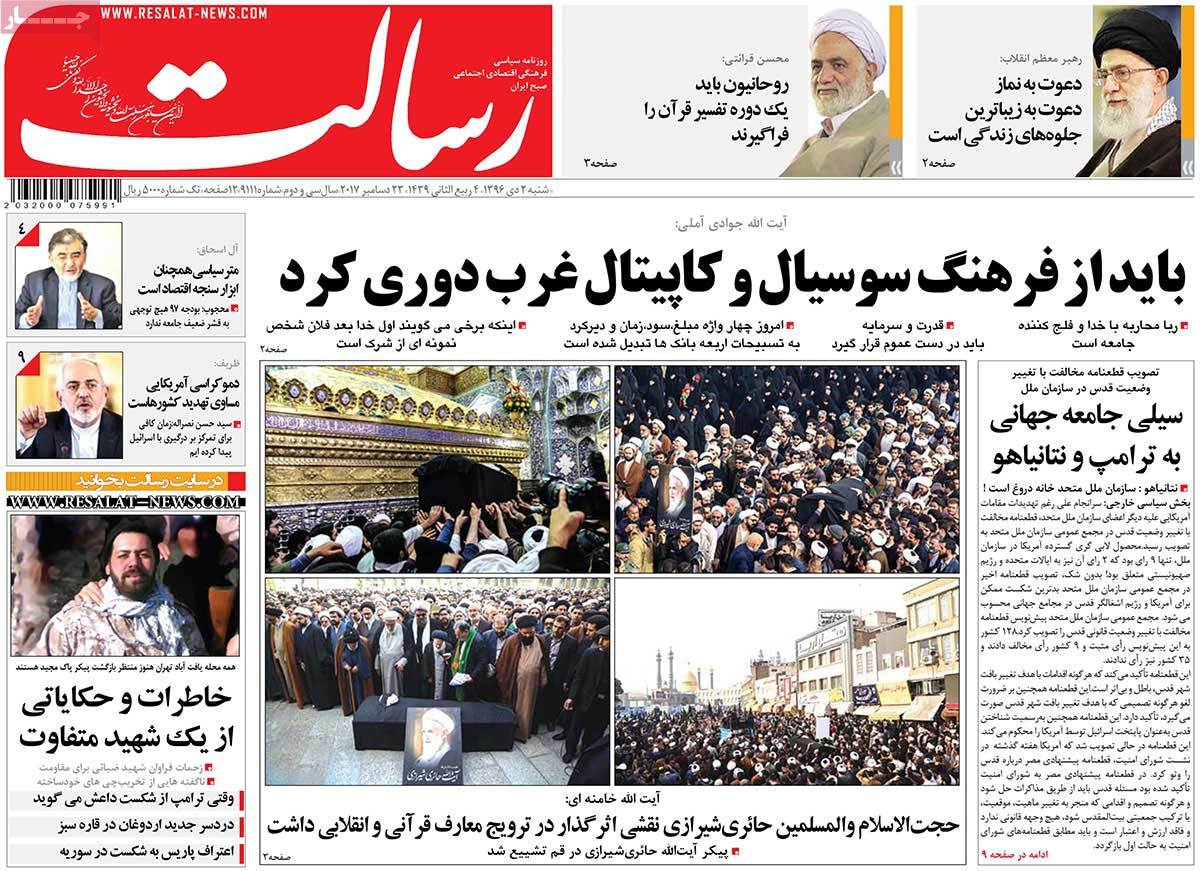 ---
Shahrvand:
1- United Nations' Slap on Trump's Face
---
Shargh:
1- Tehran Justice Chief Rejects Reports on Zaghari's Release, Talks of Her New Case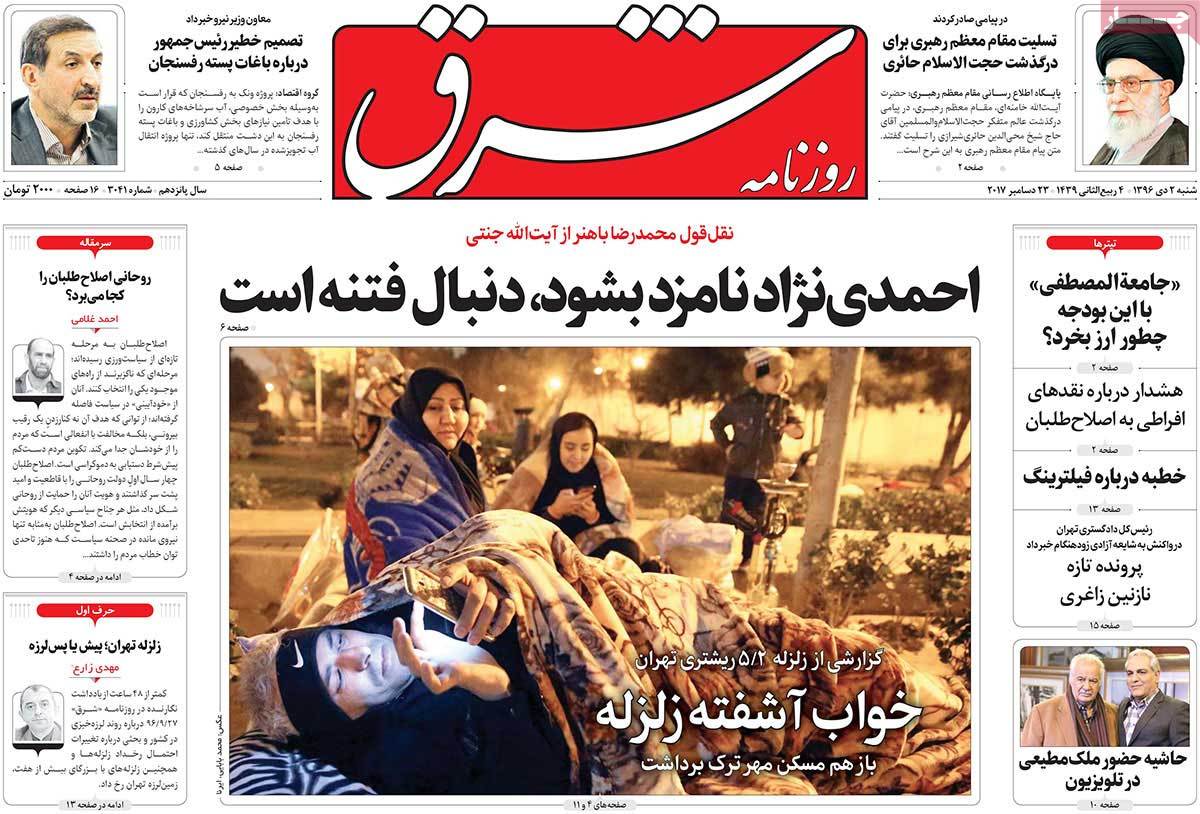 The post A Look at Iranian Newspaper Front Pages on December 23 appeared first on IFP News.