Slow Moving Morning Completely Unrelated to Drink Packages
I woke up this morning not feeling so great. Not sure if it's something specific that I ate or just a consequence of so much indulgence, but I really did not want to do much. I went up to the Garden Cafe buffet, picked out some of SP's favorites plus some chocolate milk and peach yogurt for myself, and brought SP some breakfast in bed.
App Scheduling Is the Best Scheduling
I had seen that the ship offered a painting class where a coach guides you through reproducing a simple painting that you get to keep. SP had no interest in all, but I wanted to try it. The Freestyle Daily advised that space was limited and the Box Office would be open for reservations from 8am to 9:30am. After breakfast, around 8:30am, I went down to the Box Office. When I got there, there was no one at the desk, so I walked around to find a ship phone and called the Box Office extension. No one answered. Then I made a trip to Guest Services where the two agents I spoke to were very helpful. Fernanda from Brazil advised me that reservations for that class had to be made at the Box Office and called the manager to make sure someone would be there when I returned to the Box Office. About 10 minutes later, someone did appear at the Box Office. When I asked to make a reservation, he told me I just had to show up to the 5 O'Clock Somewhere bar 15 minutes early. In short, I spent about a half-hour to find out I didn't need a reservation at all. I got back to the room and SP just wanted to sleep, and I wasn't feeling so great either, so we spent the rest of the morning asleep.
We woke up around noon and the only lunch options open on a sea day were the buffet and O'Sheehan's. We picked the buffet and I had some pretty good Indian food along with a lamb and barley stew. There were lots of sauces which I sopped up with a pretzel breadstick. Pretzel bread is a favorite of mine and they've had both pretzel breadsticks and pretzel rolls available at lunch and dinner daily. SP and I split a piece of sachertorte and key lime cheesecake. He liked the cheesecake so much, he went back for seconds.
Pretty Drink, Not a Pretty Picture
After lunch, we took a walk over to Spice H2O a sundeck and bar area open for adults only during the day. So far, this has been the only place I've seen the passion fruit Island Oasis mix, so I requested a favorite of mine — passion fruit and Malibu rum. When it's available, I like to get a shot of Chambord at the bottom of the glass, but I didn't see Chambord at the bar or any generic equivalent in the well, so I skipped it.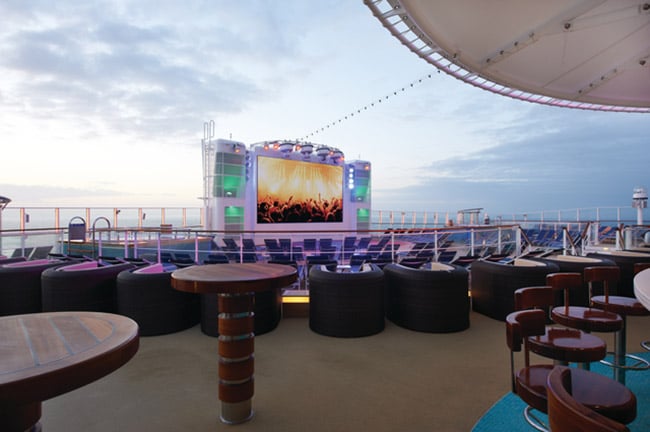 Spice H20 On Norwegian Escape
After another nap, SP and I got up to go to the painting class at the 5 O'Clock somewhere bar. My guess is this is not a popular activity and I can understand why. After hearing that there was a $35 per person fee associated, we decided not to participate. I might be ok with paying that for myself, but SP wasn't interested at all. I also had some concerns about getting a canvas back home in my luggage. I'm still interested in this kind of thing, but I'll be looking to do it on land. The cost and logistics might be easier to figure out there.
A Sweet Plan to Hit the Ropes Course
We set out to explore some more of the ship and wound up at the Bake Shop and Dolce Gelato. Everything at the Bake Shop looked fantastic, but considering how good the desserts have been in the buffet, I don't think they could be that much better. I decided on a single scoop of lemon sorbet to help settle my stomach some more. Then I set out to execute my nefarious plan…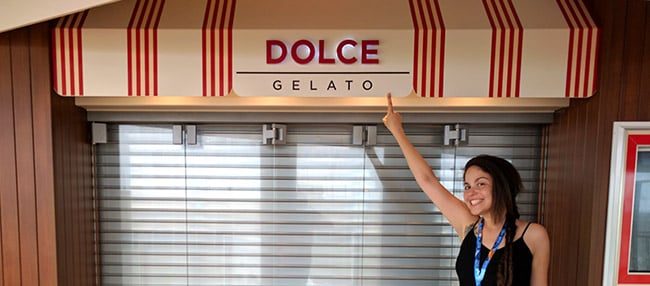 Dolce Gelato on Norwegian Escape - That girl looks just like Larissa!
I told SP I wanted to walk around the sun deck, but was secretly leading him to the entrance of the ropes course. We got there and were told by one of the Activities crew that we could not have items in our pockets other than our room key. To prevent him from backing out, I took our phones back to the room while SP mustered up some courage. While I was putting on the harness, I somehow didn't get my right leg through the strap. The crew member politely corrected me and I gave it another shot. When he was tightening the straps, he noticed I missed again. He asked in a jovial way "are you playing with me?" and offered for me to lean on his shoulder while I got my foot through the strap. I felt a little dumb, but I'm glad he was paying close enough attention to notice twice.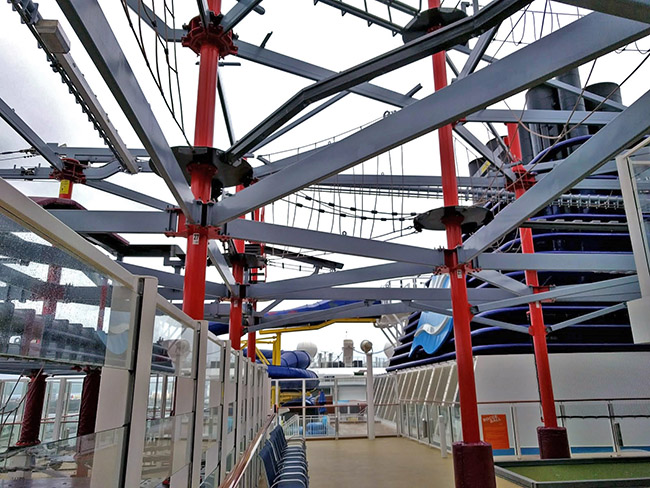 The ropes course is neat, though it makes the deck look a bit odd.
Since SP really didn't want to do this, I made him go first. I don't think he appreciated my observations like "it's getting pretty windy up here," but I was having a good time. The ropes course offers a plank that goes out over the side of the ship, but SP wouldn't do it and he forbade me from doing it either. From where I was standing, it looked like they had a rope you could pull that would trigger a camera to take your picture out over the side. I totally enjoyed the zip line, my first time on one, even though I somehow spun around halfway through and hit the landing pad facing backwards. The activities crew stationed around the course indicated that some parts were closed. I'm looking forward to trying it again another day and seeing if I can access some new sections. I imagine SP will keep his feet firmly on the ground and I'll be exploring the course again on my own.

A picture of the picture I didn't get on the Escape Ropes Course
Modern Churrascaria
Although I had read mixed things online, I decided to keep our reservations. In short, I'm glad I did. We started with a pair of açaí caipirinhas. This is the fourth or so caipirinha I've tried, and they are just not for me. This one got better once I had sipped about a third of it and refilled my glass with sparkling water. The buffet was mixed American salad bar with some Brazilian specialties like hearts of palm. The bread served was traditional Brazilian cheese bread, pão de queijo. The had a good version. Then the pasadores came by with the meat. I tried sirloin and lamb and sausage and filet mignon. SP also had the roast pork which I passed on. When I saw a guy with the headlining steak, sirloin cap, I proudly put my Brazilian Portuguese skills to work "O Senhor, você tem picanha?" Although they were also serving roasted pineapple, abacaxí, we decided just to order dessert from the menu. I had the papaya cream, which was good but was more like a sauce that should be on some kind of cake or something. I also tried the mango rice pudding. It was ok, but the texture was very one-note and needed something else.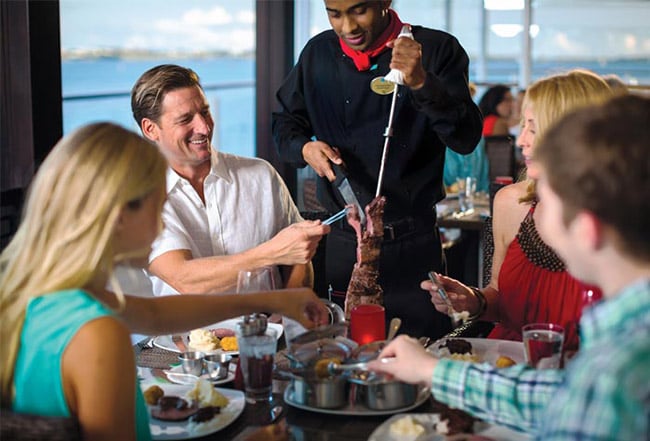 SP had the pick of the day with our waiter Romeo's recommendation of a banana meringue tart. This was not just banana flavored, but full of banana slices. There were a lot of flavors and great textures. I considered asking for one to go, but my incredibly full stomach decided against. I'm glad my stomach got to feeling better during the day else I would have missed out on the great experience of dining at Moderno Churrascaria.
I had this idea that SP and I would go to Howl at the Moon for the dueling piano show and then to Spice H2O for a late-night party, but stomachs full of grilled meat served to us on skewers turned those dreams into an early night of going straight to bed after dinner.
An 'Escape' to Georg Grand Cayman
Tomorrow we're in Grand Cayman with not much of a plan. We don't even have tender tickets. I'd like to go ashore to buy some duty-free vodka and maybe walk around Georgetown a little. There's a mural there I always like to see, so I might try to find it again. Otherwise, we'll probably check out the water slides while most people are off the ship. Tomorrow is also the halfway point of the cruise, so we've still got NCL's private island and Nassau, Bahamas ahead of us. Please keep checking back for those posts.
Escape Live Blog Day 1 - Embarkation Day
Escape Live Blog Day 2 - Sea Day
​Escape Live Blog Day 1 - Our Sea Day in Falmouth, Jamaica
​
This post first appeared on CruiseHabit, please read the originial post: here