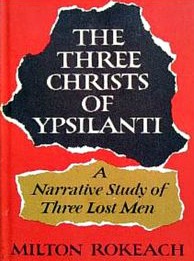 Milton Rokeach's controversial book '
The Three Christs of Ypsilanti
' was published. Based on a detailed two-year case study in which Rokeach introduced three men, all of whom believed that they were Jesus Christ; Rokeach's main purpose in bringing them together "
was to explore the processes by which their delusional systems of belief and their behavior might change if they were confronted with the ultimate contradiction conceivable for human beings: more than one person claiming the same identity
."
Fascinating, disturbing and ethically dubious in equal measure, The Three Christs of Ypsilanti remains a classic text in the field of abnormal personality.
See following link to learn all about 'abnormal psychology,' including an important discussion on whether the term abnormal psychology should be used.
Abnormal Psychology