Unexpected results? Failed tests? False positive results? These test problems can be symptoms of problems in the sample Flow Path. We discuss tips for preventing analytical test errors.
Tips for Preventing Analytical Test Errors
Robust equipment design and meticulous sample preparation play a large role in achieving reliable test results, especially when testing at part-per-million or lower detection limits .
In this blog post you will learn:
How reliable and robust instrumentation, combined with good flow path design will improve results and contribute to solving product contamination problems.
How inert pathways can reduce test errors.
How some simple design and maintenance tips can improve test reliability
The Instrument
It may seem obvious but it's important to know and understand the capabilities and limits of the test instrument. Often detection limits can be improved by utilizing the appropriate sample prep or instrument components for the application and desired detection limits. For example to achieve part-per-trillion or lower detection reliably may require specialized equipment. Often instrumentation or instrumentation consumable supply websites (like Restek for example) offer recommended sample preparation techniques and recommended instrumentation supplies and setup to achieve the desired detection for the target compounds.
Types of detection systems vary and include:
Photoacoustic gas detection. PAS, CEPAS and QEPAS systems utilize laser spectroscopic techniques to detect ultra low level contaminants in gas phase. Read more about

how the team at Brown University improved the PAS system to achieve record detection levels.

Get more information on improved PAS detection

.
Improved sample extraction techniques in

solid phase extraction applications using LC and LCMS.
Programmable Temperature Vaporization Gas Chromatography

with Mass Spectrometry Detection (PTV-GC/MS)
Improving the Sample Flow Path
Equipment costs can run into hundreds of thousands of dollars for some test applications. All that expensive equipment won't achieve results without improving the sample Flow path. It's vital to develop highly robust procedures based on well researched methods. One key area that must be addressed and managed? Adsorption and chemical interaction of the flow path surface with the target analyte. Without thoroughly managing flow path inertness it will be unlikely that you'll achieve reliable test results or achieve part-per-billion (ppb), or part-per-trillion (ppt) test sensitivity.
Some tips for managing the flow path are:
Understand the reactivity of each component material in the flow path for the target test regime. A material capable of part-per-million (ppm) analysis may not be appropriate when testing at ppb or lower levels.
Prepare the surface using non reactive chemicals that will not leave trace contaminants.
Focus on sample prep and adopt a rigorous method.
Use proven non-reactive materials in the flow path. Don't forget to test & select sealing materials (like o-rings) that will not adsorb or react with test analytes.
Select an inert material like

SilcoNert®

to prevent interaction with the test analyte. SilcoNert is proven to yield reliable results at extreme detection levels. Read how SilcoNert performed in ultra demanding part-per-quadrillion (ppq) applications.

Read about the test here

.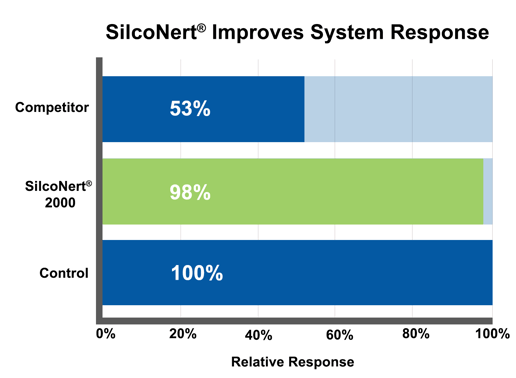 SilcoNert does not interact with reactive chemicals, allowing nearly all the analyte to reach the detector and improving response dramatically when testing trace compounds at ppb and lower levels. For example, the chromatograms below demonstrate how an inert flow path can improve test results. The test on the left used a reactive surface which resulted in lost peaks and peak distortion. The test on the right utilized an inert flow path (

SilcoNert

coating). Peak quality and overall system sensitivity improved.
Read more about about how SilcoTek® coatings perform in tough analytical applications. Go to our Whitepaper and Technical Insights Page to read about how our coatings performed in independent test applications.
System Maintenance
The care of a sample flow path and a coating surface is probably the most important factor in determining if the surface will continue to deliver high quality test results over the life of the project or process.
Here are a few helpful tips about how to keep your sample flow path and coating surface running like a top:
Clean the

Surface
Maintain surface cleanliness to prevent cross contamination and accumulation of reactive particulates. Clean surfaces using the best minimally invasive method. Highly abrasive or basic (pH above 8) cleaners will damage the surface. We recommend using a non polar solvent like a high purity hexane to remove hydrocarbon contaminants, and a polar solvent to remove more active compounds. Get the highest purity solvent available, lower grades will leave a film on the surface.
Here's helpful guide on cleaning stainless steel surfaces. Remember if you're using our coatings go to our Care and Maintenance Guide for cleaning recommendations.

Don't Use Dirty Solvents and Never Use Steam to Clean a Sample Flow Path.
Remember once you've cleaned and rinsed the surface, trace remnants of the solvent may remain on the surface. We've found many solvents can leave trace amounts of adsorptive or reactive substances on coating surfaces. Always test cleaning solvents for inertness and contamination before use in high purity or analytical applications.
Refiners use steam to clean or purge sample transport flow paths; however, live steam can cause silicon surfaces to become active and can deposit reactive particulates onto stainless steel surfaces. Live steam can also deliver those particulates at high velocity to the surface, damaging the coating or sensitive instrumentation. As an alternative, consider sonication of components for a short duration or flushing the system with a solvent. (Note: Sonication can also damage the coating surface; avoid leaving parts in ultrasonic cleaners for more than a few minutes.)
Don't Exceed the pH Range
Exposure to bases above a pH of 8 can erode the silicon surface while exposing stainless steel to aggressive acids can corrode the surface which can result in increased reactivity and poor test reliability. One way to tell if the silicon coated surface is being eroded is to check the color of the part. If you notice the iridescent rainbow coating color changing or is no longer there, it's a good indicator the coating becoming thinner and is being damaged.
Install Filters in the Flow Path

Particulates can damage silicon surfaces, especially when moving at high velocity. Particles can also react with process fluids or adsorb sample compounds, contaminating the flow path. Installing fritted filters in the sample line will prevent system contamination and avoid potential damage to SilcoTek® coated surfaces. Worried about activity in sintered metal frits? SilcoTek® can coat metal filters, helping analysts maintain system inertness while preventing particulate contamination.
Too much to remember? Here's a coating care guide to help keep your inert coating running at peak performance.
It's not unusual to find a coated part still performing at peak inertness after many, many years of service. It all depends on the severity of the environment.
For critical or severe environments, it's a good idea to inventory key coated components and monitor performance over time. Depending on the process environment and use, some customers recoat components periodically as part of an overall preventative maintenance program. Others monitor performance and if they find inertness is declining due to surface damage or contamination; they'll send the used part back to us for recoating.
Most likely, the part will perform well over the life of the system and won't need to to be recoated, but for critical applications, it's prudent to monitor performance.
Have a question about a coating application or maintaining your system flow path? Go to our FAQ Guide or Contact our Technical Service Team.