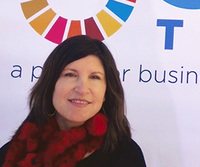 Márcia Balisciano is Director of Corporate Responsibility at RELX, the FTSE30 data and analytics company (and LexisNexis parent company), who was in Davos this year to take part in a panel discussion on how women leaders can help achieve the UN's goals. On a freezing afternoon at the SDG Tent in Davos, she explained how corporate responsibility has moved up the agenda of companies, employees, investors and governments.
What has been the trend in corporate responsibility and what are the drivers of that trend?
"I have definitely seen corporate responsibility or sustainability or whatever name you want to use for it rise up in terms of its importance to business. I think that is because there is a clear understanding that how you conduct your business influences how sustainable you are going to be as a business over the longer term."
"It has coincided with the interest of governments in how we undertake our business—a good example of that is the Modern Slavery Act in the United Kingdom. It also coincides with the interest of investors. They want to know that they are investing in companies that are going to be doing the right thing because that is going to have a positive impact on the business into the future and it is not going to damage shareholder value through unethical practice."
You are speaking here at the 2019 World Economic Forum in Davos. What have you observed this week in relation to sustainability?
"On my first evening in Davos I sat next to two private equity investors and they both said, 'we want to be better at ESG, we want to really be serious about understanding the impact of the companies that we invest in.' One mentioned gender equality as something that they were really passionate about and the other mentioned environmental sustainability and how they want to factor that into the investments that they make."
"I see that corporate responsibility will only increase over time in terms of the importance that the range of stakeholders— NGOs, employees, investors and government—place on this very important agenda."
What are the risks for companies who do not take corporate responsibility and sustainability seriously?
"If a company is not considering its impact on the environment, on its people or in terms of fostering a responsibility towards society, they will feel the pain of that in the longer term because to my mind there will be an increase in the value that consumers place on products and services that have been produced in an ethical fashion, that don't damage the environment and that are sourced in environmentally-friendly ways."
"I think companies ignore environmental, social and governance qualities (ESG) at their peril because this will continue to be of importance to a range of stakeholders, to government, to investors, to our employees and to NGOs who will continue to put scrutiny on companies and their performance—and rightly so."
Finally, tell us how corporate responsibility has been implemented in the RELX Group?
"At RELX Group we began in 2003 with a small corporate responsibility team and we are still a small team because the emphasis is across our business getting people engaged in maximizing the ethical performance of our business."

"I would say about half of the work of my team and colleagues is about making sure we have our own house in order. It is very important that all companies do well in terms of governance and how we treat our people, the impact that we have on the environment and the local communities, and also how we engage with our customers."

"But there is also this other area where we look at maximizing access to science through things like Research for Life which we are the largest contributor of content to this UN-sponsored program which provides content to researchers, libraries and universities in the developing world."

"Also, RELX Group in 2017 launched the free SDG Resource Centre to curate content from across our company that map to the SDGs and we've created some amazing tools like the SDG News Tracker which provides up-to-the-minute news on the SDGs."
Explore More:
1. Learn how Lexis Diligence® and LexisNexis® Entity Insight help companies efficiently manage risk.
2. Share this blog with your colleagues and connections on LinkedIn.