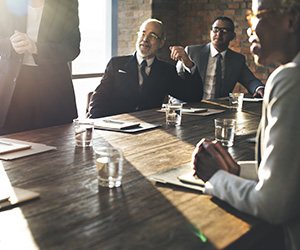 Danske Bank and Siemens have appointed chief compliance officers to their boards of directors this summer. We explore why compliance has become accepted as a critical function in any company.
At the next board meeting of Denmark's biggest bank, a chief Compliance officer will be at the table for the first time in the company's history. Danske Bank has announced that it has hired Philippe Vollot, who previously handled anti-financial crime and anti-money laundering for Deutsche Bank. The elevation of the status of compliance is a growing trend in the U.S. and Europe. Just last month, Siemens nominated its compliance chief Sylvie Kandé de Beaupuy to its board of directors. It shows that compliance, as distinct from legal and audit functions, has become accepted as one of the most important aspects of a business.
Regulatory pressure drives compliance
Perhaps the most significant driver of the rise of compliance is the global spread of anti-bribery and corruption legislation and regulation. Nine out of ten firms say regulatory reforms are increasing their compliance costs, according to a 2017 survey of 183 senior finance professionals by Duff & Phelps. New anti-bribery and corruption legislation with tougher penalties has been introduced in the UK, U.S. and EU in the last few years. If a company is charged with bribery and corruption, it will suffer significant fines and reputational damage.
A recent regulatory trend has been to offer incentives for Companies which take compliance seriously. Last year, the U.S. Department of Justice introduced a Corporate Enforcement Policy which offers "additional benefits" to companies that self-disclose a breach of the Foreign and Corrupt Practices Act and meet certain conditions. A key condition is the "implementation of an effective compliance and ethics program", including "the resources the company has dedicated to compliance" and "the authority and independence of the compliance function and the availability of compliance expertise to the board".
Compliance budgets are growing
A bribery and corruption scandal is often the catalyst for a company to overhaul its compliance operation. Danske Bank's decision to elevate the status of compliance could be an example of that. It is currently carrying out an internal investigation into allegations that its Estonian branch was used by customers to launder money from 2007 to 2015. The Brazilian construction company Odebrecht has invested in compliance to help turn around its fortunes after a major bribery scandal. Last year, it paid $3.5 billion to the American, Brazilian and Swiss anti-corruption authorities to settle allegations of bribery in Brazil. Since then, it has appointed a chief compliance officer and boosted its compliance budget from $3 million in 2015 to $20 million this year.
But scandal-hit companies are not alone in increasing their compliance budgets – surveys of compliance professionals indicate that their budgets are increasing in most companies. This is because companies have found that focusing on compliance is good business. Customers and investors want to buy into companies that are seen to be ethical. A good example is David Helgason, the co-founder of a major Danish video games company, who moved his account to a different bank in response to Danske Bank's money laundering allegations.Trustworthy companies have better relationships with third parties. Companies that comply with anti-bribery and corruption legislation are eligible for lucrative contracts from organizations such as the World Bank. As more companies realize this, we should expect to see compliance officers being added to boardrooms around the world.
C-suite setting the tone
The move by Danske Bank and Siemens shows that the C-suite is recognizing the importance of setting a clear tone from the top on ethics and anti-bribery and corruption. Even the best designed compliance programs can only be effective if a company's senior managers are fully committed to the principle. If not, more junior staff may not feel empowered to report suspicions of unethical practices. CEOs also have fiduciary duties to act in the best interests of the company and its shareholders, and a corruption scandal on their watch can be seen as a breach of those duties.
Make the most of your compliance budget
Giving compliance a seat at the board and increasing its budget are important steps in managing the risk of bribery and corruption, but they are not enough by themselves. Companies must ensure they are getting the most from their investment by adopting best practices, including a risk-based approach to due diligence by identifying which of customers, suppliers and third parties pose the greatest risk of bribery and corruption, then conducting enhanced due diligence on them. Technology can help companies reduce the time and expense of compliance by allowing for automated screening and risk monitoring to identify current and emerging risks among thousands of entities and individuals against a wide range of sources, from sanctions lists to negative news coverage.
3 Ways to Enhance Your Compliance Process
See how Lexis Diligence® and LexisNexis® Entity Insight enable companies to implement robust due diligence and risk monitoring processes to mitigate ABC compliance risk.
Find out about additional ethical expectations—from investors and consumers—that companies must address in our newest eBook.
Share this post on LinkedIn to keep the conversation going.