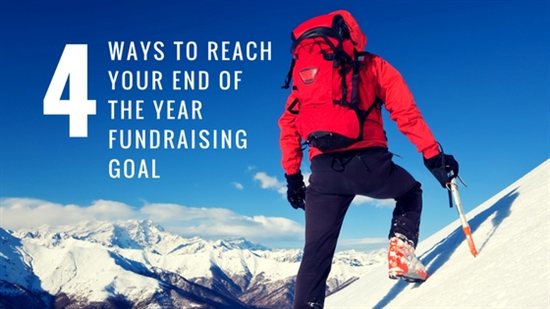 Everybody in the Fundraising world knows the importance of December in any nonprofit Campaign, but especially when it comes to year-end goals. The majority of donations are made in the last month of the year, and so using this to the advantage of your campaign to give it that extra boost before bringing the curtain down is essential. Year-end may be dauntingly close, but even in a few short weeks, there are steps you can take to use them to their fullest advantage and get a healthy return from your campaign. Here are four important things to remember when approaching the year-end.
A Little Help From Your Friends
Peer to Peer (P2P) fundraising is huge and with many campaigns taking place on a daily basis. But because of the wide range of uses it is put to, from funding innovative technologies to people's holidays, it is easily overlooked as a viable fundraising option for formal campaigns. Don't let this fool you! P2P is one of the most effective ways to bring in the donations, and to raise awareness of your campaign. Your loyal supporters can help to spread the word, and even make their own efforts to fundraise on behalf of your campaign, so embrace the P2P format and see how far it can take your message, and the returns you see from your Effort.
Make Giving Easy
The more opportunities you give people to donate to your cause, the more funds you will raise in the process, so wherever your campaign is based, make sure to branch out. Having a mobile-friendly platform in place will allow people to donate on the go, without fuss. Not only will this encourage people to donate whenever and wherever they please, but will also result in more impulse donations - the same sort that retailers get from putting low value but desirable items next to the cash register in stores. The ease and convenience is the deciding factor, so go out of your way to make donating quick and simple for donors. This way, you also make it a social media-friendly campaign, with compatible links that can be passed around and followed easily.
Don't Forget to Match
If you don't ask, you don't get, and many fundraising campaigns lose out on prospective income because they fail to knock on the right doors. One of the most lucrative of these doors is gift matching, and there are many opportunities out there to maximize the donations achieved if you are willing to try. There are lots of companies and organisations who are more than happy to match any donations made by their employees, which could be a significant amount of money to turn down. So ask around, and even if an employer says they have never participated in gift-matching programs before, everyone has to start somewhere. You could be the start of something great by prompting people to sign up to gift matching where they had never considered it before.
Get Professional Help
Fundraising consultants hold all the secrets to the perfect campaign and bringing in more money than ever before, and getting their assistance can really bridge the gap on a promising campaign. You don't have to hire a consultant to handle your campaign like a wedding planner though: they can give you ideas as to the best strategy to use, guide you with your marketing efforts and the ways you communicate with your donors, or with fundraising software. Taking steps like these can ensure you have an efficient, popular and profitable campaign that makes its mark and is the start of bigger and better fundraising efforts. Because there is so much that professional services have on offer, it is wise to have a committee meeting to analyse your strategy and identify any weak links in the chain, so you can concentrate efforts where they are needed and ensure no effort or resource goes to waste.
The year is not over yet, and if you are still a way off of your year-end goals, fear not! These last few precious weeks are also the most lucrative, and there is plenty that can be done to turn an ailing fundraising campaign around before the new year. But you have to get out there now and start taking action, before all of the December goodness is gone!

Visit us online to see how Nexis® for Development Professionals can help you find the right donor prospects and maximize your contributions.