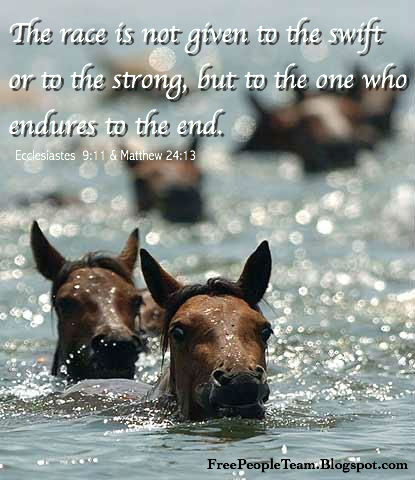 Text- Ecclesiastes 9:11 "I returned, and saw under the sun, that the race is not to the swift, nor the battle to the strong, neither yet bread to the wise, nor yet riches to men of understanding, nor yet favor to men of skill; but time and chance happens to them all"
It is a common notion that life is somewhat unpredictable. Sometimes, you can explain why things happen the way they do, but at other times, they defy all forms of human reasoning and explanation, and we are left to wonder if we ever can fully understand the processes of life. However, for us as children of God, we may not be able to predict what life will throw at us, but we can always predict what our outcomes will be.
Isaiah 43: 2 "When you pass through the waters, I will be with you; and through the rivers, they shall not overflow you: when you walk through the fire, you shalt not be burned; neither shall the flame kindle upon you"
I have found out from the Bible that there are three factors that induce the different experiences people have in life; these I call "THE
Triggers
OF LIFE". The events of life for each individual will be predominated by one of these 'triggers':
1. TIME
2. CHANCE
3. HAND
1. TIME
This is perhaps the strongest natural process set forth by God- The cycle of the rising and setting of the sun. Human beings are by nature, creatures of time, and we are preoccupied with that theme; we wear watches so that we can keep account of time, and we 'divide' our lives into fragments of time... Years, months, weeks, days, hours, minutes, seconds and so on.
Ecclesiastes 3: 1 makes us understand that there is a time to every purpose under heaven. Time triggers such things as birth (9 months after conception), sowing and harvesting of different crops at different seasons of the year etc. Basically, the process of time keeps life running the way it should and makes it interesting and predictable, but at times, the process of time breaks our patience i.e. our ability to handle the pressure of time.
James 4: 13-14 "Come now, you who say, "Today or tomorrow we will go into such and such a town and spend a year there and trade and make a profit"— yet you do not know what tomorrow will bring..."... " for man knoweth not his time" (Eccl. 9: 12 a)
The above scriptures reiterate that the process of time is not fully predictable; things sometimes refuse to happen at their auspicious time. David understood this so well and said in Psalm 31: 14-15- "But I trust in you, O
Lord
; I say, "You are my God." My times are in your hand".
Here is my advice for your, dearly beloved, never put your trust in the process of time. Let your trust be in God; your times are in His hands.
PRAYERS:
I. come against delays in life. My things will happen at their appropriate time.
2. Lord, I pray for a restoration of lost years. For every year I have experienced delay in any area of life, I receive grace to catch up in Jesus Name.
3. I trust in you, O Lord; I say, "You are my God." My times are in your hand.
Image Credit: pinterest.com