The key to Job being able to withstand all the attacks against him is mentioned in Job 2:9.
Job 2:9
Then said his wife unto him, Dost thou still retain thine integrity? curse God, and die.
INTEGRITY
Definition of "integrity", from dictionary.com:
* adherence to moral and ethical principles; soundness of moral character; honesty.
* the state of being whole, entire, or undiminished: to preserve the integrity of the empire.
* a sound, unimpaired, or perfect condition: the integrity of a ship's hull.
WORD ORIGIN AND HISTORY FOR INTEGRITY
Integrity
n.
c.1400, "innocence, blamelessness; chastity, purity," from Old French integrité or directly from Latin integritatem (nominative integritas ) "soundness, wholeness, blamelessness," from integer "whole" (see integer). Sense of "wholeness, perfect condition" is mid-15c.
Online Etymology Dictionary, © 2010 Douglas Harper
The root word for "integrity" is integer:
Definition of "integer":
Mathematics . one of the positive or negative numbers 1, 2, 3, etc., or zero. Compare whole number.
a complete entity.
WORD ORIGIN AND HISTORY FOR INTEGER
Integer
n.
"a whole number" (opposed to fraction ), 1570s, from Latin integer (adj.) "whole, complete," figuratively, "untainted, upright," literally "untouched," from in- "not" (see in- (1)) + root of tangere "to touch" (see tangent). The word was used earlier in English as an adjective meaning "whole, entire" (c.1500).
Online Etymology Dictionary, © 2010 Douglas Harper
Integer vitae [in-te-ger wee-tahy; English in-ti-jer vahy-tee, vee-tahy]
adjective Latin.
blameless in life; innocent.
Dictionary.com Unabridged
Based on the Random House Unabridged Dictionary, © Random House, Inc. 2019
Biblically, the word "integrity" in Job 2:9 comes from the Hebrew word tummah [Strong's #8538] and it's definition is the same as it is in english: integrity. 4 out of it's 5 usages [80%] in the bible are in the book of Job!
5 is the number of God's grace in the bible.
That tells us that our true integrity comes from God and not ourselves.
This points back to our 5 sonship rights in the book of Romans, listed in their proper chronological and spiritual order:
Redemption: being born again, legally owned by God because we were bought with the ultimate price: Jesus Christ's life.
Justification: To be made just or right before God.
Righteousness: The God-given justification whereby a person stands in the presence of God without any consciousness of sin, guilt, or shortcomings.
Sanctification: being separate and set apart from the spiritual contamination of the world
Word and ministry of reconciliation: Only God's perfect word can reconcile mankind back to God. It takes men and women of God committed to carrying out the ministry of reconciliation
Although countless teachings could be taught on just these 5 subjects alone, it is very important to be aware of them, understand their basic meaning, and practice their reality in our lives.
Having spiritual integrity from the inside out involves many, many things. Just a few of them are:
Matthew 5:13
Ye are the salt of the earth: but if the salt have lost his savour, wherewith shall it be salted? it is thenceforth good for nothing, but to be cast out, and to be trodden under foot of men.
Matthew 5:14
Ye are the light of the world. A city that is set on an hill cannot be hid.
Salt is a natural preservative and counteracts the corruption and decay of the world. Light dispels the darkness of the world and we are children of light.
Philippians 2
13 For it is God which worketh in you both to will and to do of his good pleasure.
14 Do all things without murmurings and disputings:
15 That ye may be blameless and harmless, the sons of God, without rebuke, in the midst of a crooked and perverse nation, among whom ye shine as lights in the world;
16 Holding forth the word of life; that I may rejoice in the day of Christ, that I have not run in vain, neither laboured in vain.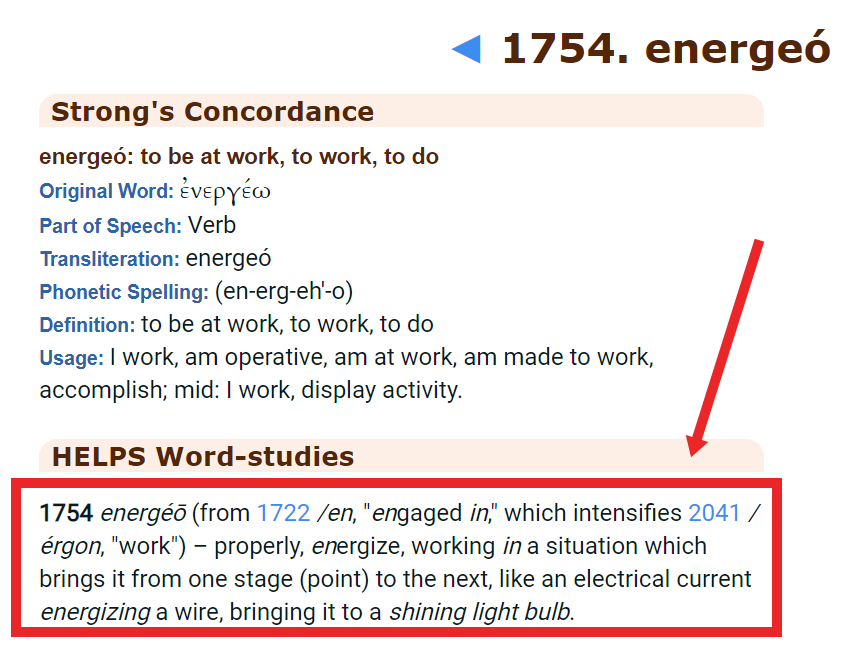 Definition of "worketh" in Philippians 2:13; note how it fits in with verse 15.

I Peter 1:23
Being born again, not of corruptible seed, but of incorruptible, by the word of God, which liveth and abideth for ever.
2 Timothy 1:7
For God hath not given us the spirit of fear; but of power, and of love, and of a sound mind.
2 Timothy 1:13
Hold fast the form of sound words, which thou hast heard of me, in faith [believing] and love which is in Christ Jesus.
Acts 9:34
And Peter said unto him, Aeneas, Jesus Christ maketh thee whole: arise, and make thy bed. And he arose immediately.
Godly righteousness vs worldly righteousness
The counterfeit integrity from the world is self Righteousness that is mentioned in Matthew 6, which is contrasted against the righteousness of God.
Self righteousness often includes having great beauty, money, intelligence or wisdom, strength, a high position in society or notable accomplishments that affect you in ways that contradict the word of God.
It is performing works to be right with God, which many man-made religions are based upon and go to great legalistic extremes in a futile attempt to achieve righteousness which can only be by God's grace.
According to the bible, there's nothing wrong with being a strong, attractive, rich and wise person. It's all about your attitude and where your true heart is.
However, its very important to research Matthew 6 a bit more to see how this relates to Job's ability to victoriously withstand the horrendous attacks that were thrown at him.
Compare Matthew 6:1 in the KJV to a Greek manuscript from the 4th century:
Matthew 6:1 [KJV]
Take heed that ye do not your alms before men, to be seen of them: otherwise ye have no reward of your Father which is in heaven.
Matthew 6:1 [Codex Sinaiticus, the oldest complete copy of the Greek New Testament, dating back to the 4th century]
But take heed that you do not your righteousness before men, to be seen by them: other wise you have no reward with your Father who is in the heavens.
Matthew 6:33
But seek ye first the kingdom of God, and his righteousness; and all these things shall be added unto you.
Our own righteousness will melt in the heat of the spiritual competition, but God's righteousness is indestructible!
How God's breastplate of righteousness in the old testament ties into Ephesians and being victorious now is detailed below.
The breastplate of Righteousness
From Job 2:9, the word "integrity" is the Hebrew word tummah, which is the feminine version of the Hebrew word tom:
tom: completeness, integrity, also part of the high priest's breastplate
Part of Speech: Noun Masculine
Phonetic Spelling: (tome)
Definition: completeness, integrity, also part of the high priest's breastplate
The first definition of tom is completeness.
Colossians 2:10
And ye are complete in him, which is the head of all principality and power:
This is certainly a good thing, but in the KJV, you just cannot get the total impact of the way its rendered compared to the Estrangelo Aramaic text.
It renders Colossians 2:10 approximately like this:
"We are completely, completely, absolutely complete in him!"…
Had Job been puffed up with man's counterfeit righteousness instead of God's true righteousness and integrity, the adversary, Satan [the indirect attacks of the devil], he would have been blown out of the water in no time.
The same holds true for us: if we trust in ourselves, our abilities, knowledge, experiences, etc INSTEAD of trusting in God and his word, then we are guaranteed to lose in the spiritual competition.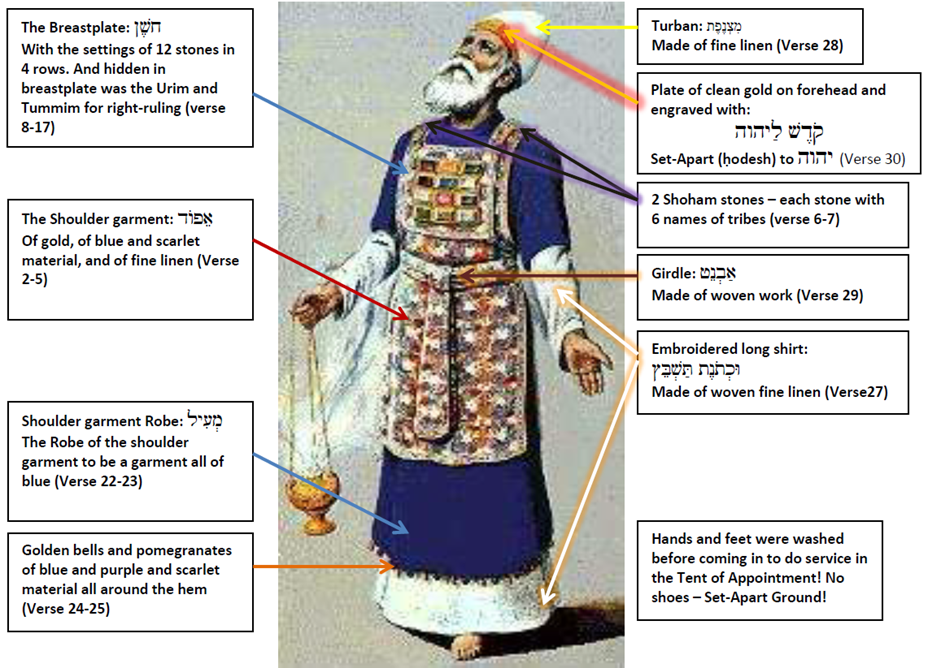 Old Testament high priest outfit.
The whole 28th chapter of Exodus gives many many details of the entire garment of the high priest, all of which have spiritual significance and is a study all on its own.
Exodus 28:30
And thou shalt put in the breastplate of judgment the Urim and the Thummim; and they shall be upon Aaron's heart, when he goeth in before the Lord: and Aaron shall bear the judgment of the children of Israel upon his heart before the Lord continually.
Isaiah 59:17
For he put on righteousness as a breastplate, and an helmet of salvation upon his head; and he put on the garments of vengeance for clothing, and was clad with zeal as a cloak.
Ephesians 6
13 Wherefore take unto you the whole armour of God, that ye may be able to withstand in the evil day, and having done all, to stand.
14 Stand therefore, having your loins girt about with truth, and having on the breastplate of righteousness;
15 And your feet shod with the preparation of the gospel of peace;
16 Above all, taking the shield of faith, wherewith ye shall be able to quench all the fiery darts of the wicked.
17 And take the helmet of salvation, and the sword of the Spirit, which is the word of God:
Job 2:9, Exodus 28, Isaiah 59:17 & Ephesians 6 are all tied together by God's red thread of integrity.








The post Job, a new perspective: part 2 appeared first on Bible Book Profiler Blog.