Child Labour Quotes And Slogans in Hindi

Child Labour Slogans in Hindi :-
1) बाल व्यापार की रोक थाम, हम सब मिल करे ये काम.
2) हमने अब हैं ये ठाना, बाल व्यापर को जड़ से मिटाना.
3) अभी तो हमको करनी हैं पढाई, मत करवाओ हमसे कसरत और कमाई.
4) माता पिता दुश्मन बन जाते हैं, जब वो नन्हे हाथो से काम करवाते हैं.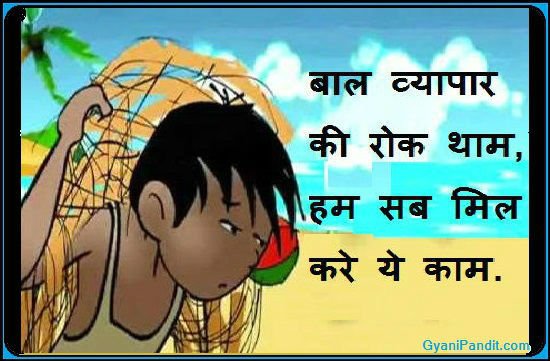 Stop Child Labour Quotes :-
1) Bal vyapar ki rok tham, ham sab mil kare ye kaam.
2) Hamane aab hain ye thana, bal vyapar ko jad se mitana.
3) Abhi to hamako karani hain padhai, mat karavao hamase kasarat or kamai.
4) Mata pita dushaman ban jate hain, jab vo nanhe hatho se kaam karavate hain.
Quotes On Children :- Quotes on children in Hindi and English
Note :- You Have More Child Labour in Hindi Then Please Write On Comments If We Like We Update In This Post. Thanks….
If You Like, Anti Child Labour Slogans in Hindi With Posters Then Please Share On Facebook And WhatsApp Status
Note:- E-MAIL Subscription करे और पाये Slogan on child labour in Hindi और भी नये बाल मजदूरी पर नारे आपके ईमेल पर.
The post Slogans On Child Labour – बाल मजदूरी को रोको appeared first on ज्ञानी पण्डित - ज्ञान की अनमोल धारा.