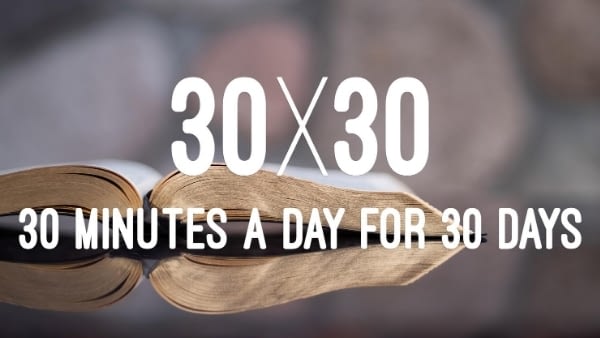 One of the #1 things I hear the most from Christians is the fact they don't spend enough time in the Bible and not enough time praying. I get it, it's difficult and honestly there's so much spiritual warfare surrounding our time with God.
There's many resources out there about this but something that my church (Austin Life Church) has done is called The 30×30 Challenge and I think all of us would benefit from it greatly!
You can sign up for The 30×30 Challenge here!
What Is 30×30?
The 30×30 Challenge is spending time with God through the Word and Prayer for 30 minutes a day, for 30 days.
Why Have 30×30?
We all know that developing a discipline of reading the Bible and communing with God in prayer is important. The 30×30 Challenge will help begin or strengthen a discipline and habit for you, and help you build Biblical community.
How Do I Get Started With 30X30?
Find at least 1 person to commit to doing the 30×30 Challenge with you so you can both be accountable.

Follow along with the provided 30×30 scripture reading and prayer plan for at least 30 minutes per day. You'll receive this plan by email each day for 30 days.

Check in daily with your 30×30 partner to touch base and share at least 1 thought from your time.

Sign up to get started!
Many believe it takes around 30 days to develop a habit. What better habit than reading the Bible and talking with God?! Hopefully, the 30×30 Challenge will serve as a catalyst towards much more regular and deeper communion with The Lord and an increased joy and discipline for reading God's Word and hearing from Him!
Sign Up To Start The 30×30 Challenge
The post 30 Minutes A Day For 30 Days appeared first on Before The Cross.