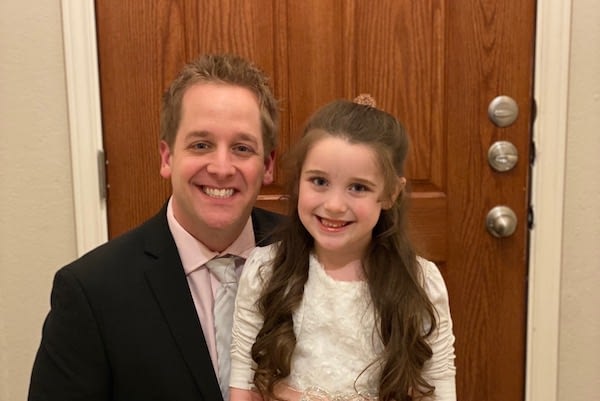 At the time of this writing, I've only been a Father for less than a decade so far to two beautiful children, but what I can tell you is that I've seen more of God through my children and their actions than in any other relationship. This is just one of many examples.
I Love it when I get to visit our kids at a school event or any type of place that is "their ground and their territory" because in a way I'm getting to watch them interact more in their world, with their people. One of the things that always happens with my daughter Peyton is literally every single time I walk in the room she screams out "Daddy!"
It doesn't matter if she's in a classroom of twenty other kids or in a cafeteria with hundreds of kids, she can't help herself and she always screams it. Not only that, the whole time I'm with her she introduces me over and over again to her friends (whether it's the first time or the tenth time) as "this is my Daddy."
Now of course this makes me feel like a million dollars and the proudest man on the planet when she does this, but it always reminds me of something else. How often do we walk around in our territory, with our people, and introduce them to God, our Heavenly Father? I'm sobered with this thought because every time I remember it, I find it challenging to remember the last time I did this with someone, especially with the same joyful attitude Peyton does this with me.
Why is this? I know I'm not alone. How often do we do this with God?
We've got to remember our first love. We've got to remember to not move on from the Gospel, but to move into deeper dimensions of it. We need to remember Jesus and how He first loved us (1 John 4:19) and out of the overflow of His love for us, let that spill onto others.
"But I have this against you, that you have abandoned the love you had at first." Revelation 2:4

"Anyone who does not love does not know God, because God is love." 1 John 4:8

"And you shall love the Lord your God with all your heart and with all your soul and with all your mind and with all your strength.'" Mark 12:30

"For God so loved the world, that he gave his only Son, that whoever believes in him should not perish but have eternal life." John 3:16
Be reminded of the Gospel today and encouraged to spend time with your Father. Intimate time. Close enough that you'd refer to Him as Daddy. That you'd be so excited to spend time with Him, read His Word, pray to Him, and do the things He has called you to do.
Imagine how the world would change if they could see us as followers of Jesus be so excited to talk about our Father that we couldn't help ourselves but continue to introduce Him to others, and even at times scream His name in excitement. Imagine how powerful our testimonies would be and how much glory to God it would bring if we could bring ourselves to say to others, "This is my Daddy."
The post This Is My Daddy appeared first on Before The Cross.