The Jungian Archetype are general overviews of the different parts of each person's psyche. They were developed by psychologist Carl Jung and involve four main categories of archetypes that are then broken down into twelve smaller pieces. Carl Jung believed that every person has each of the four categorical archetypes and how prevalent their characteristics were in someone determined which parts of their psyche were most or least developed. The four categories are paired with a different part of our personality: freedom, socialization, order, and ego. Within these fourth groups are found a series of 'characters'. Most people will have different 'characters' that are prevalent based on how developed they are. The characters are not static in under their categorical archetype, in fact, only four of the 'characters' stand with little influence from the other archetypes. The other eight are influenced to varying degrees by another archetype.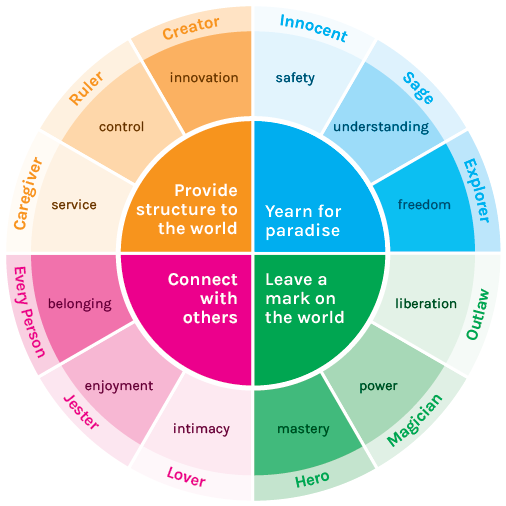 Jungian Archetype Traits
Character: The Ruler
Category: Order
Desires: The Ruler wants nothing more than to build a prosperous and safe home for their family and community. They are excellent leaders taking most of the responsibility on themselves.
Fears: The Ruler fears being usurped by someone else in their loved ones' lives. This can lead to them struggling with delegation and attempts at controlling those around them.
Character: The Hero
Category: Ego
Desires: The Hero wants to change the world by saving the world through their own courage and strength. They are competent and rarely allow themselves to be afraid of challenges.
Fears: Despite their unwillingness to allow fear to stop them, their greatest fear and therefore weakness is the fear of being afraid! They always need another battle to fight so they can prove to themselves and those around them that they aren't afraid, vulnerable or weak.
Character: The Outlaw
Category: Freedom
Desires: The Outlaw wants to fix what is wrong or not working – when they see that something is unjust then they will take whatever steps are necessary to overturn those in control and bring about change.
Fears: Outlaws fear being powerless and ineffective and this can lead to them acting out in more and more dangerous ways – some Outlaws may even turn to crime in order to feel as though they are still effecting change.
Character: The Caregiver
Category: Social
Desires: Caregivers want nothing more than to help those around them. They love doing things for others and are excellent protectors.
Fears: While the Caregiver may fear selfishness and ingratitude, their compassion and generosity, as well as their tendency to martyr themselves, very often leads to their exploitation.
Character: Sage
Category: Order then Ego
Desires: The Sage wants to find the truth and will seek out all possible knowledge both internal and external. When they learn something new they take the time to reflect on it.
Fears: The Sage wants to learn, and what is worse than learning nothing? Learning something wrong or false. This fear can lead the Sage to never act on their knowledge, but instead keep reflecting on it in an attempt to assure themselves that it is the truth.
Character: Magician
Category: Ego then Order
Desires: The Magician wants to understand everything in the world so they can make the dreams of those they love come true. They work to develop their own vision and then live by it – somehow they always find a way to meet the needs of everyone.
Fears: The magician fears that somehow, as they were meeting needs and granting wishes, that they missed a consequence of their actions. They fear these unintended consequences because they have such a great potential to be negative.
Character: The Creator
Category: Ego then Freedom
Desires: The Creator wants to do nothing more than create things that will last for eternity. They have vast imagination and work hard to learn the skills to see their visions come to life.
Fears: Creators fear poor, or worse mediocre, execution of their work. They are absolute perfectionists and in their fear will often make poor decisions.
Character: Explorer
Category: Freedom then Ego
Desires: Explorers want to live a fulfilling, genuine life. They often struggle with finding who they are and will constantly seek to escape the boredom of routine with travel and excitement.
Fears: The Explorer fears conformity and boredom. The routine of the everyman would drive the explorer crazy, however if they aren't careful their wanderings can become aimless and useless leaving them without an anchor or home.
Character: Jester
Category: Freedom then Social
Desires: The Jester wants to live in the moment, bringing laughter and happiness to people in the world. They want to play and have fun, and help people relive their youth.
Fears: Because they fear being bored, Jesters like to live in the moment. However, they must be careful not to fall into frivolity and waste all their time messing around.
Character: Lover
Category: Social then Freedom
Desires: The Lover wants to be loved! Their goal is to be with people and doing work that they love so that they can share varying levels of intimacy and their experience with those around them. These folks are passionate, appreciative and committed.
Fears: Much like the Orphan, Lovers risk losing their own identity because of their fear of being alone and unloved. They have a tendency to change themselves to match the people they are with.
Character: Orphan
Category: Social then Order
Desires: The Orphan wants to be loved; they will forge themselves into something that everyone can love. They want to connect with everyone around them so they aren't alone.
Fears: The desire to be loved and wanted by the Orphan means they all too often and too easily lose themselves because they try too hard to blend in and be all things to all people.
Character: Innocent
Category: Order then Social
Desires: The Innocent seeks happiness, they have faith and optimism that seems untarnished by the world and lift the spirits of those around them.
Fears: Because they struggle with the negative things in the world, the Innocents are terrified of the idea of being punished or even doing something wrong. Additionally, their refusal to see the shadows in the world makes them exhausting and boring.
The post Jungian Archetype appeared first on Astronlogia.