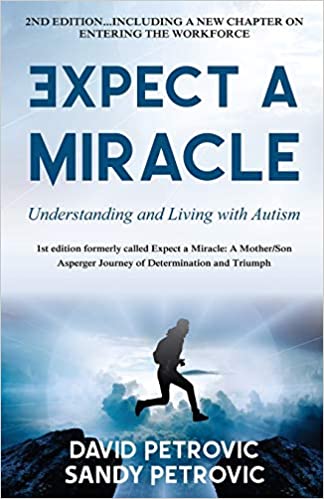 Expect a Miracle written by Sandy and David Petrovic gives a comprehensive account of a mother and son's journey to conquer countless challenges in various stages of David's life. Diagnosed with Autism Spectrum Disorder/Asperger's, David's journey had never been an easy one. It was something that demanded everything he and his family could ever give together with the support of friends, mentors and teachers who all provided the assistance David needed every step of the way.
Parents and educators could learn so much from this Book as it gives a very detailed account of the different methods applied to help David develop his full potential.
Written from both the perspective of David and his own mother, the reader gets to see the broad and complete picture of managing life when one needs to face it using a different approach and set of tools. I found the summary of tips/lessons learned at the end of each chapter very helpful, especially for those who take care of their autistic child.
There are so many lessons that can be learned from this book that can be useful even for people who do not suffer from autism. From assisting one's children in school to dealing with bullying, one can relate and pick up practical advice and wisdom from David's life.
As David grows in maturity and independence, the reader can also have more insight into his inner growth and strength. It is so humbling to learn from someone who has overcome so many hardships in life and still continues to face so much more, persevering through it all with a strong faith and unwavering hope.
What truly makes David different? What makes him similar to most of us? If you ever need a book to help you see yourself better, it may just be this one. It would help you accept who you are and at the same time, to do everything in your power to develop into a happy and fulfilled person with a deep purpose in life.
We're all searching for a miracle somehow. Many times, we think that miracle is cheap, something that would magically solve all our problems. If you seek that kind of miracle, you would not find it here. What you can find instead is a miracle that comes from perseverance and love. It is a miracle that urges one to go on despite falling down again and again.
The truest kind of miracle is something that does not only change the situation or the people around you. It is the one that changes you into the kind of person who can turn the darkest parts of one's life into wonderful rays of light.
Originally published at Reedsy Discovery.
The post Book Review: Expect a Miracle appeared first on I Take off the MASK!.