Welcome to the Wakefield Doctrine (the theory of clarks, scotts and rogers)
Three day weekend. Attempted posting on a Friday. Nothing makes sense anymore!
Well, some things make sense. This bloghop, the Ten Things of Thankful, hosted each week by Josie Two Shoes, makes sense. The theme and most every participant's blog posts are reasonable and sensible. Ten Things that we can say elicited or otherwise caused us to feel grateful. As recently or as long-ago-ly as the writer chooses.
People, places and things. All are fair game.
Speaking of talented lifeforms… our friend Cynthia hasn't simply stepped onto the path (that many find themselves walking) she is stepping ahead and sending back reports from up ahead. Bringing a ridiculously broad range of talents and skills to bear, Cynthia is able to relate her experiences in a manner that not only serves as encouragement but as an aide, tool and reinforcement for self-developing oneself. She has a site, Intuitive and Spiritual. But the big news, what has her at the Number Spot ('with a bullet') is the publication and availability of her newest book: The Tree of Life: A Personal Development Journal: A Journey of Mindfulness and Intentions
That is Number One.
Our second Item is a place (and, as a subset of the three primary categories), an event. Last night's Friday Night Walk with Una. This time we went for a short drive to see the cows at Farmer Brown's farm. (This is a fictional name for an actual farm. But you probably were thinking, "Hey, I heard of Farmer Browns farm. That looks nothing at all like Farmer Brown's farm. What the hell is going on here?)
For Number Two on this week's list of Things of Thankful:
If there is One and Two (and we intend to continue on, up to Ten, this would be a good place to add Number Three)… Three:
Sunflower-to-be (or not to be)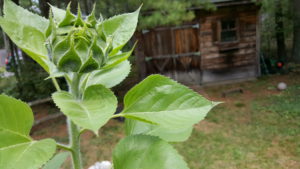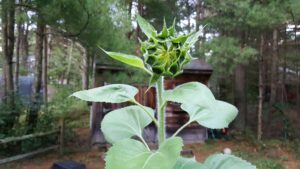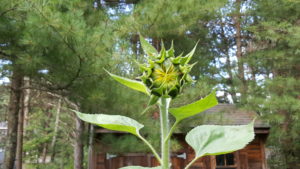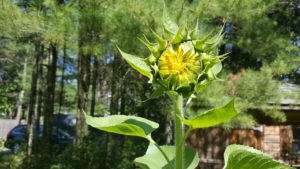 Four or more?Shore: Simplest of Grats we live within easy driving distance of the shore. Specifically the shore of the Atlantic. Even more specifically, the coastal region of southern New England. Here: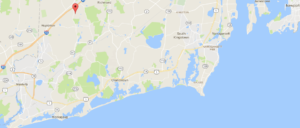 Phyllis and the Enclosure that floats above the earth in the embrace of a tree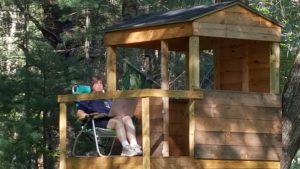 Five and Six: (Sunday Supplement) Be sure'n stop back tomorrow.
Seven alone: Surely there is nothing more self-sufficient than the Wakefield Doctrine. Why? Because it, (the Doctrine), is a perspective. It is a perspective on the behavior and relationships of and among the people in our lives. With the (added, because this is not the perspective, it is a perspective) understanding we gain by viewing the world through the lens of the Wakefield Doctrine, we are in a position to see the world as others are experiencing it. And that can only add to what we are. ya know?
Eight (It is the most rogerian of primary numbers) therefore we should cite both the Gravity Challenge and the Six Sentence Story. Not because they (the activities are of a rogerian character) simply that they (both bloghops) are activities of a group nature. And nothing says group nature like rogerian.
Nine yeah, I know! music here's something thats been in my head all morning. It's from the before time so, if you were around then, let the music (possibly) cause you an emotional flash back. 'cause that's one of the things music is real good at. (from Edgar Winter's' 'Jasmine Nightdreams' album.
10) the first among secret Rules! Secret Rule 1.3