It's Friday night and you're looking to go out. Maybe you don't want to hit up the same places that you've always gone to. Maybe you want to try going somewhere you can meet single women in Nashville, while having a great time, too. You're definitely not alone in that regard! Thousands of folks often wonder where to meet women in Nashville!
Well you're in luck! We've asked the members of Flirt.com in the Nashville area what are the best bars in Nashville (and a few other nonbar locations), and here's what they had to say!
1. 312 Pizza Company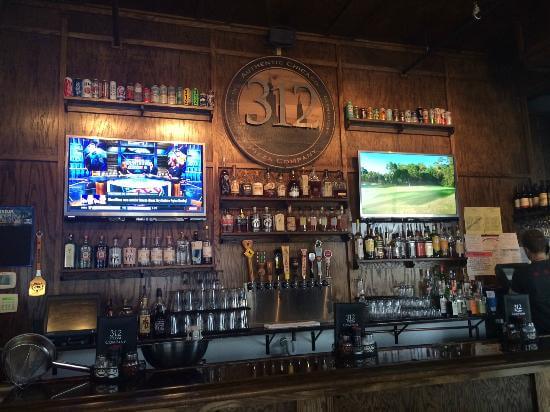 The 312 Pizza Company is where you'll want to go when you want great (and authentic) Chicago style deep dish pizza! The pizza company takes great care with their ingredients and they use a recipe that has been passed down for three generations. With that kind of history behind them, you know the food is going to be good! Of course, you can find fare other than pizza! They've got an impressive list of sandwiches, salads, sides, hot dogs and more. And let's not forget a fully stocked bar!
But, of course, the reason we are talking about 312 Pizza Company is because it's a great place to meet people! You'd be amazed by how quickly people are drawn toward one another when the aroma of pizza is in the air. Not to mention all the folks that show up for the football viewing parties regularly held here – if you're a Chicago Bears or Chicago Cubs fan.
Visit Them At:
http://www.312pizzaco.com
371 Monroe St.
Nashville, TN 37208
615.730.7888
Hours
Monday – Thursday: 11am to 10pm
Friday – Saturday: 11am to 12am
Sunday: 11am to 10pm
Happy Hour
Monday – Friday: 2pm to 6pm
2. EIO & The Hive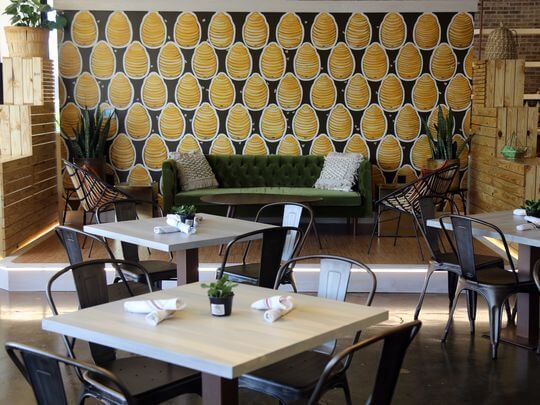 EIO & The Hive is the place you want to go when you want delicious organic food that supports your local community. Jennifer Masley, owner and wellness entrepreneur, created this and other health focused venues like Jenergy Bar and Sip Organic Juice Bar. Chef Dale Levitski makes it his mission to create delicious dishes using the locally sourced organic ingredients that will make you want to come back time and time again. Whatever you're craving, be it breakfast (offered daily until 11am, 3pm on the weekends for brunch), sandwiches, salads, and even a whole rotisserie chicken, you'll find it here.
What's really unique about EIO is that they also offer a artisanal items like soaps and sauces from Acme Feed & Seed, men's grooming supplies from Shave Face, handmade dream catchers from Sara Bradley, and handmade ceramic drinkware from Christian Cohn Ceramics. If you're an artisan, you have the option of reaching out to them to have your wares available in their market too! So not only can you meet great people in the city, but you may even be to sell your wares, too!
Visit Them At:
https://www.eioandthehive.com
5304 Charlotte Ave,
Nashville, TN 37209
615.203.0433
Hours
Monday – Friday: 7am to 9pm
Saturday: 9am to 9pm
Sunday: 9am to 3pm
3. SOUTH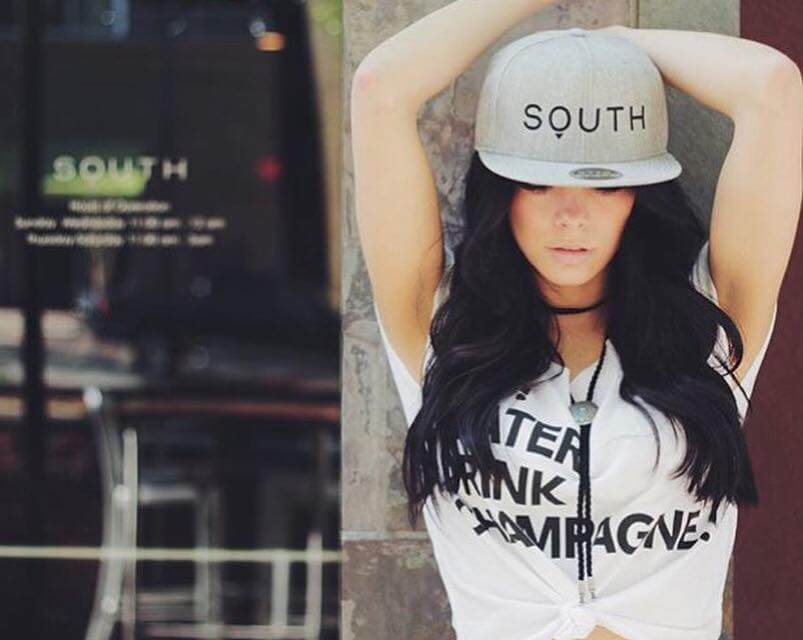 When you want a great southern delicacies with a nightlife that'll introduce you to the men and women you can have fun with, it should be no surprise that SOUTH is one the best bars in Nashville. The atmosphere here is casual chic that is classy and sophisticated, but it still has that welcoming feeling. The menu offers an array of homemade classics that'll make you feel full, satisfied, and comforted!
Of course, SOUTH isn't just a place where you can go to get great food and meet single women in Nashville, it's a great place to listen to good music, participate in lively rounds of karaoke, and other great events. We can't forget Brunch! With bottomless Bloody Marys and Mimosas, it'll be a fantastic way to start off your weekend (11am to 3pm every Saturday and Sunday)!
Visit Them At:
http://south-nashville.com
1524 Demonbreun Street
Nashville, TN 37203
615.724.1770
Hours
Sunday – Wednesday: 11am to 10pm
Thursday: 11am to 12am
Friday – Saturday: 11am to 3am
Hours for 21 and Up
Thursday: 10pm to 12am
Friday and Saturday: 10pm to 3am
Sunday: 3pm to 10pm
4. Music City Bar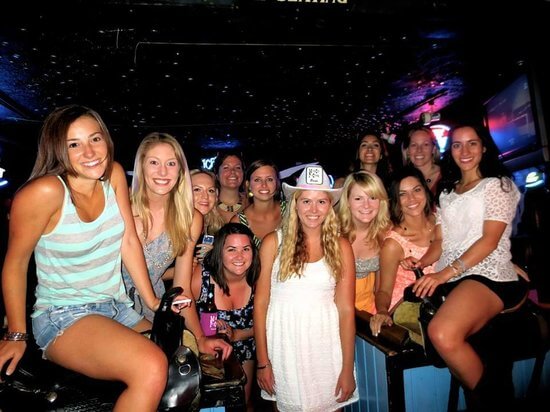 Nashville is known for being a central hub for country music lovers, so it shouldn't be surprising that a country music bar is on this list! Music City Bar is the place to go when you want to listen to great music, enjoy great food, and even bring your pup! Everyone knows that music and dogs are some of the best ways to strike up a conversation, so it only makes sense that this would be a go-to spot when you're hoping to meetup with Nashville singles!
This Opryland Area Late Night Bar is by far one of the best music bars in Nashville because it features live country music 7 nights a week, but you never have to worry about paying a cover charge. Acts you can count on seeing include Colton Steel Band, The Skahls, Erin James Band, Chris Vita Band and much more. Don't be surprised if you find a new favorite country band when you visit Music City Bar (and maybe dance with a cutie or two, too!)
Visit Them At:
http://www.musiccitybar.com
2416 Music Valley Drive
Nashville, TN 37214
615.883.2367
Hours
Monday – Saturday: 3pm to 3am
Sunday: 6pm to 3am
5. Party Fowl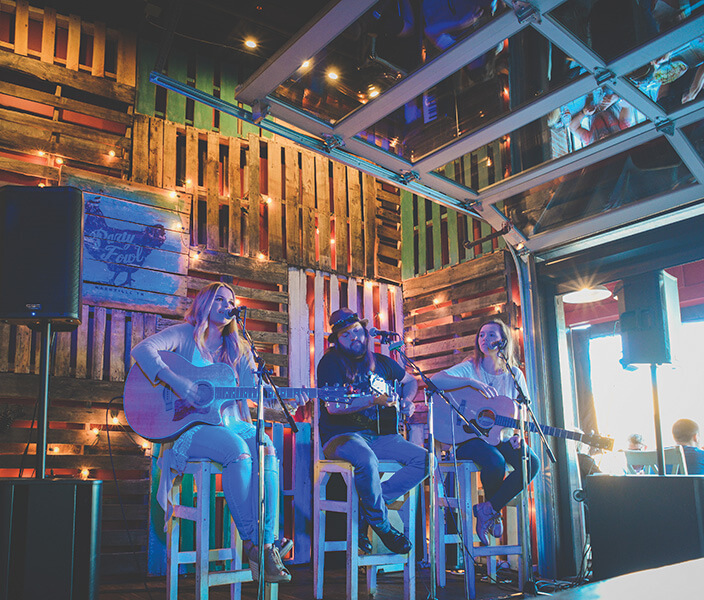 Who said you needed to check out Nashville singles events if you want to meet someone? We feel like singles events are so last decade and the best way to get out on a Friday night is by going to local hang out spots and mingle with locals, and Party Fowl is that place. Here, you can expect to munch on a number of chicken dishes that pack a punch. Of course, if you don't like spicy foods, there are mild dishes offered as well.
People love the laid back vibe of Party Fowl and we can't blame them. If you have a rough day at work, stop by for Happy Hour and kick back $6 boozy slushies, $6 shift drink (beer and shot), and other drinks while you snack on a selection of $6 dishes like Nashville Hot Chicken Tenders, Fried Cheese Grit Cakes, or Smoked Chicken Dip, among other dishes.
Visit Them At:
http://partyfowlnashville.com
719 8th Ave S
Nashville, Tennessee 37203
615.624.8255
Hours
Monday – Thursday: 11am – 10pm
Friday: 11am – 11pm
Saturday: 10am – 11pm
Sunday: 10am – 10pm
Happy Hour
Monday – Thursday: 3pm to 6pm
6. Famous Saloon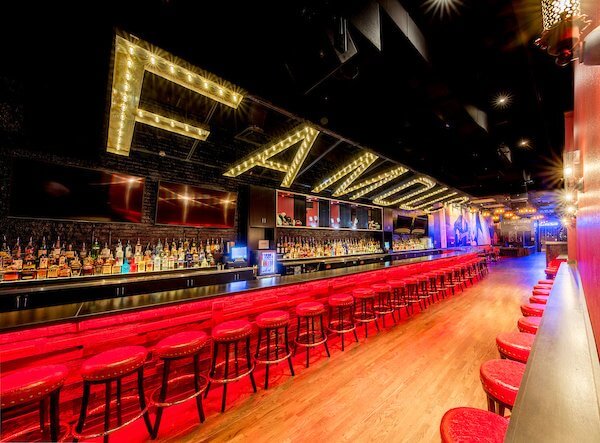 When you're looking for a place that is more upscale than where you'd normally go, but still experience that down-home honkey tonk that we all love, then Famous Saloon should be your top choice. The menu here isn't as expansive as other venues, but that doesn't mean it lacks in deliciousness. The Shrimp and Grits is a fan favorite, as is the Smoked Chicken Bacon Avocado Wrap. Oh, and we needn't even mention how scrumptious the Chicken and Waffles are!
When you're done dining, you can check out one of two bars: the Famous Bar where you'll be able to listen to live music from Nashville's top acts performing on the main stage. The River Bar gives you an opportunity to relax and overlook the Cumberland River while still being within ear shot of the main stage. If you want to sweep some lovely off her feet, invite her up to the Rooftop Bar upstairs and marvel at the open air views of downtown.
Visit Them At:
https://famoussaloon.com
110 2nd Ave N
Nashville, TN 37201
615.933.5000
Hours
Monday: Closed
Tuesday – Sunday: 11am to 3am
Brunch
Saturday – Sunday: 11am to 3pm
7. Benchmark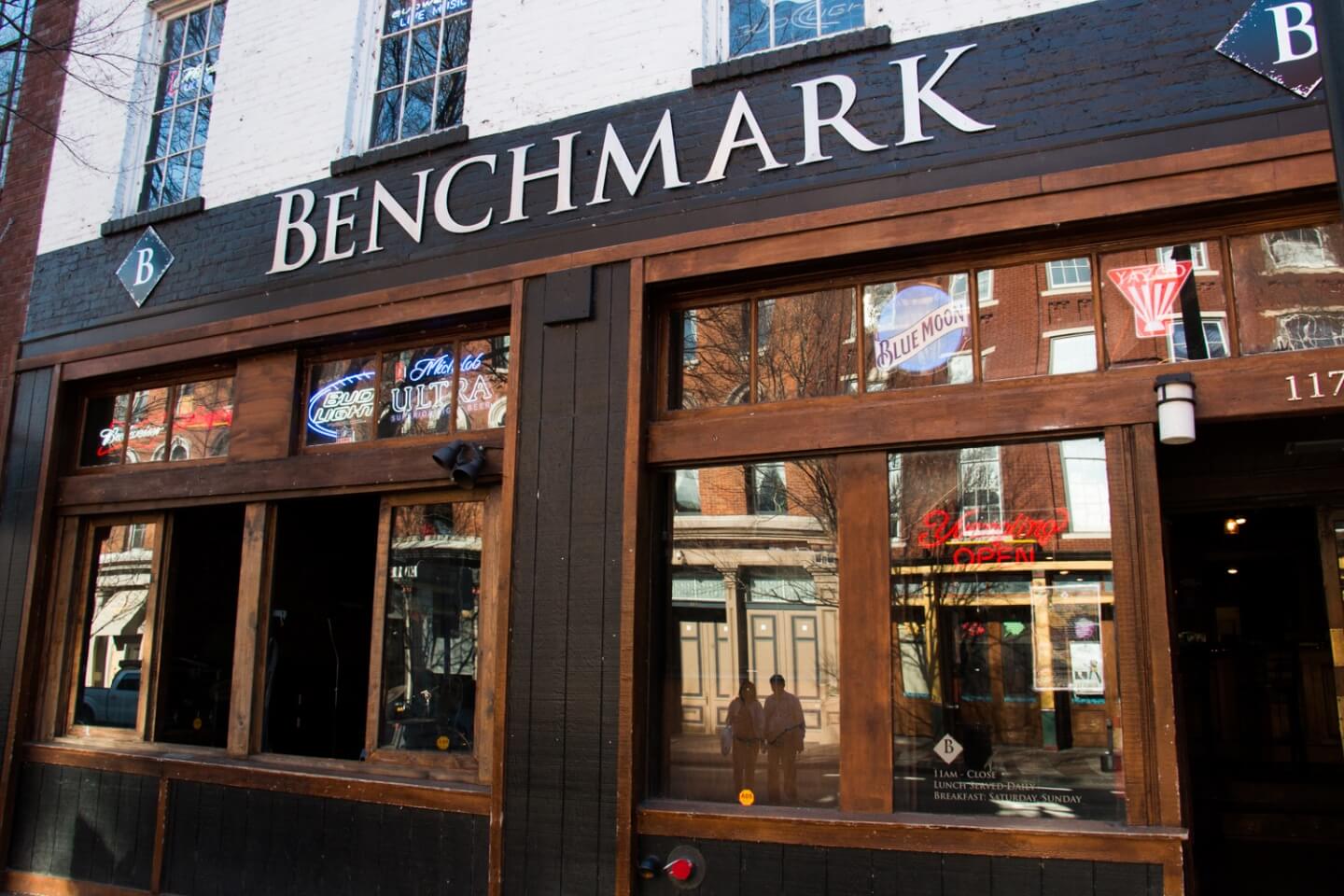 When it comes to live music, single women in Nashville will often go to Benchmark, right in the heart of downtown Nashville. The atmosphere here is welcoming, lively, and you'll be certain to have a lot of fun! Whether you're hungry and you want to dine on popular dishes like Jamie's Melt or the Memphis Rib Sandwich, or if you want to see why the drink specials here are some of the best offerings in the city, you'll be in for one hell of a time!
Perhaps the main reason why folks stop by Benchmark are the live musical acts that play every day, all day. You'll be able to hear music from Dominique Hutchinson, Jessica Rose, Isaac Matthews, Bobby Tomlinson and more. When you want good food, good drinks, and good music, Benchmark should be one of your top places to visit!
Visit Them At:
http://www.benchmarknashville.com
117 2nd Ave N
Nashville, TN 37201
615.852.7460
Hours
Monday – Wednesday: 3pm to 11pm
Thursday: 11am to 11pm
Friday: 12pm to 12am
Saturday: 10am to 2am
Sunday: 11am to 11am
Note: 21+ after 8pm only
8. 12 South Taproom & Grill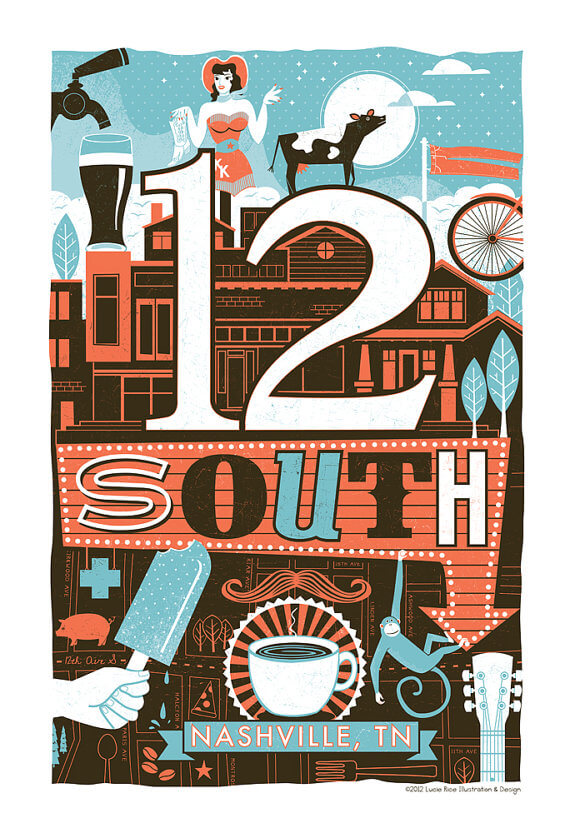 The next time you're in the 12 South District of Nashville and you want to meet someone new, 12 South Taproom & Grill is a fantastic place to visit. The Taproom has established itself to be one of the city's premier casual dining experiences because Chef and owner, Will Shuff, creates dishes that are locally sourced. Not only are the ingredients locally sourced, but the beef used here are grass fed, range free Tennessee beef. Other than delicious fare, the beer menu is equally as impressive. If you love beer and great food, this is your place to be.
Visit Them At:
http://12southtaproom.com
2318 12th Avenue South
Nashville, TN 37204
615.463.7552
Hours
Every Day: 11am to 12am
9. Third Coast Comedy Show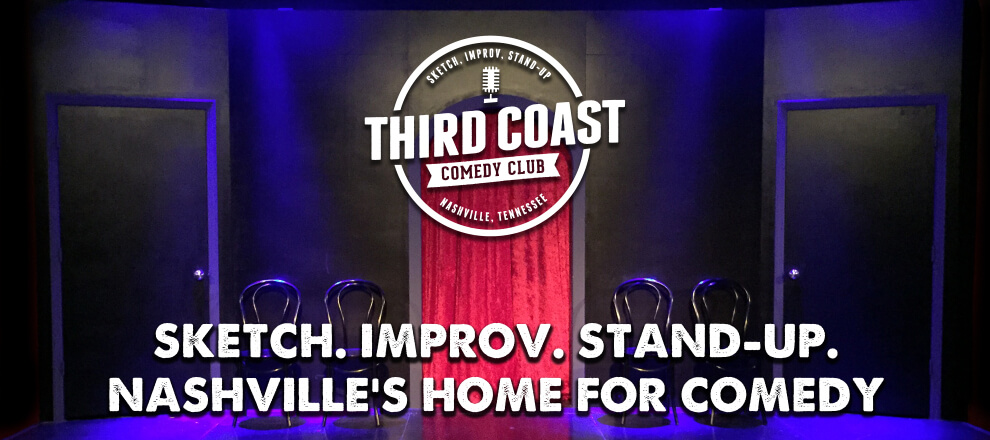 When you need to let your hair down and have a good time, you can always count on the Third Coast Comedy Show to pull through. Whether you want to sit in on a short-form improv show (think Whose Line is it Anyway?) or a long-form improv (think of a play without a script), a comedy com-battle, or roasting the host shows, you'll find it here. We fully recommend checking out their website to see what kind of shows are being offered, and get tickets early because they sell out fast! After the show, you could check out The Bar at Third Coast and possibly chat up the performers or other patrons!
Visit Them At:
http://www.thirdcoastcomedy.club
1310 Clinton Street Suite 121
Nashville, TN 37203
615.745.1009
Hours
Hours Dependent On Show Times
10. The Flipside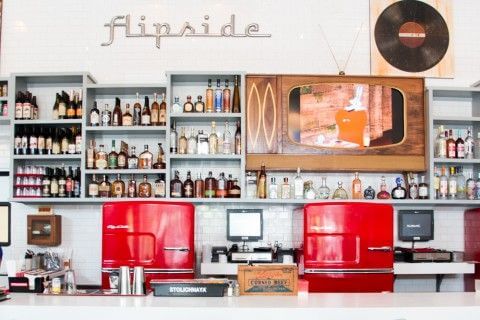 Step back in time to an age when things were simpler and more relaxed at the Flipside. This retro styled diner will have you feeling like you're on the set of Happy Days instead of modern day Nashville – even if only for a short time. After a night of partying on a Friday, stop by on Saturday morning for brunch, which is served between 10am and 3pm (brunch is also offered on Sunday during the same hours). Also, if you want to impress the ladies, you can show off your useless trivia every Thursday at 8pm.
Visit Them At:
http://www.theflipside12south.com
2403 12th Ave South
Nashville, Tennessee, 37204
615.292.9299
Hours
Sunday – Wednesday: 11am – 9pm
Thursday – Saturday: 11am – 10pm
Happy Hour
Monday – Friday: 2pm to 6pm
11. Belcourt Taps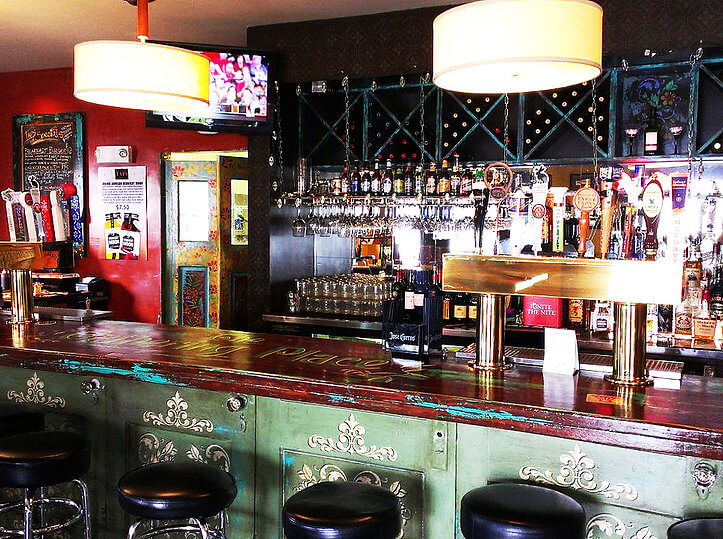 Belcourt Taps is a place where people go when they want a unique dining experience, complete with great drinks and good music. Located in the center of Hillsboro Village, people around the city can make their way here for beer flight and pretzel specials, or any of the incredibly scrumptious dishes on their expansive menu. Whether you want a burger, fries, BBQ, or wraps, you'll find it offered at Belcourt Taps. If you're a college student, just show you college ID and you can take advantage of a $7 special that consists of a sandwich, fries and a drink. There's always something going on at night at Belcourt, so we recommend checking out their event calendar here so you can plan when you want to go.
Visit Them At:
http://www.belcourttaps.com
2117 Belcourt Ave
Nashville, TN 37212
615.915.3622
Hours
Every Day: 11am – 2am
12. Tempered Cafe & Chocolate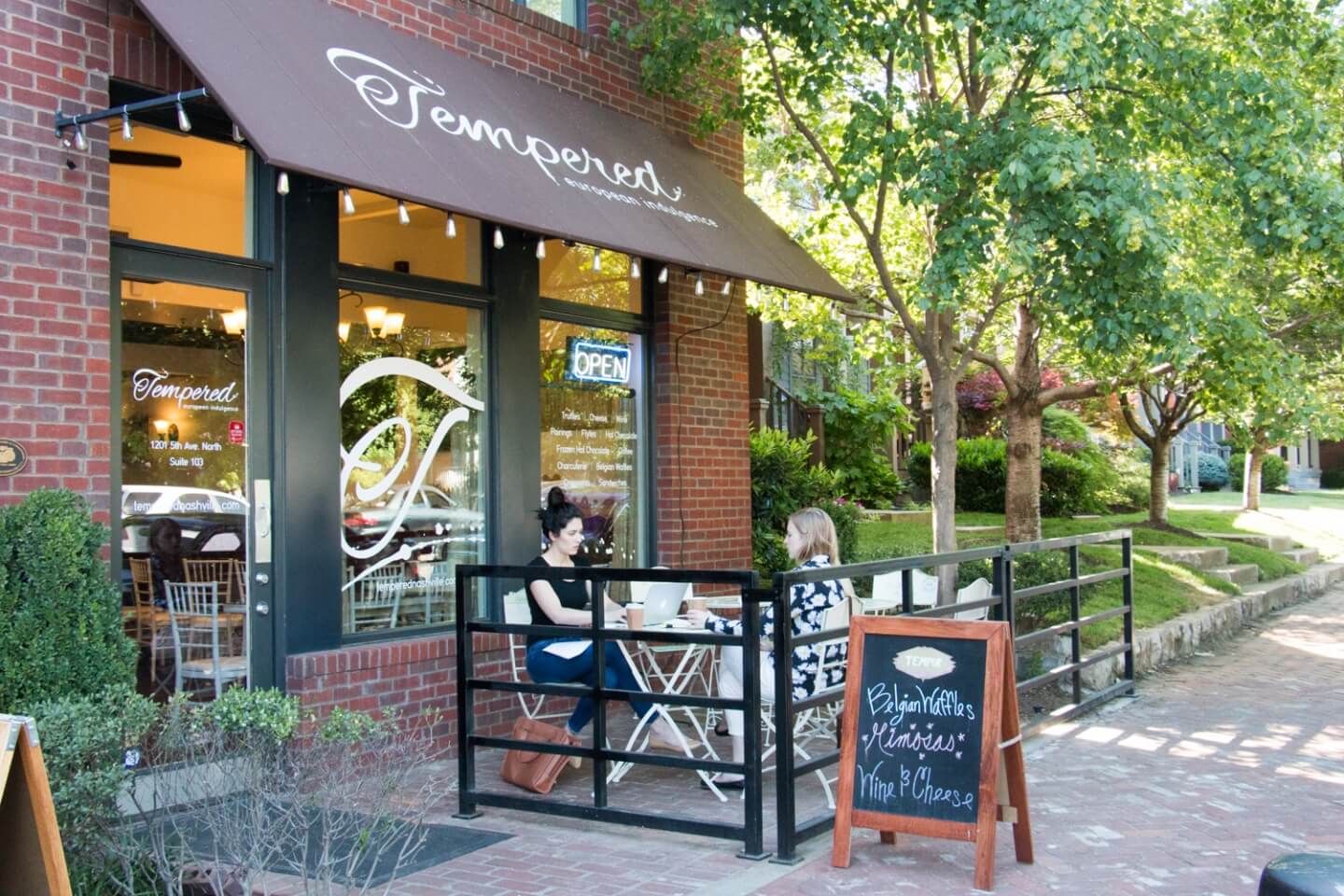 There's a reason why Tempered Cafe & Chocolate is on this list! Who doesn't love alcohol and chocolate? Meeting single women in Nashville has never been easier than visiting Tempered Cafe & Chocolate. This sweet and savory venue specializes in creating small batch artisan chocolates, light fare you'd find in the typical cafe, as well as exquisite fine wine and cheese pairings. Every one of the delicious truffles are made in house and the libation menu has a good selection of wines and whiskeys-several of which are paired with the perfect truffle or cheese. If you want to try something different, you have to check out Green Hour, where you can partake in traditional absinthe drip and craft cocktails!
Visit Them At:
http://www.temperednashville.com
1201 5th Avenue N
Nashville, TN 37208
615.454.5432
Hours
Monday: Closed
Tuesday – Friday: 11am to 7pm
Saturday – Sunday: 9am to 7pm
Green Hour (21+)
Thursday: 8pm to 12am
Friday – Saturday: 8pm to 2am
13. Kung Fu Saloon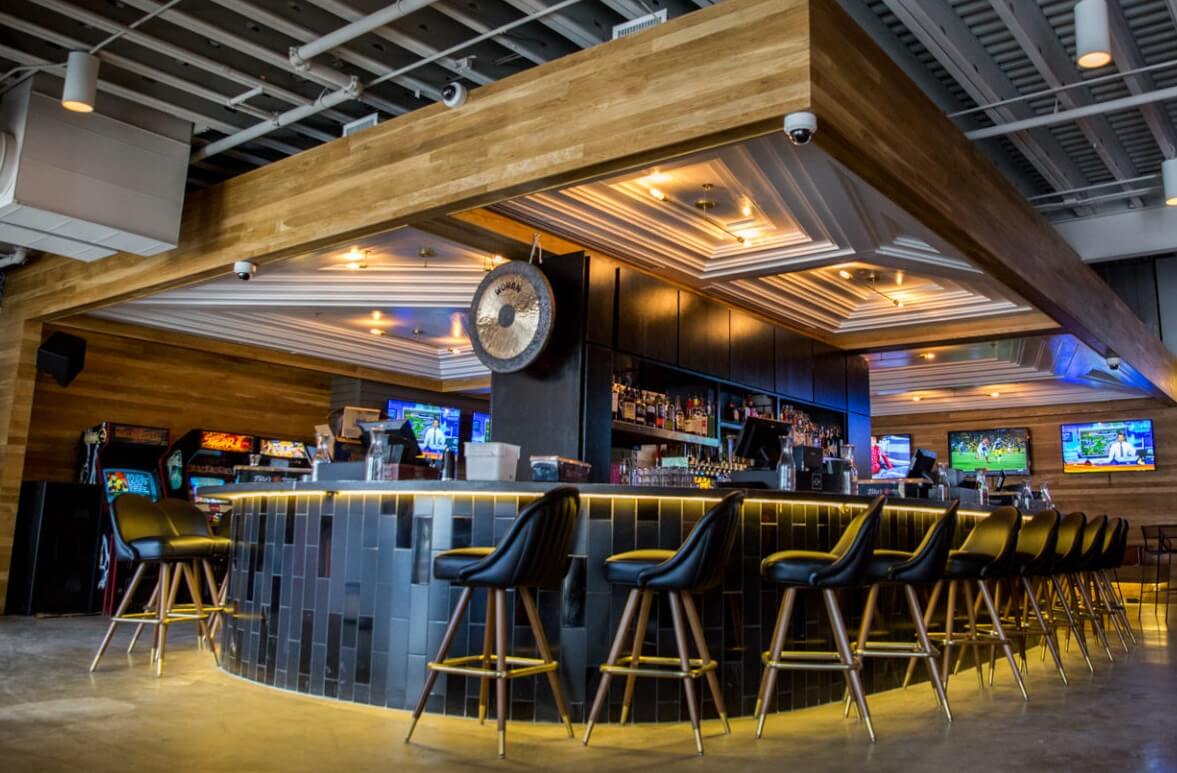 Tired of Nashville singles bars? If so, then you've got to check out Kung Fu Saloon! This place has a relaxing and welcoming atmosphere that makes you feel like a kid again with an adult attitude. The theme here is part vintage arcade (where you can feel like a kid), part sports bar (where you can get your drink on), part late night dance party (where you can get your flirt on). When you want to engage in friendly competition, you can stop by for a great night out playing classic arcade games and challenge your opponent to a drink. If you happen to meet a lady on the dance floor that you'd like to get to know better, you can do that too! Kung Fu Saloon has everything you need for a great evening out!
Visit Them At:
http://kungfusaloonnashville.com
1921 Division St.
Nashville, TN 37203
615.818.0294
Hours
Every Day: 11am to 3am
Kitchen Hours
Every Day: 11am to 10pm
14. Tin Roof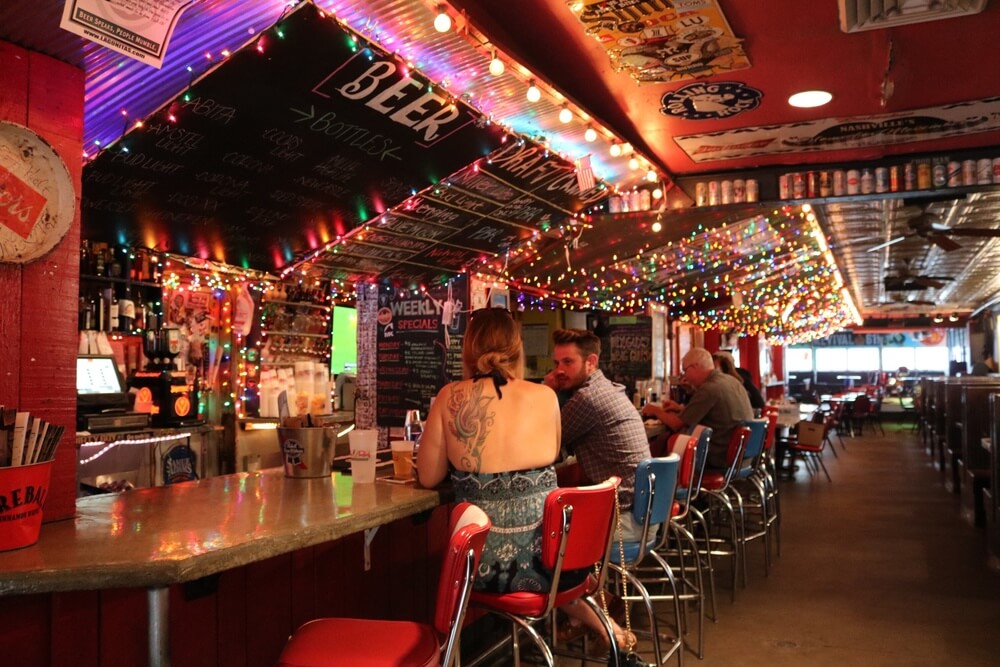 When it comes to the best music bars in Nashville, Tin Roof is one of the originals. Located in the city's Music Row, musicians used to come here to play their music and could hang out while they weren't performing. That's still the case today, but more and more people are coming here for their delicious food, their fun and eclectic atmosphere, and the friendly crew. Check out their calendar for a full list of acts and events. If you like what you see the first time you come, join their loyalty card program where you can receive $5 credit on every $50 food purchase.
Visit Them At:
http://tinroofbars.com
1516 Demonbreun St.
Nashville, TN 37203
615.313.7103
OR
316 Broadway Ave.
Nashville, TN 37201
615.242.4446
Hours
Every Day: 11am to 3pm
14. Rudy's Jazz Room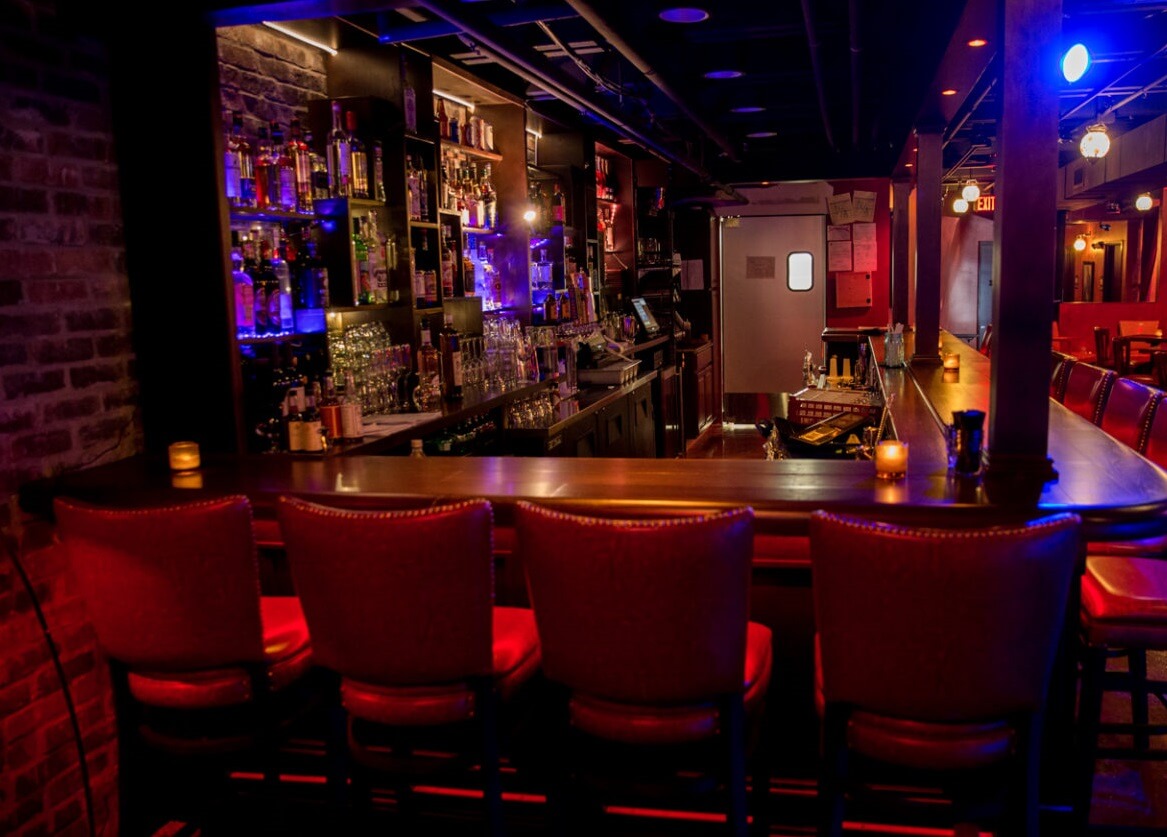 It's true that Nashville is known for country music, but that doesn't mean Jazz isn't appreciated too! Rudy's Jazz Room provides patrons with an authentic jazz experience right in the heart of Music City. When you step into the venue, you'll step into an atmosphere that oozes that laid back aura that jazz is known to create. The menu here has a decidedly New Orleans influence and the prohibition style craft cocktails will have you coming back for more. If you're looking for a place to settle in for an evening of easy sophistication, then Rudy's Jazz Room will be more than capable to provide.
Visit Them At:
http://rudysjazzroom.com
809 Gleaves St.
Nashville, TN 37203
615.988.2458
Hours
Sunday – Tuesday: 5pm to 12am
Wednesday: 5pm to 1am
Thursday – Saturday: 5pm to 3am
After a long week at work, it makes perfect sense that singles all around Nashville would want to wind down and have some fun with someone new. If you aren't able to make it to any of these places, but still want to chat with a local, you always have the option of checking out an online dating site like Flirt.com. Maybe you can meet someone there and take them to one of these places or somewhere new! Leave a comment below and tell us YOUR favorite place to relax and meet people, we'd love to know!
The post You've Asked Where to Meet Women in Nashville. We've Got Answers! appeared first on Blog Flirt.com.