Today I went on a bus Trip to Philadelphia with Sherry Ault Tours. Ordinarily I have to drive myself to Philadelphia since it is not a popular destination, but the Philadelphia Flower Show is one of the few exceptions for bus tours. However, I did not go to the flower show. I spent the day on my own.
I spent almost a month preparing for this trip. Although I thought I had researched Philadelphia very thoroughly, I still discovered several more significant things about the city. Even though I have explored the fringe theater scene, I was surprised to discover an underground arts scene in the Callowhill neighborhood. In that neighborhood you can find the Underground Arts concert venue and performance space for some really wacky underground art and music, the Vox Populi gallery which also has a performance space, The Trestle Inn dive bar with go go dancers, and PhilaMOCA: Philadelphia Mausoleum of Contemporary Art an art space that supports independent films. That is an impressive number of performance spaces to which you would have to add the Painted Bride Art Center which has existed for years. This makes me wonder why the Philadelphia underground art scenes is so very extensive. It may be because all the creatives and bohemians are being priced out of New York City. This might explain how the FringeArts became a permanent institution.
I also came across a WeWork office space in the Northern Liberties neighborhood which may be the home of many startups and tech companies. I'm very interested in the Philadelphia tech scene since this offers the best path for me to move to the big city. And finally, I learned that the Chestnut Hill area might make for a good weekend getaway just like my trip to the Manayunk neighborhood. Chestnut Hill seems to have enough shopping and good restaurants to justify a special trip to explore this Philadelphia neighborhood which is far from Center City.
But I didn't visit any far flung neighborhoods on this trip since I had to stick around Center City. My main objective was to check out a new Philadelphia attraction, the One Liberty Observation Deck. I bought a ticket online for 12:00 p.m. Noon. But since the bus arrived at the Philadelphia Convention Center at 10:00 a.m. I spent two hours walking around the downtown area to take photos for my custom travel guide. First I located St. Stephen's Church which is the home of the Lantern Theater Company. Then I located the Time restaurant on Sansom Street because it hosts a few readings and other literary events. I have begun to investigate Philadelphia's literary scene.
After that I continued along Sansom Street and came across Philadelphia's French Quarter. At least, I saw a street sign indicating the French Quarter. However, the only French establishment on this street was the Sofitel Hotel, which hardly makes for much of a "French Quarter"! I walked very far west on Sansom Street to locate the Long In The Tooth record store which is right across from the Interact Theater Company. I overlooked this place on my last trip to Philadelphia even though I walked right pass it. My final photo quest was the Drake Hotel because the InterAct Theater Company will be moving to this location. I found the entrance to the Proscenium Theatre at The Drake. The InterAct Theater Company interests me because they run PlayPenn, the most significant organization in Pennsylvania devoted to new play development and playwright training.
I was surprised that it took me two hours to walk several blocks to take all these photos, but in fact I had to hustle to make it to the One Liberty skyscraper in time for my timed ticket. It was annoyingly difficult to find my way to the One Liberty Observation Deck within the Shops At Liberty Place. Basically the entrance is on the second floor and there are signs but it seemed ridiculously confusing to find the entrance to the observation deck. The elevator to the observation deck played a video to keep you entertained during the short ride in the elevator, just like the Top Of The Rock in New York City. But I have to admit that the view was really awesome. You get a great view of Philadelphia's major skyscrapers like the Comcast Center, BNY Mellon Center, and the Liberty Two Office Tower. I also saw the progress on the Comcast Innovation and Technology Center skyscraper which is still being built. There were great views in all four directions. This was particularly fascinating for me because I have been studying the geography of the city. Seeing the city from above really clarifies the location of many buildings. I took lots of photos which I will pour over later.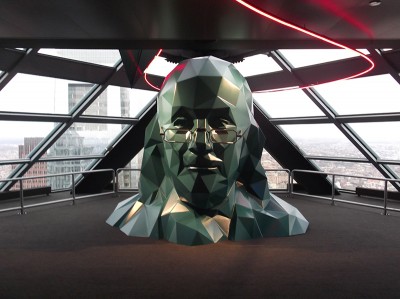 One Liberty Observation Deck
Having accomplished my mission, I proceeded to do some shopping. First I went back to the Long In The Tooth record store and bought a CD, Protection by the band Massive Attack. I don't know if I will like this album. I picked it almost at random. I only listen to music on my smartphone. I have virtually my entire CD collection copied to my smartphone and that keeps me entertained on long bus trips. Next I went to Barnes & Noble on Rittenhouse Square where I spent a lot of time deciding on a book to buy on the Theater shelf. I finally settled for Mr. Burns by Anne Washburn since that was on my wish list. And finally I went to f.y.e. on Broad Street to buy a DVD. They had a foreign film section. I headed straight for that since foreign film DVDs are not offered at the f.y.e. store in our Lycoming Mall. I bought a Japanese movie, Zebraman by Takashi Miike which looks like it would be strange enough to suit my tastes. Although the price sticker was for $24.95, the DVD rang up for only $2.97 so I got this DVD at a bargain price. Sweet! This was a brand new shrink wrapped DVD, not an used disc.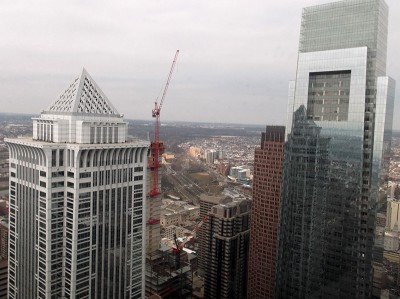 One Liberty Observation Deck View
After all that shopping I was getting pretty hungry so I went to the Reading Terminal Market for lunch. Unfortunately, the Reading Terminal Market was packed. It was like a madhouse in there! I didn't see any place where I could sit down to eat. Every table at every restaurant was taken and you could hardly walk through the aisles due to the crush of people. So I left the Reading Terminal Market and had lunch at Kabuki Sushi which is only a block away. I ordered the Kabuki Roll and coffee bubble tea. I only had chopsticks for eating the sushi but I used my old trick of not separating my sticks and used them like wooden pliers. This was the first time I tried bubble tea, which contains tapioca balls. I ate my sushi in only fifteen minutes. I was out of there in no time.
My final goal on this trip was to try the Philadelphia subway system. Philadelphia's subway system only has two lines. I used the Market-Frankford Line to get to Old City without walking. Unfortunately, this proved to be a very nerve wracking experience which I'm not likely to repeat. First I had to walk all the way to the Dilworth Park transportation entrance to get to an east bound platform for the Market-Frankford Line. I found several new fare vending machines but none of them were working yet. I had to pay the exact fare to the man in the ticket booth, $2.25, since he could not sell tokens or give change. Then I had a very difficult time finding the east bound platform for the Market-Frankford Line. The signage was not very helpful. The Philadelphia subway appears to be quite dilapidated and full of very hostile homeless people. It did not seem like a safe place to be. Overall, the experience was frustrating and very ghetto. Eventually I walked back to the Philadelphia Convention Center rather than repeat that experience.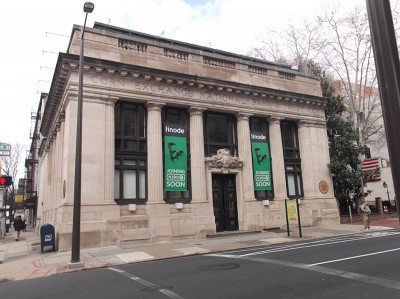 Linode
I did not spend much time in Old City because I've explored that area thoroughly on previous trips. I did locate the Corn Exchange Bank building which is now occupied by a technology company, Linode. I was pleased to find huge banners on the building proudly proclaiming the company's presence. This makes for great photos for my notes. Linode is a private server provider of Linux servers in the cloud. This is definitely something I might find interesting. The only other thing I wanted to photograph was the historical marker for The Barrymores on Arch Street and Sixth Street. I've recently read a biography of the Barrymores, a famous acting family originating from Philadelphia. The Philadelphia theater awards are named The Barrymore Awards so I figured I should know more about them. Unfortunately the Barrymores actually spent very little time in the city after becoming actors / actresses and they were not particularly faithful to their home town. I also managed to pick up a copy of the Spanish language newspaper, Al Dia, because I am learning Spanish. Yes, my interests are too varied. I am only learning Spanish very slowly. But it may come in handy for my trip to Los Angeles which will be my major vacation this year.
I got back to the Philadelphia Convention Center by 3:00 p.m. so I tried the Reading Terminal Market again and managed to snag a seat at Pearl's Oyster Bar where I had the Lobster Mac and Cheese which was really good. Pearl's Oyster Bar has become one of my favorites because they have plenty of seats at their long counter and the food is really good.
This trip to Philadelphia was mostly successful. I really expanded my knowledge of the city and got many great photos to use for my custom travel guide. You can find all the photos I took on this trip on my Flickr album. Philadelphia is like the Paris of Pennsylvania. My interest in the city has grown now that I've discovered its extensive underground art scene. For example, I discovered that one of the local theater actresses has appeared in various independent films made in Philadelphia so there must be a community of filmmakers in the city.
This year I plan to explore the Wilkes-Barre / Scranton metropolitan region more extensively because my older brother has moved there. I also plan to make an overnight trip to Philadelphia to see a show by the InterAct Theater Company. I also want to explore the Fishtown and Northern Liberties neighborhoods and maybe even spend a weekend in the Chestnut Hill neighborhood.